Using Imatest Imaging Software and the industry standard GretagMacbeth color chart, we tested the color performance of the Fuji FinePix S7000. This method gives us an idea of how each camera produces color and its variance from ideal color reproduction. The image below has been run through Imatest and indicates the color produced by the camera (the outer square), the digital camera's color corrected by the software (inner square), and ideal color (represented by the interior vertical rectangle).
 The chart below is a visual representation of the Fuji FinePix S7000's color accuracy. Each number stands for a color on the color chart; the squares indicate the chart's actual color and the circles represent the colors produced by the camera. The line connecting each square and circle shows the degree of color error.
The overall color score for the Fuji FinePix S7000 is 6.07, which is pretty mediocre when compared to many cameras on the market, but is in line with other Fujifilm digital cameras. The Fuji FinePix S5000, for example, received a very similar score of 6.05. As you can see, there is deviation in many colors, with only #14 (and #12 and #5, somewhat) producing accurate values. Although it is very common to have #9 and #15 over-saturated in order to produce nice skin tones, the Fuji FinePix S7000 was way off target. This means that the pinks in most images are very over-saturated and give a slight cast. The circles that are pulled closer to the center of the image represent under-saturation. The Fuji FinePix S7000 under-saturated in a few instances, such as #16, #11, and in most of the blue tones.
The mean camera saturation for the Fuji FinePix S7000 is pretty decent at 109.2%, but this is due more to under-saturated colors rather than overall color accuracy. Overall, I was pretty disappointed in the color produced by this digital camera, and wouldn't suggest it for users who need accuracy.
**Real Life Scene

**Below is our standard still life scene which we photograph with every digital camera: [
](../viewer.php?picture=StillLife.jpg)
[
](../viewer.php?picture=Still)

Clicking on the above image will open a full resolution version in a new window (CAUTION: The linked image is very large).

**Resolution / Sharpness ***(4.73)*
Using an ISO resolution chart and Imatest Imaging Software, we tested for the "real resolution" of the Fuji FinePix S7000. Imatest analyzes images taken of our industry standard chart and gives the actual lines of resolution. Using the camera's highest resolution, best quality, and lowest ISO settings, we gather the best results produced by the digital camera. There is usually a discrepancy between the resolution read by Imatest and the reported resolution, owing to exaggeration by manufacturers. In general, 90% or above of the reported resolution is excellent, and 80-89% is a good performance. The Fuji FinePix S7000 received a resolution that is 78% of what it should be with a "real resolution" or 4.73 megapixels. Although this performance isn't horrific, it could be better. There are many point-and-shoot digital cameras on the market that are producing scores that run the Fuji FinePix S7000 into the ground.
Noise Auto ISO*(6.9)*
Using Imatest Imaging Software we determined the amount of noise present on the Fuji FinePix S7000. Noise is the appearance of monochromatic "specks" on the surface of an image (much like grain on film), and increases as ISO sensitivity increases. While in Automatic mode the ISO range of the S7000 is 160-800 and is determined by the camera according to varying light conditions. The automatically controlled ISO on the Fuji FinePix S7000 responded adequately to lighting conditions to produce a score of 6.9, but this is nothing to write home about, especially compared to the camera's manual noise score. If you're in a low light situation and you're worried about noise I would take the camera out of Auto mode and adjust ISO manually.
**
Noise Manual ISO*(9.87)*
The Fuji FinePix S7000 offers (a mediocre) three ISO settings to choose from: 200, 400, and 800. However, when shooting at an ISO of 800 the image size is automatically lowered to 2016 x 1512. Using Imatest Imaging Software we tested each ISO setting at fixed lighting conditions, which allows us to determine image quality variance at different ISO settings. After obtaining results we put together a regression analysis to determine our total noise score.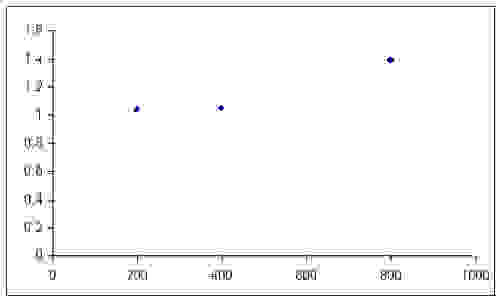 The graph shown above illustrates the noise levels at the Fuji FinePix S7000's three ISO settings. If you are going to be shooting high resolution images you will only have access to 200 and 400 ISO settings. This is quite limiting for such an advanced digital camera; however it did produce relatively low noise levels in that range. The bottom line is that this digital camera will do fine in well lit situations, but is severely limited when lighting is dim.
Speed Timing

***Start-up to First shot(6.53)*
The Fuji FinePix S7000 falls into the range of point-and-shoot cameras when it comes to speed. It took a total of 3.47 seconds to transition from the Off position to taking its first shot. This is going to be a problem for people with a quick response; they will end up twiddling their thumbs while the camera gets ready to shoot.
Shot to shot (8.19)
The Fuji FinePix S7000 did okay in-between shots, but still does not compare to digital SLRs. Taking 1.81 seconds to process one shot and take another is a bit long if you're working fast.
**
Shutter to shot*(8.08)*
Again, there is a short 0.46 second lag time between pressing the shutter button and capturing an image. Many digital SLRs, such as the Nikon D70 and the Canon EOS Digital Rebel, don't suffer from any noticeable time between shutter and shot, enabling the user to catch fleeting moments as seen by the photographer's eye.
**
Front ***(8.5)*
The front of the Fuji FinePix S7000 holds the camera's two largest extremities: the lens and the right-hand grip. The Super EBC Fujinon Lens has a 6x optical zoom (f/2.8-f/3.1) with a 7.8-46.8mm focal range. Much like an SLR, the lens has a FZ Ring (Focal/Zoom) that is used to focus in manual mode and zoom in and out (also applicable in auto focus mode). Above the lens is the external AF sensor, which is the S7000's equivalent to an AF assist illuminator in other cameras. Both features are designed to help the camera perform in low light situations.
Directly above the AF sensor is a built-in flash unit. The flash, which can be popped up and down using a button, has an effective range of 1-27.9 feet at the wide angle setting and 3-25.9 feet at telephoto.
 Lining the right side of the screen is the EVF/LCD button (which toggles between the viewfinder and the LCD screen), the Display button (which displays text or framing guidelines) and the FinePix Photo mode button (which allows you to change the quality, sensitivity, and color settings). Farther to the right is the highly functional Menu button, outlined by four directional arrow buttons. The Menu button allows you to choose a menu option, while the arrows select one with within.
The Back button allows you to stop at any point when you're choosing settings. It's great for new or unfamiliar users; they can always stop and start over if they've gotten themselves confused or lost in the menu. To the left of the back button is a slightly smaller button that's used to check the focus of an image by zooming into the center of the screen. Near the top of the back side are the familiar Zoom buttons used to zoom in (T- telephoto) and out (W- wide angle). In the right-hand corner is the AE lock button, which locks any exposure when held down.
**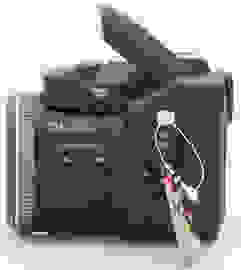 Left Side ***(8.0)***
The left side of the Fuji FinePix S7000 has four easily accessible buttons, excluding the flash pop-up button. The Macro button, whose name is quite explanatory, can be used to take close-up shots. The Shift button acts as a way to access certain settings by holding it down simultaneously with other control buttons. I presume it has the name 'Shift' because it functions in much the same way as the shift key on a keyboard.
The Info (Information Check) button displays a histogram and current settings in Shooting mode and image information while in Playback mode. Underneath the Info button is the One-Touch focus button, outlined by the Focus Mode Selector that allows the user to switch between Continuous, Single, and Manual focal modes.
At the bottom of the left side is a cute little rubbery terminal cover that opens up to the DC in 5V (power input) socket that gives you the option to plug the camera in with an AC power adapter, provided you chose to purchase one separately. The other terminal cover to the right opens up to reveal a USB port and A/V out for video output. This cover is a little less sturdy than the media storage terminal cover, but it probably won't get used as much, so it's not as crucial.
---
**
Top ***(8.5)*
The main feature on the top of the Fuji FinePix S7000 is the built-in flash unit. At its base is a hot shoe, which gives the option of using an external flash. The Mode dial switches among the still image modes (Manual, Aperture priority, Shutter priority, Program, Auto, and Scene Position) as well as Movie recording and Set-up. The neighboring command dial is used in conjunction with other control buttons to change Shutter, Aperture, and other settings. Directly above this dial is the Continuous Shooting button.
The other two independent buttons on the top are the Flash button and the Exposure control button. These randomly placed buttons could have a better home. Last, but not least, is the Shutter button that is surrounded by the Power, Playback mode, and Shooting mode dial. I found this easy to use because my 35mm SLR has the same set-up, but people who are coming from point-and-shoot cameras might have to search to find it.
Viewfinder*(8.0)*
The Fuji FinePix S7000's EVF (electronic viewfinder) is quite nice. The large window size and 230,000 pixel resolution are both features that are appealing to all users. Fuji boasts 100% coverage of the recorded image – the exact dimensions as seen on the LCD screen. There are pros and cons to this viewfinder type. The full frame coverage will make image composition easy and accurate, without the typical point-and-shoot frustration from inadequate viewfinders. However, EVFs, like LCD screens, often have a bit of a delay between what is happening in front of the lens and what is being seen through the camera. This can get annoying when trying to capture split-second moments.
LCD Screen*(7.5)*
The 1.8-inch, 118,000-pixel LCD screen on the Fuji FinePix S7000 is adequate for a digital camera of this size. Fujifilm gives users the option to adjust the brightness on the screen for varying lighting situations. Next to the LCD screen, there is a EVF/LCD button that toggles between the image being shown through the viewfinder or on the LCD screen.
**Flash ***(8.0)*
The pop-up flash on the S7000 offers six operating modes that are adjustable by pushing the Flash button and turning the Command dial. You can also put the camera into Suppressed flash mode by simply pushing the flash down if it pops up when you don't need it. Auto flash mode is the most basic flash mode, which works well under a wide variety of shooting conditions. The Forced flash mode can be used for specialized conditions, such as backlit scenes. To ensure that your subject doesn't have an unnatural red-eye effect, the flash has a Red Eye reduction mode and Red Eye Reduction + Slow Synchro for low light conditions. There is also a regular Slow Synchro mode for evening or low light situations.
The Fuji FinePix S7000's built-in flash has a range of 1-27.9 ft. at a wide angle and 3-25.9 ft. at telephoto. For situations in which the built-in flash is not acceptable, there is a hot shoe fixture that can accommodate a wide variety of flash units.
Zoom Lens*(7.5)*
The Fuji FinePix S7000 is equipped with an EBC Fujinon f/2.8-f/3.1 lens that has a 6x optical zoom and 3.2x digital zoom. (Warning: digital zoom actually decreases the resolution of your image!) When the camera is turned off, the lens does not protrude an excessive amount, but when turned on, it extends about an inch and a half. There is a FZ ring on the outside of the base of the lens that can be used to focus when in Manual focus mode and is used as a zoom when the camera is set to Auto focus mode.
Model Design / Appearance*(8.0)*
The Fuji FinePix S7000 falls into a gray area between point-and-shoot digital camera and SLR, leaving the consumer in a sort of digital camera limbo. It doesn't have the sexy sleek appeal that many digital cameras boast, but if you're looking for something substantial (and not too bulky and high tech) this might be one to check out. I look as this digital camera as a traditional point-and-shoot in an SLR style package. It has the dark black body, large right hand grip, and dial positioning of an SLR, without as many options and with only two additional accessory lenses (28mm WL-FX9 wide angle and 315mm TL-FX9 telephoto). Those not used to an SLR might find the design a little awkward or bulky, while those accustomed to the SLR style will feel at home with its familiar shape.
---
Handling Ability*(8.0)*
I am very pleased with how the S7000 feels in my hands. This is where the slightly awkward design is validated. Fujifilm follows the SLR style by designing the camera to be a natural extension of your hand. My fingers fall comfortably where essential buttons are positioned, giving me easy access to the controls. For example, when holding the right-hand grip, my index finger rests easily on the shutter button and my thumb is angled perfectly to sit on the zoom buttons. Sliding your thumb down brings you to the menu and four-way arrow buttons for quick navigation and setting changes, and sliding your thumb up brings you to the mode dial. With many smaller cameras it is easy to get distracted from your subject by the design of the camera, but Fujifilm does a good job of eliminating that problem. The large right-hand grip makes it easy to manage with one hand, but its size and weight make it an easy transition from a 35mm or digital SLR camera.
**Control Button / Dial Positioning / Size ***(8.5)*
The button placement on the Fuji FinePix S7000 is reminiscent of that on a SLR body, making the transition smooth for SLR experts. It is clear that Fujifilm made efforts to position their control buttons for easy access. The shutter button is located at the front end of the handgrip, where the finger can comfortably rest as well as take quick shots. The control buttons on the back of the camera are also easy to maneuver with the right thumb while shooting. The only buttons I feel were poorly positioned are the Flash, Exposure Compensation, and Continuous Shooting buttons. I had to shift my hand to reach them, making them a little harder to access quickly. However, the essential Shutter, Menu, Navigation, and Dial controls are positioned well for fast shooting.
Similarly, the buttons on the left-hand side of the camera (Macro, Shift, Info and Focus) are easily reachable by the left thumb. However, until the camera becomes second nature, you may have to pull it away from your face and turn it to the side to use each button. The short lens makes the Focus/Zoom ring quick and easy to use. To access it quickly, you just have to slide your fingers forward slightly. Again, this is similar to the maneuvering required of an SLR. The Fuji FinePix S7000's overall size and button sizes are great for people with large hands or fingers, but might be a little too big for children or those with tiny hands.
**Menu ***(8.0)*
The Menu on the Fuji FinePix S7000, accessed through the Menu/OK button, is easy to navigate and gives users the opportunity to adjust Self-timer, AF mode, Metering, AE bracketing, Sharpening, Multi Exposure, Flash output, and External flash. (When in Auto mode, there are fewer options to choose from.) In addition to recording menu options, the Fuji FinePix S7000 has a Function button that gives photo menu options. Here, users can adjust Image size/quality, ISO, and Color mode.
In Playback mode, the Menu button will allow the user to delete images (either frame-by-frame or all at once), protect images, set DPOF (Digital Print Order Format), or add a voice memo of up to thirty seconds to an image.
Ease of Use ***(7.0)***
The Fuji FinePix S7000 took its design from the reliable and widespread SLR body layout, and is therefore easy to navigate and operate if you are somewhat familiar with more advanced digital or film cameras. Since it takes features from both SLR and point-and-shoot variety cameras, I feel that I should compare it to both to give some perspective on its ease of use. Its relatively light frame, combined with its large handgrip, makes it easy to hold and shoot with, causing no major problems for experienced shooters. The S7000 goes a little further than SLRs by giving users the opportunity to compose images with the LCD screen as well as with the viewfinder.
From a point-and-shoot perspective, this camera will probably take a little getting used to. The fact that there are so many buttons, each with multiple functions, can no doubt be confusing and overwhelming for those unaccustomed to a more complex layout. For example, most digital cameras have one Menu button where all settings can be adjusted, but the Fuji FinePix S7000 splits its options between the Menu and Function buttons and might lead to wasted time while hunting around.
---
**Auto Mode ***(8.0)*
The Auto mode of the Fuji FinePix S7000 is very similar to that on other digital cameras on the market. It takes care of most settings except for image size and quality, flash modes, focusing modes, and Self-timer. This is a good mode for first-time users or in situations when you don't have time to monkey with settings.
Movie Mode*(8.0)*
If you turn the mode dial to the video camera icon, you reach Movie mode. The Fuji FinePix S7000 gives you the option of recording monaural sound movies with 640 (640 x 480 pixels) or 320 (320 x 240 pixels) both at 30 frames per second. The focal length of the optical zoom within this mode is 35mm-210mm (equivalent to a 35mm camera) and the maximum zoom is 6x. The focal range at a wide angle is 20 in. to infinity, and 36 in. to infinity at telephoto. For a camera this size, I would have been very disappointed to see a less impressive Movie mode, but Fujifilm didn't let anyone down in this department.
Drive / Burst Mode ***(7.0)***
There are four different options to choose from when using the Continuous shooting mode on the Fuji FinePix S7000. Top 5-frame option takes up to five frames at 3.3 frames/second. Auto bracketing is a quick way to execute the traditional bracketing technique of taking three shots at differing exposure levels. Final 5-frame allows 40 shots to be taken and records only the last five, and Long-period actually records 40 images at intervals of one second or longer. This is an impressive amount, and rivals many advanced cameras on the market. Fujifilm really tailors to speed shooters with this mode, along with the ultra-fast shutter speed options.
Playback Mode ***(7.0)***
The Playback mode on the Fuji FinePix S7000 is pretty standard. It gives you the option to zoom in, delete unwanted images, protect images that you don't want to be deleted, create and customize a slide show of your images, and record 30-second voice memos to accompany your photographs. These are neat options, but the one that I would have liked to have seen is an image cropping option. This might be missed by consumers who are used to having that option on other digital cameras.
If you press the Information button while in Playback mode, it allows you to view the exposure/setting information for each shot as well as a histogram. Under the Photomode section of playback is an option called DPOF (Digital Print Order Format). This option lets you record printing specifications for images.****
**Custom Image Presets ***(7.0)*
In addition to the Fuji FinePix S7000's Auto, Program, Shutter priority, and Aperture priority shooting modes, there is also a Scene position mode located on the Mode dial. Within Scene position mode there are four scenes: Portrait (good for portraits, and producing soft skin tones), Landscape (produces clear scenery shots), Sports (good for shots requiring a fast shutter speed), and Night scene (priority is given to slow shutter speeds and produces clear night images if steadied with a tripod). Again, the Fuji FinePix S7000 offers a middle-of-the-road array of options appealing to new users with a few custom images presets, but not an overwhelming amount that would annoy advanced users and clutter the camera.
**Manual Controls

**The Fuji FinePix S7000 has a wide variety of manual control options accessible through the Menu and the various independent control buttons located across the camera's body. Similar to the camera's design and shape, the manual control options also lie somewhere in between a point-and-shoot and SLR digital camera.
Focus

***Auto Focus (7.0)***
The Fuji FinePix S7000 is set apart from previous Fujifilm models by its external AF sensor, which allows for faster focusing. Single AF and Continuous AF are both available within this mode. Single AF (the camera's default) focuses the camera each time the shutter button is pressed down halfway. Continuous AF is useful in situations where the subject is moving, as the camera focuses continuously on the subject in the center of your composed image. Within the general AF mode, the Fuji FinePix S7000 also allows users to choose between Area, Center, or Multi-Focusing mode. In using the mode, I wasn't as pleased with its performance as I have been with other digital cameras. Sometimes I had to try a few times to obtain image focus that I was happy with.
Manual Focus*****(5.0)*
In addition to the extensive AF system, the Fuji FinePix S7000 also offers manual focus. The camera's FZ (Focus/Zoom) ring can be adjusted to obtain exact focus when the Focus mode selector is set to MF. When the camera enters into correct focus, a focus indicator dot appears on the LCD screen or viewfinder, whichever is selected. If the focus is set too close or too far away, an arrow will appear to indicate the direction the FZ ring should be turned. When compared with a digital SLR, I found this method cumbersome. I wasn't able to fully determine by my eye alone whether the image was in focus, but I didn't like relying on the camera's arrow system to tell me what was accurate.
In situations where rapid focus is needed, the One-touch AF button can be pressed while the camera is still in manual focus mode. The Fuji FinePix S7000 also offers a Focus check function, in which the center is enlarged to ensure or adjust focus. Since manual focusing modes are generally used by more experienced shooters, the inclusion of extensive MF features on the S7000 seems to be an attempt to reach a larger pool of users.
Metering ***(7.5)***
Metering options fall under the Fuji FinePix S7000's Photometry Menu, which offers a 64-zone TTL (through the lens) metering system. The default, and most appropriate for most subjects, is the Multi metering mode. The spot mode is useful for high contrast situations in which a particular part of the image needs to be exposed correctly. The Average metering mode averages the value for the entire image to obtain the correct exposure. This mode is good for situations where there is varying contrast.
The Fuji FinePix S7000 also offers a bracketing function that aids in obtaining a perfectly exposed image. When in bracket mode, three frames are shot: one is the camera's idea of a correct exposure, one overexposed, and one underexposed to a degree indicated by the user.
**Exposure ***(7.0)*
The Fuji FinePix S7000 has the standard setup for manual exposure compensation. If an exposure is less than accurate, the user can adjust it in 1/3 EV increments from -2 EV to +2 EV in order to obtain a better image. This function is carried out by pressing down the small Exposure compensation button located near the Shutter button and simultaneously rotating the command dial.
White Balance*(5.5)

*The Fuji FinePix S7000 has an impressive array of white balance options located within the Menu. Users can choose among Auto, Outdoor/Fine weather, Shade, Daylight fluorescent lamps, Warm White fluorescent lamps, and Cool White fluorescent lamps and incandescent light, along with two custom settings. If you can't find the perfect white balance among all those settings, you're doing something wrong. These options rival most SLRs on the market, going above and beyond in some cases . However, I often found it difficult to obtain accurate white balance on the first try, and had to try the manual settings repeatedly to obtain an image I was somewhat happy with.
ISO*(5.5)*
Although the Fuji FinePix S7000's automatic ISO ranges from the equivalents of 160 to 800, I was disappointed by the three meager manual ISO settings: 200, 400, and 800. This is one situation in which the Fuji FinePix S7000 does not produce competitive control options and is limiting to the user. Furthermore, the 800 setting only takes images at a reduced resolution (3M), so if you're looking to make good prints, you really only have the option of shooting at an ISO 200 or 400! Shooting limitations like these are ludicrous and contribute to poor image quality.
Shutter Speed*(8.5)

*When the Fuji FinePix S7000 is in manual mode, the shutter speed can be adjusted by rotating the Command dial. The speed ranges from 15 seconds (in Bulb setting) to 1/10000 of a second, a speed so fast it surpasses most other cameras currently on the market, digital SLRs included! This digital camera would be fun to take out at night with a tripod and a good friend to take along to the games with you.
**Aperture ***(7.5)

*The Fuji FinePix S7000 has an Aperture range of f/2.8 to f/8 in 1/3 increments. It is relatively easy to adjust manually by holding down the Exposure compensation button and rotating the Command dial.
Picture Quality**/ Size Options ***(7.5)*
The Fuji FinePix S7000 has six image size options accessed through the Function button on the back of the digital camera: 1280 x 960 (1 MP), 1600 x 1200 (2 MP), 2016 x 1512 (3 MP), 2848 x 2136 (6 MP), 4048 x 3040 Normal (12 MP), and 4048 x 3040 Fine (12 MP) for better image quality. The Fuji FinePix S7000 does its users a service by indicating how many more images can be taken with the particular card inserted at the chosen file size.
 **Picture Effects Mode ***(7.0)*
The Fuji FinePix S7000 allows users to adjust its color and sharpness settings to enhance their pictures and add a little more creativity. Within the menu accessed through the Function button, there are three FinePix color options: Standard, Chrome, and Black and White. Standard is the default and all around smooth color setting, Chrome sets contrast and color saturation to higher levels to achieve vivid color tones similar to slide film, and Black and White converts all color tones into black and white tones.
There are also three options for Sharpness located through the Menu button: Hard, Soft, and Normal. These allow the user to adjust the emphasis of the image depending on your subject. For subjects with a hard edge, such as a building, the Hard option would work best. For images of people, the Soft sharpness would work well. I was quite pleased with the default level of sharpness, and wouldn't be surprised if most people didn't touch this function.
---
---
Connectivity

Software (6.5)
The Fuji FinePix S7000 comes with FinePix SF Version 4.1d for both Windows and Mac OS. This software is relatively easy to navigate and is geared towards the most popular image utilization options: slide shows, printing, and image CDs. It gives the basic options, but if you're hoping to accomplish anything even slightly more advanced I would suggest using a more sophisticated software suite, such as any Adobe product.
**
Jacks, ports, plugs (7.0)
The Fuji FinePix S7000 model uses four AA batteries. Unlike some other camera models, the S7000 does not have a battery charger. It would probably be wise to purchase a AA rechargeable battery set with a re-charger. Another option is to purchase an AC power adapter that can plug into the DC Input 5V socket. Among the output/input options is an A/V output socket that connects the camera to a television using the A/V cable included in the package. To download your images if you don't have a card reader, you can use the included USB cable (mini B) to connect your camera to a computer.
Direct Print Options (6.5)
The Direct Print Option on the Fuji FinePix S7000 allows the user to record specifications for printing, but doesn't offer the option to specify multiple prints. I would assume multiple image capability is a key component to this feature, but Fujifilm apparently does not.
---
---
**Other Features ***(8.5)*
The ever-popular Self-timer mode was not left out of the S7000 and even has two settings to choose from. Depending on what you're shooting, you can choose to have the picture taken after 10 seconds or two seconds. The self-timer light on the end of the handgrip blinks to indicate that the function is activated and the picture will be taken.
The Fuji FinePix S7000 has a very distinctive Multiple exposure function that few cameras on today's market offer. It appears much like a double exposed image taken with a film camera. Accessed through the camera's Menu button, the user can turn the function On or Off. After the first image is taken, a preview function shows the following images layered on top of the existing photograph. The user can use the left and right arrow buttons to take more images or go back and remove one, and there is no limit to the number of images that can be layered.
---
**Value ***(7.0)*
The Fuji FinePix S7000's price falls right in the middle of SLR and point-and-shoot, much like its style and design. For US $559, you are making quite an investment, but there are a lot of features and control that comes along with this camera – and, more importantly, room to grow. If coming from a point-and-shoot perspective, it's hard to complain about the price when so much is offered by one camera. It's not as advanced as a digital SLR, but you're not paying SLR prices either. I would venture to say that you are getting a fair deal for this camera's suggested price.
Comparisons

[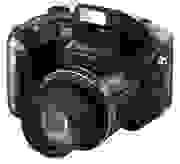 ](../specs/Fuji/FinePix%20S602Z.htm)Fuji* FinePix S602 Zoom*
The Fuji FinePix S7000 is similar to the earlier Fuji FinePix S602 Pro Zoom model in many ways, but does include some significant improvements. The newest feature is the shift from the Super CCD III sensor on the S602 to the Super CCD IV HR (high resolution) image sensor. Their size and features are very comparable, which would make a transition between the models easy. The most significant difference is the doubling of megapixels, jumping from the S602 (3.3 million) to the S7000 (6.3 million), which has a causal effect on the price jump to $559 for the newer model. Fuji has made a number of different minor changes, such as boosting the zoom, strengthening the resolution of the LCD, extending the flash range, and improving the storage capabilities.
[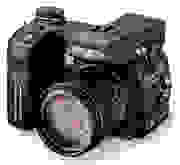 ](../specs/Konica-Minolta/DiMage%20A1.htm)Konica Minolta DiMage A1
A digital camera with comparable style, size, and features to the Fuji FinePix S7000 is the Konica Minolta DiMage A1. Measuring 4.61 x 3.35 x 4.47 inches (69.03 inches³) and weighing 19.8 oz, the DiMage A1 is slightly larger and heavier than the S7000. Although these two cameras have competitive features, there are some areas in which they differ. When first out on the market, the DiMage A1 was in the $700 category, but has dropped to around $550. The Fuji FinePix S7000 offers more megapixels (6.3 compared to the A1's 5.0), a better Movie mode frame rate (30 fps vs. 24 fps), and faster shooting speeds (3.3 fps compared to 2.8 fps). However, the Konica Minolta DiMage A1 has some advantages over the Fuji FinePix S7000 as well. It offers a wider angle (28mm compared to 35mm), better ISO range including 100 ISO with no reduced resolution at higher ISO speeds (as occurs with the S7000 at 800), a much higher top shutter speed of 1/16000 compared to the S7000's 1/10000 capabilities, and a better zoom lens with 7x optical zoom. Although the DiMage A1 is clearly a stronger camera for sports images, the Fuji FinePix has a competitive edge in other areas.
[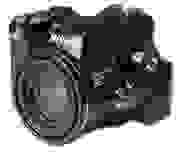 ](../specs/Nikon/CoolPix%205700.htm)Nikon Coolpix 5700
Another digital camera that falls into the area between SLR and point-and-shoot is the Nikon Coolpix 5700. With a similar SLR-like design, the 5700 has an overall smaller volume of 51.6 inches³ (measuring 4.3 x 3.0 x 4.0 in) and lighter weight (16.9 oz) than both the Fuji and Minolta discussed above. However, it is missing a few key features. The Nikon Coolpix 5700 has a maximum shutter speed of 1/4000 of a second, its LCD screen is only 1.5" with a meager 110,000 pixels (as opposed to 1.8"), and its Movie mode only captures 15 fps. The 5.0 megapixel Coolpix 5700 does had a distinct advantage over the previous two digital cameras with its impressive 8x optical zoom Nikkor lens. It also has extremely long shutter speed capability and can shoot images in bulb more for up to 5 minutes, compared to the 15 second limit of the Fuji FinePix S7000. When the Coolpix 5700 first came out, it retailed in the $700 range, but can now be found for as little as $450-$500.
 **Who It's For**

Point-and-Shooters** - **The Fuji FinePix S7000 is not a brainless digital camera. Although it has modes in which you can have the camera do the thinking for you, there are too many options available to put it in this category.
Budget Consumers** - **If you're inching towards advanced photography, but you're not ready to shell out the cash for an SLR, this might be the right camera for you. It has almost as many features and a similar style, but is a lot nicer on your pocketbook.
**
Manual Control Freaks** - **If you're a freak about manual controls, you will be comfortable with the Fuji FinePix S7000, but probably not fully satisfied. It gives you competitive features, but when it comes to full control of your camera, nothing compares to a true SLR.
**
Pros / Serious Hobbyists** - **Although I wouldn't actively discourage the purchase of this camera for someone who is serious about photography, I probably wouldn't suggest it, especially with the race to produce SLRs with smaller bodies and lower prices. There are too many high-end options out there that can surpass this model.
---
Conclusion
The Fuji FinePix S7000 is a chameleon of sorts, and can mold itself into nearly anything you want it to be. Falling into the SLR-like category, this digital camera has many of the same features as an SLR: body size and shape, manual control options, and physical features. Nevertheless, it retains the ability to "dumb down" to point-and-shoot level. However, I feel that Fujifilm is almost spreading itself too thin with this model. The problem that arises is that certain features are available and will come close, but do not follow through as reliable features.
Specs Table
Meet the tester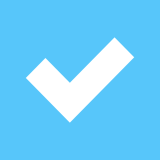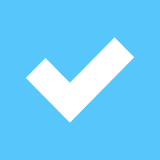 Elena Rue
Editor
Elena Rue is a valued contributor to the Reviewed.com family of sites.
Checking our work.
Our team is here for one purpose: to help you buy the best stuff and love what you own. Our writers, editors, and lab technicians obsess over the products we cover to make sure you're confident and satisfied. Have a different opinion about something we recommend? Email us and we'll compare notes.
Shoot us an email