Fujifilm needs to overcome a few lingering image quality problems in order to surpass the stiff competition. Does their superzoom flagship rise to the occasion? We let the tests decide.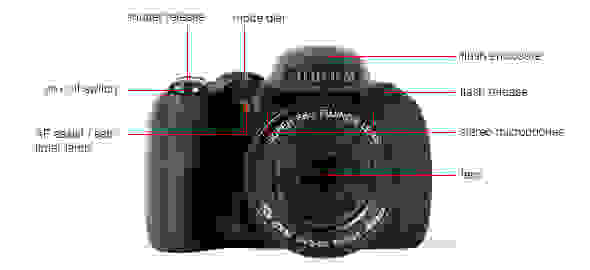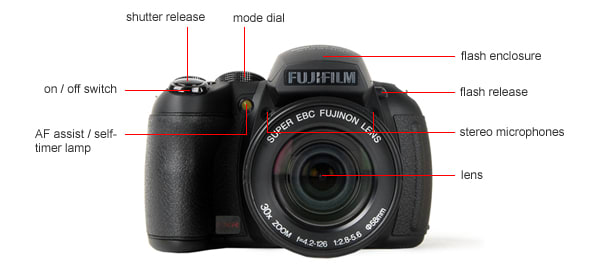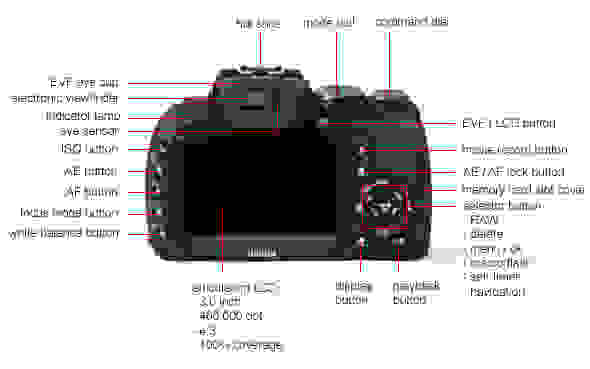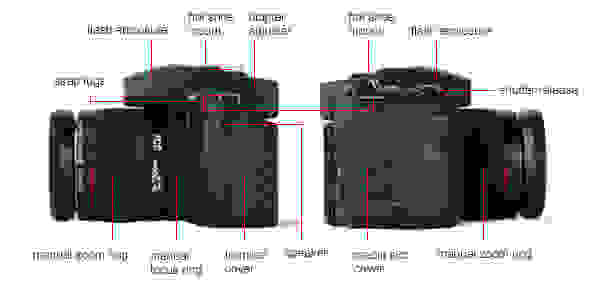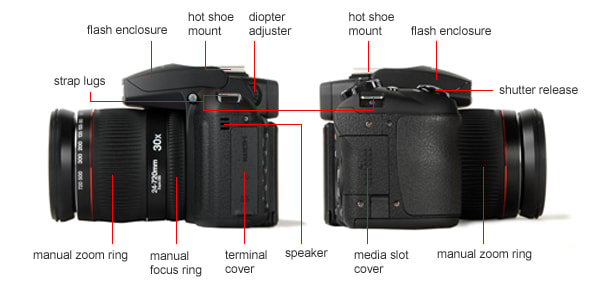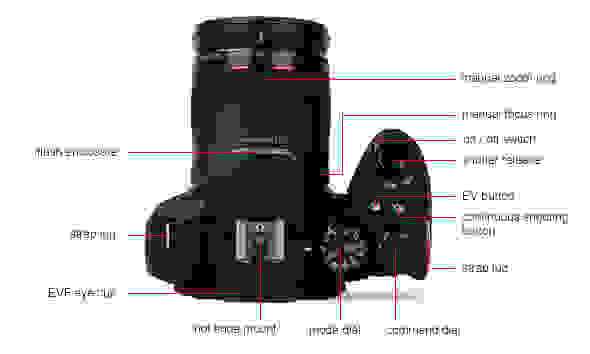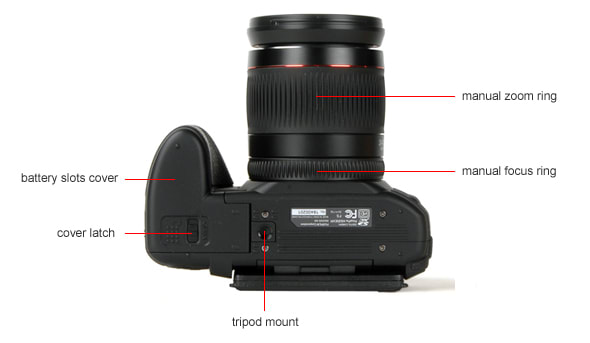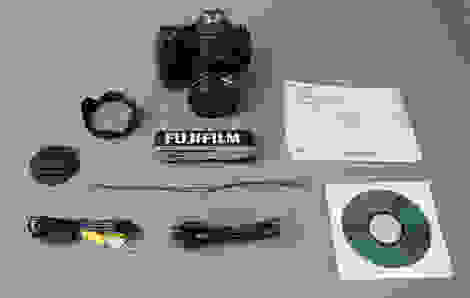 In the box:

• Fujifilm FinePix HS20EXR digital camera

• 4 AA alkaline batteries

• neck strap

• lens cap with strap

• USB cable

• A/V cable

• lens hood

• basic manual

• software CD-ROM
The HS20EXR offers pretty solid color accuracy, achieving an error value of only 2.69 in our test. This will add a flattering, realistic element to all shots, especially those with human subjects. Problem areas, where they do exist, are spread out evenly across the spectrum. Fleshtones, greens, and blues are all darker than they should be, though only slightly. Saturation is also nearly perfect, off by only 1.5%. More on how we test color.
Today we'll be comparing the HS20EXR to three very similar models: Panasonic's Lumix FZ150, recently crowned king of the superzooms, Canon's PowerShot SX40 HS, another powerful model, and Fujifilm's own HS10, the nearly-identical camera preceding the HS20EXR
The HS20's color scores are the best of them, although by a slim margin. All these cameras offer strong accuracy, but we do notice a relatively sharp increase from the HS10.
Fujifilm handles color modes in a cool way that harkens back to the proud tradition of film photography. The HS20EXR's "Film Simulation" setting adjusts color based the company's own line of reversal films. Provia is the standard setting for a wide range of subjects, Velvia increases the vibrancy of color, and Astia reduces saturation. There's also two extra settings for sepia and monochrome. Provia is by far the most accurate mode, so all further tests were performed using this setting.
One more thing. This wouldn't be much of a review if we failed to mention the camera's titular "EXR" mode. We found this mode either detracted or failed to improve image quality in general, including color accuracy. So all of the results presented in this review were recorded without EXR. The extra processing also violates our policy to avoid artificially sharpened or enhanced photos, unless they occur at default factory settings.
While we were encouraged by the FinePix HS20EXR's impressive color accuracy, the camera's noise performance was a let down. Noise rates breach 1% as early as ISO 200, then quickly shoot up to 2.35% before noise reduction fights back. At ISO 3200, this model's full resolution maximum, noise finally reaches an unacceptable 2.72%.
The problem is represented evenly by both chroma and luminance noise, but the worst part of this metric is the ugly and destructive way this camera's noise reduction software tries to help. At default settings, even ISO 100 shots are smudged and blurry. This algorithm is the worst of both worlds, using an aggressive and heavy-handed technique, while also failing to keep image noise at a usable level. More on how we test noise.
Artifacting is actually slightly lessened by shooting in low light. In our 60 lux test, noise did drop by a fraction of a percent, however the trends were the same: lots of noise early on, spike at ISO 800, and then again at ISO 3200.
Although the HS10 was a relatively strong noise performer when it debuted, its scores cannot keep pace with the brand new Panasonic FZ150 or Canon SX40 HS. And yet the HS20EXR is a step back even from the HS10. Admittedly, we have a bit of a grudge against noise reduction, since it tends to throw off our test scores. But when software starts to actively degrade shots, that's taking things too far. We recommend all HS20 users set noise reduction to its lowest level, then clean up artifacts in post production.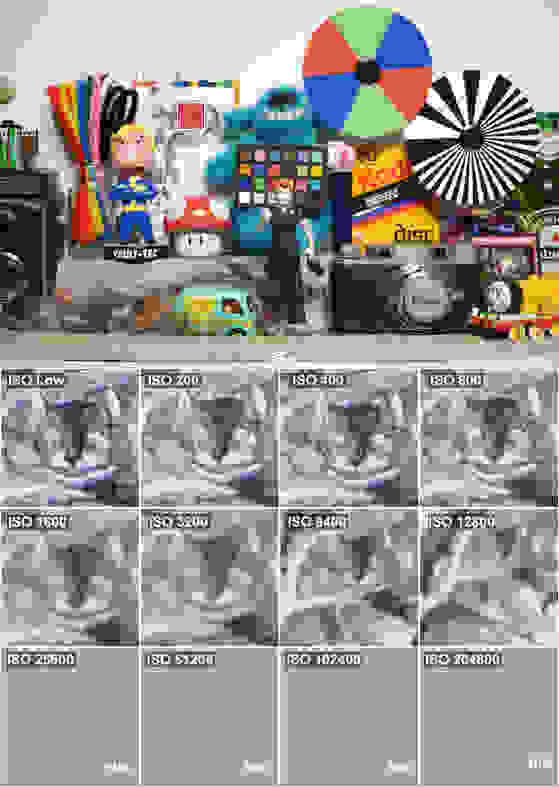 Full resolution ISO levels extend from 100 to 3200, and that's a range we've come to expect from cameras in this price range. Extended ISOs of 6400 and 12800 are available, but this reduces resolution to 8 megapixels and 4 megapixels respectively.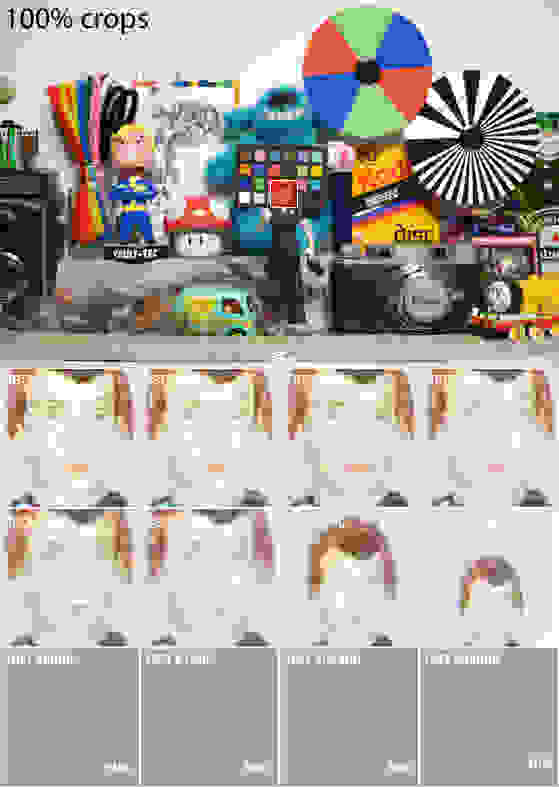 NOTE: The images above are not used in our testing or scoring, but are included here to show real-world examples of the differences between cameras at the various ISO settings.
Resolution is the FinePix HS20EXR's most severe problem. Viewed up close, we see that the vast majority of shots range from unsharp to utterly blurry. Two factors contribute to this. First, the camera's autofocus frequently makes poor guesses. We had to re-shoot a number of sample photos after realizing they were totally out of focus. And second, the ambitious 30x lens simply fails to deliver the sharpness we've come to expect, even compared to other ultrazooms. More on how we test resolution.
Distortion ()
Considering the HS20EXR's reliance on software, we were surprised to see such a low distortion score. Distortion is predictable and easily corrected in software, so we often see cameras achieving the maximum score of 15.00. The Fujifilm makes no such effort here. Then again, despite the way we award points, most of us would rather an image more authentic to the sensor's raw data.
Sharpness ()
The HS10 was a poor sharpness performer, but the newer HS20 lowers the bar even further. Edges are blurry at every focal length. And yet again, we see "enhancement" software behaving very uselessly. The FinePix's sharpening algorithm damages shots while simultaneously failing to actually improve sharpness. Amazing.

Chromatic Aberration ()
Purple fringing plagues most images, especially those taken at the mid and far focal lengths. This score is the worst of our comparison group, although many ultrazooms face the same problem due to complex lens geometry.
Shots may be taken in 4:3, 3:2, or 16:9 aspect ratios, with three resolution levels available for each. Compression quality may be set to Fine or Normal, depending on your need to conserve space. RAW shooting is also available, a tragically rare feature for the class, but this slows down the shooting interface considerably.
The HS20EXR's sensor shift "Dual Image Stabilization" is one of the most effective applications we've ever tested. The camera was able to resolve 57% more detail with stabilization active, and the "Continuous" option is also helpful for framing long-zoom shots steadily. More on how we test image stabilization.
This result is a major step up from the HS10, as well as the rest of our comparison group for that matter. Only Panasonic's excellent FZ150 comes close, managing to improve detail by 35%.
The HS20EXR meets or exceeds the feature set we've come to expect from high-end ultrazooms. 1080i HD video is supported at 30 frames per second, and although that's where you'll be doing the majority of shooting, 720p and 480p are also available. High speed shooting at up to 320 frames per second also makes for a fun diversion, although the functionality is limited to lower resolutions.
Color accuracy while shooting video lags behind our Panasonic and Canon comparison models, however the real story is how much Fujifilm has been able to improve this facet of shooting since the HS10. Accuracy has jumped dramatically, and although video color generally isn't so great, the HS20 at least competes this year. More on how we test video color.
Sharpness, on the other hand, continues to be an issue for this camera. When shooting video, the lens confirms its trouble with fine detail, resolving only 400 - 425 lw/ph, far less than the competition, including the HS10. More on how we test video sharpness.
We often found ourselves reaching for the on/off switch, rather than the proper zoom hotkeys on the left side of the body, but that small annoyance was our only problem with the playback interface. Otherwise, navigation is painless. Fullscreen display with zoom is where you'll spend most of your time, while zooming out reveals grid display modes of varying proportions. A handy image search function will sort your photos by date, face, favorites, scene mode, data type, or upload mark. Information display also gets its own hotkey, and the readout is helpful and comprehensive.
Editing functionality within the camera is simplified, with no effort wasted on advanced funtions like color space or contrast correction. Instead, the basics like crop, resize, rotate, and red-eye removal are included. RAW image editing is supported too, but functionality is even further limited. In-camera video editing is not possible.
The HS20EXR supports DPOF tagging from within the playback menu, however tagging multiple shots is a bit of a pain. For home printing, the popular PictBridge standard is fully supported.
The 200,000-dot electronic viewfinder is darker than we would've liked, but there's barely any lag to the screen, making the EVF our preferred method of framing and shooting. Beside the viewing window is an eye sensor. Once a user places his or her eye up to the eyecup, this sensor automatically swaps display from the LCD to the EVF, conveniently eliminating the need for an extra button press. On the opposite side of the eyecup, a diopter adjustment wheel can be used to compensate for individual differences in eyesight.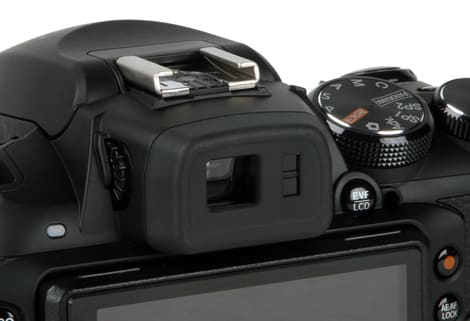 When shooting through the viewfinder isn't desirable, the HS20's excellent LCD renders both color and motion accurately. Again, there is no lag time, thanks to an available 50 frames per second display speed. For occasions with tricky angles, the screen articulates up and down for overhead or chest-level shooting. The mechanics of the arm can achieve a much steeper angle when titling the screen up than it can for tilting down, however this was never a real problem thanks to the screen's wide viewing angle.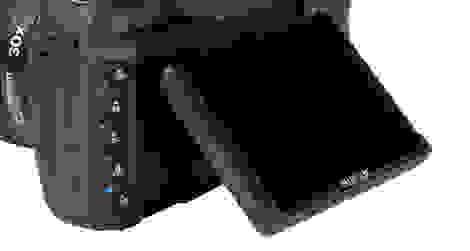 The HS20EXR's flash is concealed underneath a large, protruding enclosure at the peak of the body. A mechanical release is easily accessible with the left shooting hand, which causes the flash to swing out and above the body. Fujifilm rates the flash's effectiveness at a maximum of 23.3 feet, which makes it of average power. The way this model handles flash is notably subtle however, a rarity for all built-in flash bulbs. While some shots are still victim to harsh light, others are cast just brightly enough, especially scenes with moderate ambient illumination.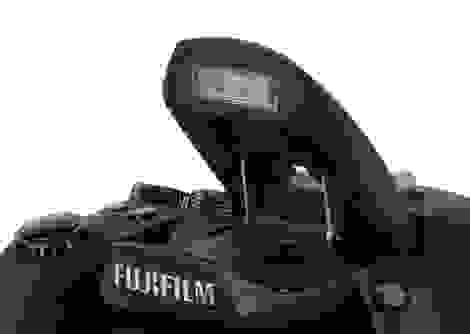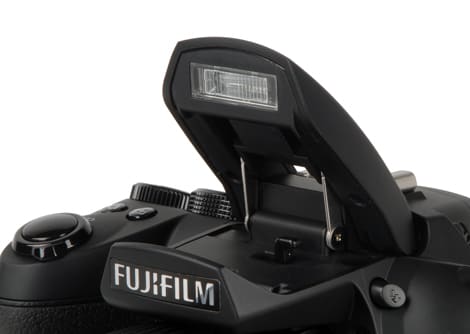 The lens is the star of the ultrazoom category, and although the HS20's disappointed us performance-wise, it is still a cosmetically attractive piece of hardware. Encircled by shining bezels of red and chrome, the assembly looks like an expensive SLR at a passing glance. The illusion is reinforced by an oversized manual zoom ring and a smaller manual focus ring, each rubberized and notched for grip. A plastic lens hood ships with the HS20EXR, and twists securely onto the front of the housing. A removable lens cap is also included, which comes with its own thin strap so you won't lose it.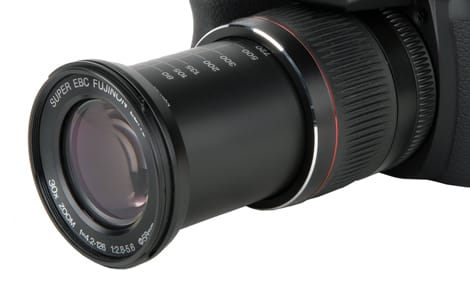 The lens' extreme focal length is capable of 30x optical zoom, and as you can see by the examples below, this is enough to capture detail from a few blocks away. We've seen ultrazoom cameras reach as far as 36x, but 30x is plenty for any scenario we can imagine. The assembly's inner cylinder is marked for both true focal length and 35mm equivalent focal length, which is helpful for repeating the same zoom factor on separate occasions.
This model uses AA batteries exclusively, which is theoretically more convenient, but in practice...isn't. For our purposes, we always prefer rechargeable packs or, better yet, configurations that allow for both. Using the supplied batteries, we ran out of power a bit too early, however Fujifilm has included some power saving options like display frame rate and start-up speed. For better battery life, the company claims a whopping 700 consecutive shots are possible with lithium batteries, however you'll need to purchase them and a charger separately.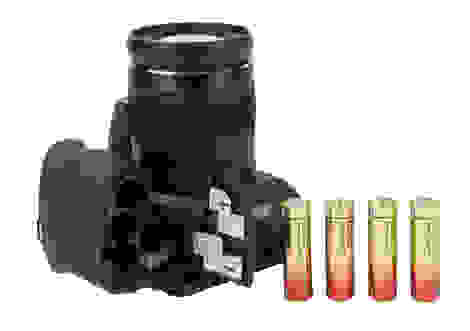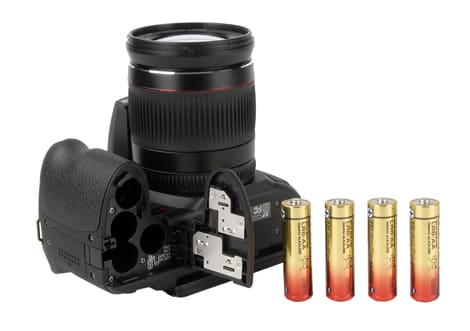 SD, SDHC, and fast SDXC memory cards are the only types supported for use with the HS20EXR. In a pinch, 20 MB of internal memory are available, but this is only enough for 3 full quality images or 11 seconds of full resolution video. Using an SDHC card, we found this camera's write speed to be considerably slower than we're used to, especially during continuous shooting or RAW mode.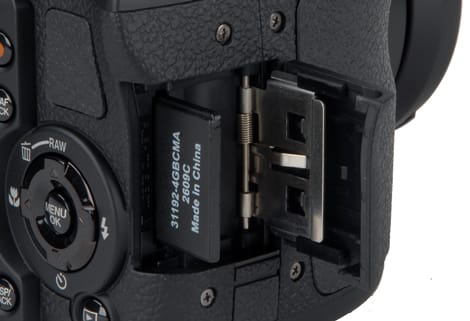 Most connectivity options are housed beneath a textured terminal cover on the body's left panel. There's a mini-HDMI port for output to a high definition display, as well as a standard mini-USB port for transferring data to a PC. Below that, a proprietary A/V terminal requires an included cable to output footage to a standard definition display.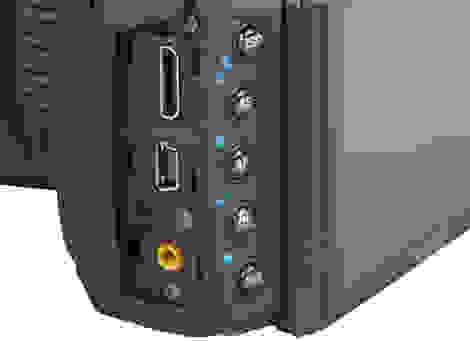 The only remaining connection is the hot shoe slot located in between the EVF eyecup and the flash enclosure. The connector is always exposed, adding to this model's professional look, and may be used in conjunction with a variety of accessories, such as clip-on flash emitters.
A large mode dial dominates the upper right panel of the HS20's body, and allows for full "PASM" shooting methods, as well as a custom mode, dedicated panorama mode, EXR mode for additional image processing, scene modes, "advanced" mode (which really could've been another scene mode), and a fully automatic mode. We did the vast majority of our shooting in Program mode, however program shift functionality required a bit of research to get working properly.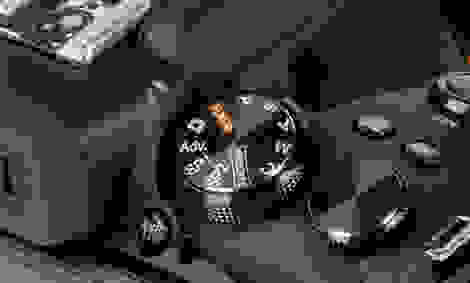 Scene Modes
17 disparate scene modes are available, not counting the two "advanced" modes found in a separate menu. They range from mainstays like Landscape and Sport, all the way to Cat mode, which actually features feline face detection and auto release. "Scene Positions," as Fujifilm refers to it, actually take up two stops on the mode dial, allowing users to quickly swap between two different settings. Scene modes definitely aren't our style, but if you're into it, the HS20EXR has a lot to offer.
Silly picture effects are entirely absent from this camera aimed at the serious shooter, but in their place we find various tweaks for color, white balance shift, tone, and sharpness, with fine adjustments for each. So, despite the lack of "magic frames" or the recently popularized "miniature effect," we do award some points here.
The chart below therefore does not display picture effects, but instead shows examples of this camera's different "Film Simulation" settings.
The HS20EXR's manual shooting functionality is extensive. Full manual control of shooting variables is available right from the mode dial, not to mention the oversized zoom ring and focus ring surround the lens elements. The zoom ring is a rarity for this class and a welcome addition.
We were also excited by the focus ring, but operation wasn't as smooth as we'd hoped. Focus adjustments seemed to lag behind our physical input, and this made precision difficult. Consistency across the zoom spectrum was also a problem: what was in focus at 14mm might no longer be in focus at 35mm. In the end, we stuck with this camera's already-quirky autofocus system, rather than bother with the manual method.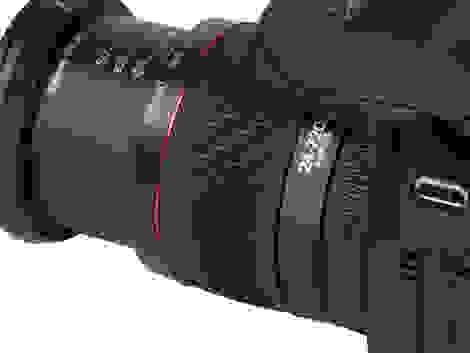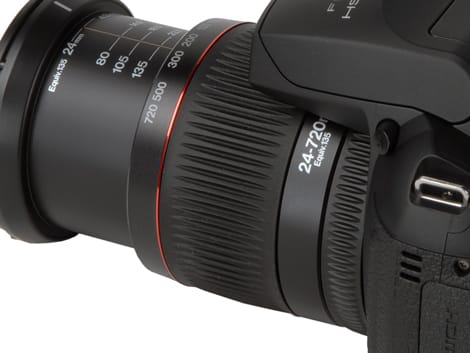 Self-timer settings are simplified, there's an option for 10 second and 2 second countdowns, plus an auto release setting that starts the countdown once a face is detected.
Burst modes are anything but simplified however. First there are three separate bracketing options, one each for exposure, film simulation, and dynamic range. Another option, Best Frame Capture, starts shooting once autofocus is locked and ends after the shutter button is pressed, to make absolutely sure the decisive moment isn't missed. Finally the traditional burst mode is called "Top 8" (or "Top 4" or "Top 32, depending on how many pictures are included in a burst). Speeds of up to 11 frames per second in groups of up to 32 shots are possible, however any settings above 8 frames per second or 8 total shots begin to limit maximum resolution.
Shot to Shot ()
At the maximum full resolution speed and capacity, we clocked the HS20EXR at 7.5 frames per second, just shy of Fujifilm's claim. At the fastest possible burst however, speeds reached 11.3 frames per second, a little bit faster than promised.
Physical handling of the FinePix HS20 EXR is phenomenal. A rubberized, textured surface surrounds the right hand grip, which is exaggerated and protrudes from the body. A recession for the index finger adds lateral stability, as does the pointed lip adjacent to the right thumb rest. This side-to-side stability is important given the extra large, extra heavy glass weighing down the body's left side.
On the left side of the body, the rubber goes away but the textured, SLR-style surface does not. For two-handed shooting, the control buttons are close at hand, and toggling is confident thanks to the texture and rounded body shape.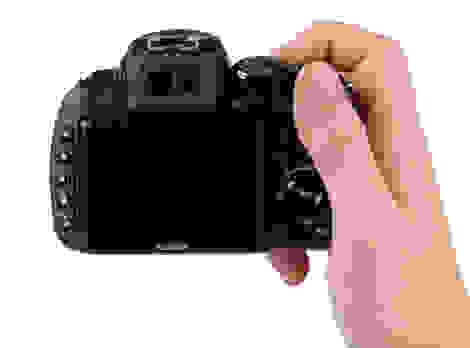 We only wish the flash enclosure, which extends all the way across the top of the focus ring and halfway across the zoom ring, wasn't there. Twisting either of these rings all the way around in one turn is impossible, since the thumb is eventually blocked by the protruding flash hardware. Fujifilm would've been better off using a collapsing spring-up flash arm for the HS20EXR, rather than the current design.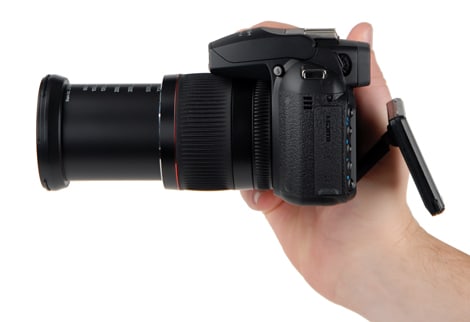 The HS20's control scheme runs the risk of confusing newcomers, but after some practice, all users should agree this is a well-conceived layout for a feature-rich camera. In fact the only buttons that are decidedly out of reach are the exposure compensation and continuous shooting buttons, which are paired on the top panel, away from accidental presses.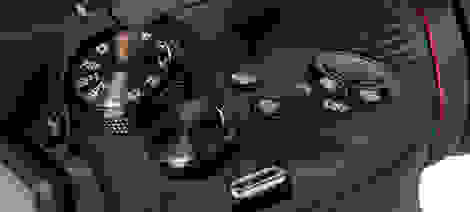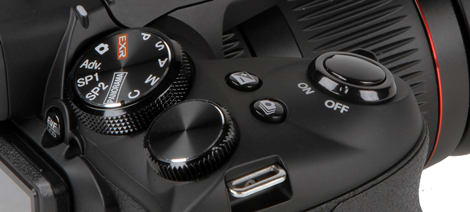 On the rear, controls are divided between the right and left sides. The right side is a typical configuration, with a directional pad and various shortcut keys. On the left side is a vertical column of buttons, one for each common shooting variable. Holding down any one of these buttons brings up a quick menu that can be adjusted with the "command dial" beside the mode dial.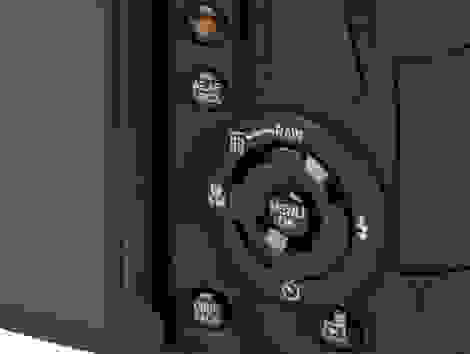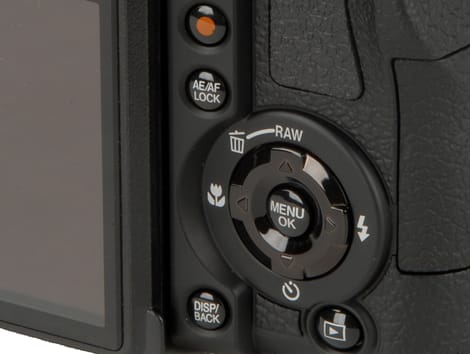 The main menu interface is divided into two tabs, one for shooting and one for setup. The simplistic configuration is easy to immediately understand, but grouping so many options together means extra scrolling to find that one setting you're looking for. Thankfully the aforementioned left column of physical buttons perform the same function as a quick menu, so adjusting common variables is a breeze.
The menus are sometimes victim to a small degree of slowdown, and we wish Fujifilm invested in a faster processor or spent more time optimizing the interface. The problem is mostly limited to start-up and heavy use, so this becomes annoying during action or sports shooting.
In-camera help is basically nonexistent, and the included "Basic Manual" doesn't offer much help either. Most users will want to download the full length manual from Fujifilm's website, which offers much more in-depth explanation and was useful throughout our time with the camera.
Panasonic has really broken through this year when it comes to the ultrazoom lineup, and despite the HS20EXR's rich feature-set and attention to the experienced shooter, the Lumix FZ150 is the superior camera by a wide margin.
Looking over the range of lab tests, most of our scores are evenly matched, save for a few exceptions that are wildly uneven. These exceptions favor the FZ150 in a big way. Specifically, the Panasonic's handling of noise and ability to resolve fine detail are far ahead of the Fujifilm. And while the HS20EXR has many extra shooting feature to offer, more in fact than most of the competition, so too does the FZ150. There is little competition here.

/r:render
Like the FZ150 comparison, this is a story of many close scores and a few absolute blowouts. And once again, where the performance of these two cameras deviate, they do so in favor of the competition.
Canon's PowerShot SX40 HS is one of our favorite ultrazooms. It takes attractive pictures with low noise at one of the longest zoom ratios available in this segment of the market. The HS20 offers little competition to the excellent SX40, the only exceptions to this are color accuracy and image stabilization, where the Fujifilm excels. Still, this isn't nearly enough to earn our recommendation over Canon's finest ultrazoom.

/r:render
Fujifilm has made very minimal improvements to their latest superzoom camera since its predecessor, the FinePix HS10. Color accuracy, our most important metric, is up by two points. With that comes a dramatic increase to color accuracy while shooting video, promoting the FinePix ultrazoom to a legitimate video device.
But for every step forward, Fujifilm takes one backward. Noise is a big problem for the HS20EXR, worst in fact than the HS10. Fujifilm also failed to correct problems with the HS10's resolution, which relied on extremely drastic sharpness enhancement. The HS20EXR lessens the destructive effect of this algorithm, but never fixes the underlying problem.
To call the HS20EXR flatly inferior to the HS10 would be an exaggeration, but we certainly wouldn't call it much of an improvement. Current HS10 owners have little reason to upgrade.

/r:render
Let's start with a history lesson. A short one, don't worry.
At the earliest stages of amateur digital photography, one single specification, megapixel count, was used–for better or worse–to quickly convey the quality of a camera. The megapixel resolution of a digital sensor was seen as a holistic indicator of a given model's worth. Of course this is mostly untrue, there are many factors that indicate a camera's quality, and raw resolution is just one of them.
Slowly, the public became more aware of megapixels as a small part of a larger system, thanks consumer education by marketing departments and even media outlets like ours. Meanwhile, another single statistic has risen to take its place: optical zoom. To meet demand, the "ultrazoom" category was born. Fixed lens cameras, more affordable than digital SLRs, that prioritize extreme zoom ratios over all other qualities.
So you've got to respect Fujifilm for ignoring another silly, fleeting trend, and aiming to deliver a more feature-rich model than its predecessor. The company could've easily slapped another 5x onto the FinePix HS10 and called it a model year. Instead, they kept zoom right where it was, and tried to improve their ultrazoom flagship in other ways.
The reason we say all this is to contextualize a tragic truth. The Fujifilm FinePix HS20EXR, despite adopting a strategy that we respect, is barely an improvement over the HS10, and lags behind current competition. Images are noisy, blurry, and unflattering. Sharpness has dropped, and since the glass has remained the same, this defies explanation. Fringing was worse in our lab test, though admittedly not quite as bad in the real world.
It's a sad situation. We want to love the HS20EXR, with its robust feature set and serious, professional design. But this camera just doesn't take very appealing photos. We don't recommend HS10 owners upgrade, and we recommend new ultrazoom customers take their business to Panasonic, Canon, or Nikon this year.
Meet the tester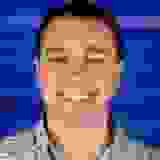 Christopher Snow
Managing Editor
@BlameSnow
Chris was born and raised less than ten miles from our editorial office, and even graduated from nearby Merrimack College. He came to Reviewed after covering the telecom industry, and has been moonlighting as a Boston area dining critic since 2008.
Checking our work.
We use standardized and scientific testing methods to scrutinize every product and provide you with objectively accurate results. If you've found different results in your own research, email us and we'll compare notes. If it looks substantial, we'll gladly re-test a product to try and reproduce these results. After all, peer reviews are a critical part of any scientific process.
Shoot us an email