Our First Take
In the cold, grey light of the morning after, the camera announcements at CES 2014 look pretty pedestrian. Instead of debuting big products in the neverending din of CES, Fujifilm, like all the other camera manufacturers, kept its announcements conservative. So go figure that point-and-shoots, as they coast serenely toward extinction, got the most love.
New for 2014, the FinePix S1 (MSRP $499.95) is a 50x bridge camera with a unique feature up its sleeve. Like some DSLRs twice its price, the S1 is weathersealed, so that moisture and dust are kept away from its sensitive innards.
Ideally, that means you'll be able to keep shooting Junior's Pop Warner game even if a sudden downpour sends other parents scrambling to their cars for cover. Weather sealing used to be a premium feature. It's a quality that can inspire great confidence in a camera, and one that was brought downmarket largely by Pentax in a series of sub-$1,000 DSLRs (like the recent K-50). This is the first time we've seen it on a bridge camera, and that's enough to lift our eyebrows.
Design & Usability
Looks can be deceiving
The S1 feels like it's more or less on par with with the competition in terms of design. We weren't wowed by its build quality or ergonomics, but it's compact and features a comfortable, chunky DSLR-style grip—just like countless other superzooms.
As a modern superzoom, the S1 does its best to offer everything to the user. After all, this is an all-in-one solution—a DSLR alternative. Unfortunately, the $500 price point holds it back. The S1 has a tilting rear screen, which is really pretty nice, but its EVF is uselessly tiny and low-res. Believe us, this is an EVF that immediately reminded us of the bad old days.
The textured rubber ring on the lens barrel is a deceptive design cue.
You can control the 50x zoom lens using either the traditional ring around the shutter release or a side-mounted vari-speed zoom rocker. The textured rubber ring on the lens barrel itself is a deceptive design cue. Good luck trying to move it—it's stationary, and not usable as a control of any kind. While it might be a nice extra bit to grab onto, if you're expecting a manual focus or zoom ring, you'll be immediately disappointed.
Features
It's all about the zoom
Centered as it is around a 50x optical zoom lens, there's little doubt as to this camera's purpose. The massive 24mm-1200mm (35mm equivalent) zoom boasts a reasonably speedy f/2.8-5.6 aperture range and 5-axis image stabilization. That last feature will certainly come in handy when shooting at 1200mm equivalent, though it remains to be seen whether it's as effective in the real world as other 5-axis implementations we've tested.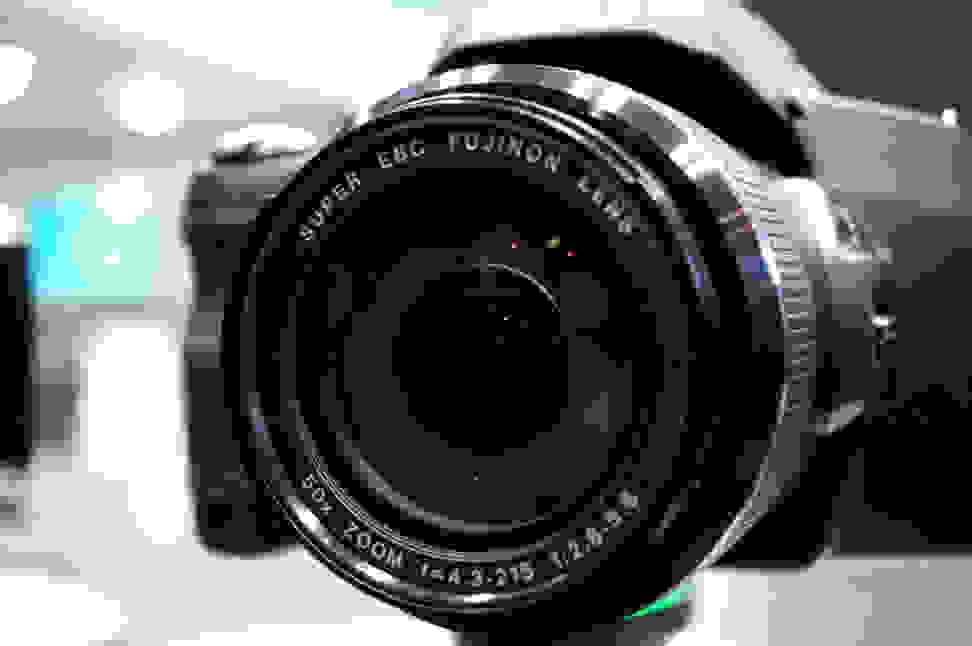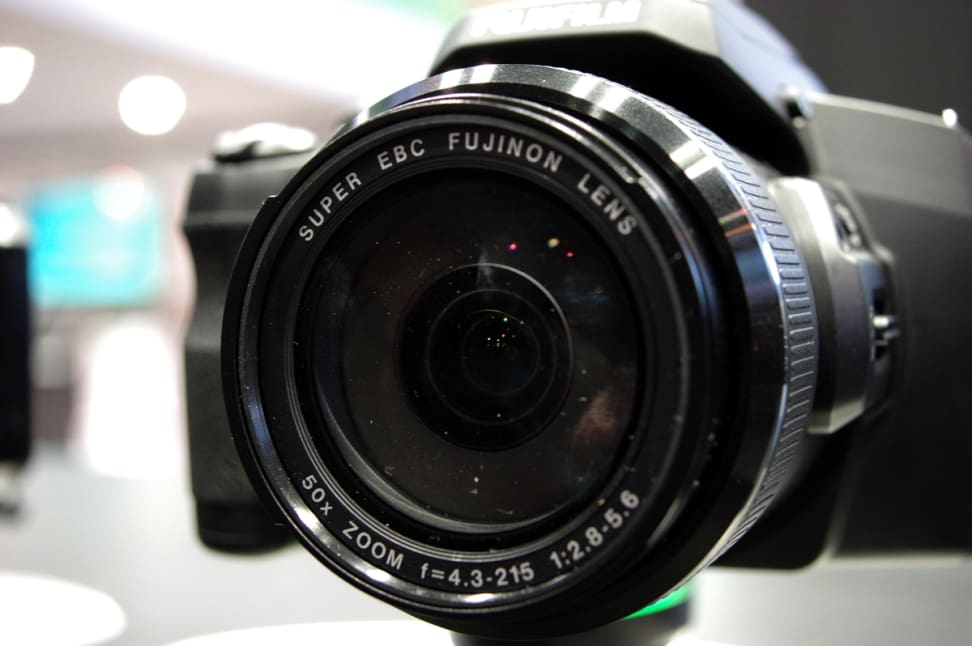 There's also a super macro focusing mode, which will let you get up to 1cm away from your subject with the focal length locked at 24mm. While we didn't test this when we had our hands on the camera, we've had plenty of experience with Fuji's X10 and X20, both of which have a similar super macro mode that works quite well.
Finally, Fujifilm has built its WiFi control technology into the new FinePix S1. It's not the best connectivity solution on the camera market today (not by a long shot), but it's certainly better than nothing. The Fujifilm Camera Application lets you transfer files to your smartphone and use the GPS to geotag while shooting. Fujifilm will also be bringing remote camera control to the Finepix S1, which is a handy feature for group portraits.
Conclusion
A promising effort that's priced too high
Having handled the FinePix S1, we can definitely see the appeal for point-and-shoot shoppers. The sticking point, however, is the price tag. It's an awful lot to pay for a 1/2.3" sensor and a largely standard array of features. Of course, the FinePix S1 is the only weather-resistant superzoom on the market—a fact that will put it front and center on the radar of the relatively small number of shooters who need insane reach and all-weather durability.
The Panasonic Lumix FZ70 is already available for $400 and offers 60x zoom, making the $500 S1 a tough sell.
For $500, the S1 will be going up against low-end mirrorless and DSLR cameras that will feel better and more "professional" to camera shoppers. And, if we're being brutally honest, just about any interchangeable camera at this price point is built way better than the S1 is.
If the price ends up dropping, we could definitely get behind the idea of the S1. But, when the good-enough Panasonic Lumix FZ70 is already available for $400 and offers 60x zoom, it's a tough sell. For many photographers, weather sealing is simply an insurance policy—something you'll hopefully need to use very rarely. In this price segment, $100 is a make-or-break amount of cash, one that can easily change a shopper's mind about what they think they need.
Our editors review and recommend products to help you buy the stuff you need. If you make a purchase by clicking one of our links, we may earn a small share of the revenue. Our picks and opinions are independent from any business incentives.