Now that Polaroid as we knew and loved it is (more or less) totally dead, the only major company still carrying a torch for instant film is Fujifilm. That's not surprising, since it's the only remaining camera manufacturer that also makes film, but it's heartening all the same.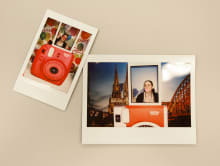 Fuji's Instax series cameras are cheap and cheerful, with lightweight plastic construction, minimal shooting controls, and a design focused on providing instant gratification. But many who have come to Instax Mini cameras from old-school Polaroid cameras may have been surprised by how much smaller Instax Mini film is—just 62 x 46mm (about the size of a credit card), compared to Polaroid SX70's 79 x 79mm.
That's why Fuji also makes Instax Wide cameras and film, offering a picture size of 99 x 62mm—larger than Polaroid. Ahead of Photokina 2014 in Cologne, Germany, the company announced the new Instax Wide 300 (MSRP $129.99), and we got to spend a little time with it on the show floor.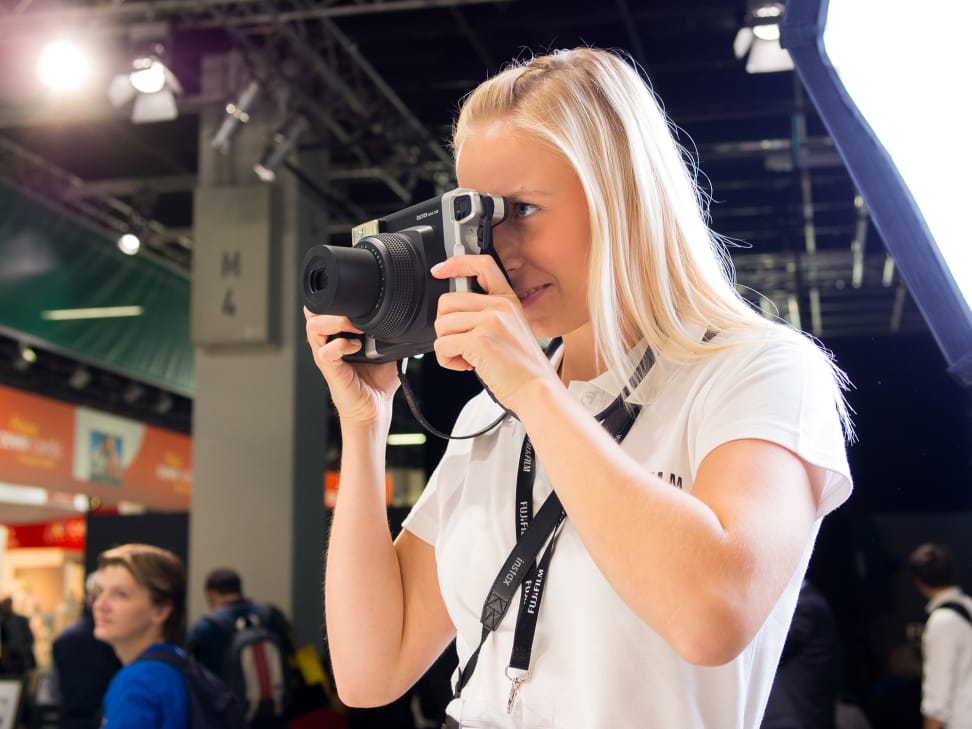 Design & Usability
Plastic fantastic
Like other Instax cameras—even the $200 Instax Mini 90 and Instax Share SP-1—the Wide 300 is wholly plastic. But that's not a dig; this isn't meant to be professional equipment, and it doesn't need a magnesium alloy build, weather sealing, or super-tight tolerances. For instant photography, rough edges are part of the fun.
Still, the Instax Wide 300 is heavier-duty than most other Instax cameras out there. For one thing, it's big. Much wider than any Polaroid camera I ever used, for sure, and far bigger than all of the Instax Mini bodies. That makes sense: bigger film, bigger camera. But the Wide 300 seems to have taken that license and run with it.
That's not to say a bigger camera doesn't have its advantages. The Instax Wide 300 has a chunky grip, DSLR-style shutter button/power switch combo, and knurled rubber focus zone ring. There's also a flash and a (tiny, clunky) optical finder above and to the left of the lens to help you frame your shots.
Images out of the Wide 300 are as crisp as anything I've seen on instant film, and pleasantly contrasty as well.
As with most instant film cameras, you load the film in a cartridge at the rear of the camera, and it spits out the top when you snap a shot. The film takes a minute or two to develop to the point of intelligibility, and another few for the picture to fully form. Images out of the Wide 300 are as crisp as anything I've seen on instant film, and pleasantly contrasty as well.
Around back, there's also a small monochrome LCD (to display the number of frames remaining in the cartridge), a flash button, and a brightness control toggle. There's even a hard plastic thumb rest to go with the front grip.
On the bottom, there's a plastic universal tripod socket, which Fujifilm suggests would be great for group shots. True, but you'll need someone to sit out, since there's no remote control available.
Features
Just a little more flexibility
The Instax Wide 300's 95mm lens offers a couple small improvements over the previous model's glass. For one thing, it can focus down to 40cm (15.7 inches) with the included close-up lens adapter, which is just about the range you need for a shot-filling selfie. (Don't knock it. It's a hallowed use of instant cameras since time immemorial.) For another, it lets you choose between two "focus zones": 90cm to 3m, and 3m to infinity.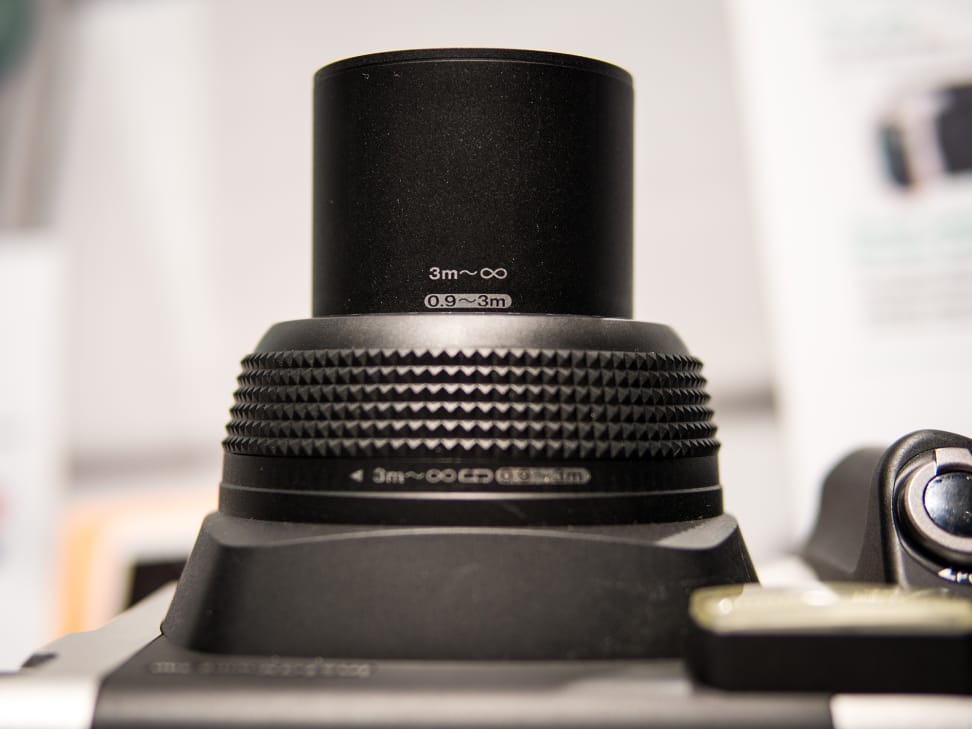 The focus zone ring doesn't exactly deliver Zeiss-level feel, but that's hardly the point. It gets 'er done, which is what this camera is all about.
Another cool feature is brightness control, a rudimentary sort of exposure compensation that lets you choose between dark, normal, and light aesthetics. If you like a high-key look for your fashion selfies, flick it over to light. Want something more moody? Go dark. For everything else, it's probably best to stick to normal.
The flash sadly can't be turned off for bright-light shooting.
The flash—which is absolutely vital at parties and other places you might typically use a camera like this—can't be turned off for bright-light shooting. The more expensive Instax Mini 90 Neo Classic can go flashless, but the feature hasn't carried over. You can hold the flash button on the back for extra fill flash, but that's it.
Instax Wide film comes in 10-shot cartridges, which means you'll probably be refilling with some regularity. They go for a little over $8 per cartridge on Amazon these days, which adds up quickly. Still, there's something about the look you get from instant film that can't be replicated on digital—no matter how many filters you use.
Conclusion
Fujifilm widens the appeal of its Instax system.
Fujifilm brought only two types of cameras to Photokina 2014: its X-series premium mirrorless and compact models, and Instax products. That says something about the prestige the company places on its instant film cameras, and their enduring appeal in a rapidly changing photography market.
The Instax Wide 300 is a subtle evolution of the earlier Instax Wide 210, refining the controls, adding a couple extra flexibility features, and providing a more DSLR-like control scheme that does feel pretty great. While we'd love to see some of the more advanced manual controls from the Instax Mini 90 Neo Classic trickle down, the feature set here will please almost everyone.
It's lightweight, cheap, fun to use, and produces delightfully retro images that you simply can't get from anything else—except maybe a secondhand Polaroid with Impossible Project film. In short, if instant film floats your boat, this is a camera that should be on your shortlist.
Our editors review and recommend products to help you buy the stuff you need. If you make a purchase by clicking one of our links, we may earn a small share of the revenue. Our picks and opinions are independent from any business incentives.