Front
The front of the Kodak EasyShare M1093 IS is clean and simple. On the right you have the 35mm -105mm, f/3.1 - f/5.7 lens with 3x optical zoom. To the left of it is an auto focus assist lamp. At the upper left corner is the slim flash and directly to the left is a pinhole microphone.
The front is clean and simple.
Back
The back of the M1093 IS is dominated by the 3-inch LCD display. To the right of the display are your controls. At the top is a zoom toggle. Beneath that is the speaker. Near the bottom is a joystick control with the Review and Menu buttons sitting above it and the Delete and Share buttons below.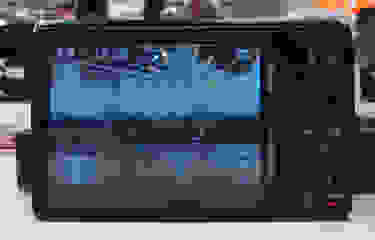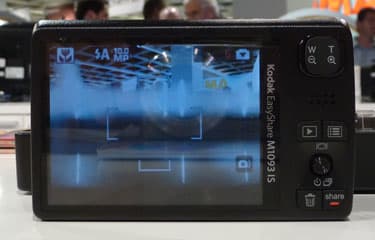 The joystick used for menu navigation is a little fiddly.
Sides*

*There's nothing on the left side of the Kodak EasyShare M1093 IS, but on the right side you find a wrist strap loop in the middle, a mini USB port near the bottom and a DC-in jack at the top for an optional power adapter. Neither of these ports has a cover.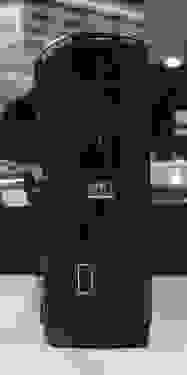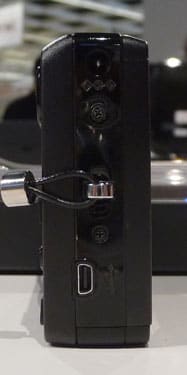 *We recommend you put a wrist strap
in that loop to avoid drops.

*
Top
The top of the M1093 IS has four buttons. Arrayed from right to left these are Shutter, Mode, Flash and Power. That is all.

The shutter button on the left is the only button of any size on the M1093 IS.
Bottom
On the bottom you will find the tripod mount, the ever-present Kodak dock port and a door that covers the battery and memory card slots.


Tripod mount, dock port and door for battery and memory card are on the bottom.**
Viewfinder
The Kodak EasyShare M1093 IS doesn't have a viewfinder, not uncommon on smaller point-and-shoot cameras.

LCD Screen

The 3-inch LCD display has a pedestrian 230,000-dot resolution. It's about the biggest display they could have fit on this small camera, so we're satisfied.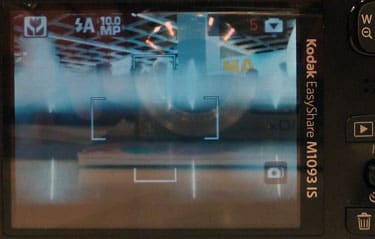 The 3-inch LCD is good-sized, though the resolution is standard issue.
**
Flash

We wouldn't expect much from the small flash on the Kodak EasyShare M1093 IS. It's nice to have when you need it, but don't expect to light up a whole room with it.

**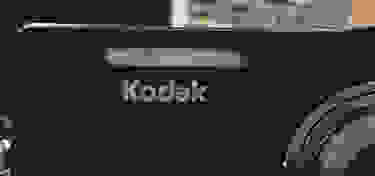 The M1093 IS has a tiny flash.
Lens
The 30mm - 105mm, f/3.1-f/5.7 lens on the Kodak EasyShare M1093 IS is pretty typical for a camera this size, offering a reasonable focal range there for a pocket-size camera.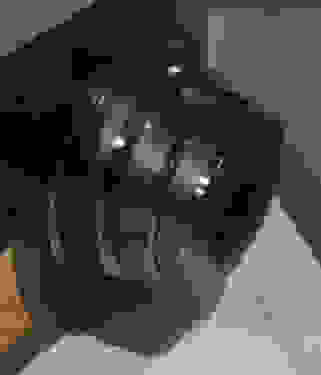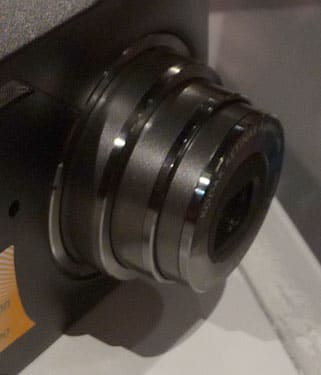 The M1093 IS's lens has a decent range of 35 - 105mm.
Connections

The only connections on the M1093 IS are the mini USB port that handles both data and A/V out and the DC-in, both found on the right side of the camera without any protective covers. That last causes us some worry as dust and other particles are bound to get in there, a possible durability issue.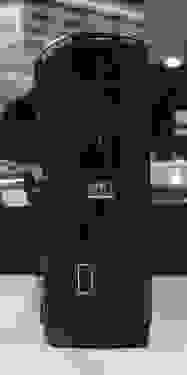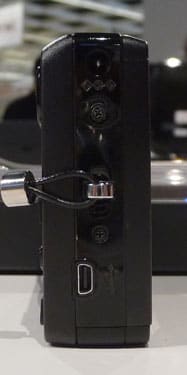 *The mini USB and DC-In ports
are distressingly unprotected.*

Battery

The Kodak EasyShare M1093 IS has a proprietary battery that fits into the slot under a door on the bottom, right next to the memory card slot. Kodak has not made any information about expected battery life available.


The battery and memory card lurk under the bottom door.**Memory**

The Kodak EasyShare M1093 IS accepts SD and SDHC memory cards. You plug them into a slot beneath the bay door on the bottom of the camera, right next to the battery.
Model Design / Appearance

The Kodak EasyShare M1093 IS is a small and slim point-and-shoot camera. Available in both black and silver, the camera should fit in most pockets, unless you're prone to super-tight pants. The plastic construction of the M1093 IS feels solid, but the angular lines and small size means there's not a lot to grip. We feel that the camera is relatively attractive in an unobtrusive way.
Size and Handling
The M1093 IS is a small camera, but not the smallest we've seen. On the negative side, its diminutive proportions (3.75 x 2.3 x 0.84 inches / 95 x 58 x 21mm)) combined with a fairly angular design means there's not much to grip onto. We recommend you put a wrist strap on this one and use it, to prevent sudden vertical excursions and their unfortunate aftermath. We found the small joystick on the back a bit fiddly to use, and none of the buttons, aside from the shutter button, are what you'd call comfortably large. We did find the 3-inch LCD practical and attractive.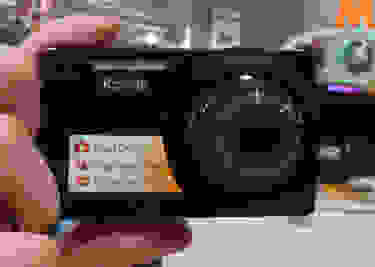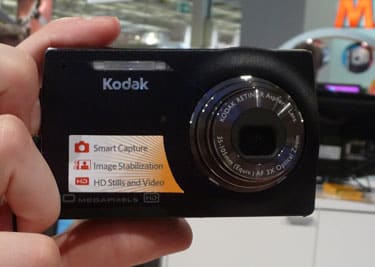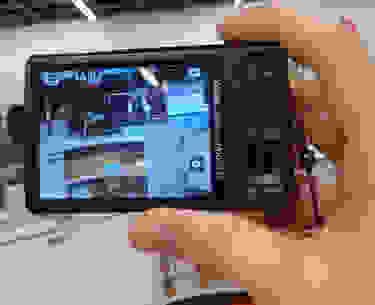 The camera's small size and slick plastic make us worry about drops.
Menu

There is only a single menu interface on the Kodak EasyShare M1093 IS, simplicity that befits its consumer orientation. Press the menu key to bring up a tabbed interface. The first tab gives you options for the particular mode that you find yourself in. The second tab presents general settings for the camera. You navigate the menu using the joystick, which we found a little bit fiddly due to its small size.
Ease of Use
Due to its simple menu interface and mostly automatic features, this is an easy camera to use. Just pick it up, set it to Automatic and start shooting. The Program mode gives you a few more options to play with, but even here you only have a handful of settings to adjust. The M1093 IS is definitely a camera novices will like.
Auto Mode**

Auto, or Smart Capture as Kodak terms it, basically takes care of everything for you. In fact the only parameter you can adjust in this mode is the image size. We can't tell yet how well the Auto mode does in terms of making adjustments for you, but we can say it's easy to use.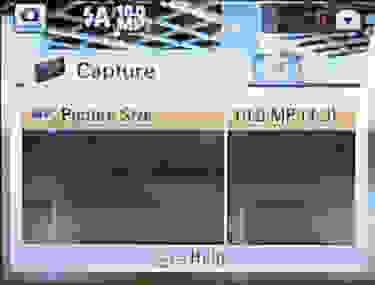 In 'Smart Capture' mode all you can do in the menu is adjust the picture size.
Movie Mode

In Movie mode most things on the Kodak EasyShare M1093 IS remain automatic, but you do have a couple of options to consider. You can choose the size of the video, selecting form 1280 x 720, 640 x 480 or 320 x 240, all at 30 fps. We're happy to see 720p recording on the M1093 IS. You can also select a focus mode of Auto, Macro or Infinity and choose whether you want a fixed or continuous focus. The final option is a video blur reduction option that you can turn on or off.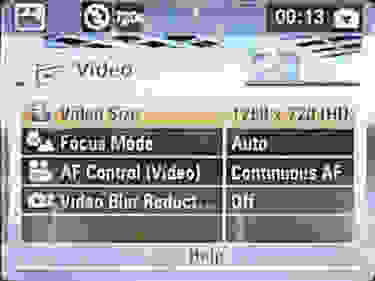 We were glad to find support for 720p video.

**
Drive / Burst Mode**

The Kodak EasyShare M1093 IS has a simple burst mode that can be accessed by pressing down on the 4-way joystick in most modes. The only burst option is to take three shots in quick succession at 1.5 fps.
Playback Mode

In playback mode you get full-size images on the screen that you can navigate using left/right on the 4-way joystick. You can use the zoom toggle to either zoom into pictures or zoom out to a thumbnail view. The menu offers two tabs in addition to the standard settings tab. The first allows you to manage your photos while the second offers three edit options: Crop, Sound Tag or Perfect Touch Tech. That last is basically a wholesale automatic image adjustment the camera attempts to make to your photos. We recommend you wait to do your editing on your computer.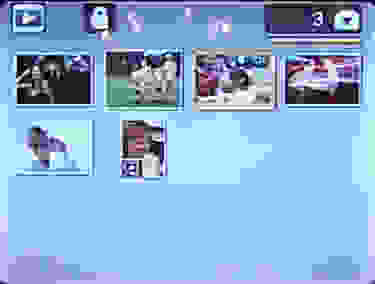 Thumbnails in playback mode are clear and large enough.**

**
Custom Image Presets**

Switching to Scene mode on the Kodak EasyShare M1093 IS allows you to select form a plethora of available image presets. These include portrait, sport, landscape, close-up, night portrait, night landscape, snow, beach, text/document, fireworks, flower, museum/manner, self-portrait, high ISO, children, backlight, panning, candle light, sunset, panorama (right-left), panorama (left-right) and blur reduction.


Scene modes have clear explanations at hand.
Manual Control Options

The only manual mode on the Kodak EasyShare M1093 IS is the Program mode. In Program mode you have access to several additional settings that aren't present in Auto mode. To make these adjustments press the Menu button just above the joystick.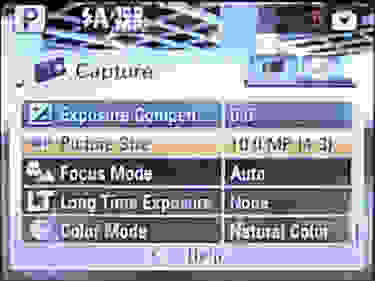 You get many more image control options in Program mode.
From here you can change Exposure Compensation, Picture Size, Focus Mode, Long Time Exposure, Color Mode, and Auto Focus Control on the first tab. The second tab lets you adjust White Balance, Face Detection, Exposure Metering, AF Zone, ISO Speed and Sharpness. There's no way to directly control shutter speed or aperture.
Focus
The Kodak EasyShare M1093 IS offers several Auto Focus options but no manual focus features.
ISO

In Program mode you can select an ISO between 64 and 6400. This is quite an impressive range for a small camera like this. At 6400 ISO you can only capture photos at a maximum of 3 megapixels, which detracts from the  usefulness a bit. The fact that the M1093 IS can take full-size photos at ISO 3200 is very impressive, however: there are much more advanced cameras that aren't capable of that feat. Whether it produces decent photos, however, is something we won't be able to tell you until we have the camera in for lab testing.


*ISO 6400 is only available at 3 megapixels,
but 3200 can be used at full 10-megapixel resolution.*
White Balance

White balance options are available in Program mode. You can choose from auto, daylight, tungsten, fluorescent and open shade. White balance settings are not easy to access; they're tucked away on the second tab in the menu in Program mode.


White balance options can only be accessed in Program or Movie modes.**
Metering

Metering options are also available in Program mode. In order to make metering adjustments you will first need to turn off the Face Detect Capture feature, however. If you choose to do so you can select form Multi-Pattern, Center-Weight or Center-Spot metering modes.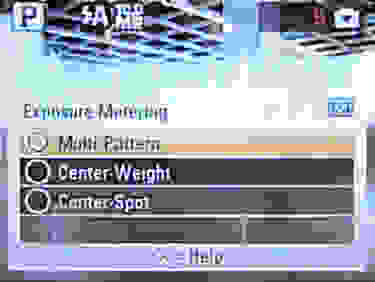 A typical selection of metering options are only available in Program mode.
Shutter Speed

Although there is no shutter speed priority mode on the M1093 IS you can make one manual adjustment to shutter speed in the menu when in Program mode. The Long Time Exposure option let's you choose from shutter speeds of 0.5, 1.0, 2.0, 4.0 or 8.0 seconds. This is useful when you want to take a long exposure of a scene. Apart from that you'll have to trust the camera to know what it's doing in terms of shutter speed.
Aperture

As with shutter speed don't expect to make manual adjustments to aperture on the M1093 IS. Maximum aperture is f/3.1 on the wide-angle side and f/5.7 at maximum telephoto..
**Image Stabilization

**The Kodak EasyShare M1093 IS provides CCD shift image stabilization.
Picture Quality / Size Options

The Kodak EasyShare M1093 IS doesn't offer any JPEG image compression options. You can choose from a wide variety of picture sizes, though. In Smart Capture mode you can select from 3648 x 2736 at the high end and 2048 x 1152 at the low end, with seven options in between that come in various proportions, ie. 16:9 versus 4:3 or 3:2. In all other modes you can choose from sizes from 3648 x 2736 to 1280 x 960 with six intervening options.
Picture Effects Mode

When in Program mode you can select the Color modes menu option to apply High Color, Natural Color, Low Color, Black & White or Sepia to the scene. You can't apply these effects after the fact.
**
Conclusion**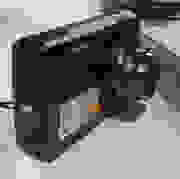 The Kodak EasyShare M1093 IS offers a couple of nice features that we were surprised to see in a point-and-shoot at its price range. ISO 3200 at the full 10-megapixel resolution is noteworthy. There are also a decent number of options when in Program mode for those who want a bit more control than the average low-end point-and-shoot. We liked the camera's styling and, like most Kodak cameras. it's easy to pick up and use right out of the box. We'll see how image quality fares when we get the M1093 IS into the lab.
**Specs Table

**
Meet the tester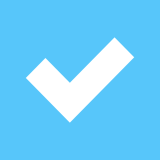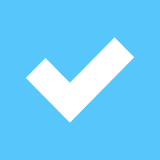 Alfredo Padilla
Editor
Alfredo Padilla is a valued contributor to the Reviewed.com family of sites.
Checking our work.
We use standardized and scientific testing methods to scrutinize every product and provide you with objectively accurate results. If you've found different results in your own research, email us and we'll compare notes. If it looks substantial, we'll gladly re-test a product to try and reproduce these results. After all, peer reviews are a critical part of any scientific process.
Shoot us an email