On paper, that appears to be the case again this year. But this year's Nikon Coolpix AW130 (MSRP $349.95) takes last year's AW120, adds a minor software refresh, and recitfies the biggest omission from its predecessor: a grip.
That might sound like very little to you but the grip results in a camera that's easier to hold and use. While it's not going to set any performance records, this is a point and shoot that you can confidently take on all your adventures—rain or shine.
Looking solely at performance and nothing else, this is a perfectly average point and shoot. Nothing here will really knock your socks off, though nothing will really make your nose hairs curl either.
Let's take a look.
Sharpness is perfectly acceptable on the AW130. Though it relies on heavy oversharpening (roughly 10.7%) to achieve its good marks, your snaps won't suffer the worst consequences of that software tomfoolery.
However, you may notice some haloing or coma here and there. These issues on their own aren't really enough to cause much consternations—it's a point and shoot, after all—but it's something to be aware of. Shots taken at the full resolution of 4608 x 3456, it'll be difficult to see these problems manifest on a print or scaled-down web photo, but don't go pixel-peeping.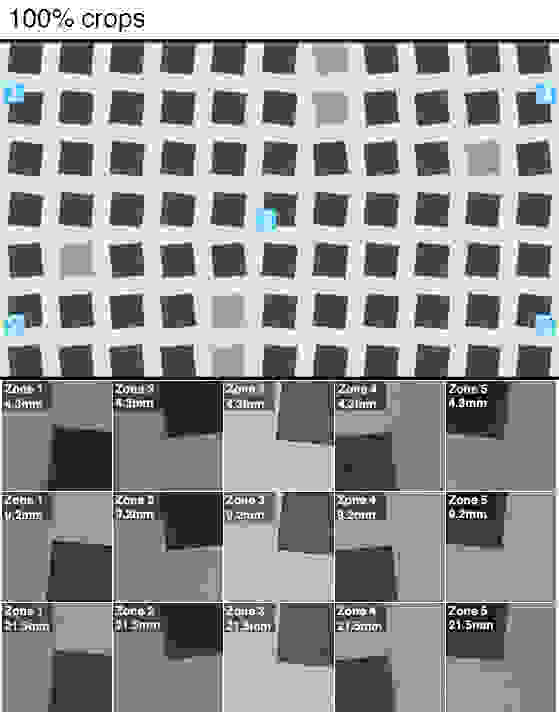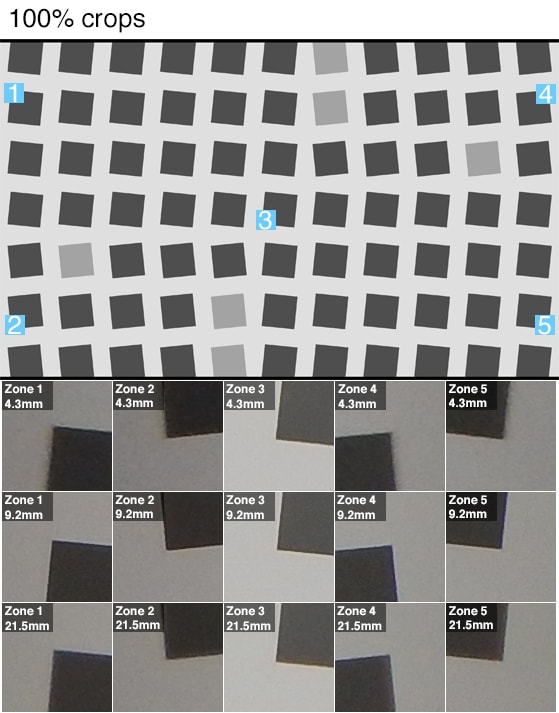 Corners are a bit softer than the center, but no area of your picture frame drops below 1400 line widths per picture height. While that in and of itself isn't all that great, for a point and shoot it's quite commonplace.
This time, there's a grip
While it's tempting to compare the AW130 to the Nikon AW120 and conclude that very little is different, that's really not the case. In fact, several very important changes have taken this camera from mere refresh to a shooter that's worthy of a new model number.
Like its predecessors, the AW130 has a slippery aluminum exterior, with most of the camera's sensitive bits—like the USB port, HDMI port, battery, and SD card slot—ensconced behind heavy waterproofing. Each set of menus is about as non-threatening as they come, and you should be able to tailor your experience to your liking. Shooters used to a more manual setup will feel a little lost without more granular controls, but a novice will pick up the AW130 and start snapping no sweat.
The selling point of this camera is unquestionably the durability. Not only can it go on dives 100 feet below the sea, but it's also at home in cold down to 14˚F, and can be dropped up to 7 feet without buying the farm. Obviously, don't test this for yourself intentionally, but it's always comforting to know that if you take a nasty spill or get thrown in the pool, your camera should be just fine.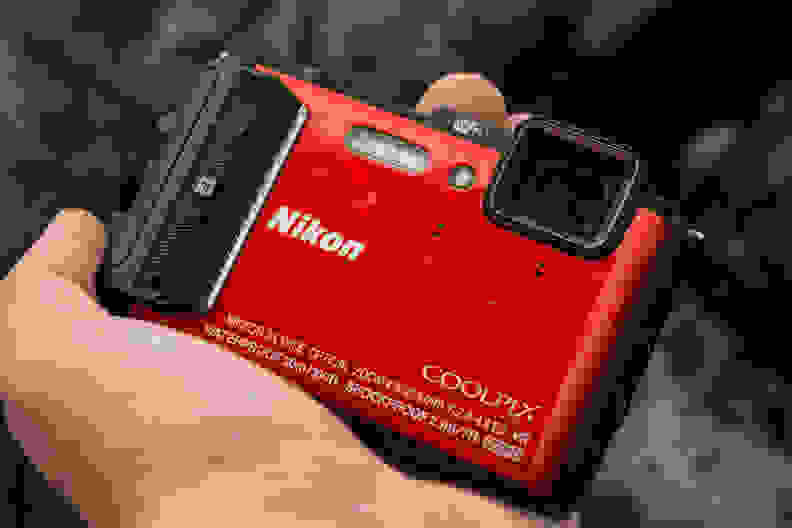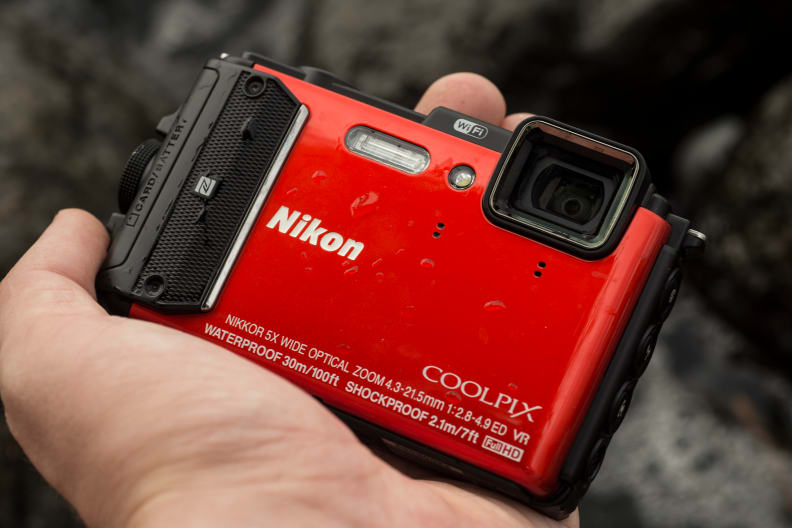 And where the AW120—the AW130's predecessor—had no front grip, the AW130 has a robust rubber grip. Best of all, Nikon even stuck an NFC tag in there to easily pair the camera with your smartphone via the onboard WiFi. This is a long overdue upgrade, because without that grip the camera has a tendency to slip out of your fingers when wet. Even when holding your AW130 at extreme angles, a sure grip is something you'll be glad to have. I will point out that this camera will sink rapidly once it's dropped in the water, so definitely make good use of that strap that's included in the packaging. Alternatively, you could just buy the floating wrist strap for under $10.
Taking a peek inside that tough exterior, you'll find a 16-megapixel, 1/2.3-inch sensor behind a 5x zoom 4.3-21.5mm (24-120mm full-frame equivalent) f/2.8-4.9 lens. The glass is lackluster, but offers more flexibility with your shots thanks to the optical zoom. Though there are other waterproof cameras with higher-quality glass, this lens is more than adequate most of the time. Just be aware that you're really not going to get that shallow depth of field that highlights your subjects well.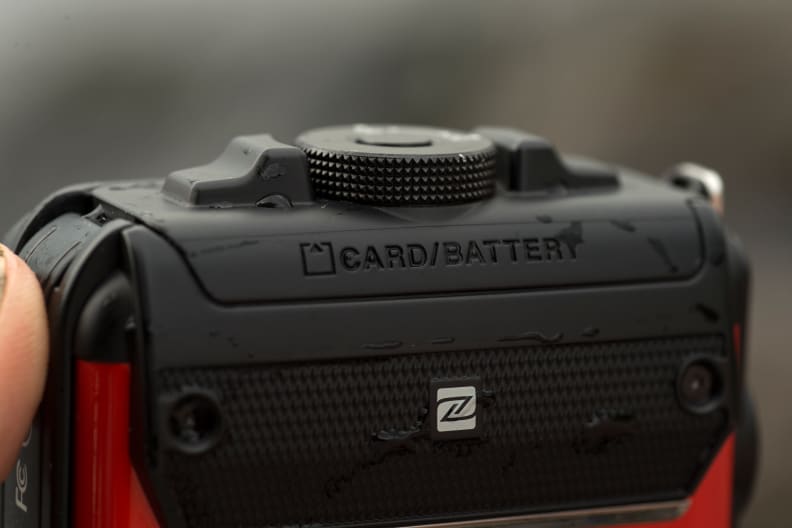 You might get frustrated with how dim the 921k-dot OLED is, even when the brightness is cranked to the max. This screen is very difficult to see in direct sunlight, which is a shame since you're likely to use it outdoors. There's not really a good remedy, so you'll often be left to point, shoot, and hope.
Same as it ever was, same as it ever was, same as it ever was.
When it comes to performance, the AW130 is able to hold its own in a crowded sea of waterproof shooters. There are a bunch of limitations the waterproof, unibody design imposes upon a camera, and the AW130 handles them gracefully. For example, the inability to have a zoom lens that protrudes from the body means that zoom is limited (unless you're willing to sacrifice image quality).
The bump in performance you'd get from buying the AW130 over your smartphone isn't worth it at face value. You're buying this camera because it can go where your smartphone can't.
With that in mind, the positives are substantial: color performance is great for a pocket camera, and sharpness is decent. A smaller sensor means higher noise than you'd find in most interchangeable lens cameras, but for the AW130 that's not really a dealbreaker. However, smartphone cameras are starting to catch up to point and shoots, and the bump in performance you'd get from buying the AW130 over your smartphone isn't worth it at face value. You're buying this camera because it can go where your smartphone can't.
For the best results, I suggest keeping your auto-ISO setting to cap out at ISO 800. After doing that, the camera will automatically select the most appropriate sensitivity for your shots without allowing it to clutter them with a bunch of garbage noise. Though you'll probably be okay even if you let the AW130 creep into a higher ISO setting, you will notice some fine detail is missing from your shots—the camera's automatic noise reduction algorithm has a tendency to muddle things up a bit in higher ISO settings.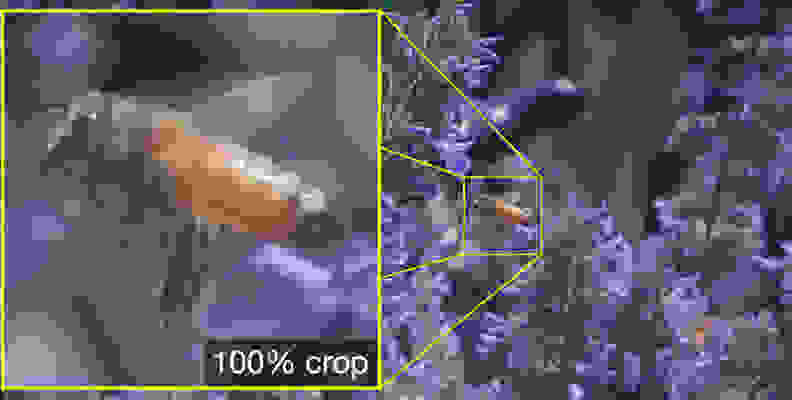 However, the camera's environment will also play a role in how well your shots come out. For example, deep water will restrict how much light is available, meaning you'll probably notice a few snaps have some motion blur to them. Same goes for any low-light situation, really, but you have to be mindful of this sort of thing with a point and shoot. Especially with such a narrow aperture.
If you're in bright light—say, on a sandy beach somewhere—you'll find that burst speed is decently fast. Snapping shots at seven frames per second, you'll be able to capture your garden-variety vacation action without much trouble.
Color performance is fairly decent. Though it doesn't quite kiss the ∆C 00 saturation error detectability limit of 2.2, it's more than acceptable at 2.48. Color errors are tastefully restrained, though the camera does tend to oversaturate them.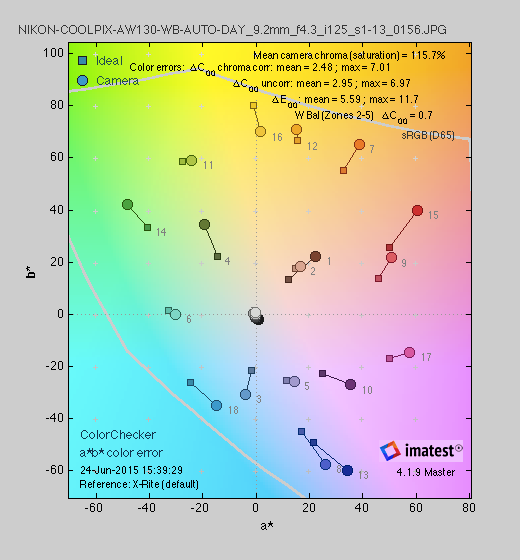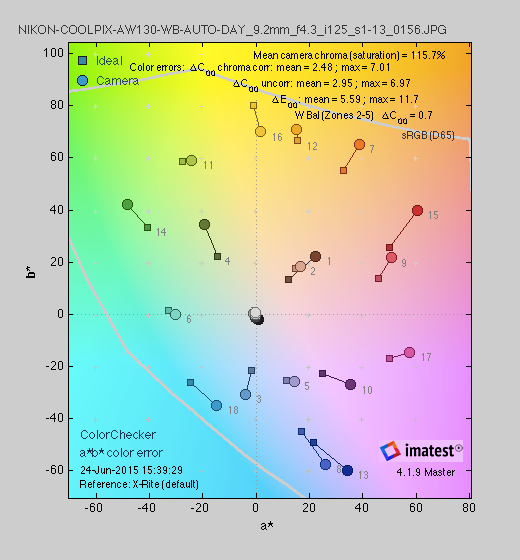 In that regard, the average color saturation is 115.7%—enough to be noticed, but not enough to ruin a shot. Just be careful when shooting flora with extremely vibrant colors, and you should be good.
When you take the camera out into the world, take comfort in the fact that its white balance is quite good. Leaving it in the auto setting, the only time you'll really see egregious errors is when you're indoors with incandescent lighting. In those environs, you can expect errors of about 900 kelvin. In daylight, that number drops to under 50 kelvin.
Here's where it gets cool
So why buy the Nikon AW130 over another waterproof camera? The answer lies in the features. Not only did the hardware see some improvements, but the software and shooting modes got a bit of attention as well. Nikon really put in the effort this year, and you can do some really special things with the AW130.
Not only did the hardware see some improvements, but the software and shooting modes got a bit of attention as well.
Though the waterproofing is very similar to other cameras on the market, the AW130 is rated for slightly more extreme mistreatment than its peers. Really, if you're looking at this camera, it's because it can go where other point and shoots can't. This is its defining feature.
When it comes to the camera's software, the new scene modes are exhaustive and fun. You can add a handful of effects to your snaps—tilt shift, monochrome, selective color to name a few—and even use one of 22 shooting modes to get the right settings in just about any situation. On top of that, you can also shoot timelapse videos if you have a tripod (and are willing to wait a while).
Like the other cameras in Nikon's AW line—this camera has onboard WiFi to pair with your smartphone. Once you download the app (tapping your phone will bring you to your phone's app market), you can dig through your shots to share them on social media, or even use your phone to remotely shoot pictures with the AW130. It doesn't work as well when one or the other is underwater, but it's a feature that lets you get your best shots out there without having to wait until you get home.
The app the AW130 uses to pair to your smartphone is the same Nikon Wireless Mobile Utility used to link its DSLRs to smartphones.
It's ugly, and sometimes doesn't work exactly the way you want, but it's fairly stable. It doesn't have to do much, so that should be a given. In any case, we actually had fewer problems with this app on this camera than we did with the wireless dongle used for Nikon's higher-end DSLRs.
The Nikon AW130 makes good use of its onboard GPS with a points-of-interest feature that lets you look at a bird's-eye-view of areas you're about to explore. In addition to the ability to geotag your shots, you can also map out your vacations using Nikon's free ViewNX 2 software to show people where each snap was taken. Just be sure to toggle the GPS unit on the left side of the device, and you'll get the hang of it quickly.
As this is a point and shoot with a very small sensor, it shouldn't surprise you that the AW130 has some problems with noise. However, it does have some eminently noticeable consequences.
For starters, you will notice detail loss when you take a shot in low light and Auto ISO is on. Even with the camera's default (and aggressive!) noise reduction, garbage data hits 2% at ISO 3200. You'll see a bunch of grain in your snaps from there on out.
As there are no other options for dealing with this, it's just the name of the game. You can use the exposure compensation settings to get a slower shutter speed to deal with it, but that's pretty much it. That too, has issues, as it greatly increases the likelihood of motion blur.
Adventure is out there
At the risk of sounding like a broken record, at this point, the main reason to buy a camera like the AW130 is its extreme durability, features, and little else. Smartphones have come a long way, and the appeal of point and shoots is starting to rely more and more on features that the fragile little mobile phones just can't provide.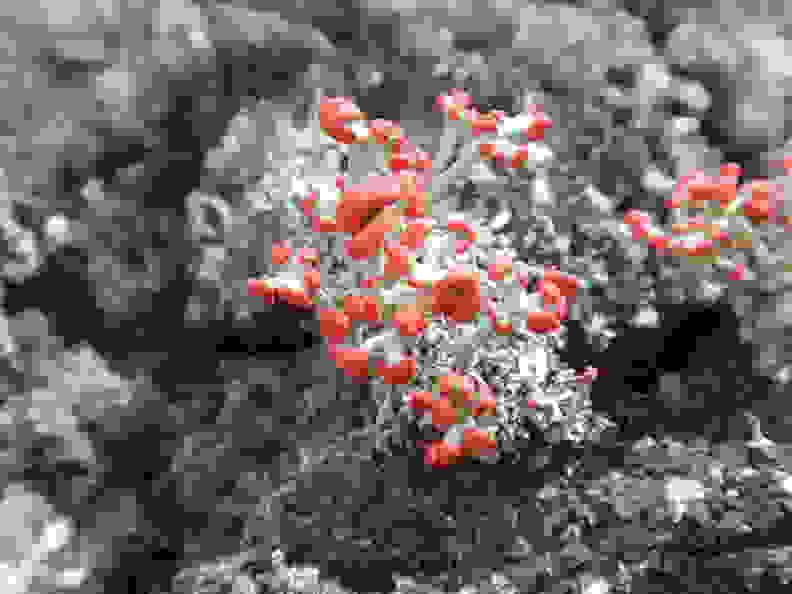 So it's no surprise that vacationers and parents looking for a camera that can survive adventures in other locales should gravitate towards the AW130. It's got all the features a point and shoot needs to stay relevant in a world of do-everything smartphones, while offering extreme water, dust, and shockproofing. This is a reliable camera that will shoot even when covered in pond muck and mud (yes, I tried this).
We typically don't see big boosts in features from year to year when it comes to tough cams, and that's the case here. However, sometimes the smallest changes make the biggest difference when it mitigates weaknesses, and the AW130 is a prime example of this. If you passed on the Nikon AW120, many of our biggest concerns were addressed with the AW130 in the form of an added grip and better software.
This is a reliable camera that will shoot even when covered in pond muck and mud (yes, I tried this).
It'll be tough to find another toughcam out there that will give this camera a run for its money, but there are always alternatives. Last year's Olympus TG-3 is a better waterproof camera—though it can't dive as far as the AW130. If you're looking for a little more camera to take with you, Nikon's 1 AW1 is the only consumer-facing interchangeable-lens toughcam out there, but it's more fragile than the AW130. You could also go bargain-bin diving online and get last year's Nikon AW120 at a decent discount—it's virtually the same as the AW130, minus NFC and a grip.
Video quality is hit or miss. Sharpness is low, but that's largely a result of the camera oversharpening introducing artifacts and Moiré interference.
Beyond that, your average video in bright light will be more or less acceptable at 500 lw/ph, but definitely not professional quality or anything.
You may notice some frequency interference in high-contrast patterns like bike spokes, fences as you move by them, or tightly-clustered posts. Those don't generally occur often in the wild, but you should look out for it if you care about this sort of thing.
Meet the tester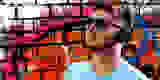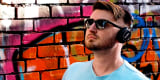 Chris Thomas
Staff Writer, Imaging
@cthomas8888
A seasoned writer and professional photographer, Chris reviews cameras, headphones, smartphones, laptops, and lenses. Educated in Political Science and Linguistics, Chris can often be found building a robot army, snowboarding, or getting ink.
Checking our work.
We use standardized and scientific testing methods to scrutinize every product and provide you with objectively accurate results. If you've found different results in your own research, email us and we'll compare notes. If it looks substantial, we'll gladly re-test a product to try and reproduce these results. After all, peer reviews are a critical part of any scientific process.
Shoot us an email