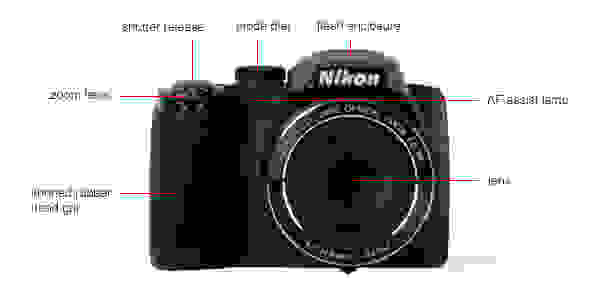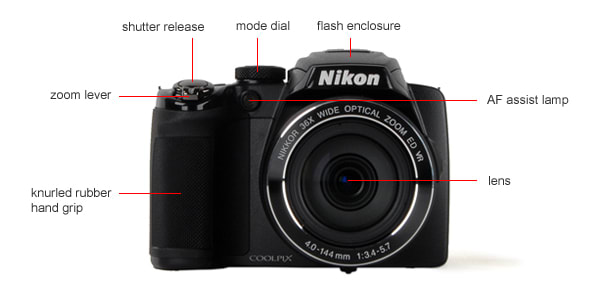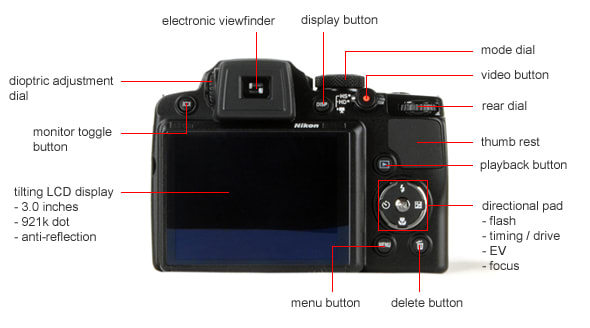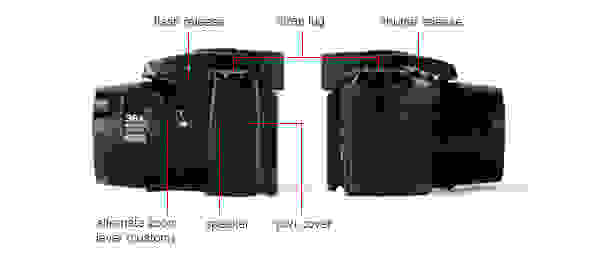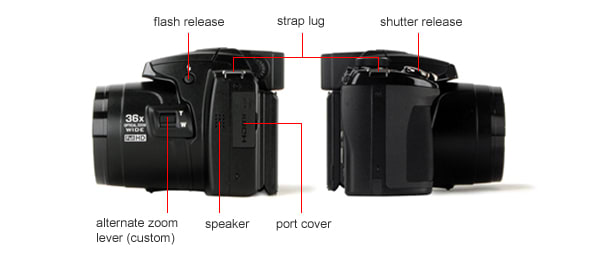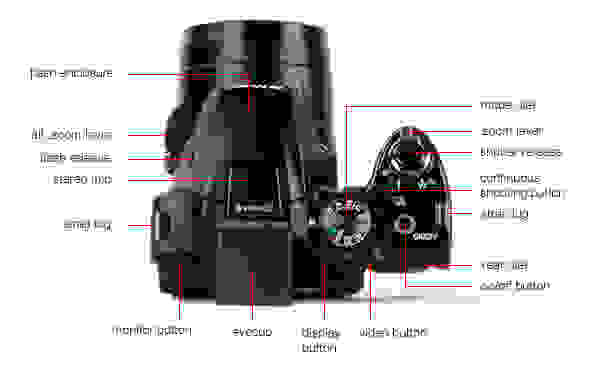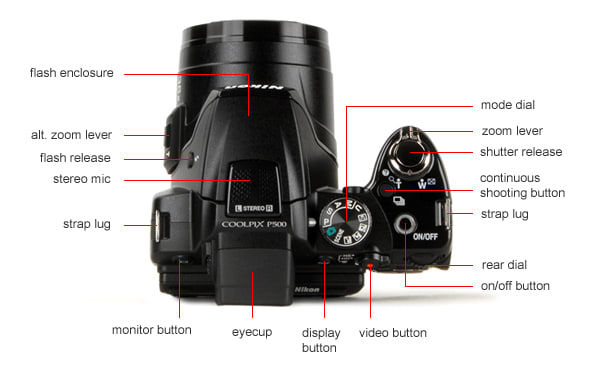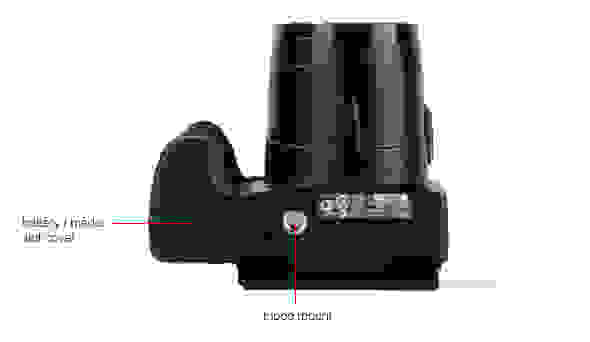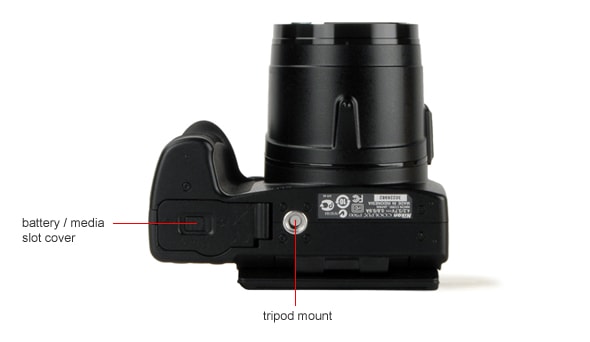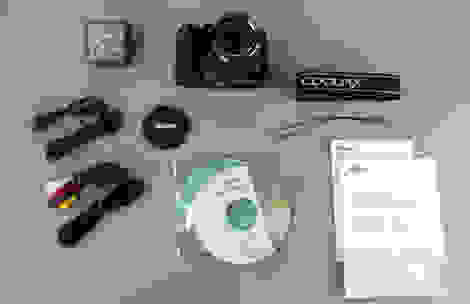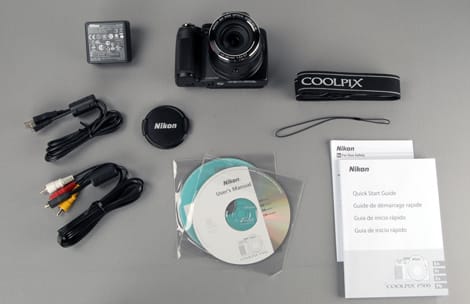 In the box:

• Nikon Coolpix P500 digital camera

• EN-EL5 rechargeable lithium battery with terminal cover

• EH-69P USB / AC adapter

• neck strap

• LC-CP23 lens cap with cord

• UC-E6 USB cable

• EG-CP16 audio / video cable

• "ViewNX 2" CD-ROM

• user's manual CD-ROM
Well here's a result nobody saw coming. Nikon is one of the top manufacturers in the business and typically aces our color test. So we were shocked to find the Coolpix P500 is not accurate at all. Blues, greens, and yellows are all much darker than they should be, and unfortunately those latter two are thought to be the colors us humans are most sensitive to. Scenes were also undersaturated by about 5-10% depending on color mode. We really expected more from Nikon here. More on how we test color.
With an error rating of approximately 4.3, this score is the worst of our comparison group, which does include Nikon's own P100, this camera's predecessor. Both of these Nikon ultrazooms were relatively inaccurate, and lagged behind the Canon PowerShot SX30 IS as well as the extraordinary Panasonic Lumix FZ47.
The "Optimize image" menu setting functions like what we would typically call "color modes." Six options plus a custom one are available and, strangely, the "Softer" setting appears to be the most accurate, while "More Vivid" was by far the least. "Normal" was fairly close to "Softer" so, rather than risk contamination from blurring effects or enhancement, we shot the remainder of our tests in "Normal."
Thankfully, we see a bit of a turnaround here versus the previous test. The P500's handling of noise is excellent. In fact noise levels don't cross 1% until ISO 1600. More than this, we found the P500's noise reduction algorithm to be one of the most attractive and least intrusive we've seen. In a compact camera, noise is inevitable, and smoothing software is necessary. But this serious-shooting camera doesn't shy away from that fact as some others do. Instead Nikon lays out noise reduction settings in the menu system for all to see, like a professional-grade SLR would. More on how we test noise.
In low light, the P500 is just as strong, posting almost identical numbers in our 3000 lux and 60 lux tests. We do see a slight 0.05% variation at ISO 3200, however this difference is not detectable by the unaided eye.
The P500 is by far the best noise performer in this comparison group, surpassing even the Panasonic FZ47 by a hair. And that's just numbers. What the tests don't show is the qualitative difference between these two models. Although the P500 and FZ47 scored similarly, the FZ47's noise reduction is far more aggressive and ugly. This effect can be seen clearly in the crops below.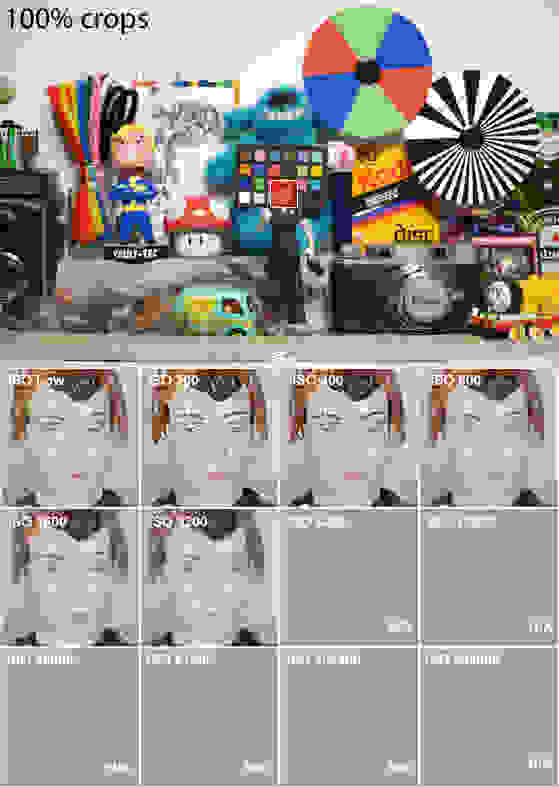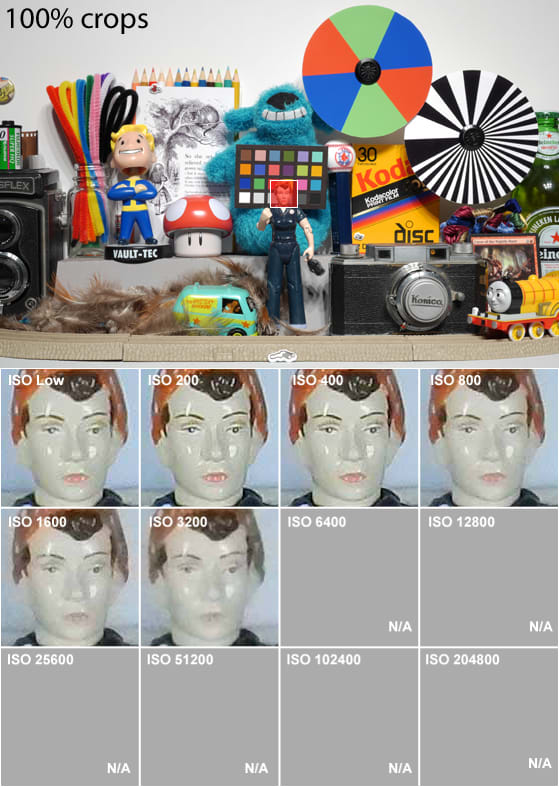 This model's minimum ISO value is 160, which is uncommon. Sensitivity extends up to ISO 3200 and no extended or reduced resolution settings are available.
NOTE: The images above are not used in our testing or scoring, but are included here to show real-world examples of the differences between cameras at the various ISO settings.
Like many cameras, the P500 cheats its way to an excellent resolution score. Artificial sharpness software is at work here, and can be seen pretty clearly in the hard black edges on the chart below. But again, at least Nikon is up front about it. A menu option to reduce or even deactivate sharpening is available in the "Optimize image" section, and we do recommend serious photographers shut it off, since this is a destructive feature. More on how we test resolution.
Distortion ()
Distortion is easily compensated for, so most of these cameras return excellent scores. The widest focal length is the most problematic, with almost 1% pincushion distortion, otherwise–including mid-range and telephoto focal lengths–the effect is barely noticeable.
Interestingly, the older P100 underperforms drastically here, meaning Nikon probably hadn't yet implemented distortion correction in that particular model.
Sharpness ()
Sharpness is excellent but, as mentioned, is aided by software. In the chart below, notice the too-black edges of shapes as they meet the white background. This is sharpness enhancement and it does throw off our test. The technique is ubiquitous in this camera class, plus most users will never both to alter the setting, so this test is–unfortunately–often a measurement of software rather than the capabilities of the sensor itself. For what it's worth, the P500 is one of the best performers in that regard.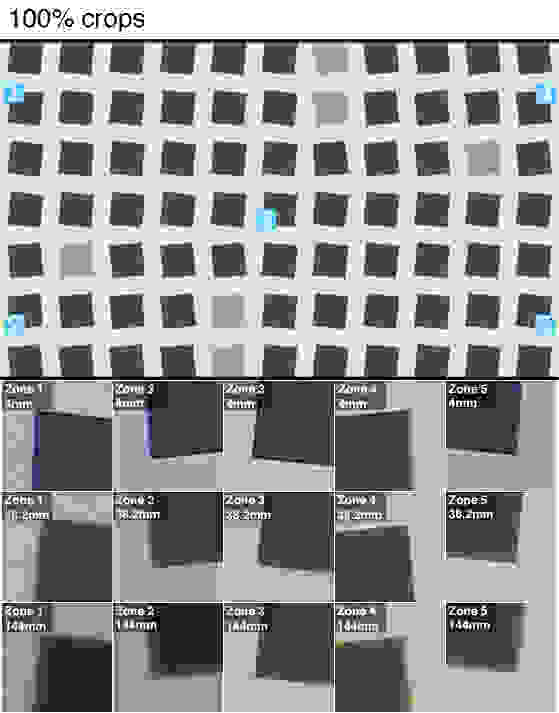 Chromatic Aberration ()
The P500's chromatic aberration results were among the best in our comparison group. Yet even that, we felt, was not enough. The tests don't lie, but we did find chromatic aberration (or lack thereof) to be outstanding during real-world shooting. For such an ambitious 36x lens, this is extremely impressive.
No less than twelve shooting resolutions are available for still capture, including 16:9, 1:1, and 3:2 options. Three JPEG compression quality settings are also available, however there is no ability to shoot in RAW format.
Our tests could find no difference between images shot with or without Nikon's vibration reduction, in fact the feature actually caused lab shots to come out worse. Real-world shooting was a different story however, and we found the VR system was helpful both for framing and achieving sharpness at a distance. So we at least wish this score could be a bit higher, if that matters. More on how we test image stabilization.
The best stabilizer in our test group belongs to the Canon SX30 IS, which was absolutely essential for lining up shots at 35x zoom. Despite the difference in scores, the P500 is close behind and offers similar performance. Same goes for the FZ47.
The Nikon P500 is an outstanding video device. Up to 1080p resolution is supported at 30 frames per second, handling is excellent thanks to the tilt-out LCD monitor, and both optical zoom and autofocus are available during shooting. This camera also supports super high speed video shooting at up to 240 frames per second, and this is tons of fun in all sorts of situations.
Color reproduction takes a hit in video mode. But let's face it, accuracy was never a strong suit of this camera, so the difference is barely noticeable. All colors are a bit too dark, especially greens, and the scene is undersaturated by 15%. More on how we test video color.
The older Nikon P100 boasted spectacular video resolution, and while the P500 doesn't quite live up to its predecessor, scores are still better than most of the competition. The P500 resolved almost 600 lw/ph in our sharpness test, both horizontally and vertically. More on how we test video sharpness.
Playback mode is typical for an ultrazoom. Fullscreen image review with shooting information–including histogram–is available. From there, 10x zoom with cropping is accomplished via the zoom lever. Zooming out displays images in grids of various proportions, and zooming all the way out accesses calendar review mode.
Images captured in any continuous or burst shooting mode are displayed as a single series, so a string of five continuous burst shots will show up as only one frame in the grid. By accessing this key frame, users may then click through the series like a slideshow. And yes, this is totally optional and may be changed in the menus.
Video playback is responsive and functional, but lacks zoom. Longer movies may be rewound or fast-forwarded without issue.
In-camera editing options are actually pretty minimal. Remember, this Nikon is geared toward a more serious shooter, one who will likely do all of their post-processing in Photoshop. We do have the basics though, such as crop, rotate, and copy; plus a few simple retouch options like dynamic range enhancement, skin softening, quick retouch, and filter effects. Filter effects, by the way, are becoming more and more prevalent these days, but Nikon bucks the trend by including only five: soften, color extract, cross screen, fish-eye, and miniature effect.
Video editing is even simpler. During movie playback, "clips" may be defined between two points and saved as a separate file. Still shots may also be extracted from a frame of video and saved independently.
DPOF settings are found in the same menu, under the "Print selection" setting. Users may specify the number of desired prints for each shot, for use with brick and mortar photos labs. The P500 also supports the popular PictBridge standard for home printing.
The P500 is equipped with a 230,000-dot electronic viewfinder. We had a hard time believing that figure, since the EVF appears so pixelated and low-res. Once focus is locked, the monitor does become very responsive however, with barely any lag time. This is essential for tracking fast-moving subjects, and pairs well with this camera's suite of continuous shooting options.
Diopter adjustment is accomplished via a thin dial on the left side of the eyecup. This dial is loose enough to allow easy adjustment, but rigid enough to prevent accidental adjustment.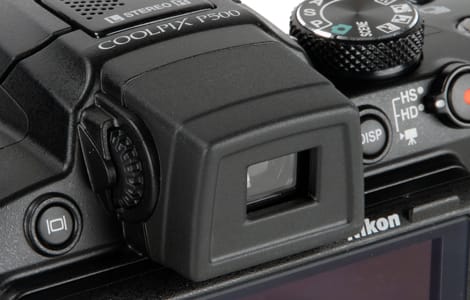 The beautiful 3-inch, 921,000-dot LCD is far more accurate than the EVF and should be used exclusively for previewing images. This screen also tilts out and away from the body, which is very helpful for shooting video, and came in handy on more than one occasion during our time with the camera. The range of the tilting arm allows for straight-up or straight-down positioning of the monitor, however it is not possible to swivel the LCD around to face the front of the camera.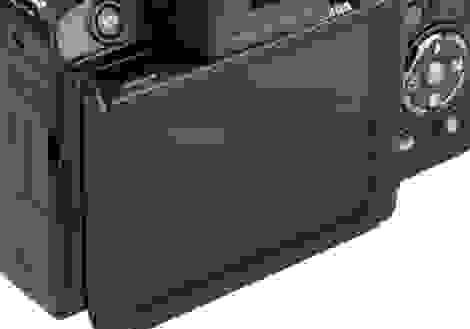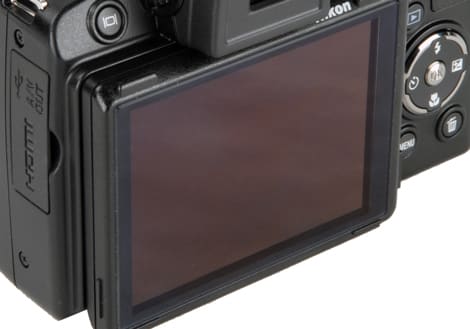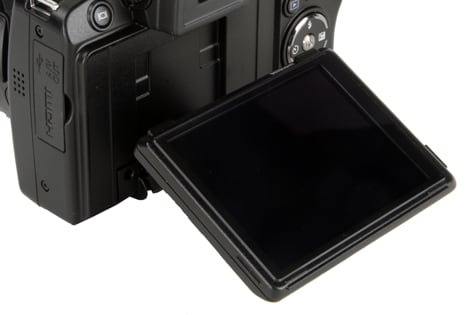 The P500's pop-up flash enclosure straddles the stereo microphone at the top of the body and is unlatched with a manual release on the left. It's maximum effective range is approximately 26 feet, which is better than some competitors and worse than others. This model's white balance "flash" setting prevents flash-enabled shots from rendering improper color temperatures, but only at close-range and in evenly lit conditions. Recycle time on the bulb is faster than the P500 can lock focus during single shooting, so this will never be a limiting factor.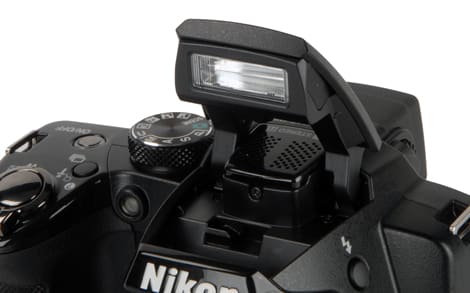 For a 36x camera, the P500's lens does not protrude quite as far from the body as we were expecting, which allows mechanical adjustments to be executed more quickly. The cylindrical enclosure is also thinner in diameter than most other ultrazooms, for a distinctive and compact look. Speaking of aesthetics, the shiny chrome bezel surrounding the lens reflects light and glints in all directions, giving the front of the body a very attractive and classic look.
One curious decision is the lens cap, which clamps inside the bezel and also ships with a small strap, which is nice. What's strange is that if the user forgets to remove the cap before powering up the camera, the interior lens elements will attempt to extent, pushing up against the cap in a way that cannot be good for the hardware. No warning is displayed onscreen, just the sound of struggling internal parts.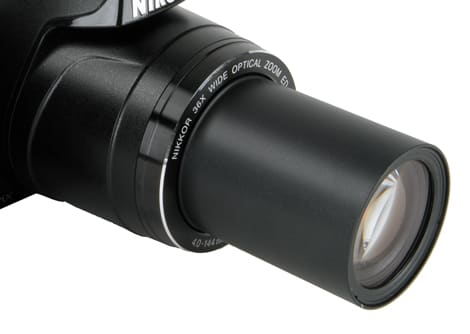 The P500's massive 36x optical zoom is long enough for just about any situation we can imagine. In fact, so is 20x–but 36x, that's just insanity. This ratio is enough to capture insects from across the street, players from across a football field, or boats from across a lake.
This Nikon's included battery is CIPA rated at approximately 220 shots on a single charge. After spending some time with the camera, we feel that figure is about right. Charging takes a long time though, nearly five hours. This may not be the case for Nikon's wall socket adapter, sold separately, but that's quite awhile with included hardware.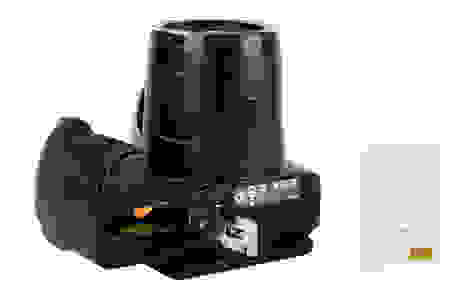 The memory slot is adjacent to the battery slot, underneath a locking plastic door. The P500 is compatible with SD, SDHC, and SDXC memory cards. If a memory card is not available for some reason, the camera includes approximately 102 MB of internal memory, which is enough for about 17 full quality shots.
Both connectivity options are concealed underneath a rubber cover on the left side of the body: a mini-HDMI port and a proprietary USB terminal. Although this USB terminal appears to be a standard "mini-A" connector, we assure you it is not. Since this port is used for charging the battery, this makes the process overly complicated and, in some cases, downright torturous....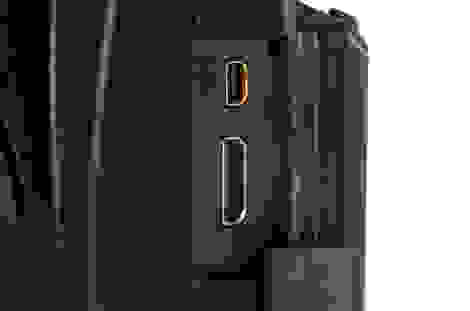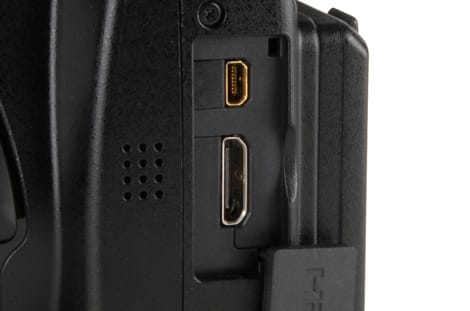 For example, let's say–and of course this is purely hypothetical–that you are an internet camera critic, and decide to take the Nikon P500 with you for some shooting in the woods of Maine. Let's also say that you threw the included EH-69P AC adapter into your bag for the weekend, thinking it was a wall socket adapter...because it looks exactly like one. Hours and hundreds of miles later, you discover the EH-69P is actually a USB adapter, and you of course failed to bring along Nikon's included USB cable UC-E6. Panicked, you scour two nearby Wal-Marts and a Radio Shack looking for a type "mini-A" USB cable, before finally finding one at Target, minutes before closing time. With the new cable in tow, you head back to the hotel, only to find that the seemingly-standard USB terminal is, in fact, quite proprietary, and you will be taking precisely zero pictures over the weekend.
What this means, is that should you lose, misplace, or yes forget the USB cable that arrives with your P500, you'll need to buy another one. From Nikon.
The full selection of common shooting modes are available on the P500: shutter priority, aperture priority, program auto, and full manual are all found on the mode dial. There's also a custom "user" setting to save your own preferences, as well as a fully automatic mode, scene mode selector, night portrait, night landscape, backlighting mode, and smart portrait. We did most of our shooting in program auto, and found it was intelligent enough for every situation.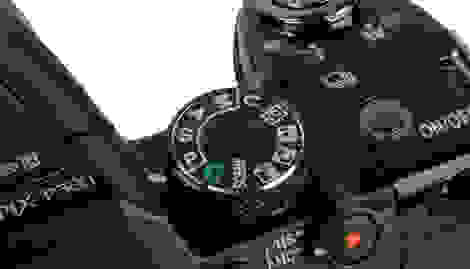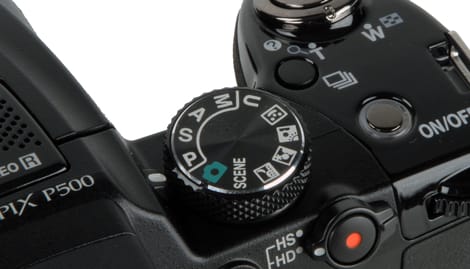 Scene Modes
Fifteen scene mode settings are available and there aren't too many surprises among them. Settings like Beach, Fireworks, and Sunset can be useful in those situations, but for the most part we recommend shooting with more accurate settings. Some options do unlock slower shutter speeds however.
No picture effects are available while shooting, so your only option is the edit them in later using playback mode. Again, Nikon is targeting this camera for the more serious shooter, so options are limited compared to the competition.
Both of the P500's main burst modes are full resolution, so we scored them as shot-to-shot results below. But this camera's bevy of drive options don't end there. The P500 also supports pre-shooting cache mode (which starts capturing shots into a buffer once the shutter release is depressed halfway), high-speed continuous shooting at 120 or 60 frames per second, best shot selector, multi-shot 16 (which captures 16 shots at once and arranges them in a grid), and interval settings for time-lapse photography.
Shot to Shot ()
Although there is no unlimited continuous shooting mode available, the P500 does feature two valuable full resolution burst modes. The low speed burst allows a maximum of 14 shots in a row before the buffer fills up, and does so at approximately 1.87 frames per second. But we preferred the high speed burst, which only allowed five exposures in a row, but shot in excess of 9.2 frames per second. If you do the simple math, five shots at 9.2 fps is enough for about one half second, plenty of time for skilled shooters to catch the "decisive moment."
Handling of the P500 is very stable–even with one hand–thanks to a rubberized right hand grip, which has been knurled for even better traction. An ergonomic protrusion is located below the shutter release, right where the middle finger will rest, to improve leverage for tilting movement.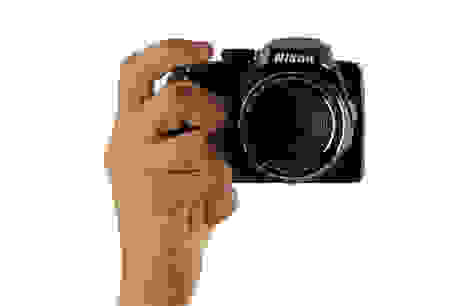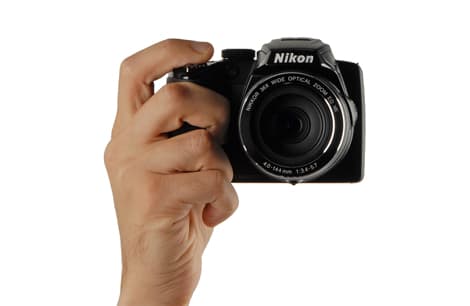 A large rubber rest for the right thumb is located near the upper right corner of the rear panel. This grip also has a small ergonomic lip to improve leverage. The proximity of the thumb rest to the rear dial places it within the danger zone for accidental adjustment, however the location is quite convenient when the rear dial is actually needed.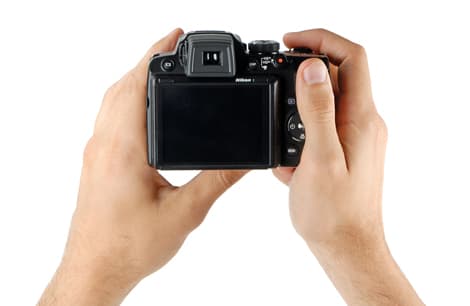 All these leverage advantages mean you'll never notice how severely off-balance the P500's body is. Shooting is a comfortable and controlled experience overall.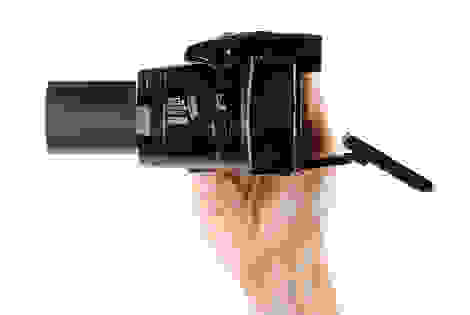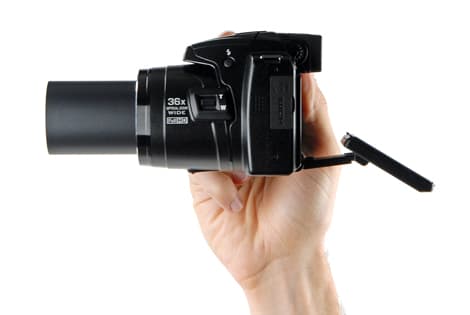 The P500's button layout is a bit complex. A typical directional control pad lies on the right side of the rear panel, but other functions such as continuous shooting, display, monitor swap, and movie mode have been relocated. The monitor swap button (not pictured) is the most inconvenient, requiring the left thumb to take a trip from its supportive position below the body, all the way up to the left of the EVF.
We do like Nikon's movie button which, aside from acting as a record hotkey, is surrounded by a thumb toggle that swaps between high definition and high speed shooting. The shutter release is also nice, with a relatively long stroke and excellent tactile feedback.
Like the Canon SX30 IS, the on/off button has been placed at the top of the body, but unlike the SX30, so has the continuous shooting button. Both require a little extra reach from the right thumb, but we didn't end up hating this nearly as much as we expected to.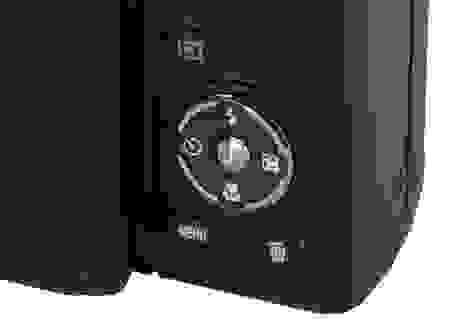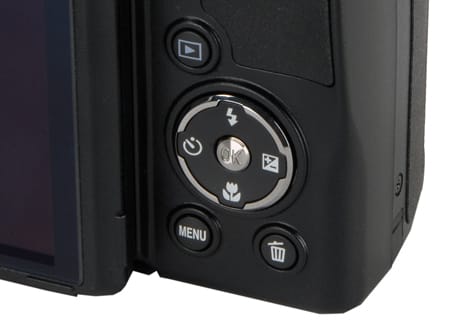 Nikon's menu system has changed very little over the years, and for good reason. While the P500 does not feature a dedicated "quick menu" or anything else designed to speed up the process, the main menu system is simple and fast enough as it is.
What we really loved here were the appearance of options like noise reduction or sharpness enhancement. Too often cameras in this class will attempt to keep their "enhancements" a secret. Nikon makes no effort to mislead in this way.
The P500 does not ship with a full printed manual, however a PDF is available on an included CD-ROM. We found this document to be very clear and valuable. In-camera help is less effective, with some options represented only as symbols and necessitating a flip through the manual, which of course can be difficult or impossible in the field.
This is a very, very close comparison. In fact, the features and specifications of these two cameras are almost identical. Canon does have a huge leg up on Nikon here in the department of color accuracy, but although the scores are far apart, the difference is less apparent in real world shooting.
Where the Canon lags behind all others in this group is continuous shooting. The SX30 IS is not capable of shooting any faster than 1.33 frames per second at full resolution, whereas the P500 features a comprehensive suite of burst modes. The SX30 earned an overall score from us that places it ever-so-slightly ahead, however our personal recommendation is the P500. All other factors being equal, the Nikon's continuous shooting capabilities put it over the top.

/r:render
For the most part, Nikon made tremendous strides since the Coolpix P100. Almost all test results have improved, and usually by a wide margin. One notable exception is color accuracy, where the series seems to have lost some ground. Still, unless you come across an incredible price for the P100, there's really no reason to consider it over the newer P500.

/r:render
Just as the P500 shocked us with poor color reproduction, the FZ47 had an equal and opposite effect. We could scarcely believe how well the FZ47 performed in our color test. And while that metric alone could've been a fluke, the camera continued to score extremely well throughout our lineup of lab measurements.
One area that our Nikon outperforms the Panasonic is low light shooting. While the Lumix did technically outscore the P500, it did so at the expense of image clarity and accuracy. High ISO exposures from the FZ47 are far uglier than the P500's, something our tests would not detect. If low light shooting is going to make up a significant portion of your photography, consider the P500 over the FZ47, despite the test scores.

/r:render
So the Coolpix P500 performed horribly in our color accuracy test, especially for a Nikon. But here's the thing: during our time with the camera, the images produced were actually very attractive. If you'd handed us sample photos from this model before testing, we'd have predicted much higher scores. Sharpness is a little off in places, but overall we get the sense that this lens is of much higher quality than the competition.
Continuous shooting performance was also extremely impressive. The P500's maximum speed burst–although limited to five shots–rivals the speed of the fastest SLRs. Not to mention the fun high-speed camera mode, which in this case reaches a whopping 240 frames per second.
We also love Nikon's noise reduction algorithm, which is significantly better than other comparable models and–coupled with this camera's excellent dynamic range–ultimately results in more attractive shots, especially in very low light. Unfortunately, this is one of a few qualities that our fixed-lens tests don't fully account for. The Coolpix P500 should therefore be considered an all-around excellent camera, even though some of our tests cannot do it justice.
Meet the tester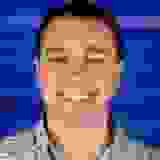 Christopher Snow
Managing Editor
@BlameSnow
Chris was born and raised less than ten miles from our editorial office, and even graduated from nearby Merrimack College. He came to Reviewed after covering the telecom industry, and has been moonlighting as a Boston area dining critic since 2008.
Checking our work.
We use standardized and scientific testing methods to scrutinize every product and provide you with objectively accurate results. If you've found different results in your own research, email us and we'll compare notes. If it looks substantial, we'll gladly re-test a product to try and reproduce these results. After all, peer reviews are a critical part of any scientific process.
Shoot us an email