While we have no doubt that we'll see 60x and probably even 70x designs in the future, Nikon has apparently decided (at least for the moment) that length isn't everything. The new Coolpix P520 (MSRP $449.95) retains the same 42x zoom of its predecessor but ups the sensor resolution, puts a fully articulating hinge on the 3.2-inch LCD, and makes a few less notable tweaks.
Sounds like a pretty minor update, right? That's because it is—Nikon isn't doing anything revolutionary here. But the fact is, we really liked the P510, and to be frank we'd be pretty happy with some small improvements to image quality and usability. So we put the new model through its paces in our labs and some real-world shooting scenarios (including a trip to the Australian V8 Supercars race in Austin, Texas) to find out if it can improve on what's come before.


Have you seen the P510? Then you've seen the P520.
The P520 is every inch the prototypical superzoom camera, from its DSLR-wannabe shape and control scheme to its stupendous telephoto reach. The materials—mostly textured polycarbonate, with a few glossy plastic touches—and construction are a cut above most compact cameras.
Notable high points include a surprisingly comfortable grip, a mode dial that includes all the PASM modes along with a custom user setting, and a fully articulating 3.2-inch rear LCD that feels like it might have been taken directly from Nikon's new D5200 DSLR.
That articulating screen is easily the P520's biggest improvement. Big, bright, and crisp (921k-dot), it stands in stark contrast to the incredibly disappointing electronic viewfinder—a direct carryover from the P510. The EVF is tiny (0.5cm), extremely low-resolution (201k-dot), and its frame rate lags quite a bit even in bright light.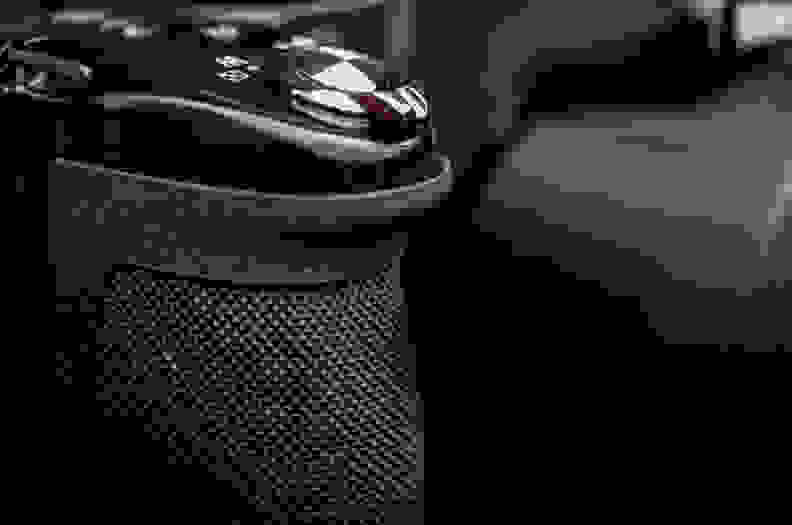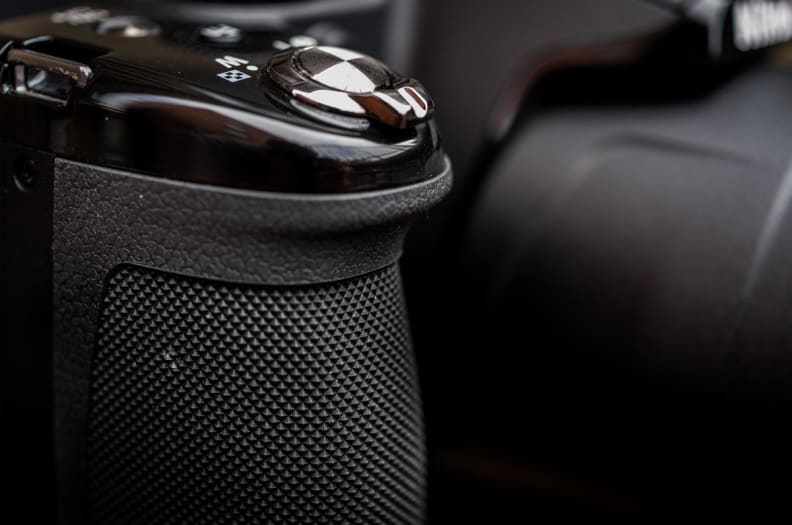 The button layout is sensible on the whole, if slightly cramped thanks to the massive (though welcome) rear thumb grip. In addition to the rotating four-way dial/control pad, there's also a dedicated command dial, making it easy to adjust both shutter speed and aperture when shooting in manual mode. Videographers will appreciate the dedicated video button, too. There's also a Function button that can control nine different settings, kind of like the Quick Menus found on other cameras—but its menu design is unnecessarily clunky.
That shortcoming will matter to enthusiasts, but the average user will probably just pop the camera into Auto, Program, or Aperture Priority modes and snap away. When I took the P520 to the races, I didn't have any trouble getting in sync with its control scheme. I typically shoot with Auto ISO and aperture priority mode, and the P520 worked beautifully in that configuration—at least in bright light. Paired with the camera's excellent optical vibration reduction, the 1000mm of telephoto reach let me get some shots that would have required untold thousands of dollars to get with a DSLR.
(One note about the P520's VR, though: When shooting at full telephoto with vibration reduction on, you may find that what you see on the screen isn't what you get when you press the shutter release. That's because the optical stabilization is so aggressive at 1000mm that it corrects a bit between when you frame the shot and when you pull the trigger.)
Nikon's investment in a new sensor pays only small dividends.
Nikon claims that the P520 "performs so well in low light situations that, in most cases, using the flash is optional." That's a stretch, to put it charitably.
But that's not to say my race snaps will rival what the pros captured that day. Far from it.
Internally, the P520's biggest upgrade is its new 18.1-megapixel sensor. Unfortunately, like its 16-megapixel predecessor, it's still a tiny 1/2.3-inch chip—among the smallest used in compact cameras today. Since a smaller sensor collects less light, cameras using 1/2.3-inch units tend to have more trouble shooting in dim situations. In theory, the P520's backside-illuminated chip should help correct this shortcoming, but past experience didn't have us hopeful; last year's P510 also used a BSI sensor and we found it to be a poor performer at its highest sensitivities.
In marketing materials, Nikon claims that the P520 "performs so well in low light situations that, in most cases, using the flash is optional." That's a stretch, to put it charitably.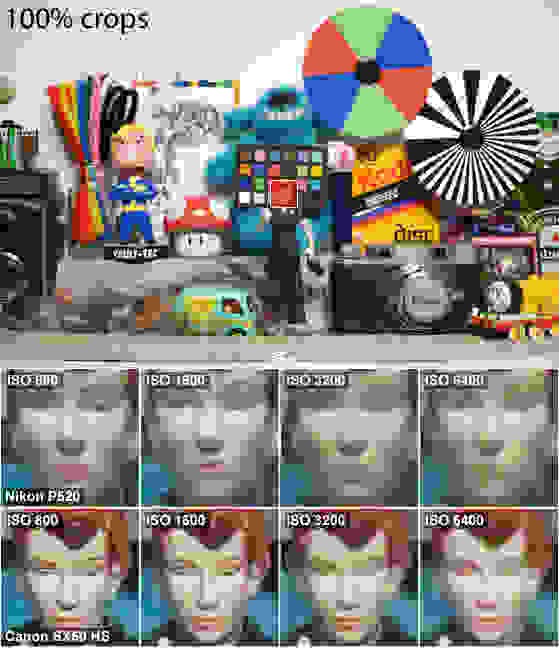 Sure, up to ISO 800, shots from the P520 are reasonably crisp and clear. But image quality declines significantly at ISO 1600 and takes a more serious dive at ISO 3200 and 6400, which you'll need to use in order to stop motion in dim light. Complicating matters, autofocus performance suffers terribly in low light. It will likely either hunt for a few seconds before finding a lock, or give up altogether. This behavior is predictably exacerbated when using the long end of the zoom.
Noise aside, the P520 did produce a couple small image quality improvements. Color accuracy remains roughly the same, but automatic white balance has improved quite a bit. It's still not good—especially in artificial light—but it's definitely less bad. Dynamic range is right on par with the competition; the camera was even able to eke out the smallest of advantages over the class-leading Canon SX50 HS in our lab test.
For an in-depth discussion of the P520's performance, visit the Science page.
Video is surprisingly smooth and sharp in the top 1080/30p mode.
While Nikon hasn't made a quantum leap with the P520's stills, its video functionality has certainly matured. Though the camera is limited to 1080/30p (or 60i), motion is quite fluid and we couldn't find any evidence of artifacting in good light. Video sharpness is drastically improved over the P510—even the smallest text in our still life was perfectly legible. The P520 records to .MOV files using the H.264/MPEG-4 codec, a format that's easy to edit using all kinds of readily available software.
At the Circuit of the Americas, I was able to track the pack of Aussie V8s through nearly half of the course's 20 corners thanks to the P520's huge zoom range. The video won't win me any Oscars; even with the camera's remarkable VR, my hands aren't steady enough to prevent jerky panning. But it's a document of a moment that most cameras couldn't capture. Check it out below.
One flaw I did notice is that if you zoom during recording, the video will briefly jump out of focus. We're not sure if this is due to a varifocal lens design or some software shortcoming, but I missed a few dramatic moments of car-to-car contact as a result.
As you'd imagine given the P520's stills performance, in poor light videos aren't quite as impressive: image noise becomes a serious problem, sharpness drops substantially, and colors quickly get distorted.
The 42x zoom is the star, but that's not the only trick the P520 has up its lens barrel.
Like any other consumer camera worth its salt, the P520 is loaded with some interesting and occasionally useful digital effects. They've even got their own spot on the DSLR-style mode dial. Our favorite (as is often the case) was the high-contrast monochrome mode, which produces extremely striking black-and-white shots in most cases. Cross-processing, high- and low-key, and selective color modes will probably also find some fans.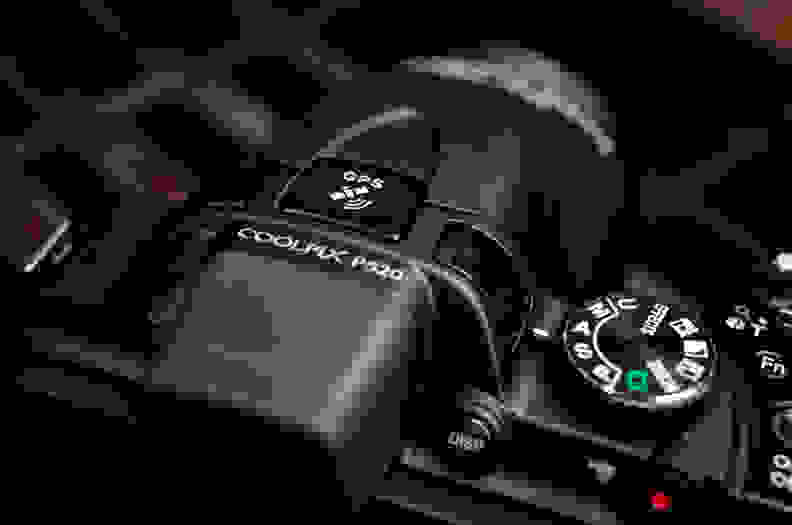 There are also not one but two different panorama modes. Easy panorama automates the entire process for you, meaning you just have to hold down the shutter and pan, while panorama assist mode is more precise but requires you to manually line up your shots. Like Nikon's own 1-series cameras, the P520 has a mess of slow-motion and high-speed modes. None is quite as dramatic as the 1200 fps slow-motion mode from the Nikon 1 J3 and 1 V2, but some are higher-quality. You can record half-speed (60 fps) videos at 720p, quarter-speed (120 fps) clips at 480p, and double-time (15 fps) movies at 1080p. They're pretty neat party tricks, but we doubt the average user will try them more than a couple times.
GPS was featured on the P510, and Nikon hasn't given up on it with the P520. We should say up front that we never got the function to work for us—at least not in the concrete canyons of Boston. Those living in more sparsely populated areas may find it more useful. Nikon has improved the functionality a little, adding points of interest to the basic latitude and longitude coordinates, and the data can be used to create photo journals via Google+, Google Earth, and Nikon's own View NX2 software. We're not sure many will bother, though.
A retread of a good camera is still a good camera, but Nikon is standing still in a market moving ever forward.
While it didn't fare very well in low light, we're still impressed with the Nikon P520 on the whole. Just as impressed, in fact, as we were with the earlier P510. For habitual bright-light shooters—the sort who spend their weekends shooting t-ball games and soccer practices—the P520 is an extremely capable camera that can capture shots few other cameras in its price range can manage.


In particular, I was impressed with the P520's effective vibration reduction and crisp, clear video. At the race track, the massive 42x zoom range made all the difference in the world, letting me get up close to the sheet metal–crushing action without risking life and limb. You won't mistake my shots for DSLR output, but for most purposes (even small prints) they're perfectly fine. Similarly, the videos show clear evidence of my shaky hands, but given the massive 1000mm focal length it's surprisingly watchable—all credit to Nikon's VR wizardry.
The real problem for Nikon is that Canon's SX50 HS is currently being offered at exactly the same price. (Current street prices actually favor the Canon by a small margin.) Nikon undoubtedly has the better LCD, the better grip, and the better video quality. But—and this is a big, big but—the SX50 has the bigger zoom ratio and produces more appealing still images straight out of the camera.
Those who already own a P510 have very little reason to upgrade unless video is an overriding concern. The lens is the same and the new sensor leads to very few image quality gains, at least when it comes to stills. If you are looking to upgrade, you'd do better to wait for Nikon's inevitable 50x or 60x response.
Just like every other camera that passes through our labs, we subjected the Nikon Coolpix P520 (MSRP $449.95) to our battery of image quality tests. The good news is that the P520 is indeed better than last year's P510 in most respects. The bad news? It's not that much better, with a couple exceptions. In terms of lab numbers it's also in the same ballpark as the highly regarded Canon SX50 HS, though the real-world gap is a bit larger.
The P520 scored well in the lab for noise control, though that's mainly due to incredibly aggressive noise reduction (more on that later). Color accuracy was actually a little worse than the P520, but not noticeably so, while automatic white balance was markedly improved. The camera's dynamic range is right on par with the SX50 HS. The P520's best improvements probably come in video performance, where the new model has made a huge leap forward.
In our tests, the P520 wasn't anywhere near as sharp as the P510, which was initially a little confusing since the two ostensibly share the same lens.
But after doing a little analysis, we're convinced that the difference is almost entirely down to software processing. The P520's most accurate color mode (Neutral) uses a dialed-down sharpness setting that doesn't produce any oversharpening. In contrast, the P510's most accurate color mode (Standard) oversharpened shots by 10–15%.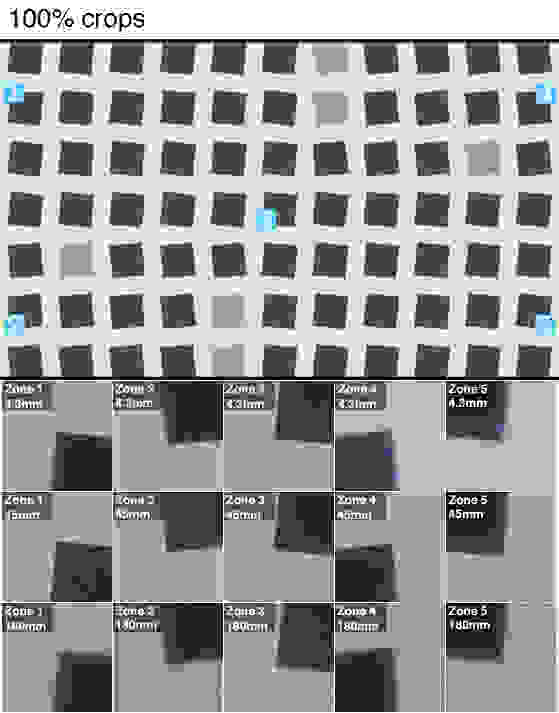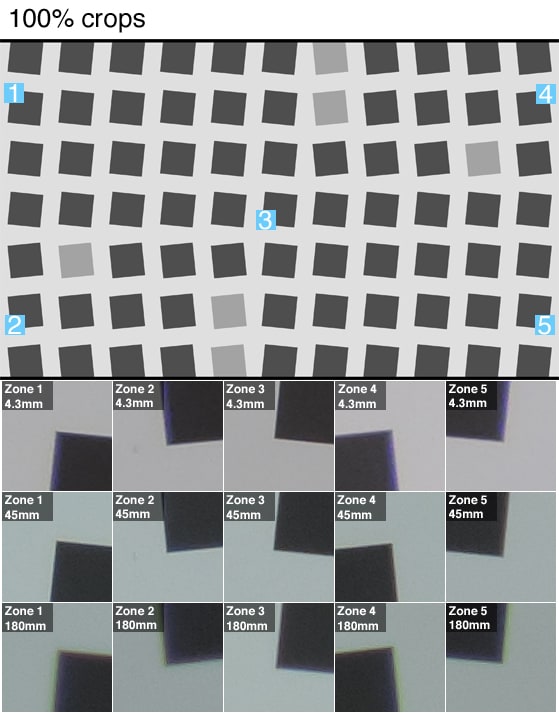 Due to the camera's neutral sharpnening profile, shots from the P520 are a little soft straight out of the camera (particularly when using the Neutral picture control). To correct this, you can either edit shots in a post-processing suite like Photoshop or bump up the sharpness setting in-camera. Each picture control mode lets you adjust sharpness on a 7-point sliding scale. We suggest you play with this to get the results you prefer.
Nikon makes a big deal out of the P520's low-light capabilities in its marketing materials, but the truth is that the camera can only do so much with its tiny 1/2.3-inch sensor.
The camera's noise scores are actually quite a bit better than last year's model, and they even outdo the Canon SX50 HS, but that's almost entirely down to over-aggressive noise reduction. Regardless of what noise reduction setting you're using, noise doesn't occupy more than 1% of the total image area until ISO 1600. That's unbelievably good for a sensor of this size. Literally. We don't believe it.
Nor will you, once you see the crops from our still life setup. As you'll see, noise is present but not obnoxious until around ISO 800, but from that point on it's so bad that the camera has to go way, way overboard with NR. Details are severely diminished at ISO 1600 and pretty much obliterated beyond that point.
Seriously, you should never use ISO 3200 or 6400.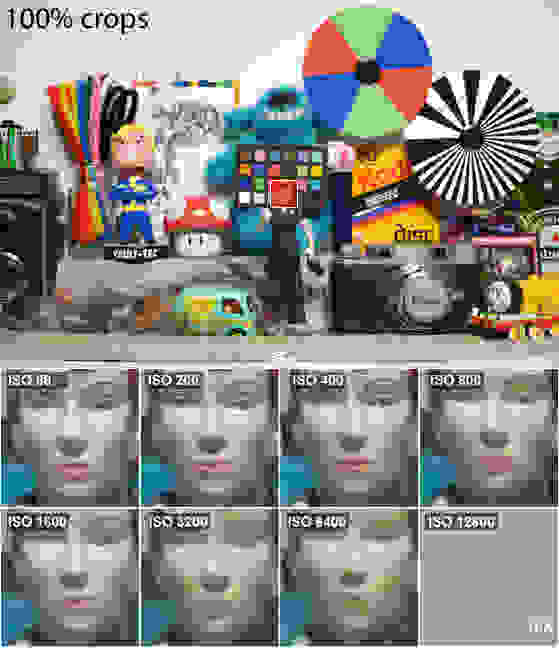 Need more evidence that the P520 is trigger-happy with the NR? Peep this: Whether using the Low, Normal, or High NR settings, noise levels actually drop at ISO 200. Yep, ISO 200 is less noisy than ISO 100 or ISO 80. From that point on, noise levels rise steadily, so we're assuming that 200 is simply the point where Nikon's engineers panicked.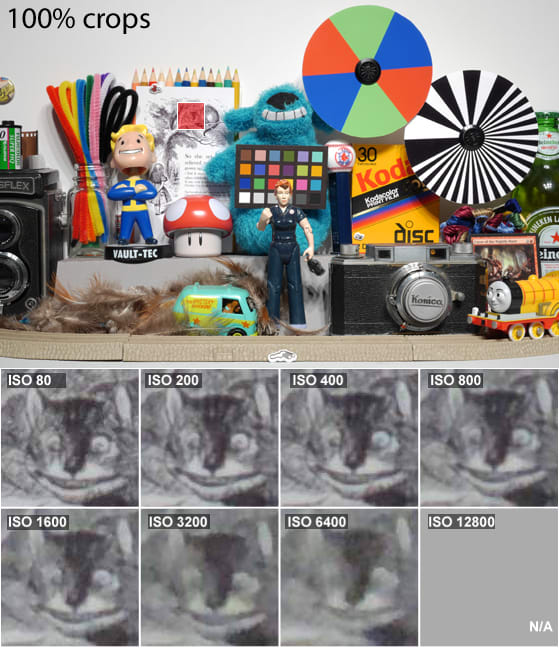 In the lab, the P520 scored a bit lower in color accuracy than its predecessor, but in the real world its colors look pretty much identical.
Curiously, while the Neutral picture control was the most accurate, it was also significantly under-saturated (at 93.9%). The Standard picture control, which was most accurate on the P510, was only a little less accurate on the P520. It was also slightly over-saturated (103.8%). On the whole, we prefer the output of the Standard color mode, and suggest you use it for everyday shooting.
The camera's ∆C 00 chroma corrected color error checked in at 2.74 using Neutral and 2.85 with Standard mode enabled. We consider any error higher than 2.5 to be less than great, but a 2.85 is perfectly acceptable for a fixed-lens consumer camera. The most significant errors were in the yellows and reds—colors typically associated with skin tones.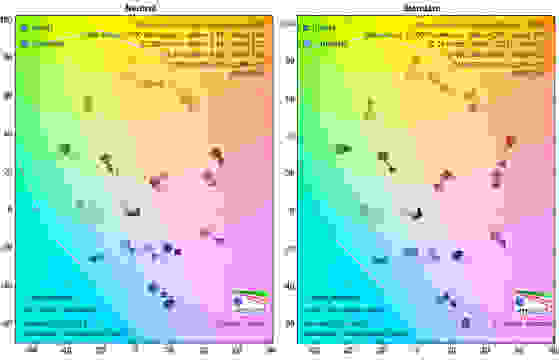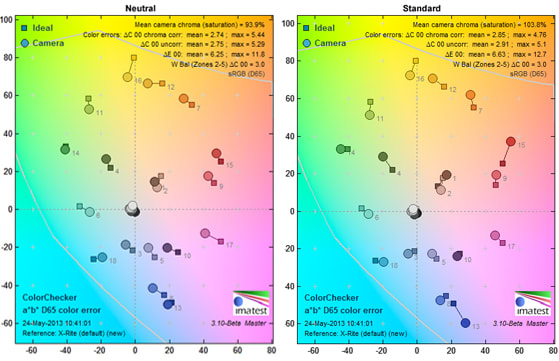 Automatic white balance was quite a bit better than we saw from the P510, though not quite as good as the competition from Canon. As usual, shots under artificial light showed either a greenish (with compact white fluorescent) or orangey (with incandescent) cast. White balance temperature errors in these conditions averaged as high as 2439 K (incandescent) and 934 K (CWF). Daylight auto white balance was very good in comparison, with an average error of just 62 K.
Custom white balance readings produced excellent results, though oddly daylight was the worst of the bunch. We recorded an average error of 230 K under daylight conditions when setting a custom white balance—far worse than when letting the camera do its own thing.

Video from the P520 is clear, crisp, and free of artifacting in good light. In our standardized sharpness test, we recorded 650 lp/ph of horizontal sharpness and 675 lp/ph of vertical sharpness in bright light, which is a very respectable achievement. When we reduced the ambient illumination to 60 lux, sharpness dropped to 600 lp/ph on both axes. In the dimmer setting, noise levels rose dramatically and there were noticeable compression artifacts, as well.
We also tested the sensitivity of the P520's sensor by recording a test chart in steadily decreasing ambient light levels. This camera was able to maintain a broadcast-ready image brightness (50 IRE) down to 20 lux. Coincidentally, that's exactly the amount of light the Canon SX50 HS needed to achieve the same result. The P510 needed 38 lux, so the P520 marks a significant improvement.
Meet the tester Ben Keough
Contributor
@ben_keough
Ben is an experienced industry journalist who formerly served as Senior Editor of News and Features at Reviewed. He now contributes as a freelance writer and editor. Most recently hailing from the vast wilds of the American southwest, he is an avid photographer who is deeply disturbed by the lack of wide open landscapes in Boston.
Checking our work.
Our team is here for one purpose: to help you buy the best stuff and love what you own. Our writers, editors, and lab technicians obsess over the products we cover to make sure you're confident and satisfied. Have a different opinion about something we recommend? Email us and we'll compare notes.
Shoot us an email