The last few years have not been kind to the camera market—especially the compact segment. With the rise of smartphones and subsequent decline in point-and-shoot sales, many manufacturers have begun to look to a younger audience for salvation. The favorite plan of attack? Lure in heavy social media users with a neverending arms race for better selfies.
One popular tactic is to add a front-facing screen so users can frame their vanity shots more accurately. A few years ago this idea would have been considered a gimmick at best, but in 2014, it's hard to find a compact camera without one.
Nikon had somehow avoided jumping on the bandwagon until earlier this month, when it announced the Coolpix S6900 (MSRP & Availability TBA). It's an extremely compact point-and-shoot that sports a full-swivel screen and even a kickstand for stability.
The S6900 will be competing against some pretty interesting new products, including Sony's new CyberShot DSC-KW1, Casio's EX-TR35, and the Canon PowerShot N2–though the S6900 is most similar to the Casio in reality.
Since we love selfies here at Reviewed.com (who doesn't?!), we headed over to the Nikon booth at Photokina 2014 to get our hands on this weird little guy. (But have no fear, they wouldn't let us keep all the selfies we took.)
Design & Usability
Sleek, stylish, but maybe a little cheap
Like most modern entry-level compacts, the Coolpix S6900 is extremely compact and lightweight, and can slip easily into a pocket or purse. Need numbers? It's 4 x 2.3 x 1.1 inches around when fully collapsed, and weighs just 6.4 ounces, even with the battery and memory card installed.
The aesthetic design is sleek and modern, more or less in keeping with Nikon's general Coolpix look—lots of glossy plastic and chrome. When it eventually(?) hits American shores we'll probably get it in three colors: white, black, and pink. From the front, the S6900 is nearly identical to the Coolpix S6800, but around back a lot has changed.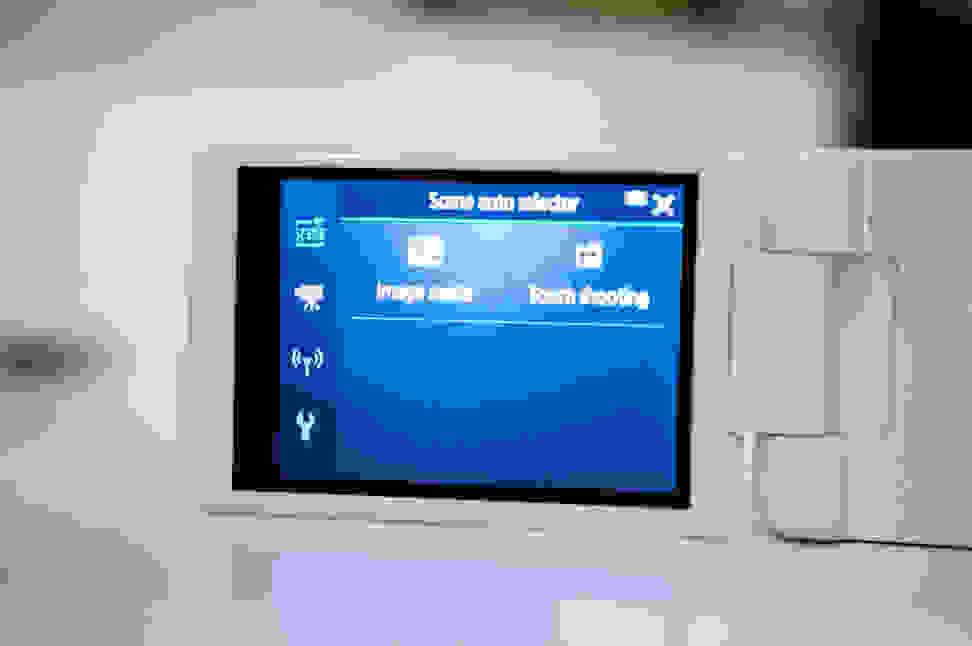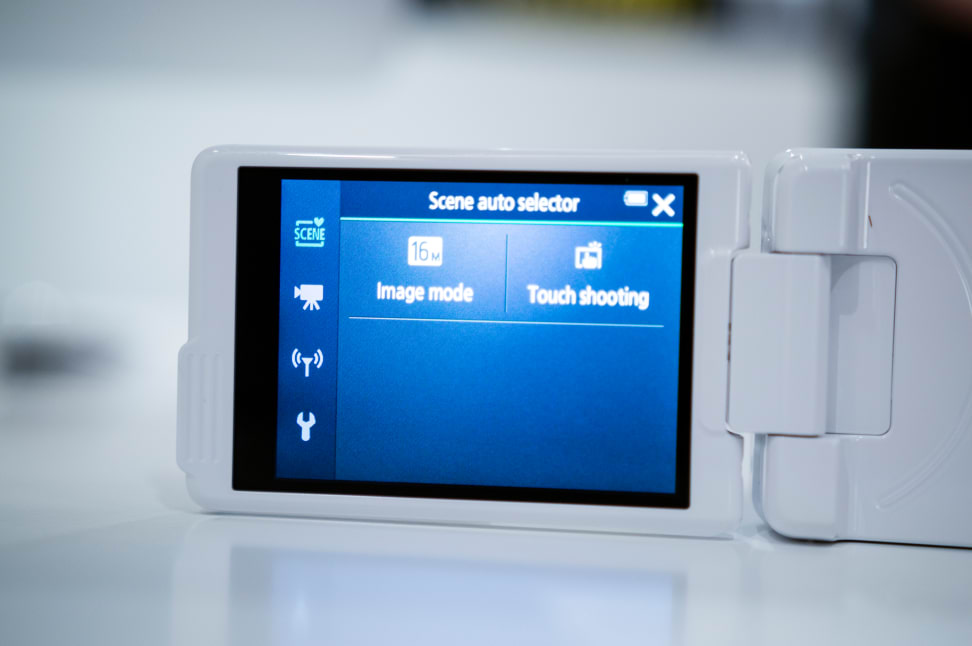 The entire back side is a vari-angle 3-inch LCD touchscreen sporting 460k-dot resolution. The touchscreen is generally pretty responsive, but on the demo model I used, the left side seemed less sensitive than the right, requiring multiple touches at times. It might have just been a bad apple, but we'll be looking out for it when we get a review unit.
Build quality is a little questionable. The mostly plastic body felt fragile in my hands, though to be fair, I'm a big guy and have to keep my cell phone in a military-grade case to keep it safe. It's quite possible the average buyer wouldn't have any issue here, but we certainly wouldn't recommend replacing your action camera with this thing.
We wouldn't recommend replacing your action camera with this thing.
Shooting with the S6900 as a traditional camera is simple enough. The shutter release has a half-press point that seems a bit deep, but that's better than a hair-trigger. The nearby power switch, video record button, and Wi-Fi activation switch all sit flush with the top of the camera, which can make them a bit tricky to press with sausage fingers like mine.
The zoom toggle is located in front of the shutter release. The zoom is set to one speed while in stills mode, and a much slower speed while filming video. It's an intentional choice on Nikon's part; fast zooming in a video tends to be disorienting and jerky, but for still photos it's necessary to get a quick shot.
Under the hood, the S6900 uses a 16-megapixel, 1/2.3-inch, backside-illuminated CMOS sensor with an Expeed C2 image processor. The lens is a Nikkor 25-300mm (equivalent) with a f/3.3-6.3 maximum aperture. It's the exact same lens from the S6800, and it seems likely the S6900 will inherit the same low-light struggles.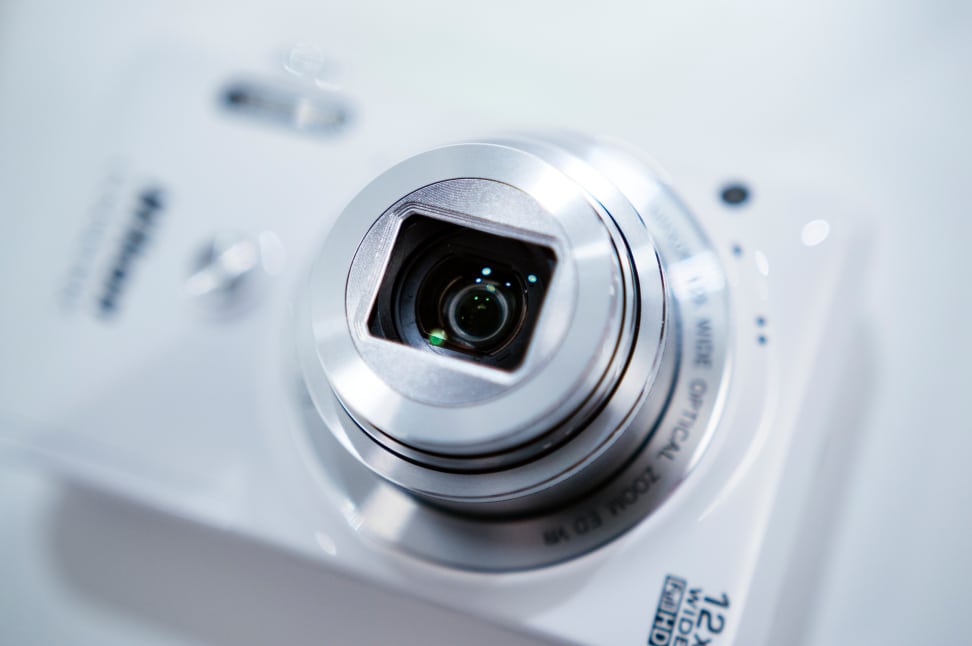 The S6900 shoots 1080/60i video and uses a 4-axis hybrid vibration reduction prevent camera shake while shooting video at longer focal lengths. It's also capable of 8fps burst shooting, but this is no sports camera. The majority of people are going to buy this thing for the selfie potential.
Features
A selfie machine
The biggest new feature here is obviously the vari-angle screen. It can be flipped forward and/or out to the side, which gives shooters more flexibility for shooting at tough angles—when they're not shooting selfies, of course.
The kickstand feature is also well-implemented. It can be pulled out from behind the screen to stabilizes the camera, and works whether it's set up vertically or horizontally.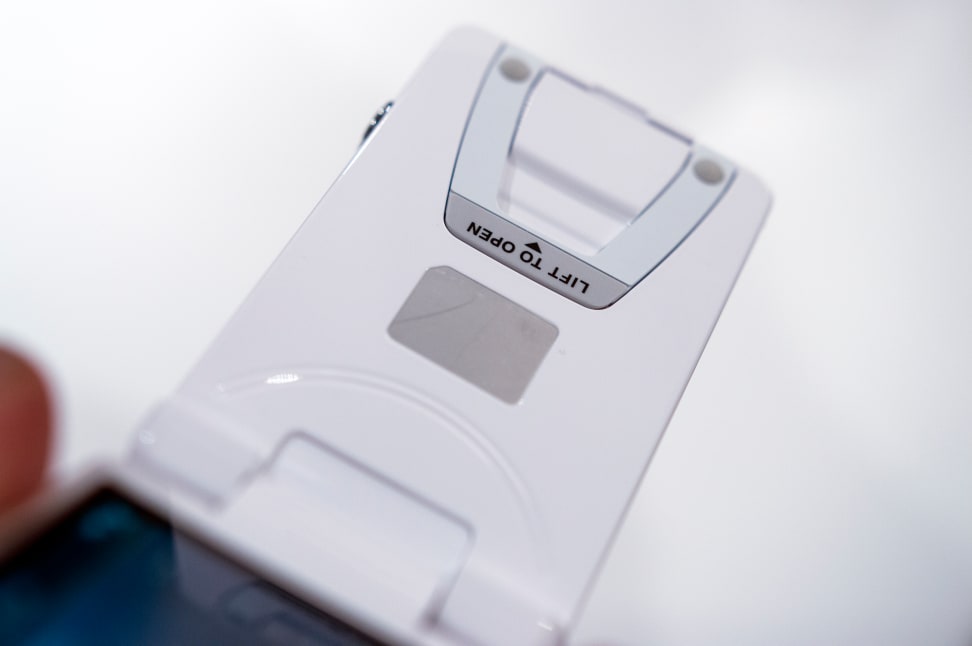 Another feature added specifically for selfie purposes is the front-mounted shutter release. This allows users to simply press the front of the camera instead of the top, something that could get tricky or even cause dropped cameras.
But the real thing that makes selfies simple is the S6900's new gesture control. Instead of setting a self-timer and pressing the shutter, you can simply wave your hand to start a countdown. To make it work, you just line your hand up with an icon displayed at the center of the (front-facing) monitor, then move your hand to drag an icon.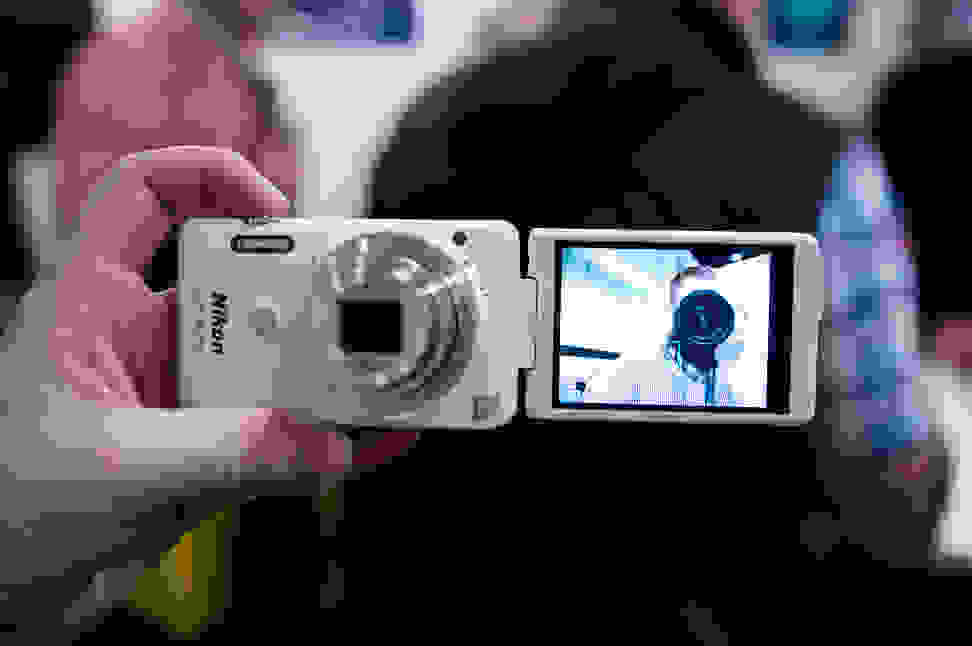 There's also a mode that activates the shutter when you smile. Usually my beard gives these modes a hard time, but the S6900 had no issues seeing through my epic facial hair and snapping a shot.
WiFi and NFC are on-board, helping you get images off the S6900 and out to the world lickety-split. Couple that with the ability to use Nikon's Wireless Mobile Utility app as a remote and you've got a fairly potent package for photographic socialization.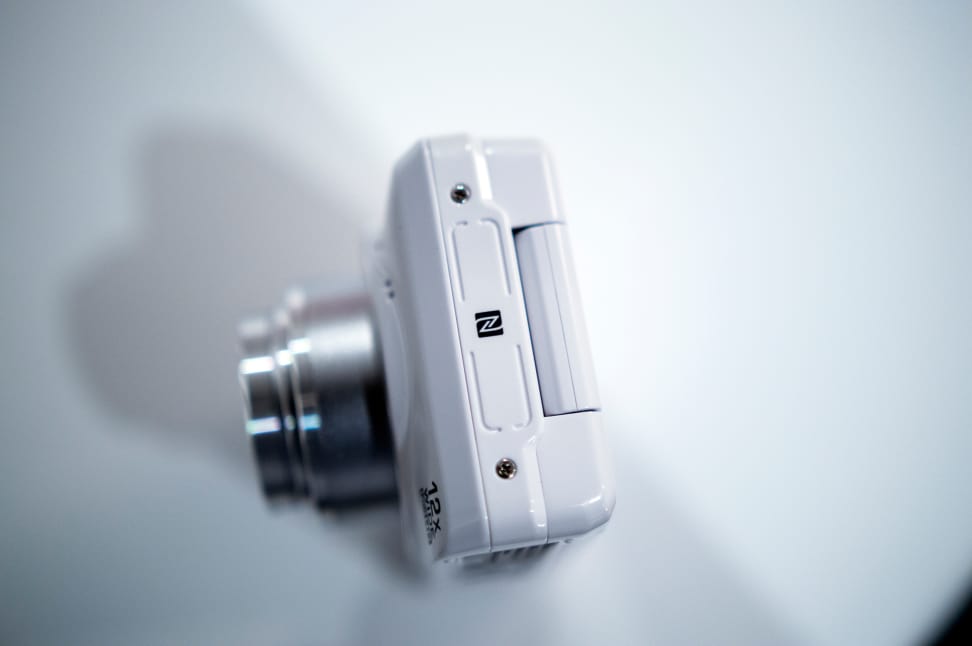 The S6900 picks up the S6800's Glamour mode—an on-camera editing system that brightens faces, hides eye bags, whitens eyes and teeth, and reddens cheeks so you don't look like you just rolled out of bed.
You can even make your own collage with the Self-Collage mode. It can combine multiple self portraits of different poses, or activate interval shooting to turn the S6900 into a mobile photo booth for you and your friends.
Conclusion
The selfies just won't stop.
Nikon is far from the first company to try and cash in on selfie fever, but it probably won't be the last. It's something we all thought would fade away, but with social media still on the rise, we expect to see more of these designs coming down the pike.
The S6900 is competing for the limited attention span of an audience that's too pressed for time to give any one thing too much of it. The target audience wants hassle-free results and the ability to share those results instantly. For the most part, the S6900 delivers in a simple and efficient way.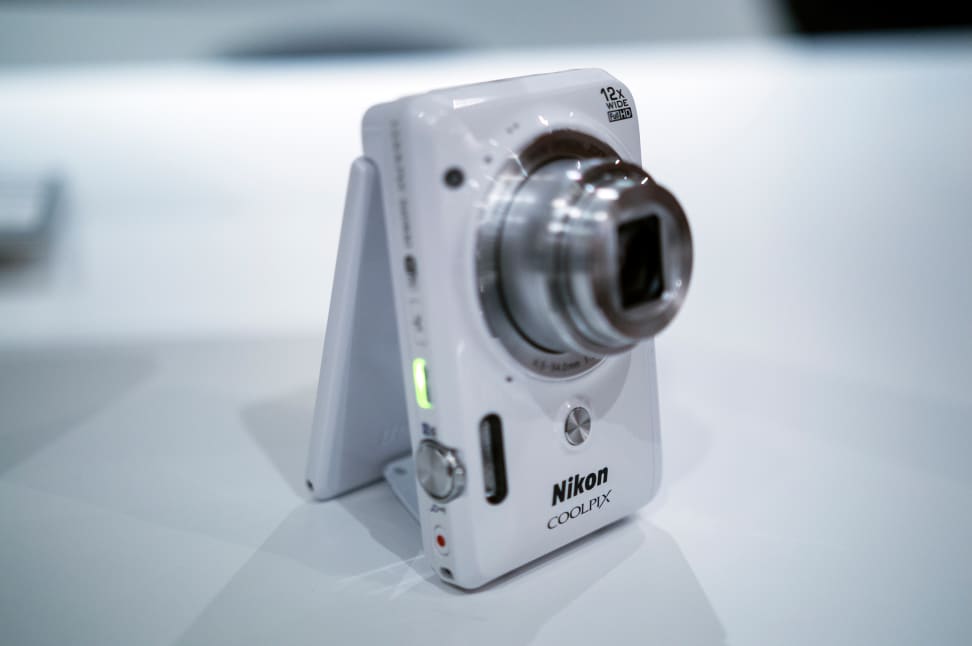 While we don't think this camera will fly off the shelves, it could be a useful tool for savvy social media junkies. It offers both image quality and a feature set that are a cut above that of your standard smartphone, and could be just what you need to up your selfie game.
Be sure to check out our continued coverage of breaking news and hands-on reviews from Photokina 2014.
Our editors review and recommend products to help you buy the stuff you need. If you make a purchase by clicking one of our links, we may earn a small share of the revenue. Our picks and opinions are independent from any business incentives.