Design & Handling
Have zoom, will travel.
Travel zooms are typically a bit beefier than smaller point and shoots, but the Nikon S9500 can easily fit in your pocket while still providing an expansive optical zoom. Like on most other compact point and shoots, you can expect the body to be about the size of a pack of cards, with a small hump where the lens collapses when not in use. The shutter release rests just under your index finger, with a somewhat awkwardly-placed mode dial sitting beneath your thumb. A front grip on the right side makes one-handed operation of the S9500 a snap, and just about every button on the camera can be reached by just using your thumb or forefinger.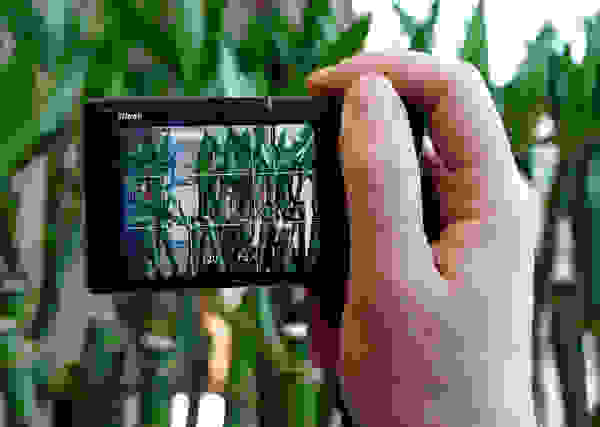 Internally, the S9500 is rocking an 18.1MP 1/2.3" CMOS sensor that, while on the small side, easily beats the pants off the sensors found in most smartphones. Though many of its specs are fairly standard for its price range, the S9500's 22x zoom (25-550mm equivalent) is impressive considering this camera will comfortably fit in a shirt pocket. There are other cameras that similarly sized that offer 20x optical zooms, but the S9500 also deserves points for snappy autofocus, even in low light.
Nikon's clear and easy-to-navigate menu system keeps things basic, but it doesn't take long to learn your way around. As with most point-and-shoots, using the S9500 is largely automatic, though you can select from a few different preset modes if you're going for a particular type of shot. We were impressed by the 614k OLED screen, giving you a very attractive way to review your photos—but be wary of direct sunlight, as the display doesn't get bright enough to dispel glare.
Performance
An arbitrary rollercoaster of good and bad
One of the main issues with the travel-zoom segment of the camera market is that in order to fit expansive optical zooms into a compact body, you have to go with a smaller sensor. Unfortunately smaller sensors also invariably lead to worse image quality in low light. While the Nikon S9500 puts an impressive 22x optical zoom in your pocket, we found its image quality struggled mightily in dim lighting conditions—especially when taking full advantage of that zoom.
Of course, the real reason to look at the Nikon S9500 over other compact similar models is that 22x zoom—you can pick out objects at a distance with no trouble and only minor distortion in the corners. You may notice a tiny bit of blue and orange at the edge of hard lines, but it's a consequence of putting this kind of lens in such a small package—it's fully expected to be imperfect, and color aberrations and soft details in the corners of your images are commonplace in this product category. That said, a 22x optical zoom will help you get closer to the action at a whale-watch or a school play, even when things are happening up to 100 feet away.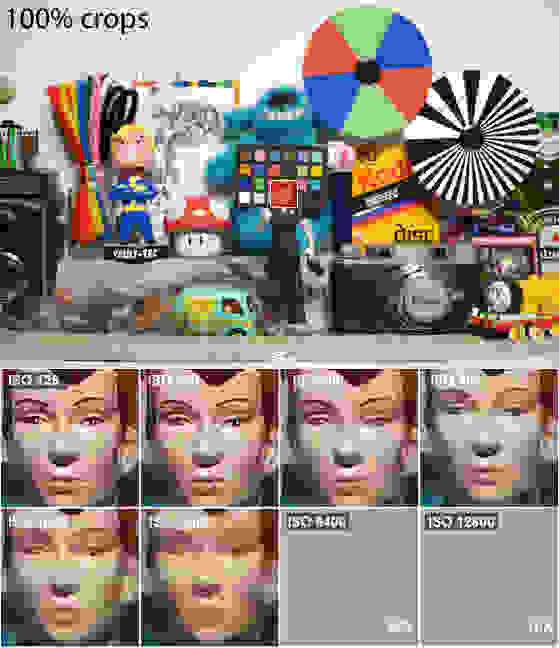 In our other performance tests we found the S9500 did quite well. The camera's color accuracy is acceptably good (something that point-and-shoots should be lauded for), and the shot-to-shot speed is quite fast. The S9500 didn't do so well in our white balance tests, however, while the noise reduction settings removed a lot of detail, with image quality dropping off above ISO 800. That said, video quality is surprisingly good in low light. That was a bit unexpected, but it's just a part of a long list of very quirky things about the camera's performance.
Features
There is a point where we're forced to wonder why(fi)
When it comes to image quality, there isn't a lot of difference between most point-and-shoots below $400 these days. The shots are more than fine for sharing on social networks, viewing on your computer, or printing to normal sizes. Even nice bonuses such as 1080/30p video, fast continuous shooting speeds, and the aforementioned 22x optical zoom don't completely set the S9500 apart.
This market congestion (and the ubiquity of smartphones) has pushed companies like Nikon to try to innovate, lately in the form of new connectivity features. Unfortunately, other than one or two rare exceptions, we've yet to see a WiFi solution on a compact camera that works well.
Other than one or two rare exceptions, we've yet to see a WiFi solution on a compact camera that works well.
The usual issue with built-in WiFi is that camera control dials are a brutal way to enter network names and passwords that often are made up strings of random letters and numbers. Nikon gets around this by having the camera act as its own hotspot, but the results aren't encouraging; we didn't have much luck getting the feature to even work in our labs.
As far as other features go, Nikon equipped its S9500 with a stable of preset shooting modes to help you get the best settings for whatever you're shooting faster: landscapes, night portraits, and a full auto mode are present, and each comes with its own selection of finer adjustments to choose from. You can also enable a GPS antenna in the camera to add global coordinates to your EXIF data—great for piecing together a blur of a night—and it doesn't seem to drain the somewhat-anemic battery any faster than normal.
Conclusion
22x optical zoom is hard to pass up, but the travel-zoom competition is fierce.
For all the faults, annoyances, and shortcomings of the Nikon Coolpix S9500, it's actually not a bad bet for a point-and-shoot. At a $349.95 sticker price, it doesn't quite deliver all that we had hoped. However, cameras like this tend to drop in price eventually, and the S9500 doesn't take up a lot of space, offers a nice zoom, and would be a fine travel partner if you could find it for under $300.
The Nikon S9500 does have some quirks that we weren't fond of—focus could be hit or miss, the burst speed only lasts for five shots, and the noise reduction can be overly aggressive in low light—but it's generally an easy-to-use camera. It won't give you DSLR-quality photos, but the zoom is impressive for a camera of this size, even if it's a bit overpriced at $350.
If you're set on getting a travel zoom camera, you may want to take a peek at the Canon SX280 HS ($329) for something that performs a little better, but sacrifices a tiny bit in the zoom department. If you're looking for even more optical zoom (think in the 50x range) and don't mind a much larger body, you may also consider cameras like the Nikon P520, Canon SX50, or Panasonic FZ200.
By the Numbers
The Nikon Coolpix S9500 isn't setting new bars for compact camera performance, but its 22x optical zoom and compact body are pretty enticing. However, you may find that high ISO noise, oversharpening issues, and low battery life will rain on your parade. The optical zoom is the star attraction, but if low light image quality is equally important, you may want to look elsewhere.
Color Accuracy
With a saturation-corrected color error of 2.85 ∆C00, the Nikon Coolpix S9500 is fairly accurate. What does this mean for you? Well, you can expect that your photos will pretty much look how you remember them, with images looking good without being overly vibrant.
Now for the nitty-gritty: You may notice that yellows and blues are shifted from what they should look like. In particular, blues will be very oversaturated, while yellows are going to look a bit more washed-out than maybe you remember them. On the other hand, both dark and light skin tones are roughly where they should be, making the Nikon Coolpix S9500 a decent option for shots of your friends and family.
Compared to other cameras the S9500 lags a bit behind in both auto and custom modes, but really the only people who would notice are enthusiasts.
If this isn't quite what you're looking for, there aren't any other color modes for you to choose from, making this is as good as it gets for the Nikon Coolpix S9500. All things considered, you shouldn't be too disappointed with this performance, however.
White balance issues rear their ugly head as well, but overall aren't terribly noticeable. Compared to other cameras the S9500 lags a bit behind in both auto and custom modes, but really the only people who would notice are enthusiasts. Chances are good that you're not going to be bothered by this if you're looking for a compact point-and-shoot like the Nikon S9500, so this may not be something you care too much about.
Noise Reduction
Despite not offering users a way to control noise reduction intensity, the S9500's NR settings don't become destructive until you get to an ISO faster than 800. At the lowerst setting available (ISO 125), we recorded an average of 0.88% noise—acceptable for a mid-range camera. From there, you can expect noise levels to go up slowly from 1.01% at 200 ISO, 1.24% at 400 ISO, and 1.35% at 800 ISO. Beyond that point, however, the noise ends up coming out in full force. It's probably best to avoid these settings except in emergencies.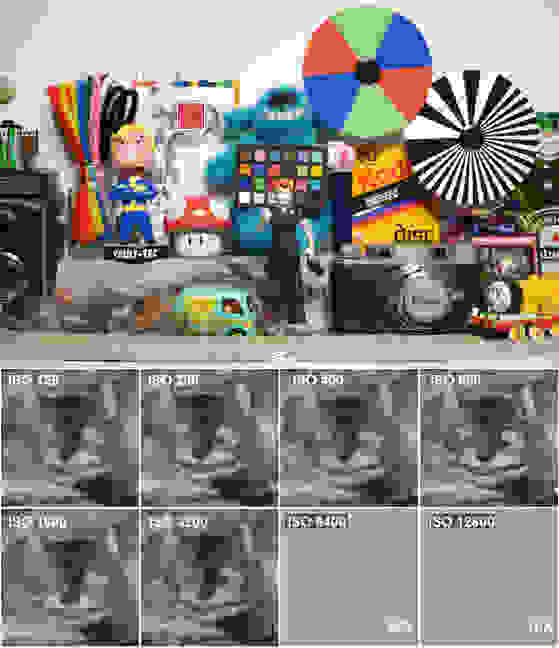 Unfortunately, this is only part of the story—it seems like there actually is a noise reduction function going on, but it's something you can't turn off. If you look at the scans of our dear friend the Cheshire Cat, you'll notice that fine lines and detail are all but missing. This means that the S9500 is attempting to reduce noise levels aggressively, but spurning detail in the process. While it's tough to see in small prints, you may find that larger prints suffer from this reduction in quality a bit.
Sharpness
Despite scoring fairly well, there are a few issues to cover when discussing the sharpness of the Nikon S9500's snapshots. First off, there's quite a bit of oversharpening done by the S9500's software—you may notice some haloing in high-contrast situations where a sharp edge is present. Additionally, our sample shots also reveal a bit of fringing in hard edges near the extremes of the lens.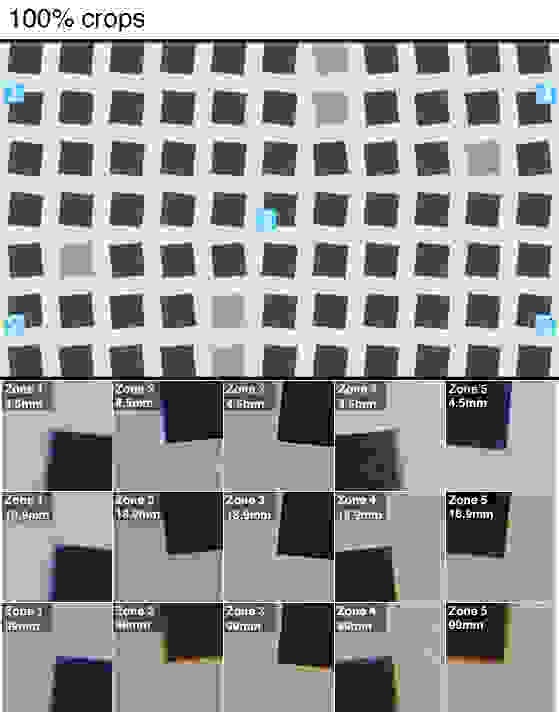 The transition from black to white seems to have some chromacity errors—namely orange and blue—in these high contrast situations. Thankfully the problem isn't horrible, but you may notice it when you view your files at full resolution on your computer. This isn't anything uncommon, as diffraction issues like this are to be expected when you're putting this much optical zoom in a compact form factor.
Video Performance
If you're the type of person that likes stuffing that poor, helpless SD card with multiple videos, this camera might give you pause. Though it has a standard range of resolution options, the video performance itself has a few issues.
You'll definitely notice stuttering in high-contrast situations.
While you'll notice few trailing or focus issues, you'll definitely notice stuttering in high-contrast situations (think the spokes of a moving bike, or a window screen). It's unclear whether this happens due to the framerate, the camera's processing, or some combination of the two, but it tends to happen quite a bit. If you're most likely going to take video of people and things that are more or less stationary, this won't be an issue, but it's definitely something to be aware of.
However, in low light this thing (metaphorically) shines—it's able to produce an acceptably bright image (50IRE on a waveform monitor) with just 7.5lux of illumination, which is quite remarkable for a point-and-shoot. Many low-end camcorders aren't this good, and they typically do much better in this test than would a mid-range compact. If you wind up at a show or event in a club, you can absolutely expect a fair level of low-light sensitivity, though the shot will still be somewhat noisy.
Meet the tester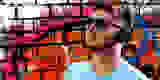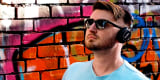 Chris Thomas
Staff Writer, Imaging
@cthomas8888
A seasoned writer and professional photographer, Chris reviews cameras, headphones, smartphones, laptops, and lenses. Educated in Political Science and Linguistics, Chris can often be found building a robot army, snowboarding, or getting ink.
Checking our work.
Our team is here for one purpose: to help you buy the best stuff and love what you own. Our writers, editors, and lab technicians obsess over the products we cover to make sure you're confident and satisfied. Have a different opinion about something we recommend? Email us and we'll compare notes.
Shoot us an email