While the new Nikon D5500 (MSRP $799.95) is by no means a revolution, it's clear that Nikon is finally ready to switch some things up. The D5500 is mostly the same camera as the D5300, with the same 24.2 MP sensor, Expeed 4 processor, and 39-point AF system. But in shrinking the overall size and adding a touchscreen LCD, the D5500 is better equipped to compete not only with Canon, but also today's smaller, faster mirrorless cameras.
It's not a drastic reboot, but a slew of subtle improvements have resulted in a streamlined camera that preserves the DSLR experience while improving on its predecessor in many ways. Whether you're a Nikon die-hard or looking to pick up your first DSLR, the D5500 is going to be hard to beat.
Design & Handling
Smaller, lighter, grippier.
Cameras are almost always getting smaller and DSLRs are no exception. The D5500 is noticeably smaller than its predecessor, the D5300, despite only shaving off a single millimeter in height and length. The real difference is that it's 6mm thinner and 60g lighter. Nikon accomplished this by making the mount thinner while deepening the grip. Though these changes are small, they combine for a more pleasant overall experience.
×
tour
Aesthetically the D5500 favors Nikon's more professional-grade DSLRs with a rough texture all around instead of cheap plastic. This not only makes it more impressive to look at, but much tougher as well. It's surely designed to appeal to buyers looking to get a "real" camera despite spending well south of $1,000.
In case you aren't familiar with the D5300, let's do a quick rundown of the controls on the D5500: The top controls include your power and shutter button, dedicated record button, exposure compensation, mode dial, live-view lever, and control wheel; on the rear of the camera you have a menu button, two info buttons, auto-focus lock, playback, selector wheel, playback zooms, and a trash button. Oddly the drive mode button is on the front left of the camera requiring a second hand to operate. I found this a bit awkward to find and found going through the menu quicker in most cases.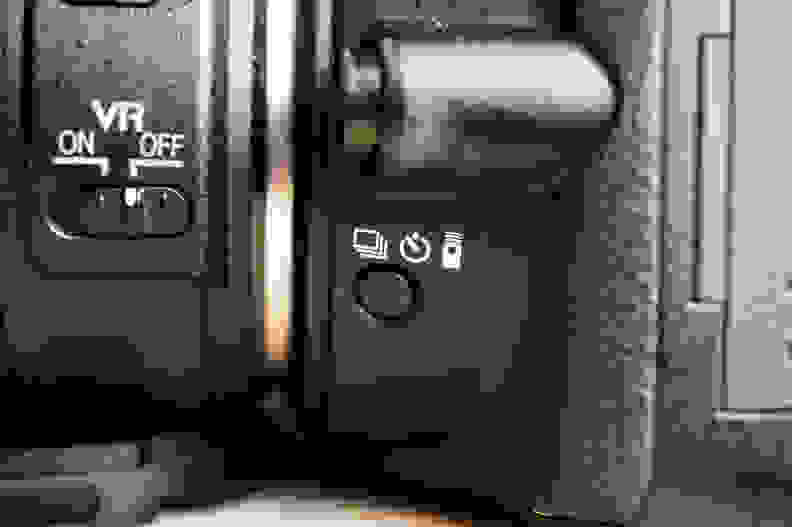 That said, if you are familiar with the D5300, you'll find that the D5500 has retained most of the same controls, though Nikon did replace the built-in, rubber control wheel–standard for most Nikon DSLRs–with a plastic wheel that is similar to the scene dial. This was strange at first, but after adjusting it was hardly noticeable. The only real difference was the clickier sound it makes. Additionally a new function button gives users added access to settings like aperture, ISO sensitivity, and AF mode.
Speaking of the rear display, the one design element we couldn't wait to try out was the new flip-out touchscreen LCD. It's the first touchscreen Nikon has included on any of its DSLRs. Normally I am a bit wary of touchscreens, as I have larger hands and tend to accidentally click things too often. However, the touchscreen on the D5500 was a treat to use and actually came in handy when out in the field—especially when shooting on a tripod.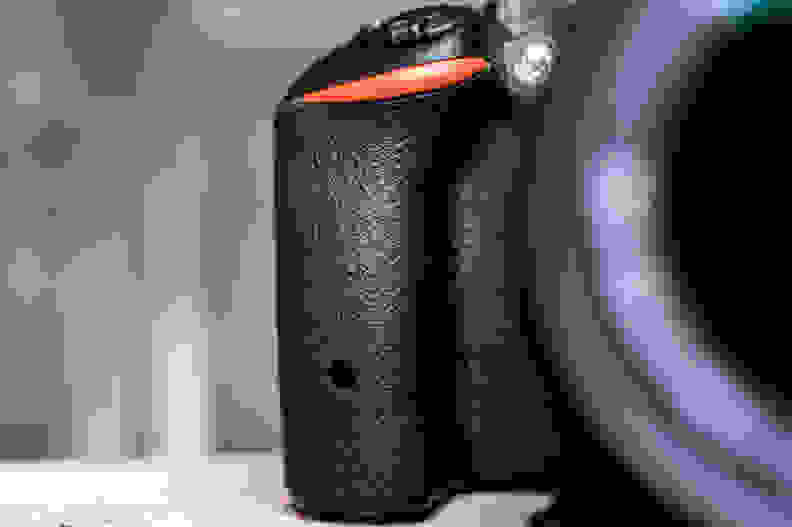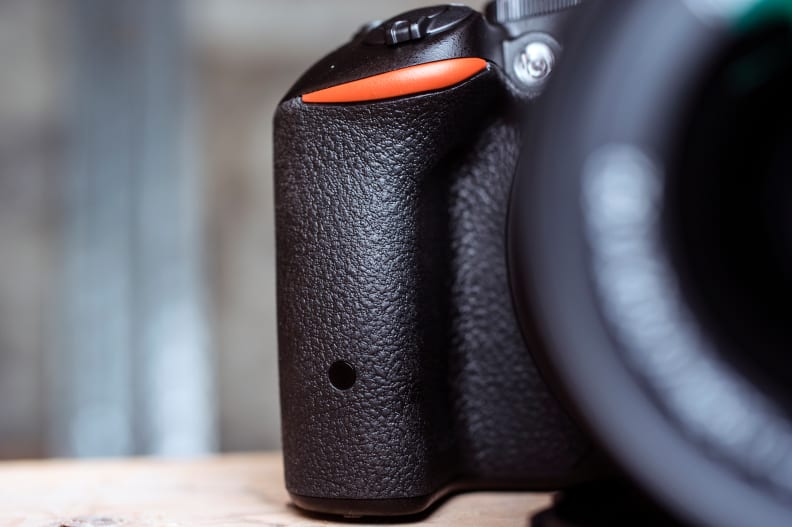 In day-to-day use the super-light D5500 felt like a feather when compared to some of the more professional level cameras I'm used to lugging around. Despite this, it still feels very stable in your hand. A lot of that can be credited to the deepened grip. Even with larger lenses it didn't feel out of place, and I found that stabilizing it was much easier than previous entry-level Nikons. Overall, the D5500 was a fun camera to grab-and-go, both powerful and portable enough to take with me for a day.
Performance
Solid, with flashes of inconsistency
Let's start off by noting that entry-level cameras typically come with their quirks that have to be worked around. In this regard, the D5500 is no different. While we had it in the lab, the D5500 performed admirably in most tests, but getting it to do so regularly could be a bit of a crapshoot. The metering would sometimes be a nightmare on one test and near perfect on another. We are used to some cameras giving us fits, but the mercurial D5500 tested our patience.
We are used to some cameras giving us fits, but the D5500 tested our patience.
From a spec perspective, the D5500 is nearly identical to the D5300–which was itself nearly identical to the D5200. It shares the same 24.2MP APS-C sensor, Expeed 4 image processor, 100-25600 ISO range, 1080/60p video, and 18-55mm f/3.5-5.6 kit lens. As you'd expect, that resulted in very similar performance in our lab tests.
×
Samples
Color-wise the D5500 showed solid accuracy in the portrait and standard color modes. This wasn't always consistent, however, as Nikon's shaky white balance system often just wouldn't cooperate. Daylight is no problem for the D5500, but if you throw in some tungsten or fluorescent light, be prepared to shoot in RAW or get a custom white balance. Custom setting the white balance was much more accurate, but most users at this level aren't going to take the time.
Not surprisingly, the D5500 resolved a similar level of detail as to the D5300. The standard 18-55mm kit lens that ships with both cameras is a little soft, however. The best thing you can do to combat this is pick up the body-only version of the camera and Nikon's excellent 50mm f1.8–aka a "nifty fifty"–for around $200 on Amazon. This will produce much sharper images and give you a lens that you'll use for years, even if you climb the Nikon DSLR ladder later on.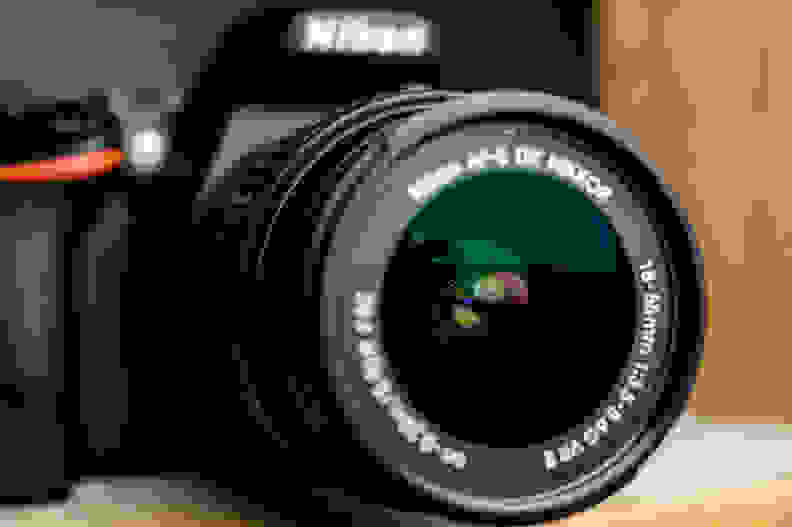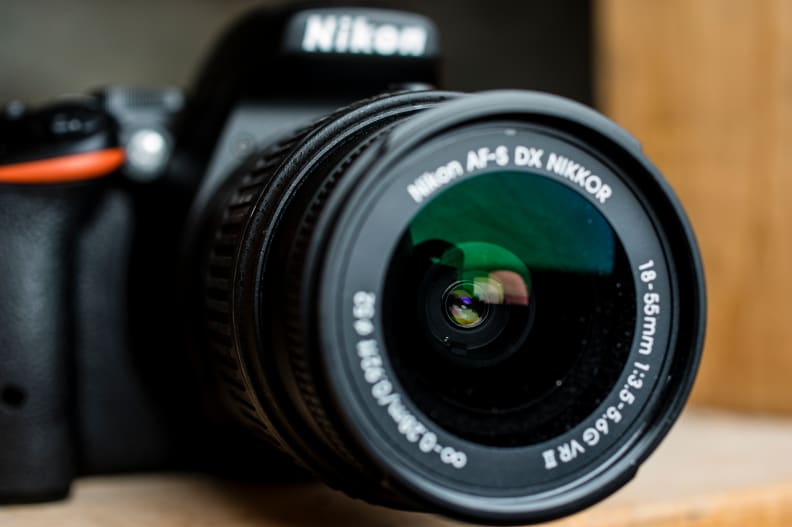 Like most entry-level DSLRs, the D5500 struggles a bit with noise in low light. This is evident if you start to float above ISO 1600. Noise reduction is a good way to cut out some of the grain you'll get with these shots, but you lose fine detail above ISO 800. While it's slightly better than the D5300, you should still try to stay under the ISO 1600 mark if you want to hold onto the finer details of your images.
The D5500 does show promise as an entry-level DSLR for people looking to capture video. The flip-out touchscreen and mic jack are a perfect pair, complementing its ability to shoot 1080/60p footage. The footage is fairly sharp, but falls victim to the soft kit lens, so we would recommend picking up something in Nikon's AF-S lenses, which focus silently and are already popular among videographers. Taking into account the touchscreen, camera size, mic jack, full manual exposure control, and performance, the D5500 should do well among young video shooters that want a great all-around camera and direct access to Nikon's formidable lens lineup.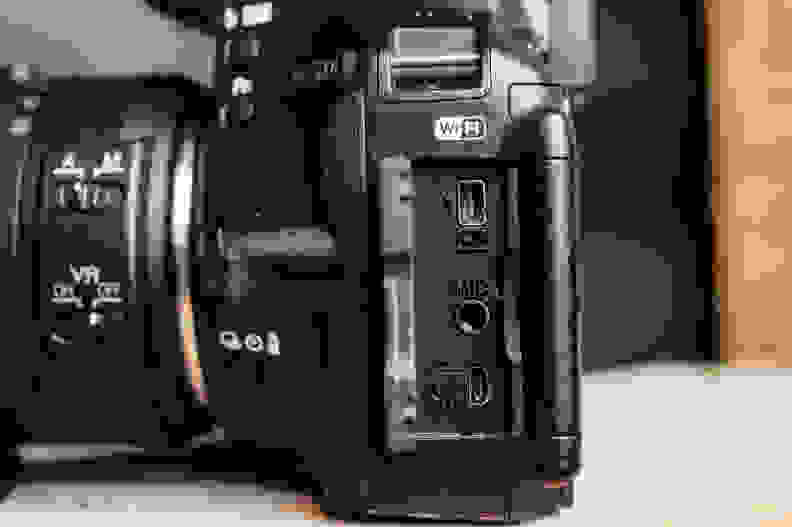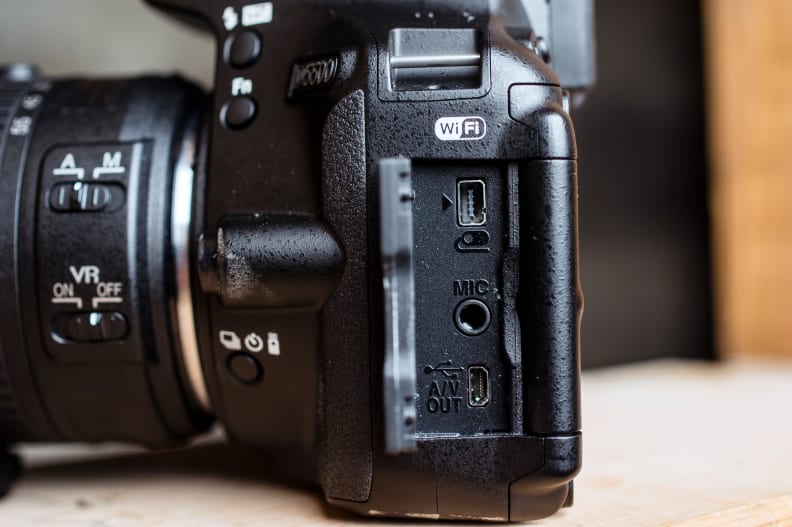 Additionally, the D5500 has much improved battery life. The new EN-EL14a battery is capable of 820 shots (CIPA rating)–220 more than the D5300–on a single charge. This will help users capture move images and video without having to switch out batteries or recharge.
Features
Dude, where is my GPS?
From a hardware perspective, the main feature of this camera is certainly the touchscreen LCD. While not a favorite amount "serious" photographers, touchscreens have been rising in popularity over the last few years, especially in point-and-shoot and entry-level DSLRs. This is mainly because of the familiarity that users have with touch interfaces, since most people are using smartphones regularly.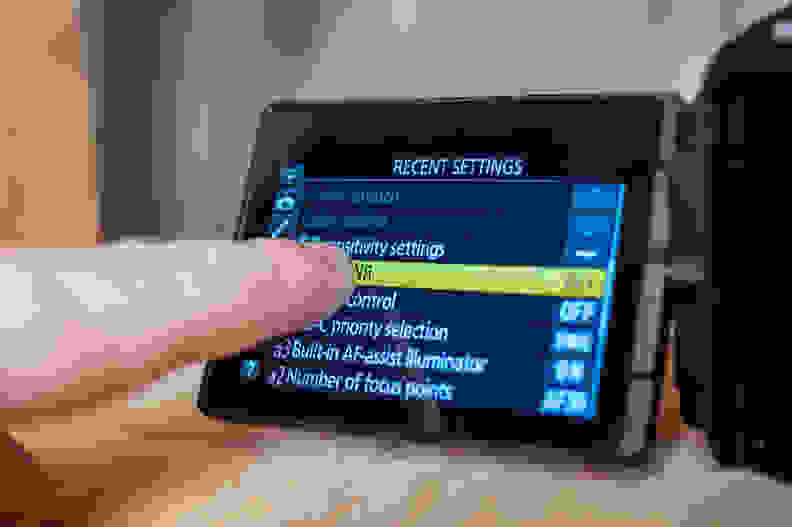 The screen is the exact same 3.2-inch LCD Nikon used on the D5300, but with added touch sensitivity. You can use the screen to touch-to-focus and activate the shutter. While in playback, you can pinch-to-zoom for a quick and intuitive way to check fine details. The responsiveness is good, but not so much so that you're accidentally clicking all over the place.
It does tend to hunt a bit and temporarily opens up the aperture (causing extreme blooming issues) if you use touch-to-focus in video mode, which might be a turn off for an aspiring filmmaker. The Canon 70D offers a much smoother focus tracking experience, with far better control over exposure shifts.
Built-in WiFi is another feature that is surely becoming standard in every camera, so rest easy knowing the D5500 still has it. With Nikon's "snapbridge" app, you can transfers photos and videos to a compatible smartphone or tablet for quick sharing. You can share via email, texting, or even post to social media while on-the-go. You can also use your smartphone or tablet as a live-view remote to shoot wirelessly. However, Nikon did ditch the D5300's built-in GPS. This isn't the most important feature, but it's always a nice touch if you hike or travel a lot.
×
design
The D5500 comes with a host of options that allow users to get the best shot at the right moment. In fact, you don't even have to select the right scene mode to make it happen anymore—the camera will do it for you. Nikon's "Scene Recognition System" uses information from the camera's RGB metering sensor to analyze the brightness and color of a scene. After which, it compares your shots to a database of thousands of similar shots and then optimizes the camera settings–basically doing all the fun stuff itself.
You don't even have to select the right scene mode to make it happen anymore, the camera will do it for you.
If that's a little too easy for you, there are 16 scene modes, seven color modes, and a long list of creative filters that you can add to the images after you've taken it. Additionally, you can shoot time lapses with fixed intervals for up to 9,999 frames to put together yourself with third party software.
Conclusion
How bad do you want a touchscreen?
With the same sensor, processor, video performance, and optical viewfinder as its predecessor, the D5500 isn't breaking down any new barriers. It's much more compact, sure, but it's otherwise an incremental upgrade that mainly serves to bring a touchscreen to Nikon's DSLR lineup. That said, the addition of a touchscreen is a big splash from a marketing and handling point-of-view, and one that was a long time coming.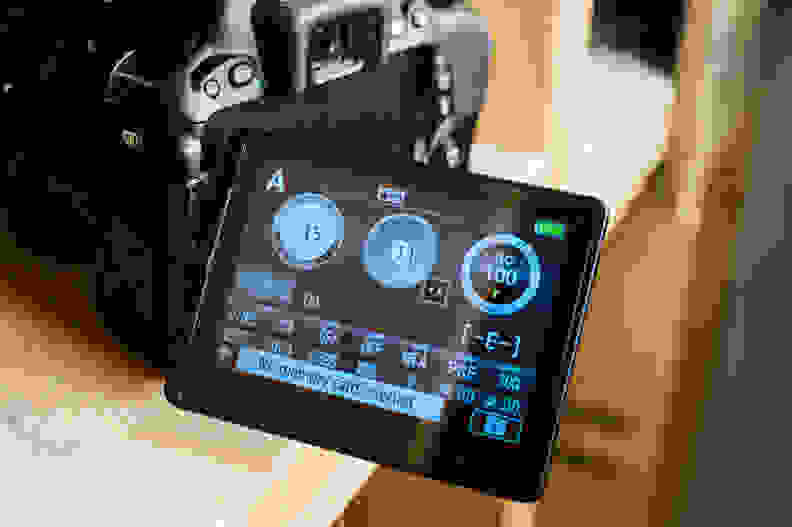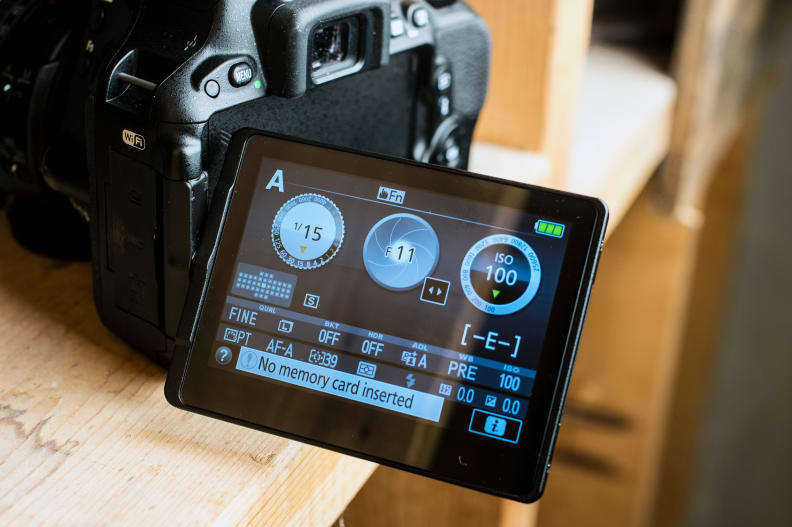 Even with the temperamental white balance and metering, the D5500 performed like a stud in our labs, especially as a sub-$1000 camera. With full array of manual controls coupled with the extensive features–such as Nikon's "Scene Recognition System"–users will be able to get the shot they want more often than not, no matter their skill level. Advanced users that are looking for a lighter camera or a touchscreen might be attracted to the D5500 as well, as it offers performance that's nearly on par with more expensive models in a smaller package.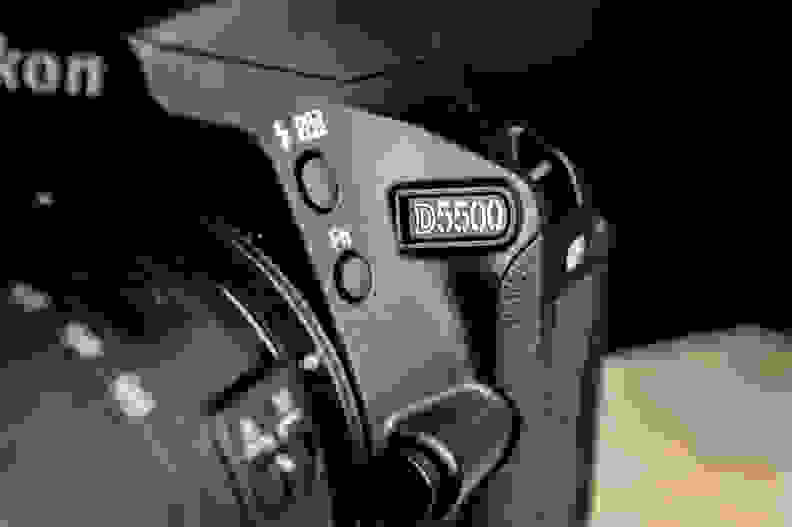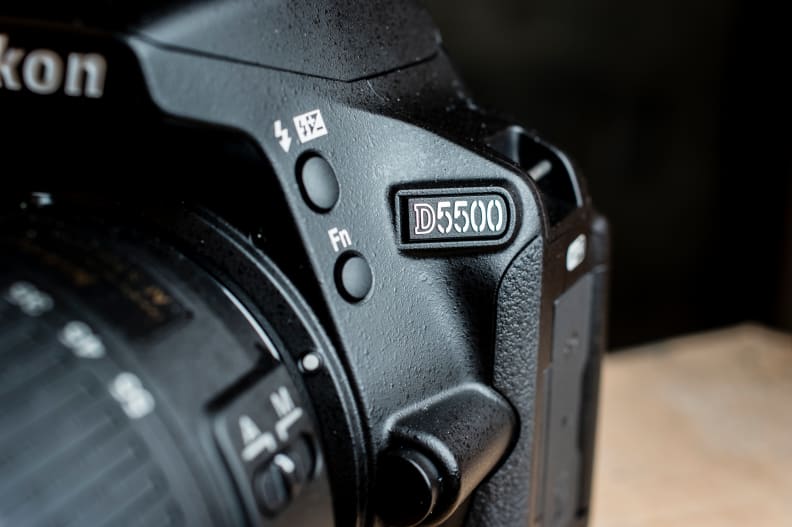 The real question comes down to whether to go with the D5500 or the older D5300. Performance-wise, they are nearly identical, with a slight edge to the D5500. Is the smaller body and touchscreen worth the extra $100? Personally, I would say yes, but your mileage will vary.
The touchscreen support isn't as good as it is on the Canon 70D, but the lighter body pays dividends. If the touchscreen and improved grip don't strike your fancy though, pick up the body-only version of the D5300 and spend the money you save on a better lens.
By the Numbers
The Nikon D5500 is potentially among the last of a dying breed, as low-cost DSLRs with expensive optical viewfinders are quickly becoming old hat. The D5500 makes a compelling case for its kind, however, with fast autofocus, a crisp viewfinder, and excellent all-around performance.
Though the D5500 does little to distinguish itself from its predecessor, the Nikon D3300, it does acquit itself quite well. The usual hallmarks of a Nikon DSLR are all accounted for: generally conservative image processing, excellent color accuracy, enviable dynamic range, and dreadfully inconsistent white balance under certain lighting scenarios.
Color Accuracy & White Balance
Nikon makes a relatively big deal about its 3D RGB metering system in its traditional DSLRs, and it pays dividends with color accuracy. The D5500 comes with seven color modes by default, with user-adjustable settings also available. The seven starting modes are Flat, Landscape, Monochrome, Neutral, Portrait, Standard, and Vivid.
The Flat mode is the most use for video shooters looking to preserve as much detail as possible, setting up footage well for post-production. For still shooters, the best mode, by far, is Portrait. In this mode the D5500 returned images that had an average color accuracy error (∆C00, saturation corrected) of just 2.08, with saturation at a near-perfect 101.8%.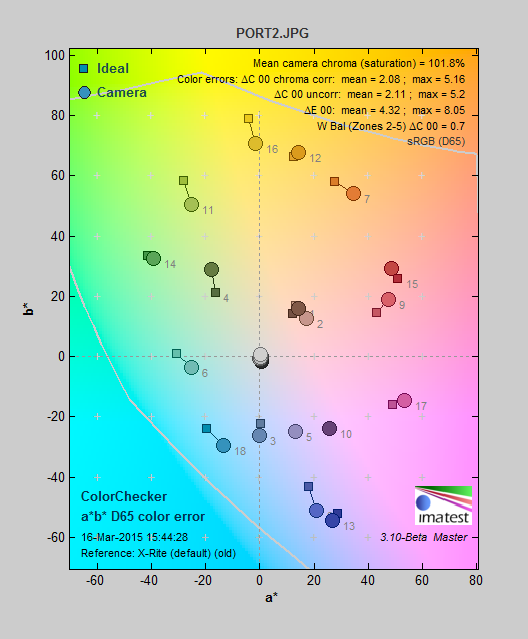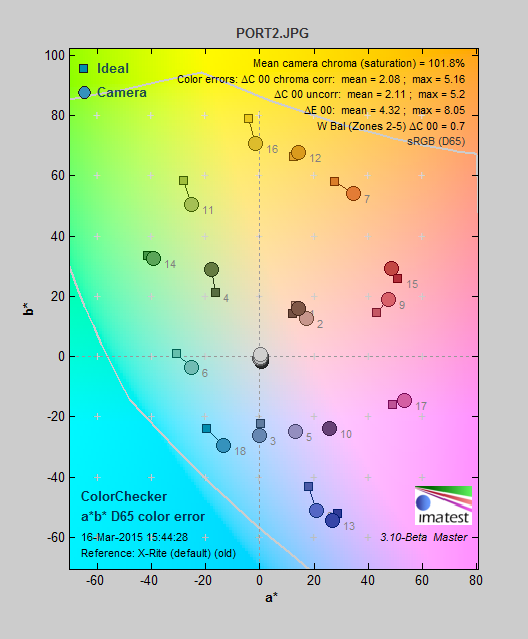 The other modes all performed slightly worse, though only Vivid produced images that showed inaccurate colors. That's expected, though, since that mode emphasizes over saturated colors that pop off the page as opposed to strict color accuracy.
One thing you'll have to combat to get accurate colors is the touchy auto white balance system. It's fine under daylight conditions (4500-5500 kelvin) but outside of that range, or in mixed lighting, it struggles. In daylight it had errors of around 200 kelvin, but that skyrockets to an error of over 1600 kelvin in white fluorescent lighting and over 2400 kelvin in tungsten or incandescent lighting.
If you need clinical white balance accuracy, we highly recommend shooting in RAW or taking a custom reading. With custom white balance the average error dropped to under 150 kelvin in fluorescent lighting and under 85 kelvin in daylight and tungsten lighting. We also had considerably more luck with a true white card as reference, as opposed to a standard neutral gray card.
Noise
The D5500 provides users with a default ISO range of 100-25,600. Unlike other Nikon cameras there's no Hi or Lo setting to expand it beyond that. While it would've been nice to have an ISO 80 or 50 setting, there's really no reason to push this sensor beyond its current max ISO.
In our lab testing the D5500 showed ISO performance on par with most current APS-C DSLRs. It begins a little on the high side, but doesn't rise drastically until after ISO 800. With noise reduction (either in the camera or in post-production) you can safely shoot through ISO 3200 and still get print-quality shots, but beyond that you'll need to be careful and downsample to keep noise in check.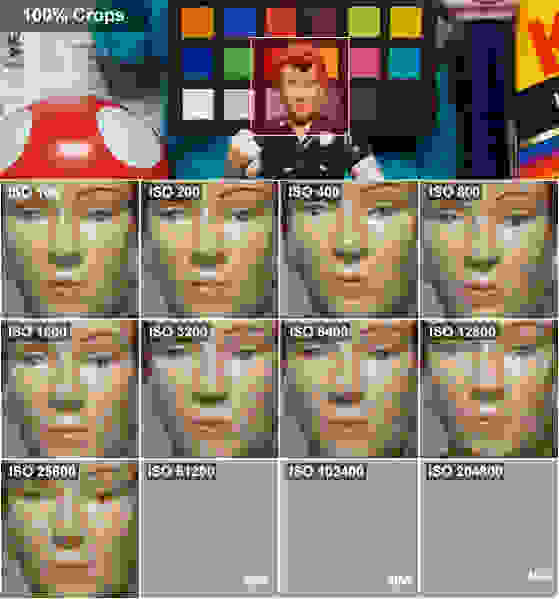 The D5500 provides you with four noise reduction settings by default (low, normal, high, and off). With the low setting you can expect noise to begin at around 1.08% at ISO 100, rising to 1.81% by ISO 800 and crossing the 2% threshold from there. It is kept to just 3.09% at ISO 12800, with max ISO coming in at over 5.3%
If you push the noise reduction you can get slightly softer JPEGs from the camera, but with lower noise totals. In the "Normal" mode noise starts at 1.13%, but is kept right around there through ISO 800. It rises slightly to 1.31% at ISO 800, but only hits 1.7% at ISO 12800. At max ISO noise is still a problem, hitting 2.47% at ISO 25600.
If you really need noise-free images and don't need a ton of fine detail the "High" noise reduction mode is an option. This keeps noise around 1% from ISO 100 all the way through ISO 6400. It only hits 1.3% at ISO 12800, and 1.8% at ISO 25600. Our recommendation is to stick to RAW shooting or the bottom two noise reduction modes, using High only as a last resort.
Continuous Shooting
Mirrorless cameras have a much shorter path to capturing fast bursts of images than traditional DSLRs, which need to move the mirror out of the way before every single shot. The D5500 still manages a healthy five frames per second (FPS) shooting, however, which is right in line with most competing options—even mirrorless ones.
In our testing we found that Nikon's advertised speed of five FPS was right on the money. The one caveat there is RAW shooting, which will dip the speed down to just four FPS according to our test results. If you're shooting speed that extra frame per second could really make a difference, so we recommend sticking with JPEG when shooting action.
Resolution
The D5500 employs a similar (if not identical) 24-megapixel sensor to its predecessor, the D5300. As you can expect, resolution hasn't improved much as a result. That's not a terrible thing, as the D5300 was quite good, but don't expect a major upgrade if you're trying to trade up or replace an older model.
In our lab testing we found the D5500 with its standard 18-55mm kit lens was able to resolve roughly 1800 line widths per picture height (LW/PH) on average, hitting up to 2500 LW/PH in the center at optimum apertures with slight sharpening applied in post, dropping to around 1100 LW/PH once you get to f/8 and smaller. The corners are also well-controlled, exhibiting some chromatic aberration but maintaining resolution in excess of 1300 LW/PH at most apertures.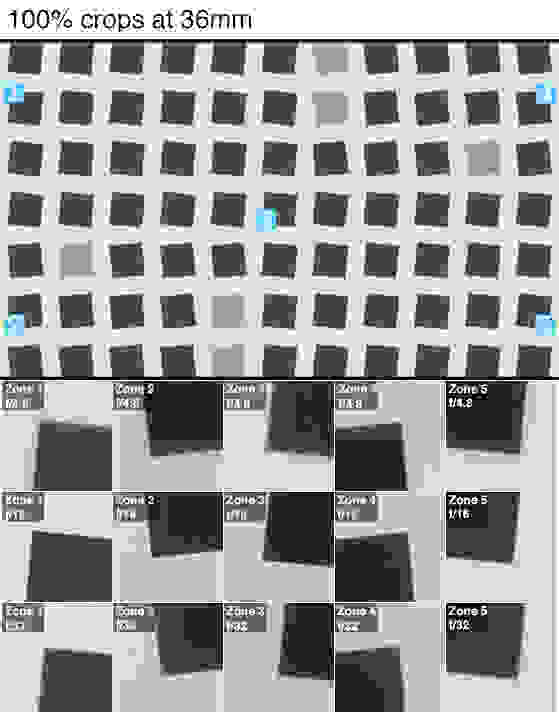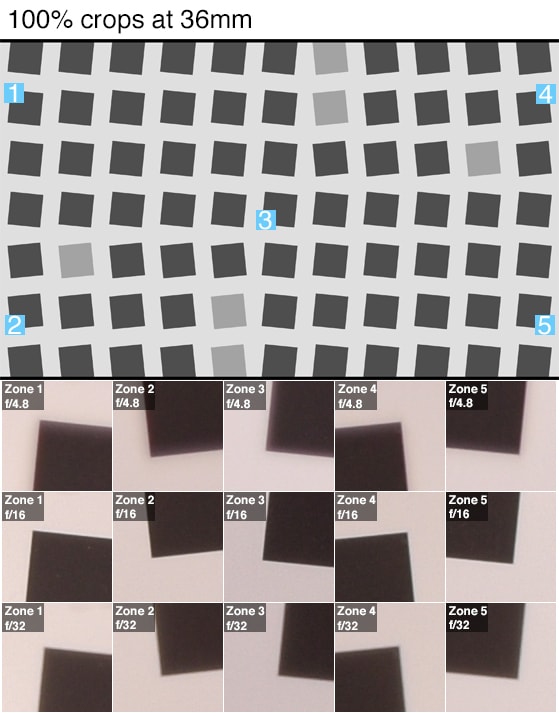 While these are good results, it's worth pointing out that there are far better lenses out there for Nikon's system. Even affordable options like the 50mm f/1.8 or 35mm f/1.8 AF-S lenses will provide vastly better performance, especially in low light.
Video
The Nikon D5500 actually has something of a legacy to live up to when it comes to video quality. The D5100, D5200, and D5300 all were well-regarded for their generally sharp video, low noise, excellent dynamic range, and shallow depth of field. While certainly not on par with the full-frame video DSLRs like the Canon 5D Mark III, the D5300 was good for the money.
The D5500 continues that legacy, adding 1080/60p to the mix. That results in video that looks exceptionally smooth, though you can still opt for 30p or 24p if you want a more filmic look. Unfortunately, that's about the only step forward that Nikon has made with regard to video.
Because Nikon is still sticking with 1080p, there just isn't much room for improvement on the sharpness front. The D5500 manages to hit 600 line pairs per picture height (LP/PH) in bright light and 550 LP/PH in low light—right in line with its predecessors and 1080p competition—but the gulf between this and 4K-shooting cameras is telling.
The D5500 also doesn't acquit itself terribly well in low light. Noise becomes a real problem with this sensor once you push past ISO 800, even in video, and even at max ISO it required 10 lux of light to produce a 50 IRE image. That's not terrible, but it doesn't distinguish the D5500 beyond its peers or its predecessor.
We also had hoped that the addition of a touchscreen LCD would improve matters on the control front. While touch-to-focus is present, the focus hasn't been tuned for video. It is quiet with Nikon's AF-S lenses, but the aperture still opens up wide when acquiring focus, resulting in an image that gets momentarily blown out. From there the camera generally has to hunt, even on high-contrast subjects. It's jarring and nowhere near as smooth as what Canon's been able to accomplish with its Dual Pixel CMOS AF on cameras like the 70D.
Meet the tester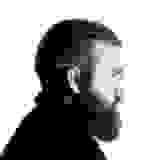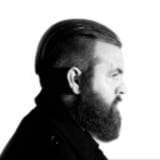 Jackson Ruckar
Photographer / Producer
@JacksonRuckar
As a photojournalist, Jackson has had stints working with bands, the military, and professional baseball teams before landing with Reviewed.com's camera team. Outside of Reviewed.com, he can be found looking for the next game to relieve his "Gamer ADD" or growing his beard.
Checking our work.
Our team is here for one purpose: to help you buy the best stuff and love what you own. Our writers, editors, and lab technicians obsess over the products we cover to make sure you're confident and satisfied. Have a different opinion about something we recommend? Email us and we'll compare notes.
Shoot us an email