The Nikon Coolpix S4100 launched with an MSRP of $179.95 and is available in black, bronze, purple, red, silver, and plum (pictured).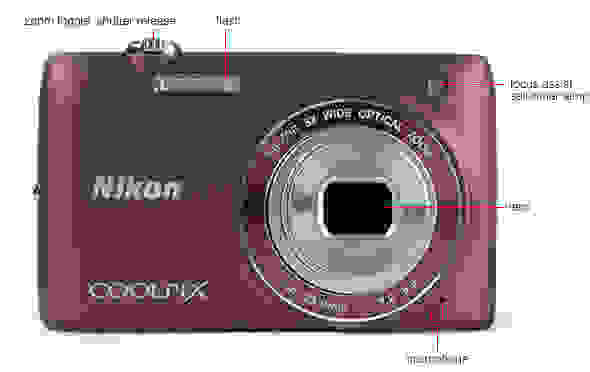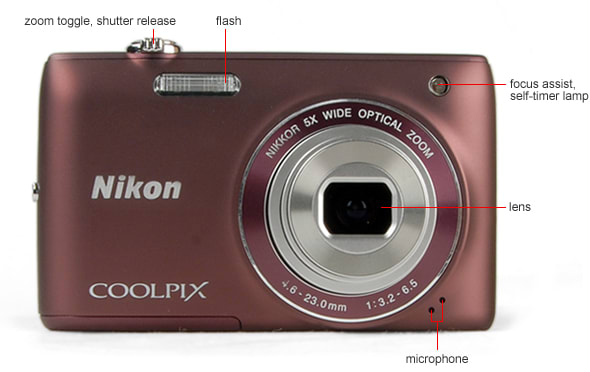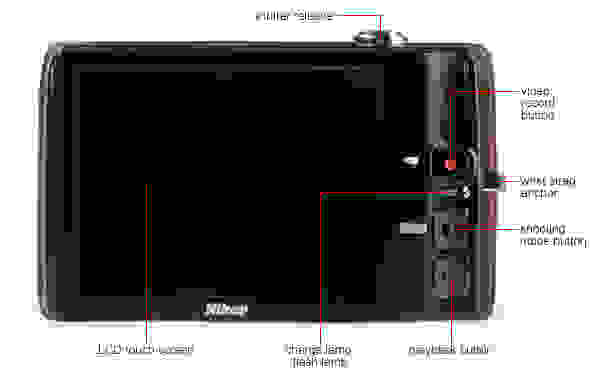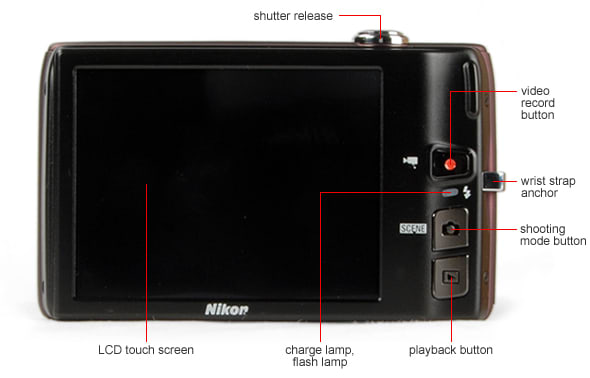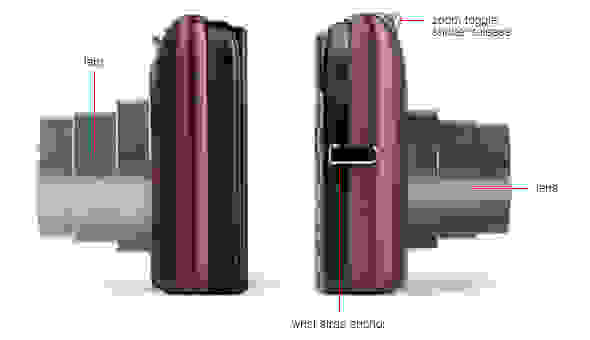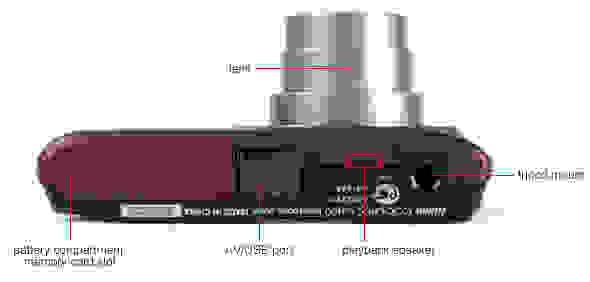 Coolpix S4100 digital camera

rechargeable lithium-ion battery (EN-EL19)

charging AC adapter

USB cable

A/V cable

camera wrist strap

stylus

Quick Start Guide

ViewNX 2 and User's Manual CD-ROMs
The Nikon S4100 has excellent color accuracy, besting the performance of last year's S4000 and proving that a sub-$200 camera can still take good pictures. Accuracy was measured at 3.18, though the Coolpix showed signs of oversaturation with a saturation percentage of 113%. More on how we test color.
These results put the S4100 at the head of the pack in our chosen comparison group, just barely squeaking ahead of the excellent Canon PowerShot 500 HS. These two cameras had better color performance than most 2010 cameras, including the Coolpix predecessor from Nikon, the S4000. All three cameras come in significantly ahead of the unfortunate Casio EX-S200, which was average (if not underwhelming) in this department.
Like most basic point-and-shoot cameras, the S4100 ships without the bells and whistles of more expensive models. Nikon has bundled in virtually no options—not even the basic color modes that we often see in entry level models. That means that there's no vivid mode and no natural mode. There's also no independent control for saturation or hues, but we could hardly expect such versatility from a $180 camera.
The Nikon Coolpix S4100 did not fare as well in noise testing as we would have liked, with minimum noise percentages reaching up to 2.5% at ISO 3200. These are not good numbers, even compared to last year's Coolpix S4000. Though Nikon has improved the camera's performance at high ISO's, the 2010 model rendered significantly less noise at low ISOs. More on how we test noise.
If you shoot in bright light at low ISO's, you might be disappointed by the S4100's inferior noise performance; its predecessor produced much clearer images in these conditions. Noise levels in low light were inconsistent, with the camera doing well at ISO 800, but giving a weaker performance through the rest of the ISO range. The S4100 fared especially poorly at ISO 3200—both in our 60 lux (low light) and 3000 lux (bright light) testing. In short, you'll probably want to cap the ISO at 800 and avoid shooting in very dark conditions.
We were disappointed to see that the S4100 had worse noise scores than last year's S4000. (Average noise in both bright light and low light was significantly higher.) We expect this has to do with the camera's improved resolution: compact cameras with sharper images tend to pick up more detail, but also a bit more noise.
The noise scores were simply not impressive, with the latest Coolpix losing ground to many of its competitors, including the Canon 500 HS and the Casio EX-S200. Most of the cameras we've tested with comparable noise levels are either two years old or some kind of specialty tough cam. That doesn't put the S4100 in particularly elite company.
The Coolpix S4100 offers a healthy range of ISO options, ranging from ISO 80 to ISO 3200. There are certainly point-and-shoot cameras that offer an ISO 6400 option, but considering the S4100's poor noise performance at 3200, we're glad Nikon decided to leave out anything higher.
We are very happy to see that Nikon continues to include an option for limiting the auto ISO to either 400 or 800. Our noise tests revealed that the camera isn't much use above ISO 800, so we strongly suggest that you use this fixed range feature.
The crops below demonstrate the sharp increase in noise that occurs around ISO 400. You can also see that the S4100 did correct one significant flaw from its predecessor: it was much easier to achieve an accurate autofocus.
NOTE: The images above are not used in our testing or scoring, but are included here to show real-world examples of the differences between cameras at the various ISO settings.
The Nikon Coolpix S4100 gave a strong showing in our resolution tests, improving on some of its predecessors weaknesses. Last year's S4000 produced somewhat soft images and lacked the crispness that you get with a more expensive camera. The S4100 ranks right up there with the best point-and-shoots, outscoring cameras that cost nearly twice as much. Well done, Nikon. More on how we test resolution.
Distortion ()
As with the S4000 last year, distortion is not a problem for the S4100. Even with the increase in optical zoom from 4x to 5x, there is virtually no trace of distortion at any focal length. In fact, the lens showed the least amount of distortion when the camera was zoomed all the way in to a 23mm focal length.
Sharpness ()
Nikon made some minor strides in sharpness this year, improving the S4100's performance to an average sharpness of over 1600 lw/ph. Last year's model averaged around 1550 lw/ph and had a significantly lower maximum sharpness. This spells good news for consumers that are often doing zoomed crops of photos.
Chromatic Aberration ()
The biggest boon for Nikon fans is the superb reduction in chromatic aberration. Chromatic aberration is a kind of discolored artifacting that often pops up in photos—especially along areas of high contrast. The S4100 is certainly not lacking in this unfortunate feature, but chromatic aberration is less pervasive than it was on the S4000.
The Nikon S4100 gives users the option of seven different resolutions, ranging from 14 megapixels to 640 x 480 VGA photos. The camera also comes equipped with a 14M★ option, which is the maximum quality option (though not the default).
The S4100 comes equipped with electronic vibration reduction, which is designed to counteract minor handshake and reduce the subsequent blur. Unfortunately, VR doesn't appear to be terribly effective on the S4100, improving sharpness by just 7%. That's a pitiful result compared to the S4000's 26% improvement in 2010. More on how we test image stabilization.
The stabilization systems inside these little point-and-shoot cameras are truly hit or miss: they either do their job very well or are virtually useless. The Nikon S4100 and its Canon competitor are both on the "virtually useless" end of the scale, while the Casio EX-S200 turned in excellent scores in this department.
If you're still searching for the perfect pocket-sized camera-camcorder hybrid, this isn't it. The Nikon Coolpix S4100 records HD video, but it's only 720/30p. You might be thinking that's good enough for YouTube, but pick up even a cheap camcorder and you'll see what you're missing. For $100, you can scoop up a Flip UltraHD that takes significantly better video.
The S4100 does not boast particularly impressive color performance in video mode, despite this being one of the camera's strengths in still photography. Colors in video mode are undersaturated and inaccurate. These results are neither surprising nor deeply troubling: many cameras fare worse and we don't expect a lot of consumers to use the video capture function on the S4100. More on how we test video color.
Incredibly poor video sharpness is the most compelling reason to avoid the S4100's movie mode. Captured videos displayed a mere 400 lw/ph maximum sharpness, which is worse than even the worst camcorder we've reviewed over at CamcorderInfo. The 720p limitation has something to do with the lackluster sharpness performance, but last year's S4000 from Nikon did much better in this test and it was also recording in 720p. Even a casual glance is enough to tell you that the 2011 model simply isn't as good as its predecessor. More on how we test video sharpness.
The S4100 has a handful of very useful playback feature that make it very easy to review your photos—and, to a lesser extent, your videos. Most noteworthy is the 10x playback zoom, which is just a little easier to use than on many cameras. Using the zoom lever to zoom in, you can then use the touchscreen to pan around your image—no clunky dpad navigation here. There's also an "X" button, which lets you restore to the original zoom in just the push of a button. The whole feature works like a charm.
By default, playback mode will land you in a full-size display of your photo. Using the zoom toggle, you can choose to view a 4-square, 9-square, or 16-square grid of thumbnails instead.
Once you choose the photo to view, a quick menu on the right also lets you add a star rating to the photo (between 0 and 5 stars). The menu on the bottom give options for folder sorting, a slideshow, painting, retouch, or printing.
Nikon offers two different flavors of in-camera editing for its S4100 owners. First, there is a "paint" option, which lets you add all sorts of silly graphics on top of your photo. You can use the stylus to draw on a mustache (in virtually any color you like), you can decorations like hearts and butterflies in any of four different sizes, or you can add one of seven decorative frames around your photo. These options are gimmicky—and not nearly as hilarious as Casio's dog-face feature.
The second kind of in-camera editing is perhaps a bit more useful—and a bit more palatable. The retouch features allow users to do a quick retouch, apply D-lighting, skew the photo with stretch or perspective control, add filter effects (like vivid, softening, fisheye, or miniature), do a "glamour retouch," or simply rotate, scale, and crop.
The S4100 allows users access to the usual DPOF and PictBridge options. You can set a print order, add dates, and do all that other stuff that you crazy camera-to-print folks like to do.
The Casio EX-S200 isn't likely to win any awards, but it's a solid entry-level camera for those shopping on a budget. Unfortunately for Casio, Nikon has figured out how to spread the savings with a more compelling model in the Coolpix S4100. Though the two cameras have nearly identical MSRPs, the Nikon gives the consumer a more pleasant photography experience. The user interface and general accessibility are far better with the S4100.
Performance-wise, each camera has its benefits and drawbacks. The Coolpix has significantly better color performance, but the Exilim has surprisingly good noise and sharpness. The Casio model also outperformed the S4100 in our stabilization testing. Plus, the Casio has that incredible Dynamic Photo feature.
So why do we prefer the Nikon over the Casio? It's simply more fun to use. The menus are easy to navigate, the options are easier to access, and the controls are a little more versatile.
The Canon PowerShot 500 HS is certainly in a category above the less expensive Nikon S4100, so it comes as no surprise that the Canon has a few extra bells and whistles. Most notable is the Canon's aperture priority and shutter priority modes. Nikon doesn't let you make manual adjustments to exposure—a limitation that makes things simpler for beginners, but less versatile for experienced users.
That higher price tag also nets you superior performance in noise and resolution—two areas where the S4100 struggled. The 500 HS also has better stabilization, better video quality, and much better shot-to-shot speed for continuous shooting. Is all of this worth $100? If you want the extra manual controls, then you'll definitely get your money's worth. If you will never shoot in anything but auto mode, the S4100 is the bargain camera you should buy.
Nikon did very little to improve the formula from last year's Coolpix S4000. It was already a strong performer, was easy to use, and had a sleek appealing design. The new model upped the ante with a new Nikkor lens that increases the zoom range to 5x optical zoom and expands the focal range to f/3.2–f/6.5. The new lens did seem to improve resolution slightly, but the S4100 saw a decline in noise performance.
Is the sharpness benefit enough to outweigh the sacrifice in noise? For most people, the answer is probably yes. Noise will only become a large issue in very dim conditions, while sharpness impacts all photos taken in all conditions. We were also pleased to see that the S4100 did not carry with it the troublesome focus issues that plagued its predecessor. Both auto focus and touch focus worked just fine.
The touchscreen was still not a joy to use; many times we found ourselves tapping seven or eight times to activate a particular feature or menu item. For the average consumer that enjoys touchscreen cameras, this probably won't feel quite as aggravating.
We were happy to see Nikon continue its strong Coolpix tradition with the S4100 (MSRP $179.95). It improves on its S4000 predecessor with some added features and a new lens, but several areas of performance were a disappointment.
Color accuracy remained strong, but noise and stabilization scores saw a significant drop. The wider aperture range of the new lens helps with some autofocus issues we saw on last year's model, and the new lens also comes with an increase in sharpness.
Meet the tester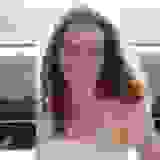 Kaitlyn Chantry
Vice President, Editorial Management
@WhyKaitlyn
Vice President of Editorial Management, Kaitlyn oversees the editorial departments of Reviewed.com's various sites. She has been writing about technology since the turn of the century. Outside of her Reviewed.com home, Kaitlyn is also a theatre director and avid gamer.
Checking our work.
We use standardized and scientific testing methods to scrutinize every product and provide you with objectively accurate results. If you've found different results in your own research, email us and we'll compare notes. If it looks substantial, we'll gladly re-test a product to try and reproduce these results. After all, peer reviews are a critical part of any scientific process.
Shoot us an email