But recently, camera makers have had a pretty good sequel success rate. Sony's A7 II looks to be a triumph and Canon's 7D Mark II is a significant, much-appreciated update. The new Olympus OM-D E-M5 II (MSRP $1,099.99 body-only) seems set to carry that trend into 2015, looking more like The Godfather II than The Matrix Reloaded.
Since the original OM-D E-M5 launched in 2012, Olympus has created the entry-level E-M10 and professional E-M1, but this is the company's first return to the mid-range, prosumer category. The new model ports over the E-M1's updated 16-megapixel Micro Four Thirds sensor, 2x2 Dual Control system, improved 5-axis image stabilization, and drastically upgraded video capabilities.
We went hands-on with the camera at CP+ 2015 to find out just how well it stacks up to the original E-M5, the top-of-the-line E-M1, and other mirrorless options on the market today.
Retro 2.0
The original OM-D made a serious statement. Its carefully considered retro styling included an insane amount of detail, from the faux-leather wrap to the authentic Olympus logotypes and classically shaped EVF hump. It was a camera that evoked a certain era in a way that instantly appealed to a huge swath of photographers—a look that probably sold as many copies as the spec sheet did.
But the original design had its share of flaws, too. Most notably, the controls were awful. Tiny, spongy, and awkwardly placed, they crippled the OM-D's handling when speed was of the essence. And the EVF, while good for its time, was soon outclassed by new models from Fujifilm, Sony, and Olympus itself.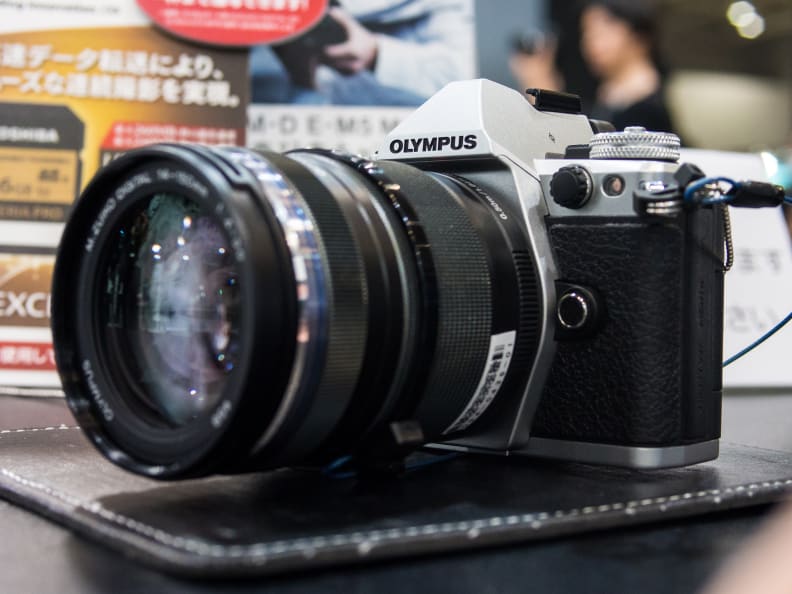 The E-M5 II addresses all of these flaws, inheriting some design tweaks from the E-M10 and E-M1 and adding a few new ones of its own. The aesthetics have been touched up, too, with a pointier EVF hump and a recessed hot shoe that's more in keeping with 1972's Olympus OM-1. The buttons provide more feedback and better travel, the dials are chunkier and easier to use, the power switch is more thoughtfully placed, and the EVF is a larger, higher-res model also borrowed from the E-M1.
The E-M5 II is instantly familiar if you've used previous OM-Ds, but also an obvious build quality upgrade over all but the E-M1.
It's an incredibly solid-feeling camera—instantly familiar if you've used previous OM-Ds, but also an obvious build quality upgrade over all but the E-M1. We still wish it had more than a subtle suggestion of a grip, but as with the original E-M5, you can buy a two-part add-on grip to bulk it up. The landscape-oriented top half of the HLD-8G is new for the E-M5 II, adding a headphone port for videographers; the portrait-friendly bottom half is the HLD-6P from the E-M5, and the two halves are sold separately so you won't end up with two HLD-6Ps if you upgrade.
The E-M5 II's screen is fully articulating—a fantastic upgrade over the other OM-Ds, including the flagship E-M1. The 1.04m-dot, 3-inch panel is touch-sensitive and just as responsive as previous Olympus implementations. The combination of the tilt 'n' swivel hinge and tap-to-focus capability make this easily the most video-friendly mirrorless model Olympus has released thus far.
If you prefer not to use the screen, the 2.36m-dot, 1.48x magnification EVF is a worthy alternative. Though it's not our favorite EVF around—we prefer the Sony A7 and Fujifilm X-T1 finders—it's extremely close. This latest generation of electronic finders is finally making a convincing argument that OVFs are bound for obsolescence; in this case, seeing is definitely believing.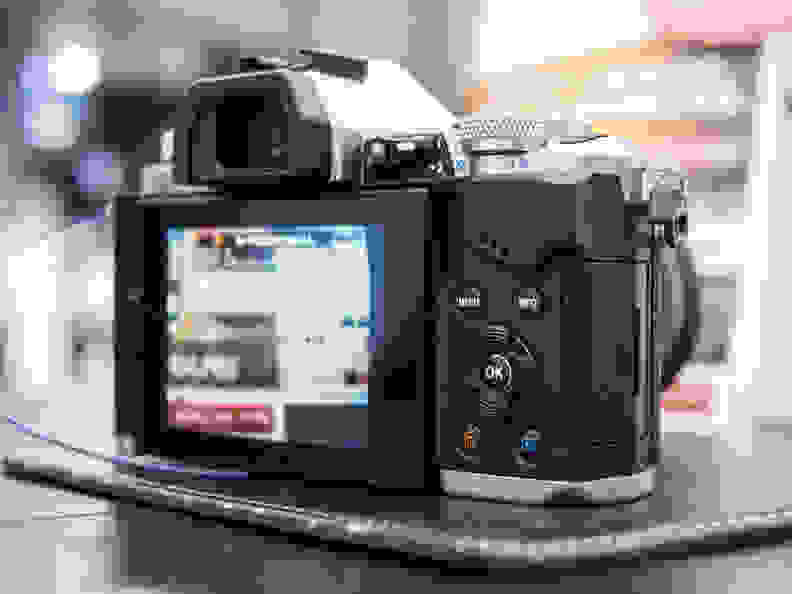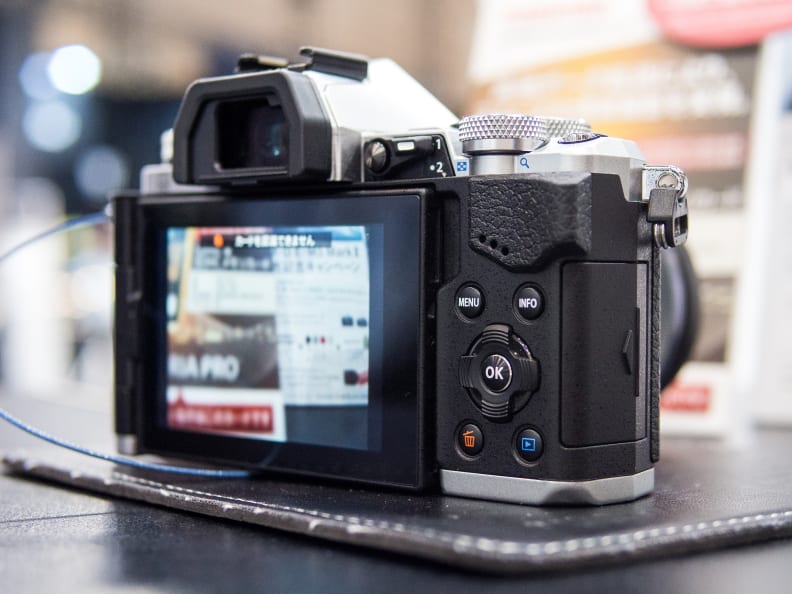 We love the 2x2 Dual Control setup here just as much as we did on the PEN E-P5 and OM-D E-M1. It essentially doubles your control options, giving each primary control dial a secondary function that's available at the flick of a switch. It's a clever way to provide more direct control without cluttering the body with more buttons.
That's not to say Olympus hasn't added more buttons, because it definitely has. Around front, there's a depth of field preview button below the lens mount, and up top are new HDR and EVF switch buttons. All three can be customized, as can the existing Fn1/AE-L, Fn2/Multi-Function, and video recording buttons. Together with the 2x2 setup, this means you've got more custom control than most people will ever need.
Video comes into focus
You may have already gathered that video is a big deal for the OM-D E-M5 II, but the enhancements extend far beneath the camera's skin.
First and foremost, the E-M5 II offers 77 Mbps ALL-I shooting at 1080/30p, or 52 Mbps IPB shooting at 1080/60fps. While that's not quite as impressive as what class-leading mirrorless models like the Panasonic GH4 and Sony A7S can claim, it's a huge step up in an area where Olympus has historically struggled.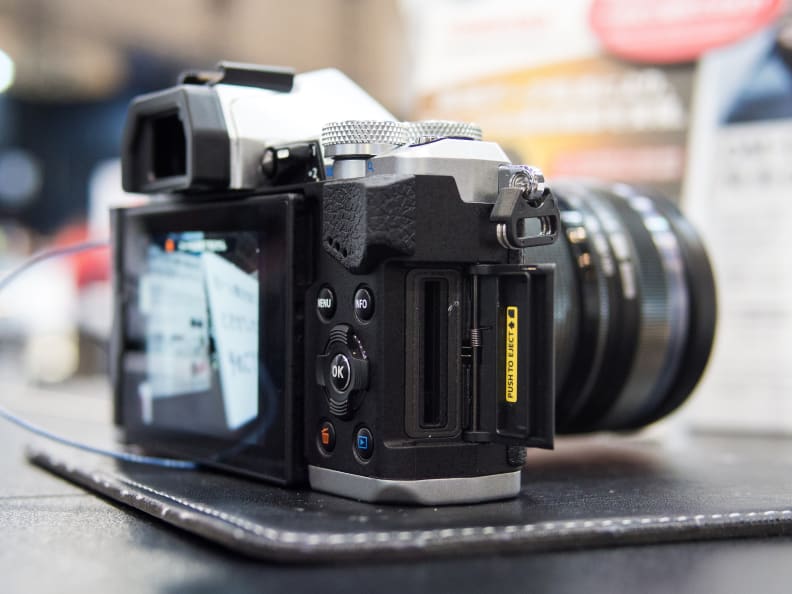 Like the E-M1, it also takes full advantage of its 5-axis image stabilization system during video recording. The upshot is far smoother footage, with less jiggle and hand-shake. Clips we shot on the show floor certainly looked quite clean, though it's always tough to judge from the tiny preview on a camera LCD.
Last but certainly not least, you also get focus peaking during video recording—a much sought-after aid prized by serious working videographers. If you're not familiar, this means the in-focus area of the live view image is highlighted with a colored border, so you can easily tell what's in focus and what's not. Filmmakers will also appreciate the added timecode functionality and uncompressed HDMI output.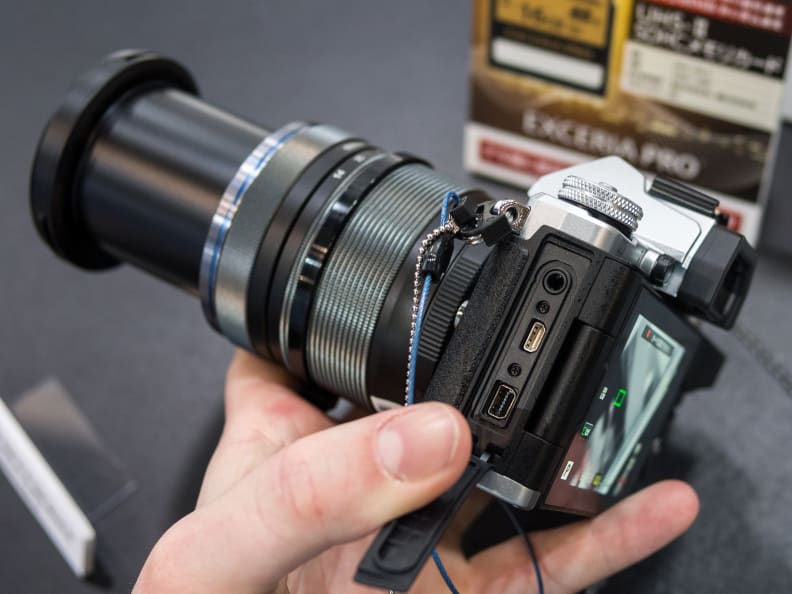 Of course, it's not all about video. The E-M5 II's sensor is the best Micro Four Thirds chip currently available, though it lacks the E-M1's on-chip phase-detection autofocus pixels. It's worth noting, however, that virtually all of the existing 16-megapixel M43 sensors (including the original E-M5's) offer roughly the same raw image quality. A sensitivity range of ISO 100–25600 and shutter speeds of up to 1/8000 of a second (or 1/16000sec in electronic shutter mode) provide plenty of flexibility, and 10fps continuous shooting will please sports aficionados (though they'll wish they had the E-M1's PDAF).
The E-M5 II's coolest new stills-related feature is its 40-megapixel multi-shot mode.
The E-M5 II's coolest new stills-related feature is its 40-megapixel multi-shot mode, which shifts the sensor around to take eight rapid-fire exposures and seamlessly merge them into a super high-res final product. Of course, since it requires eight shots, this isn't something you'll want to use handheld; it's meant for studio and landscape work, though even the latter can be tricky if there's a strong wind.
Olympus's menu system is still every bit as complex as it's always been, but there's some good news on this front as well. For the first time, the excellent Super Control Panel is turned on by default, meaning you get one-click access to the camera's vital settings in a semi-transparent LCD overlay. Previous OM-Ds and PENs made you dig through multiple menus to find it, and the default quick menu was far less useful.
A winning formula, refined
All in all, the Olympus OM-D E-M5 II seems set to be another blockbuster for Olympus, and there's no doubt it's an attractive option for those buying into a mirrorless system for the first time. Still, its box office take may not quite match up to the original.
In part, that's because it doesn't redefine the genre like its predecessor did. The OM-D E-M5 was the first mirrorless camera that attempted to emulate classic SLRs using modern tech, and it was a concept that caught on like wildfire. Now that everyone from Fujifilm to Sony has latched onto the idea, another OM-D doesn't carry quite the same punch.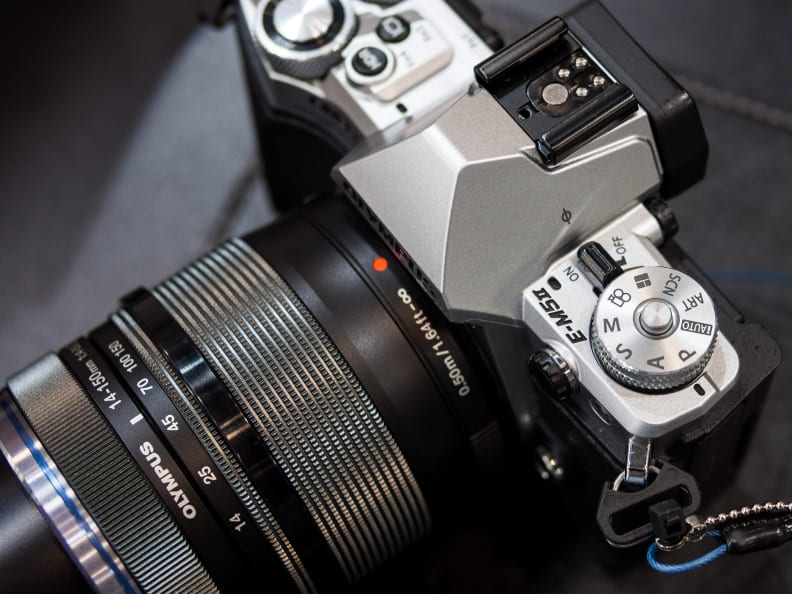 More importantly, the E-M5 II doesn't appear to offer enough of an improvement in raw image quality to get E-M5 or E-M10 owners to upgrade—a factor that will inevitably narrow the pool of potential buyers. Don't misunderstand: This 16-megapixel sensor performs extremely well, even compared to some APS-C sensors, but it's fairly stale technology after three years in service.
But box office forecast aside, there's a lot to attract photographers and videographers to this camera.
Finally, the $1,100 asking price feels just a touch high compared to some notable rivals, including the $800 Samsung NX500 and $650 Sony A6000. Both of those cameras offer larger APS-C image sensors, which may make them more attractive to first-time mirrorless buyers who are purely interested in shooting stills. That said, they aren't weather-sealed, both fall short on video features, and the NX500 lacks an EVF.
If anything, the fact that all three of these cameras debuted within a year of each other proves that today's mirrorless market is mature and robust, able to support a myriad of different user skill levels and camera feature sets.
But box office forecast aside, there's a lot to attract photographers and videographers to this camera. It's spectacularly well-built, fully weather-sealed, ridiculously customizable, packed with powerful specs, and simply gorgeous to look at. Virtually every complaint users had about the original E-M5 has been addressed, and the result is a much-improved device.
What more can you ask for in a sequel?
Meet the tester Ben Keough
Contributor
@ben_keough
Ben is an experienced industry journalist who formerly served as Senior Editor of News and Features at Reviewed. He now contributes as a freelance writer and editor. Most recently hailing from the vast wilds of the American southwest, he is an avid photographer who is deeply disturbed by the lack of wide open landscapes in Boston.
Checking our work.
We use standardized and scientific testing methods to scrutinize every product and provide you with objectively accurate results. If you've found different results in your own research, email us and we'll compare notes. If it looks substantial, we'll gladly re-test a product to try and reproduce these results. After all, peer reviews are a critical part of any scientific process.
Shoot us an email