Front
The front of the SP-565 UZ borrows a lot from the design of digital SLRs. This particular shot lets you see the lens pretty well, but the auto focus assist is slightly hidden in shadows. Above the grip you can also spy a few controls, like the shutter button and control dial, but we'll cover those more in-depth in the Top section.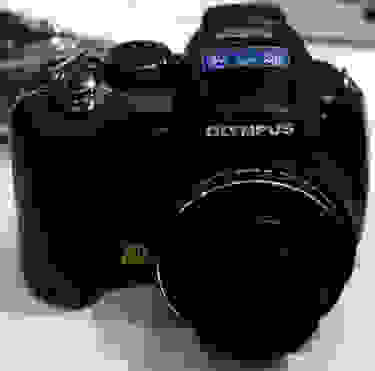 The face of the SP-565 UZ looks rather inconspicuous when
its lens isn't protruding about 4 inches.
Back
The back of the camera follows the familiar arrangement of LCD in the bottom left, electronic viewfinder above, and the majority of controls towards the right. The button next to the electronic viewfinder switches the display between the eye-level viewfinder and the LCD. The next button down can be customized, but its default function activates auto exposure lock. The 4-way control pad is encircled by four different buttons: Menu, Playback / Print, Shadow Adjust / Erase, and Display / '?'. The Help button (identified by the question mark) is especially useful for newcomers; highlighting a menu item and pressing it will offer a tool tip explaining what that item does.
The 4-way controller has a separate set of functions during capture mode. Up will bring up exposure compensation, Left is macro, Right toggles flash functions and the Down brings up the self-timer controls..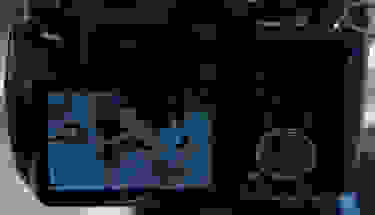 Again, the physical design of the SP-565 UZ
is quite similar to an SLR.
Sides*

*The left side shows the lens's grip, which resembles an traditional SLR focus ring. To the right is the button to pop out the flash. Towards the top right you can see the diopter control, used to tailor the viewfinder to meet your personal eyesight peculiarities, nestled up against the viewfinder. Underneath the diopter are the power and data ports.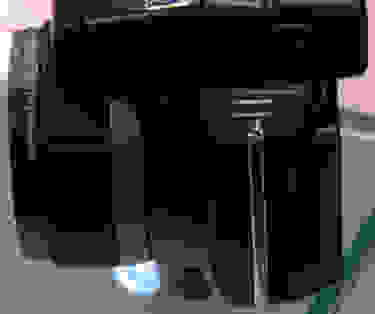 The lens has a great knurled grip.**
The right side has just one feature, which was unfortunately hard to see in the available lighting: the memory card slot, which wraps around the bottom left.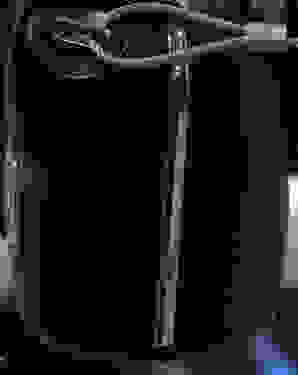 *We don't understand why trade shows never have
lighting for proper memory card door photography.

*
Top
The built-in flash, festooned here with a festive blue sticker, pops up when needed. The control dial, to the right of the flash, creates a small triangle with the shutter and power buttons. Like most point-and-shoot cameras, the shutter button is ringed with a zoom control.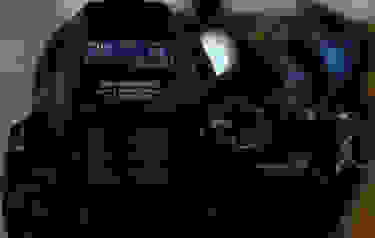 *In addition to helping you choose your shooting mode, the
control dial will also let you enable Scene and Guide modes. *
Bottom
The bottom of the SP-565 UZ is 60% battery cover, 5% tripod socket, 7% speaker (the little 3x3 array of holes at the bottom), and 28% wasted space. Examining the plastic tripod socket, we foresee durability problems for anyone who tries using it frequently.
*The plastic tripod socket looks
like it won't survive frequent use.*
Viewfinder
The Olympus SP-565 UZ employs an electronic viewfinder, the better to accurately display the 20x zoom view. You switch the display mode between the LCD and viewfinder with the |O| button, which is above the top right corner of the screen. In this picture you can see the edge of the diopter adjustment control, which rests against the left side of the viewfinder.
We weren't particularly impressed with the quality of the viewfinder's screen. Olympus doesn't specify its resolution, but it looked a bit pixelated to us.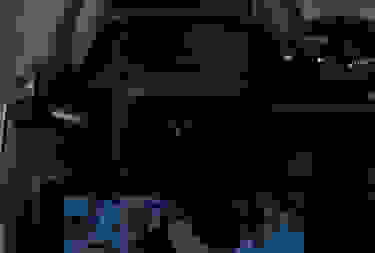 The viewfinder has worse video quality than the LCD.
LCD Screen
The SP-565 UZ's screen measures 2.5 inches diagonally, with a 230,000-dot resolution. You can adjust the brightness slightly, with five available settings. Compared to most point-and-shoots, this screen is unimpressive. We did notice the image updated fairly quickly, however, with minimal lag and blurring.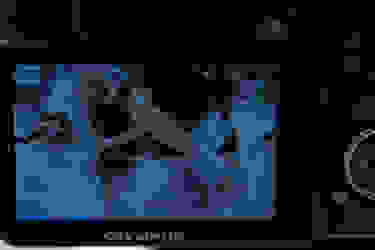 The 2.5-inch screen is adequate, but nothing to brag about.****
**Flash

The SP-565 UZ has a pop-up flash, effectively moving the unit away from the lens and minimizing the chance of red-eye. The camera also supports a wireless flash.
**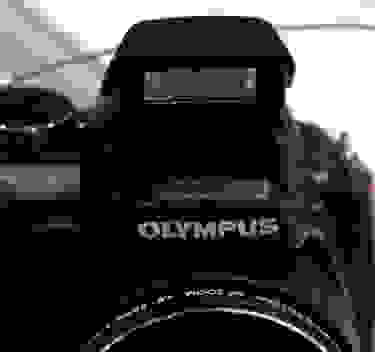 The pop-up flash position will keep red-eye problems to a minimum.
---
******Lens**
The lens has a focal range of 4.6mm - 92 mm (26 – 520 mm equivalent in 35mm). It has a 20x optical zoom, which is huge for a point-and-shoot (it also has 5x digital zoom, but digital zoom is near useless). The aperture range is f/2.8 to f/4.5.
If you're curious what the hardware is behind these specs, allow us to enlighten you. The SP-565 UZ has 14 lenses in 11 groups, 4 aspherical lenses, and 2 ED lenses.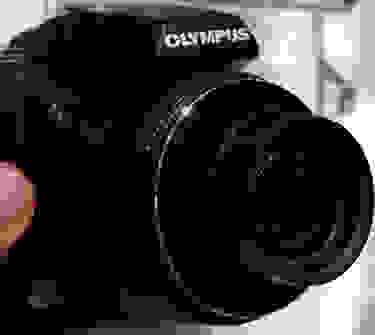 If lenses keep moving in this direction, you'll soon be able to
take photos of distant relatives while they're still distant.
Connections

The SP-565 UZ has two ports on its left side: a power-in jack for an optional accessory AC power adapter and a proprietary USB connector.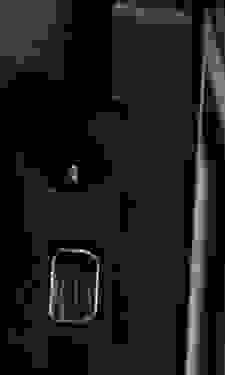 The edges of the panel that covers
this recess stick out a little, which
felt uncomfortable..

Battery

The camera runs on 4 AA batteries. That's good in one sense: it's easy to find AA batteries wherever you wander. On the flip side, you have to spend extra, either on disposable batteries or your own set of rechargeables.  

Memory

The SP-565 UZ suffers from memory problems. It has a meager 48MB of internal memory and the ability to accept xD-Picture Cards. Unfortunately xD memory hasn't kept up with SD or CompactFlash, either in cost per megabyte or total avaiable capacity. The largest SD cards today hold 32 gigabytes. The largest xD cards hold a modest 2 gigabytes.
This is where you'll put your xD memory card.
******Other Features

**Adding a calendar to your picture - This option lets you drop a calendar onto a photograph. Later on you can print this out and keep it on your desk, letting you keep track of the days and admire your own photographic handiwork simultaneously.
Expression edit - This tool works a lot like the liquify tool in Photoshop. If someone isn't smiling (and he or she has the largest front-facing non-smile in the picture), you can use this tool to automatically upturn corners of their lips. All you do is activate the feature, so there's no controlling the outcome.
Pre-capture mode - Before taking a picture or a movie, this feature will maintain a pre-capture buffer of either 10 stills or 2 seconds of video, ensuring you won't miss a shot if you happen to be slow on the shutter button.
Model Design / Appearance
The Olympus SP-565 UZ retains an aesthetic that's very reminiscent of SLRs. It's predominantly black with a matte finish. There's a huge grip on the shutter button side of the camera to provide a solid hold under fast-moving conditions, and the control layout will be immediately familiar to an SLR shooter. The Olympus is smaller and slightly more modern-looking than most SLRs, though.
Size and Handling
The SP-565 SP is a bit bigger than other SLR-style point-and-shoots we saw at Photokina, such as the Casio Exilim EX-FH20. Of course, while this rules it out as a potential pocket companion, it doesn't make it unwieldy. In fact, it's actually quite manageable. The controls are all set up in a logical way and are easy to access. Our one complaint was that using the control dial was slightly awkward: there isn't much for your left hand to grip while your right manipulates the dial.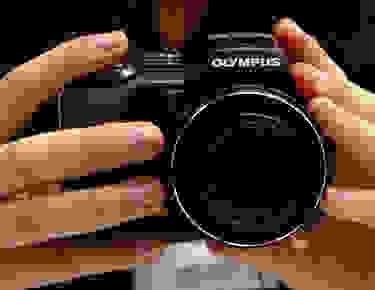 While we wish our left hand had a little bit more to grab onto,
the overall handling experience was good.
Menu

The menu system on the SP-565 UZ is well laid out for the most part. The initial screen, as shown in this picture from the camera manual, lays out the key areas for user interaction. From here we were able to access everything quickly and easily, in part because the menu structures are intuitive, and in part because of the 'Menu Guide' feature (pressing the DISP. button on a menu item will explain what that item does). One interesting feature is the way the current control wheel setting (shooting guide, automatic mode, program mode, scene mode, etc.) will blank out parts of the menu that no longer apply, making the interface more manageable.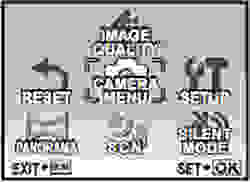 Ease of Use
Overall, the camera is reasonably easy to use. We like the way the camera clearly limits your menu options based on your shooting mode, because it keeps beginning photographers from getting  lost or confused. The layout of both the controls and the menus is simple and logically organized. Also, the camera has a customizable button, putting your most frequently used control or setting within easy reach.
Auto Mode**

The Olympus SP-565 UZ does have a full automatic mode, which you can activate by turning the control wheel to 'AUTO.' In this mode the  camera is literally point and shoot – no user input is required, or accepted.
Movie Mode

The movie mode can capture in AVI format at resolutions of either 640 x 480 or 320 x 240, at frame rates of 30 or 15 frames per second.
Drive / Burst Mode**

The SP-565 UZ has a few available burst modes. The first is capable of 13.5 frames per second, for a maximum 30 frames, at a reduced 3-megapixel resolution. The second can capture at 7 frames per second, for up to 30 frames, at 5-megapixel resolution. Full-resolution, 10-megapixel capture will net you 1.2 frames per second
Additionally, the camera features exposure bracketing and interval shooting modes. Exposure bracketing will shoot five frames one after the other, each at a slightly different value. Interval shooting will take anywhere from 2-99 pictures at intervals of 1-99 minutes, based on your selections.
**Guide Mode

**Guide Mode isn't so much a shooting mode as it is a list of tutorials. Enabling Guide Mode will let you access a list of common shooting situations such as 'Shooting into a bright light,' or basic effects, like 'Blurring out background.' Choosing one will display you a series of pop-up messages, which take you through the appropriate solution step by step. This feature drastically expands the range of consumer the SP-565 can cater to, since it can teach just about anyone how to use it properly.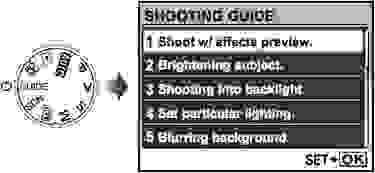 Playback Mode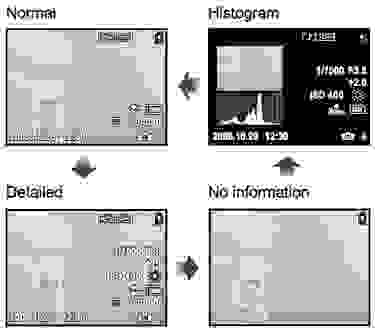 The arrows represent the order these views will cycle when you
press the DISP button.
Custom Image Presets**

There are quite a few scene modes on this camera, 25 in all, which are listed below in an excerpt from the camera's manual. You can access scene mode by turning the control dial to SCN. The only scene below that might not be immediately recognizable is the 'Available Light' mode. The mode just boosts ISO sensitivity and cuts resolution.
Here's a list of the scene modes, along with the manual's
cute little illustrative icons.
Manual Control Options

There is a good pool of manual controls for advanced users to draw upon. Exposure compensation can be adjusted from -2 to +2, each increment representing 1/3 EV step. Users can manually focus after choosing this option in the menus, then using the four-way controller. Full manual exposure control is available, in addition to shutter- and aperture-priority modes.
Focus

Auto Focus

There are a few autofocus options. 'iESP Auto' finds the subject of the picture and adjusts focus automatically for that target. Spot focus lets you choose one point on the screen, which the camera will then automatically bring into focus. Area focus is like spot auto focus, only with a larger target area. There's also a face-detect feature.
We played around with auto focus a bit and found images snapped into focus quickly. We had no complaints.
ISO

The SP-565 UZ offers ISO sensitivity up to 1600 for full-resolution shots. There are also options for 3200 and 6400 ISO, but the resolution drops to 5 megapixels.
White Balance

In addition to automatic white balance mode, you can choose from one of six preset options: clear skies, cloudy skies, tungsten, household fluorescents, neutral fluorescents and white fluorescents. There's also a one-touch white balance mode, which lets you set a precise white balance manually. Just aim at a solid white, gray, or black surface and the camera will adjust your white balance accordingly. 
Metering

Spot and center-weighted metering are both provided. There's also a third metering option, called 'Digital ESP Metering,' which meters the center of the screen and surrounding areas separately to find an acceptable overall balanced exposure.
**Shutter Speed

**Available shutter speeds range from 1/2000 second to 15 seconds.
Aperture

The widest aperture setting is f/2.8 at the closest focus setting and f/4.5 for maximum telephoto.
Image Stabilization
The SP-565 UK uses sensor-shift image stabilization.
Picture Quality / Size Options
Image size options range from a maximum of 3648 x 2736 (10 megapixels) down to 640 x 480 (VGA) in six steps. There is also a single wide-screen option at 1920 x 1080 resolution. Two JPEG quality settings are also available, Fine and Normal, making 14 size/quality combinations -- and even that's not all. For advanced users, RAW shooting, which creates uncompressed files which can be freely edited on a computer without deteriorating the original image quality, is supported by the SP-565 UZ, including RAW+JPEG at all seven levels of JPEG size and both quality settings.
Picture Effects Mode

The SP-565 UZ has quite a few image editing capabilities. For still images you can fix red-eye, adjust light and shadow balance, tweak the color saturation and sharpness controls, and enhance facial focus. You can also resize and crop images, or add a color effect. The camera also has an in-camera RAW edit mode for photos taken in RAW format.
You are also given a few movie editing tools. You can create a scene index of up to nine frames, crop clips, or extract still images.
**
Conclusion**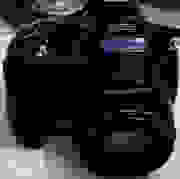 At $400, the SP-565 UZ is a bit more expensive than the average point-and-shoot, and clearly bulkier, but it offers much more functionality. A decent 20x zoom lens alone on a full-sized SLR would be far more expensive than the entire Olympus SP-565 UZ camera, and extremely heavy. Here's a compact, full-featured package, with manual controls if you want them and full automation if you just want to point and shoot, all at a reasonable price. We'll hold off on rendering a final verdict until we get a review unit in-hand for our usual intensive lab testing, but based on our brief flirtation at Photokina, we're eager to try more.
**Specs Table

**
Meet the tester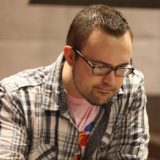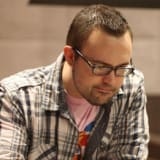 Mark Brezinski
Senior Writer
@markbrezinski
Checking our work.
We use standardized and scientific testing methods to scrutinize every product and provide you with objectively accurate results. If you've found different results in your own research, email us and we'll compare notes. If it looks substantial, we'll gladly re-test a product to try and reproduce these results. After all, peer reviews are a critical part of any scientific process.
Shoot us an email