Over the past few years, virtually all bridge cameras have also been superzooms. A larger, DSLR-style form factor gives clever engineers plenty of room to pack in more and more complex optical designs—so why not throw a 60x zoom in there? Well, there's one big reason: You end up sacrificing a lot of image quality to get that reach.
Perhaps as a response to this trend, we're starting to see a return to bridge cameras focused on image quality over sheer magnifying power. These are cameras that aim to replace DSLRs completely, rather than simply doing things they can't do. The most notable recent example is the $1,300 Sony Cyber-shot RX10, but another promising new contender is the Olympus Stylus 1 (MSRP $699.99).
Olympus's new compact flagship packs in plenty of components that made the OM-Ds such exciting cameras. Among these are its EVF (from the E-M5), tilting touchscreen LCD (E-M1), and processor (E-M5 again). They're matched up with a brand new 28-300mm f/2.8 lens, a high-quality 1/1.7-inch BSI CMOS sensor, and a wonderfully photographer-friendly control scheme. But it remains to be seen whether this all-in-one solution can carve out its own niche in the high end of the market.
OMG, mini OM-D!
Devoid of context, you could be forgiven for mistaking the Stylus 1 for an Olympus OM-D E-M5.
Devoid of context, you could be forgiven for mistaking the Stylus 1 for an Olympus OM-D E-M5. Many of its styling cues are near-identical, which is unsurprising since the two cameras share key components. Sure, there are some differences in texturing (the Stylus 1 has a rubberized grip vs. the OM-D's leatherette) and control layout, but the family resemblance is very strong.
The OM-D is pretty much universally regarded as a supremely stylish camera, and the Stylus 1 will certainly turn heads as well. It recalls '70s film cameras with its distinctive viewfinder hump, top-mounted dials, and graceful lines.
On the whole, the Stylus 1's build quality is solid, if not particularly luxurious. The body appears to be crafted from high-quality polycarbonate rather than metal, and while the buttons and dials are all pleasant to use, they feel a little cheaper than the ones used on the company's current Micro Four Thirds bodies. (That said, they're a functional improvement over the notoriously squishy keys used on the E-M5.)
Some bits are exactly as good as the OM-D's, though. The Stylus 1's electronic viewfinder, for instance, has been ported over wholesale from the E-M5. At 1.44m dots, it's large and clear, if not quite the equal of the newer EVFs found in recent high-end mirrorless cameras like the OM-D E-M1 and Sony Alpha A7. Olympus has also included its adaptive brightness technology, which keeps the EVF nice and vibrant regardless of the ambient light level. There's even a small pop-up flash tucked into the prism hump—something the E-M5 couldn't manage.
The rear LCD is a tilting, touch-enabled panel identical to the one used by the E-M1 and PEN E-P5. We're long-time fans of Olympus's touch interface, and it's just as user-friendly and responsive here as on the company's M43 bodies. You can focus, shoot, and manipulate photos in playback without ever touching the physical buttons. The screen hinge is quite sturdy, and seems like it should hold up well under constant use.
Handling the Stylus 1 is a joyous experience compared to most point-and-shoots, but it doesn't feel quite as tailor-made to fit your hand as some recent superzooms. Around front, there's a modest but still helpful hand-grip, which is backed up by a flared, rubberized thumb rest above the rear controls. The knurled lens ring gives your left hand something to hang onto, and lets you shoot the Stylus 1 just like an SLR.
What more could you ask for? (Besides a larger sensor...)
More so than any of its other compacts, Olympus has gone whole-hog with the Stylus 1. We've already talked about how much this primo bridge camera has inherited from the upmarket OM-D E-M5, but there's plenty of other tech crammed in there, too.
First, let's talk about the guts. The Stylus 1 features a 1/1.7-inch sensor packing 12 megapixels. That's quite similar to other advanced compacts, like the Canon PowerShot G16, Nikon Coolpix P7800, and Olympus's own Stylus XZ-2 iHS. What's unique is the 10.7x lens (28-300mm in film terms), which boasts a constant f/2.8 throughout its range. What's more, it's hidden behind a nifty folding lens cap that opens outward when the lens extends and closes again when you shut the camera off.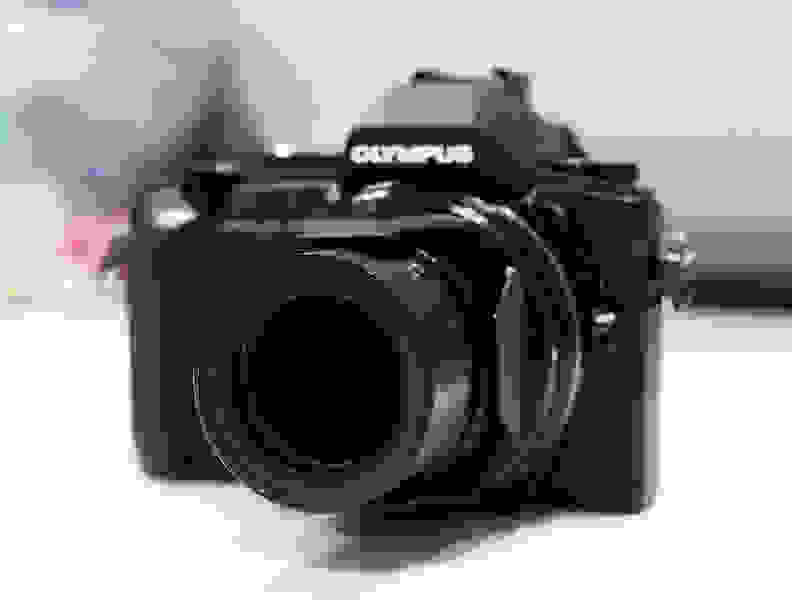 A maximum aperture of f/2.8 at wide angle isn't particularly fast on a 1/1.7-inch sensor—the Panasonic Lumix LX7, for instance, is two full stops faster at f/1.4—but retaining f/2.8 all the way to 300mm is something special indeed. While the Stylus 1's bokeh effects at wide angle won't be as spectacular as some rivals', it will still capture plenty of light, and shooting at full telephoto in dim conditions will be significantly easier than with most competitors.
For a fixed-lens camera, the Stylus 1 offers a ton of user-configurability.
Helping with that task is in-lens image stabilization. Olympus hasn't offered any figures for the system's effectiveness, but in our brief time with the camera it seemed to handle moderately low shutter speeds (around 1/15 sec) with ease. If you run into the opposite problem and have more light than you can handle, you can activate the built-in neutral density filter for up to three stops of exposure compensation. It's a feature that's also helpful for creating long exposures in sunny conditions.
Like the XZ-2, the Stylus 1 has an excellent lens control ring that you can toggle between smooth or click-stop rotation. Each type of rotation controls a different setting, and those settings change based on the shooting mode you've selected. The switch used to toggle the lens ring rotation type encircles a function button that can also be customized, and there's another Fn key around back. For a fixed-lens camera, the Stylus 1 offers a ton of user-configurability.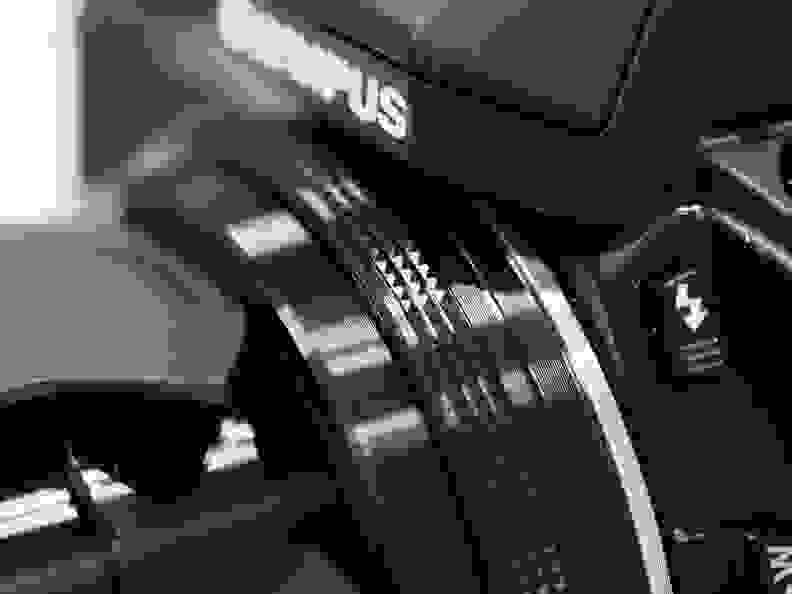 WiFi is also onboard, and Olympus has one of the best implementations going. Not only do you get full file transfer capability, but you can use your Android or iOS smart device as a remote viewfinder complete with control over most shooting settings. There are other fun tricks, like geotagging shots with smartphone GPS data, but the coolest knock-on effect by far is that you can use your smartphone screen to monitor a live bulb exposure, literally watching a long exposure develop before your eyes.
The TruePic VI image processor, inherited from the OM-D E-M5, makes for an all-around speedy shooting experience. There's virtually no shutter lag, the Stylus 1 boasts a respectable 7 frames per second continuous shooting speed, and you can capture 1080p videos at 30 fps. There are also reduced-res 120 and 240 fps high-speed movie modes, and you can shoot both stills and videos with many of Olympus's Art Filters.
A real challenge for Olympus's marketing team
Just a few days ago, we cast a skeptical eye on the Sony RX10 in our First Impressions Review. We think it's a beautiful camera that's able to do almost everything a DSLR can, but that price... wow. The Olympus Stylus 1 is essentially a lesser RX10, in virtually every sense. Not quite as gorgeously built, not quite as large of a sensor, not quite as many customizations and options, and, oh yeah, it's a lot less expensive. On the other hand, it is greater in terms of zoom, maxing out at 300mm effective where the RX10 runs to 200mm.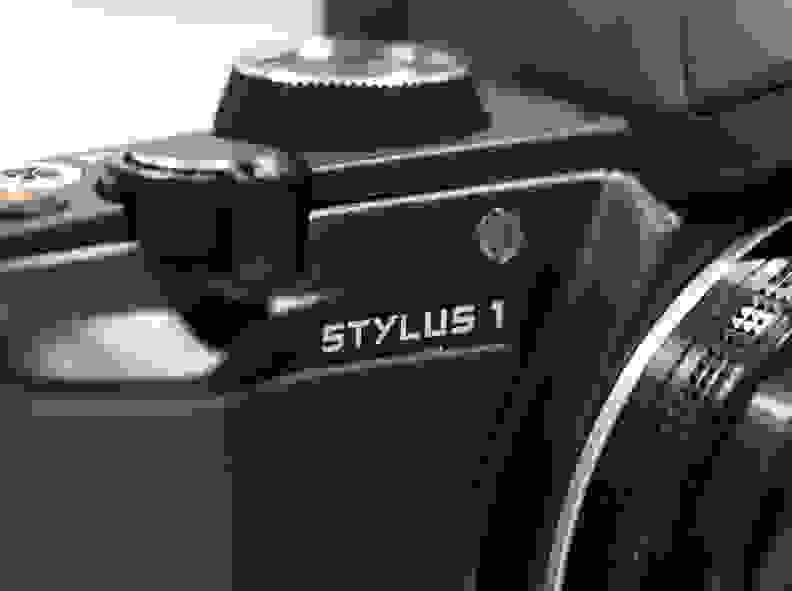 Both cameras are attacking the same use case, but they're pitched toward different demographics. One is aimed at more well-heeled enthusiasts, while the other intends to pick off shoppers considering a camera like the Nikon D3200 or Canon Rebel SL1. Of the two strategies, we think the latter has a better chance of success, but it's still going to be a tough sell. Today's consumers (rightly or wrongly) equate interchangeable lens cameras with quality—DSLRs in particular. Selling them a small-sensor compact that looks like a DSLR is a canny move, but it will take some serious marketing chops to overcome such a well-established bias.
We're quite impressed with what Olympus has put together in the Stylus 1, and we think that for the right buyer it could be an excellent all-in-one solution.
We're quite impressed with what Olympus has put together in the Stylus 1, and we think that for the right buyer it could be an excellent all-in-one solution. The Stylus 1 is relatively compact but handles very well. It's also speedy, packed with useful controls, and graced with some surprisingly high-end features. The brilliant touchscreen and EVF, in particular, really make the Stylus 1 feel like a current-gen mirrorless camera, but we're slightly worried that the camera's image quality won't match up to its robust feature set.
A 1/1.7-inch sensor used to be considered large, but in this post-RX100 world, anything smaller than 1 inch is now "small." The images these point-and-shoot sensors produce are fine for most consumers, but considering that it's easy to find a camera with a far larger sensor for less than $600, and given how good smartphone photos are... even $700 might be a big ask.
Meet the tester Ben Keough
Contributor
@ben_keough
Ben is an experienced industry journalist who formerly served as Senior Editor of News and Features at Reviewed. He now contributes as a freelance writer and editor. Most recently hailing from the vast wilds of the American southwest, he is an avid photographer who is deeply disturbed by the lack of wide open landscapes in Boston.
See all of Ben Keough's reviews
Checking our work.
We use standardized and scientific testing methods to scrutinize every product and provide you with objectively accurate results. If you've found different results in your own research, email us and we'll compare notes. If it looks substantial, we'll gladly re-test a product to try and reproduce these results. After all, peer reviews are a critical part of any scientific process.
Shoot us an email