Introduction
The TG-320 is intended more for the perils of everyday life than hardcore thrill-seekers. But we think there's a market for this, and are looking forward to the camera's release in February.
Design & Appearance
The TG-320's aesthetic design is a cross between the armored look of tough cameras like the Pentax WG-1 and the "ruggedized-in-disguise" models coming out lately, such as the Sony TX10. It isn't immediately obvious that the 320 is a waterproof camera, but a few landmarks give it away upon closer inspection, such as the exposed screws on the metallic front handgrip.
The camera will ship in two colors: blue, like the model we handled, and red .
Tour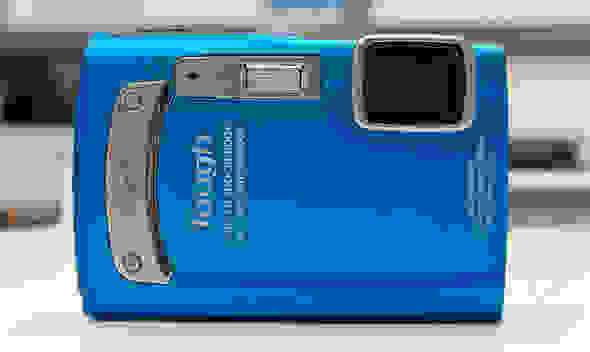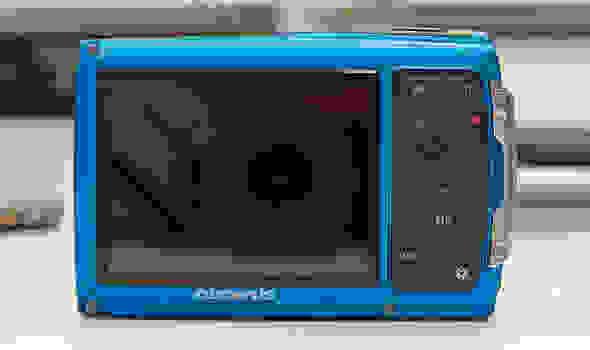 Menu
The menu system has not received an update since Olympus' last season of cameras, and we're fine with that. The interface is divided into the always-on quick menu, accessed simply by clicking up or down on the D-pad, and the main menu, which offers more detail at the expense of fast navigation.
The quick menu still has some hiccups and pauses from time to time, but it's fast, intuitive, and requires no scrolling or foreknowledge of the system to operate effectively.
The main menu is more complicated, but is necessary for in-depth camera settings. The tab-based system groups shooting and playback settings together, and navigation is carried out horizontally and vertically by the directional pad.
Ease of Use
The button layout is similar to what we're used to from compact cameras. A directional pad with central "OK" button is used for most menu navigation, and this is set between a playback mode button above and both menu and in-camera guide buttons below. The typical layout is interrupted by what appears to be the playback speaker, which functions perhaps best as a thumb rest. At the top of the panel is an averaged size zoom rocker.
The in-camera guide is a particularly nice feature common to many Olympus cameras. It's a relatively deep system that places many key bits of information at the shooter's fingertips, rather necessitating a trip back to the instructional manual.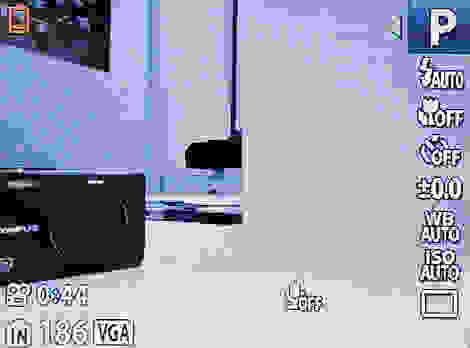 Size & Handling
The TG-320 is bulkier than say, the Sony TX10, but has a more typical form factor than the Pentax WG-1. Yet the design is more attractive than the Kodak Easyshare Sport and has a similar price tag. The tall silver element on the front panel is part aesthetic but part ergonomic too, giving the fingertips a decent place to latch onto. Meanwhile the entire rear control panel is covered in a sheet of rubber, so grip is rarely a problem.
But because of this rubber, all rear panel buttons have dampened tactile feedback, and this could be a real problem during underwater shooting. The shutter release is great though, with strong tactility that makes it very usable underwater.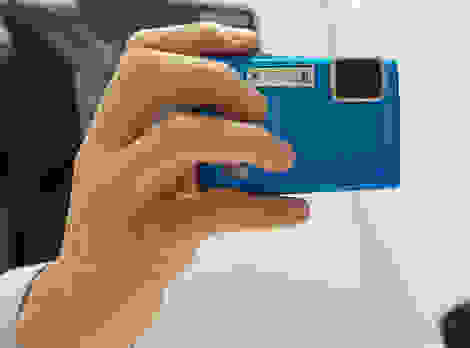 Modes Overview
We didn't have enough time to play around with all shooting modes but the TG-320 features Program Auto, Full Auto, a dedicated 3D mode, video mode, and a variety of scene modes. Shooters like us will do most of their photography in Program Auto, but Full Auto is helpful for those with less experience. Note this is not a scene recognizing auto mode.
Auto Mode
Movie Mode
The TG-320 is capable of high definition video capture at 720p, as well as standard definition resolutions like 480p and 240p. Zoom control will be unlocked while recording, an option that used to be quite rare but is slowly becoming more common. Video files are stored in MPEG-4.
Drive/Burst Mode
The TG-320 will feature both full and reduced resolution continuous shooting modes, each with a maximum buffer size of 200 shots. Speeds of only 0.6 frames per second are possible in full resolution, but reducing image size to 5 megapixels enables 3 frame per second shooting. This camera will not support interval (a.k.a. time lapse) photography.
Playback Mode
Playback mode features common mainstays like thumbnail view and image magnification, as well as extras like slideshow and some light in-camera editing. Nothing has changed here since Olympus' 2011 lineup.
Picture Quality & Size Options
The TG-320 will support six 4:3 shooting resolutions of varying size, as well as two 16:9 options for playback on an HDTV. Lossless RAW encoding will not be possible, and JPEG compression quality is locked.
Other Modes
3D Mode
It's possible to capture double-exposure 3D photos in any mode, including macro and underwater.
Focus
Olympus compact cameras have earned a reputation for fast autofocus and the TG-320 is no different. The contrast-based system achieves lock quickly and consistently. Manual focus is not supported, but with AF this good it's hard to complain.
Exposure & Metering
The TG-320's total aperture range is f/3.5 - 7.1, pretty limited, and its total shutter speed range is 1/2000th to 4 seconds. Exposure compensation will be +/- 2 stops in 1/3 intervals, and metering will divided up into Digital ESP (evaluative) and spot. Full manual exposure will not be supported.
Anecdotally, the TG-320 did expose properly during our time with it, but this was not on the challenging show floor. Our lighting was bright and consistent.
ISO
Automatic ISO settings are divided into "Auto," which will choose from the most common value, and "High Auto," which will use all settings including this camera's maximum of 1600 if necessary. We wanted ISO 3200 from this camera, especially given its limited aperture, but only a full review will reveal how much of a problem this is.
White Balance
White balance is adjusted rather painlessly from the quick menu overlay. Auto will be appropriate for most users, but a number of presets are included as well as a custom setting.
Image Stabilization
The TG-320 will take advantage of sensor shift motion blur suppression, a rarity for a camera of this price. In practice, the camera captured clean shots with sharp edges.
Picture Effects
The TG-320 will have a number of built-in "Magic Art Filters" for enhancing and customizing images as the user sees fit. This will occur as shots are being captured, rather than in the playback menu.
Lens & Sensor
The TG-320's 14 megapixel sensor is a 1/2.3-inch, CCD type, just like all Olympus fixed-lens cameras announced at CES. The lens will be an internally extending 3.6x optical zoom model, which means no moving parts on the outside of the chassis.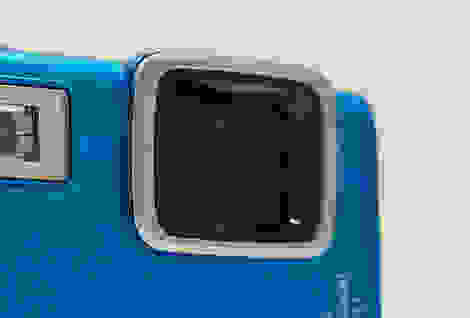 LCD
The rear fixed-LCD monitor is a little harsh to our eyes, with blown out colors–especially whites–and very high contrast. This could be deliberate, for better underwater viewing, but on land it's a bit too much.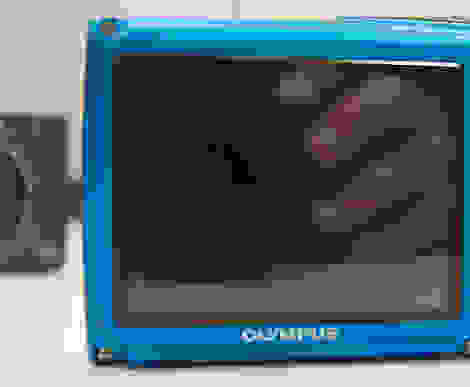 Flash
Flash settings get a place of honor right below the mode setting on the quick menu. Maximum range will be just over 13 feet at ISO 800, but it was difficult to get a feel for the flash's effectiveness in our small meeting room.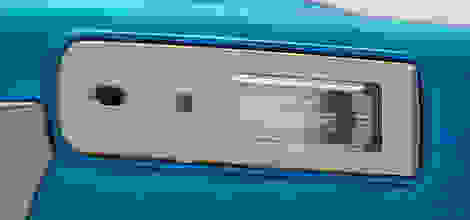 Jacks, Ports & Plugs
Two connectivity ports are tucked beneath the water-sealed battery and media compartment cover. A microHDMI port takes advantage of HDMI Control, allowing navigation of the camera's menus with your TV's remote control. A proprietary USB terminal is next-door, and this will likely be used for A/V output, battery charging, and of course the obvious PC connectivity.

Battery
The TG-320 will be powered by Olympus' LI-42B rechargeable lithium battery, and is CIPA rated to 190 shots on a single charge. That's ever-so-slighly below average for a camera of this size.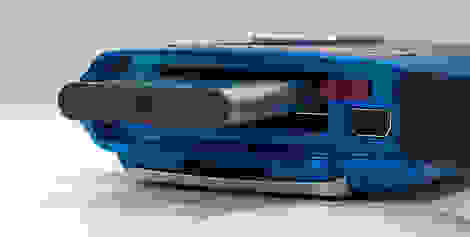 Memory
The memory card slot is housed underneath the same waterproof cover as the battery, and uses standard SD cards rather than more rare microSD media. The TG-320 will be compatible with SD, SDHC, and SDXC class cards.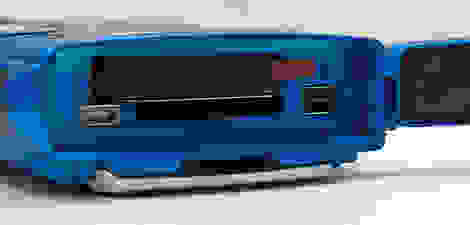 Other Hardware
Durability
The TG-320 will be shockproof from a 5 foot drop, waterproof to 10 feet deep, freezeproof to 14 degrees Fahrenheit, and rustproof. These stats place the camera squarely in the mid to low range of ruggedized models. 10 feet of waterproofing is enough for the diving well of most backyard pools, and the freezeproofing will be safe for a typical ski trip. At $180, we think this level of protection is a great value.
Conclusion
Olympus has wisely situated their Tough TG-320 between the Kodak Easyshare Sport and the Sony TX10, striking a balance between cost and style, a balance that we think is ideal.
Based on what we've seen so far, it seems like the TG-320 will be a better camera than the Easyshare Sport, and a worse one than the TX10. And that's fine, because the TX10 retails for over $300.
This is a great place for Olympus to be and a currently untapped segment of the market. Plenty of customers want a camera able to withstand extreme environments. But plenty more customers just want a camera that can withstand a hectic life. In terms of price and physical design, the TD-320 seems poised to deliver. If image quality is solid, this camera could be a huge seller.
Sample Photos
Specs
Meet the tester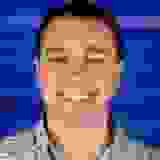 Christopher Snow
Managing Editor
@BlameSnow
Chris was born and raised less than ten miles from our editorial office, and even graduated from nearby Merrimack College. He came to Reviewed after covering the telecom industry, and has been moonlighting as a Boston area dining critic since 2008.
Checking our work.
Our team is here for one purpose: to help you buy the best stuff and love what you own. Our writers, editors, and lab technicians obsess over the products we cover to make sure you're confident and satisfied. Have a different opinion about something we recommend? Email us and we'll compare notes.
Shoot us an email