We were drawn to the candy apple red version of the Panasonic Lumix DSC-FH20 shown here, with its high-gloss paint job. The camera will also be available in silver, black, red and violet.
Up in the top right corner is a lamp that serves as both the self-timer indicator and an autofocus assist lamp when shooting in the dark.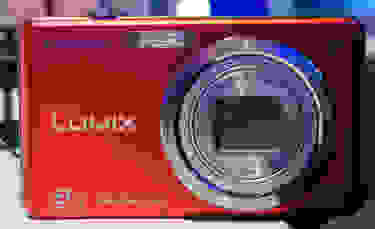 This bright red number caught our eye at Panasonic's CES booth.
Back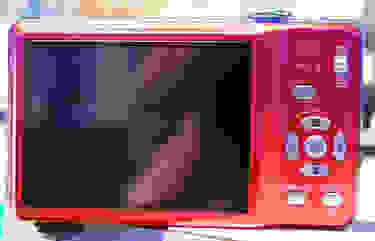 The 2.7-inch 230,000-dot LCD is raised on a beveled platform above the control section (or the control section is indented -- your choice). Unlike most recent cameras, Panasonic uses a physical switch at the top right to move between recording and playback modes, Given the camera's slender depth, a MODE button is used instead of a mode dial on top of the camera.
The four-way controller provides direct access to exposure compensation, flash control, macro mode and the self-timer. Pressing the center MENU/SET button brings up the main menu, pressing the Q. MENU button at the bottom right brings up the quick menu screen overlay. DISPLAY rotates information display alternatives in record and playback modes.
The raised LCD provides more depth for gripping top and bottom.
Sides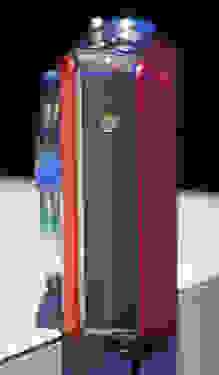 The left side is bare, the right has the wrist strap connector and a small hinged door (don't bite your fingernails!) covering the single I/O connector.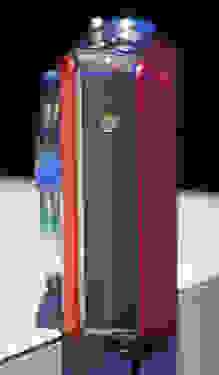 The right side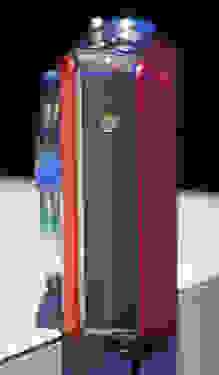 Wrist strap connector and I/O on the left
Top
The speaker lies behind the four tiny holes on top of the camera. It's tough to see here, but there's a single hole on the shadowed side of the beveled top for the mono microphone. The unusual control up here is the red iA button on the right. It takes you directly to Panasonic's Intelligent Auto mode, which uses scene recognition to set aperture, shutter speed and ISO.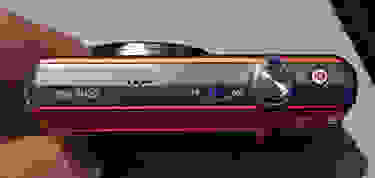 The controls are well positioned for easy access.
Bottom
The latched battery compartment on the left will accept SD, SDHC and the new high-capacity SDXC memory cards. Actual retail models will not come with the umbilical cord shown attached to the tripod socket here: this was shot on the floor of a trade show, where untethered cameras tend to run away.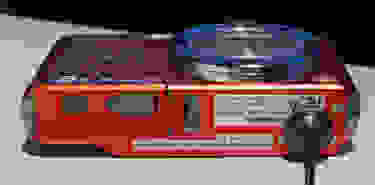 The tripod socket is oddly positioned at the right edge.
Viewfinder
No viewfinder to be found.
LCD
The 2.7-inch 230,000-dot LCD looked fine, and the fact that it held its own when we moved in under the bright booth spotlights bodes well for shooting outdoors on sunny days. The LCD will automatically brightness to match the surroundings, in 11 steps, or you can manually set it to maximum output. There is also a special mode that looks washed-out when viewed directly, but allows you to hold the camera overhead and see the screen clearly.
When in record mode, the LCD display can be a clean screen with focus indicator, the same screen with a nine-box grid overlaid, or you can have information on image stabilization and burst rate setting, image size, photo number and battery level displayed while shooting.
Flash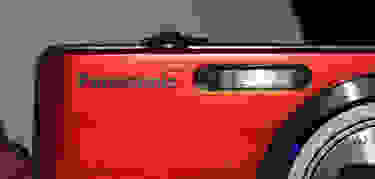 The flash is a bit close to the lens, but also far from your right-hand fingers, so we'll call it a wash. Supported flash modes include auto, auto with red-eye reduction, fill flash, slow sync (for capturing foreground subject and dark background) and, of course, flash off. Panasonic gives the flash range as approximately 2 to 19 ft. (0.6 to 5.8m) with the lens at its widest setting and 3.3 to 10.5 ft.  (1.0 to 3.2m) at full telephoto, both using ISO Auto. 
Lens
An 8x zoom is a lot of lens for a camera this small and, while it isn't particularly fast (maximum aperture f/3.3), its coverage is attractively wide, with a zoom range equivalent to 28-224mm on a 35mm camera.
Jacks, Ports & Plugs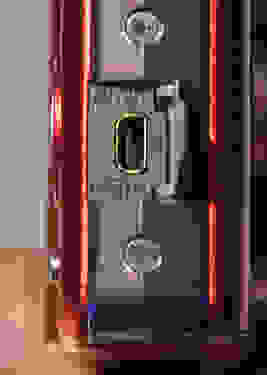 Some bad news here. The FH20 has a single I/O proprietary-format port for data and standard-def AV connection. The real hitch, though, is that while the FH20 can shoot high-def video at 720p, there's no way to connect the camera to a high-def TV to watch that video. Yes, you can upload the files to a computer. but the big screen in the living room won't be joining the party. Unless it's a compatible Panasonic model, that is -- Panasonic Viera sets with an SD slot will play video directly from the camera's memory card.
Battery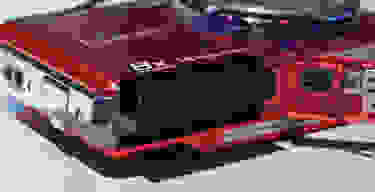 Panasonic says the small 740mAh Lithium ion rechargeable battery will get 300 shots per charge when using flash for every other shot. That's not bad given the compact form factor.
Memory
Soon we expect all cameras that accept SD cards will support the high-capacity SDXC standard, with a theoretical storage limit of 2 terabytes (you may never format a card again). For now, Panasonic and Canon took the lead introducing cameras with SDXC support at CES. As for the cards themselves, Panasonic announced it will ship 64GB and 48GB cards starting this February, priced at $599.95 and $449.95 respectively. Yes, that's a lot of money, but 64GB is more storage than a dual-sided Blu-ray disc on a tiny memory card, and with several manufacturers competing, prices will fall quickly. Particularly if you're going to record a lot of HD video, support for SDXC is an important camera feature in 2010.
Of course, if you're running shot on storage, there's also about 40 megabytes of RAM built into the camera.
Design & Appearance
---
There's nothing particularly striking about the camera design itself: it's your basic rounded rectangle, with a bit of shape on the back thanks to the way the LCD is raised slightly. The brushed metal surface and sparkly paint job is a grabber, though, especially for the red model we photographed.
Size & Handling
---
The DMC-FH20 measures 3.94 x 2.22 x 1.09 inches (100.0 x 56.5 x 27.8 mm) and weighs approximately 5.6 ounces (160g) with battery and SD memory card installed. It feels slender, and wouldn't take up much room in a pocket or purse.
Handling is straightforward. One nice touch is the little raised dot pad on the top right back panel, meant to provide a bit of extra grip for your thumb. All in all, we found the surface shiny without being slippery and, using the pincer grip typical when holding a camera like this, had no difficulty maneuvering the FH20.
Menu
---
The Q. MENU button on the camera back brings up the Quick Menu overlay, as shown below. Options available here include image stabilization, burst mode/self-timer, focus mode, image size and LCD display mode.
The main menu system has three tabs: scene mode, record and setup. Each division includes multiple menu screens, and you have to cursor all the way down through each to reach the next.
The scene mode menu is icon-based, as shown below, but a text label for each appears underneath when you cursor over it, and the icons themselves are easily identifiable.
There aren't a ton of record mode controls available on this highly automated camera. You have access to settings for picture size, white balance, autofocus mode, burst, digital zoom, image stabilization, autofocus assist lamp, red-eye removal and clock setting in the record menu.
 Setup includes time and camera audio settings, LCD brightness and display controls, power saving settings, USB mode and language options.
Ease of Use
---
Panasonic led the way in developing 'intelligent' automated systems that use scene recognition to go beyond taking a simple light reading and identify movement, faces and other factors when adjusting camera settings. We weren't able to test the specific performance of these features with the pre-production FH20, but the system is familiar from other Panasonic models, and overall we find the results impressive. Point-and-shooters increase their odds of getting the results they expect when the camera brings its own smarts to the party.
Beyond camera settings, the controls are straightforward and clearly labeled, the menu system well organized and the camera is easy to handle.
Auto Mode
---
The Intelligent Auto (iA) mode has its own dedicated button on top of the camera. Shooting in iA mode, the camera turns on optical image stabilization and face detection, and attempts to match the current shooting situation to one of six scene modes (macro, portrait, scenery, night portrait, night scenery or sunset).
Movie Mode
---
The FH20 will shoot 720p high-def video at 30 frames per second, storing the results in Motion JPEG format -- more memory-consuming than the advanced AVCHD used in higher-end Panasonic cameras, but easier to edit. Recordiing at a widescreen848 x 480 resolution and standard-def 640 x 480 is also supported.
Our primary concern with movie mode isn't shooting high-def video, but watching it, since there's no HDMI or component video output to display HD video on an HDTV
Drive/Burst Mode
---
Panasonic claims the camera can manage 1.5 shots per second in continuous shooting mode. Seems high, but we were fiddling with a pre-production model, so judgement will have to wait for lab tests. There's also an interesting high-speed burst mode, promising 4.6 frames per second at a reduced 3M resolution. Three- megapixel files would be fine for on-screen viewing and even 4x6 printing, and 4.6fps would be great for capturing racing children or sports action. 
The self-timer lets you choose from a 2-second or 10-second delay.
Playback Mode
---
The playback display can be toggled between two levels of detail, or information overlays can be removed entirely
Zooming out while viewing a single image brings up a thumbnail display with 12, then 30 thumbnails. One more press accesses a handy calendar view, with your photos sorted by date taken. Heading in the other direction, zooming in from a full-screen photo display magnifies the image in stages, up to 16x.
The slideshow utility is fairly robust. You can choose whether to include all images or only certain categories, choose from a variety of transition effects, and turn background music on or off.
As for image editing, photos can be resized or trimmed -- that's about it.
Custom Image Presets
---
Over two dozen scene modes are available, including Portrait, Soft Skin, Transform, Self-Portrait, Scenery, Sports, Night Portrait, Night Scenery, Food, Party, Candle Light, Baby1, Baby2, Pet, Sunset, High sensitivity, Hi-Speed Burst, Flash Burst, Starry Sky, Fireworks, Beach, Snow, Aerial photo, Film Grain and Photo Frame (which surrounds the photo with a border of your choice).You can adjust the settings of a scene mode and save it in the My Scene slot for quick access later.
Manual Controls
---
Normal mode (what others would call Program AE) gives you the most freedom to adjust settings, including picture size, white balance and autofocus mode. You can set a manual white balance, and set exposure compensation. There are no direct manual controls over aperture or shutter speed, no manual ISO setting and no manual focus option.
Focus
---
You can select single-point, multi-point or face detect autofocus. Macro mode is also available, with a close focus distance of about 2 inches (5cm). There is no manual focus capability.
ISO
---
The standard ISO range is 80-1600. A High Sensitivity scene mode is available that boosts ISO up to ISO 6400 for night shooting at reduced resolution.The user has no control over the ISO setting.
White Balance
---
In addition to the auto white balance system there are presets for daylight, cloudy, shade and halogen lighting and, surprisingly in this highly automated camera, the option to take a custom white balance reading.
Metering
---
The FH20 uses a multi-segment metering system, with no manual options for the user, Exposure compensation is available, though, with a ±2 EV range in 1/3 EV increments.
Shutter Speed
---
Standard shutter speeds range from 1/1600 second to 8 secodns. In the Starry Sky scene mode, 15, 30 and 60 second exposures are possible. Manual shutter speed control isn't available.
Aperture
---
Aperture settings at the widest lens angle range from f/3.3 to 5.9, and at full zoom it's f/5.9 to f/18. There is no manual aperture control.
Image Stabilization
---
The FH20 uses optical image stabilization, wihch can be turned on or off.
Picture Quality & Size Options
---
Shooting in the standard 4:3 aspect ratio your size options are 14M (4320 x 3240), 10M (3648 x 2736) 5M (2560 x 1920), 3M (2048 x 1536) and 0.3M (640X480). There is also one resolution option each for 3:4 format (12.5M, 4320 x 2880) and 16:9 (10.5M, 4320 x 2432). There are no alternate JPEG compression settings, and RAW shooting isn't supported.
Picture Effects
---
TIn addition to the standard color mode, Vivid, Natural, Black & White, Sepia, Cool and Warm options can be selected while shooting.
Meet the tester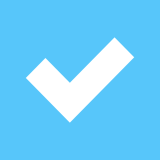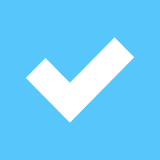 Steve Morgenstern
Editor
Checking our work.
We use standardized and scientific testing methods to scrutinize every product and provide you with objectively accurate results. If you've found different results in your own research, email us and we'll compare notes. If it looks substantial, we'll gladly re-test a product to try and reproduce these results. After all, peer reviews are a critical part of any scientific process.
Shoot us an email