Bottom**The bottom of this Panasonic features the tripod mount on the left, the manufacturer's label in the middle, and the battery compartment on the right which can be accessed by pushing along three raised ridges.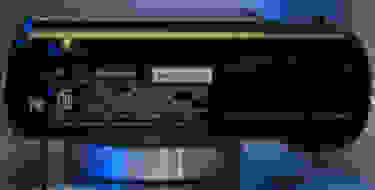 **Viewfinder**
There is no viewfinder. The LZ7 relies solely on the LCD for composing and image review, as with most point and shoots. **LCD Screen**While bright and clear, the LZ7's 2.5" LCD displays only 115,000 pixels. The angle of view was not very good; it easily became obscured when tilted more than about 100 degrees. Panasonic should really do better. That said, when viewed head on the display was very bright and contrast and color reproduction were very good. The High Angle button brightens the display for holding the camera above your head or down low is a helpful option for catching those concert photos or taking pictures of your dog swiping food under the dinner table. **Flash**Despite the position of the Lumix LZ7's small, narrow flash on the far right of the camera front, no sideways shadows were evident. The flash provided pretty even coverage, even on the open and varied show floor. The published flash range for wide angle is 1.6 to 17.7 feet (0.5 to 5.4 m) and 1.6 to 10.8 feet (0.5 to 3.3 m) for telephoto, which seemed fairly accurate in the on-floor tests. **Zoom Lens**The 6x optical zoom, equivalent to 37-222mm in 35mm format, can be augmented by the E Zoom button, which pushes the optical zoom to 9x, but it reduces the image size to 3 megapixels. As a result, the user will have to be willing to sacrifice image quality to get that extra boost. The digital zoom boosts this range to a maximum of 36x, for those users inclined to reduce image quality even further. Panasonic's Optical Image Stabilization technology can be turned on (Mode 1 or 2) or off in the menu. Mode 1, always on, is the default, but Mode 2 saves power by turning on only when the shutter is depressed.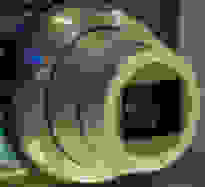 ** Model Design/Appearance**The LZ7 is slightly beefier than a typical slim point-and-shoot. The most striking feature of the LZ7's black design is the nonfunctional metal band jutting out from the lens along the plastic
body. This is also found on the silver model, but obviously, it's less noticeable. Otherwise, there is not much distinguishing this camera from the rest of the Lumix line or from the overall point-and-shoot group. It's slim and unassuming, meant more for the inside of a pocket than the inside of display case. **Size/Portability**The LZ7's slim, 3.88 x 2.45 x 1.30-inch body weighs about one-half pound, barely noticeable in the hand or on the wrist, probably. The show model was tethered to the display case on a retractable cord with no wrist strap to check this claim. With all the media, connection, and lens compartments closed, it can fit neatly in a pants pocket or in the glove compartment. **Handling Ability**The camera can easily be held in one hand to shoot and, with practice, many of the controls could probably be operated with the same hand. The simple thumb pad on the back would probably do better with raised bumps rather than recessed ones. Users with large hands will probably want to avoid the Lumix models in general, but the one-handed grip does prevent the flash from being blocked. The wrist strap's location on the right side will keep it from getting tangled in the computer or power cables on the left side. **Control Button/Dial Positioning/Size**Sporting very small buttons, we did not find the Lumix LZ7 difficult to operate. The paucity of controls made it fairly easy to navigate, although larger buttons would make it more appealing to a wider range of users, especially since much of the back right side is void of controls. The 4-way controller could be enlarged and/or raised away form the Display and Function buttons. **Menu**The LZ7 has a tabbed menu that is bright with large slender text against a white menu. The active item is highlighted in orange. The shooting menu is accessed while in shooting mode. Playback menu is accessed in playback mode.    **Ease of Use**
The LZ7 simple design and components make it an easy camera to operate. The buttons are small but still easy to manipulate. Basic functions like flash, exposure compensation, and self-timer are accessed through the 4-way controller, with a handy review button rounding out the quad. This allows you to review the most recent image without entering the Playback mode. The various menus are bright, clear, and easy to navigate. 
Auto Mode
There is no full auto mode but there is a general shooting mode more similar to a program mode. Exposure is automatic but selections for white balance, ISO, aspect ratio, picture size and quality, and auto focus are possible.
Movie Mode
The Movie Mode allows users to change settings for White Balance, Aspect ratio (4:3, 16:9), Picture Mode (30 fps VGA, 10 fps VGA, 30 fps QVGA, 10 fps QVGA). Zooming is not possible in movie mode, but it can be selected before entering movie mode and the selected zoom setting remains while filming.
Drive/Burst Mode
The burst rate is not listed in Panasonic's specs, but the floor personnel at PMA estimated a rate of 3 fps, which seemed reasonably accurate during the on-floor test. We will test this further when we conduct our full review on a production model. A self-timer mode with 2 and 10 second options is also available.
Playback Mode
Viewing of single images with up to 16x playback allowed for easy checking of sharpness and noise. Options for reviewing 9 images, 25 images, and calendar display are also possible, as are options for transferring files between the memory card and the internal memory. Simple trimming and resizing modes can be conducted here as well.
Custom Image Presets
There are 21 shooting presets selectable from the Mode dial, with the bulk of these accessed through SCN mode.

  
Manual Control Options
Aperture and shutter speed controls are not manually adjustable on the LZ7, but users can alter the white balance, ISO, exposure compensation, image quality and size, aspect ratio, and auto-focus points.
Focus
Five auto focus options are possible, 1-point, 1-point high speed, 3-point high speed, 5-point, and spot metering option. Focus is slow to respond at telephoto settings, but it does seem to be clear, even in low light conditions.
Exposure
Manual exposure settings are not possible with the LZ7. Exposure compensation settings range from +/-2 EV in 1/3-stop increments, a typical range for point-and-shoots.
Metering
Light metering options are automatic with this camera.
White Balance
Five white balance settings for the LZ7 include Auto, Daylight, Cloudy, Shade, Halogen, and White Set, for setting white balance to a standard white under given light conditions. This function worked well, even under the mixed lighting of the Convention Center floor. The halogen setting reproduced colors as well as the Auto setting.
ISO
Auto ISO is the default setting, but there are also options for full stop increments from ISO 100 to 800 and a half-step to 1250. A High Sensitivity mode provides a 3200 ISO setting. The Intelligent ISO setting also provides an automatically adjustment setting to compensate for moving subjects under low light conditions. This setting will be fully and properly tested when we have a model in our testing labs.
Shutter Speed
The spec sheet lists a shutter speed range of 60 to 1/2000 seconds, although shutter speeds are not adjustable with the LZ7, except for the Starry Sky mode, in which users can select 15-, 30-, and 60-second options.
Aperture
The LZ7's aperture ranges from f/2.8 to f/12.7, an impressive range for a point and shoot camera. Aperture settings, like shutter speeds, are not adjustable.
Picture Quality/Size Options
Six image quality settings—including 7MP,  5MP, 3MP, 2MP, 1MP, 0.3MP—with all but 7MP utilized in Easy Zoom mode, are possible, as well as a range of three aspect ratios, 4:3, 3:2, and 16:9.
Picture Effects Mode
Basic picture effects allow Standard, Natural, Vivid, Black-and-White, and Sepia settings, but there is no fine control in these settings. They can only be turned on and off.
Connectivity

Software

*The LZ7 ships with the LUMIX Simple Viewer, PhotofunStudio viewer, and ArcSoft (PhotoImpression/PhotoBase), all of which were not evaluated.

*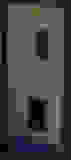 Jacks, Ports, and Plugs
An AC power plug (for the optional Ac adaptor) and a USB cable connection are accessed through the port door on the left.
       *Direct Print Options*
DPOF printing options of single or multiple images can be selected from the mode dial.
Battery
The LZ7 ships with two Oxyride AAs, proprietary batteries that Panasonic says allow the user to take 65 percent more images than alkaline batteries and has an estimated shot count of 250 images.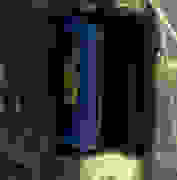 Memory
The camera has a built-in memory of 27 MB, enough to save a few images or serve as a back-up for the SD, SDHC, and Multimedia cards that the camera accepts.
Other Features

Easy Zoom – This is a handy single-button feature that lets users quickly jump to the 6x max zoom at full resolution. A second press of the button pushes the zoom to 9x, although with a drop in image size to 3 MB.
Intelligent ISO – This handy option provides a neat bar graph in preview mode that operates like a signal strength indicator to tell you the degree of subject movement.
Value
With a decent quality lens, easy zoom function, and 7.2 megapixels, the LZ7 is a good value for $199.
**Who's This Camera For?

***Point-and-Shooters* – This camera is geared for point-and-shooters who want some control over their images.
Budget Consumers – Bargain seekers might not fork over the bucks for this one, but the 7.2 megapixels and 6x optical zoom lens might be tempting.
Gadget Freaks – Serious gear heads probably wouldn't be interested in the LZ7, but weekend techies could have some fun with it.
Manual Control Freaks – Manual control junkies might pass on this one due to its lack of aperture and shutter speed control.
Pro/Serious Amateurs – Not a camera for pros, but the 7 megapixels and moderate zoom might tempt them to into buying it for a vacation cam. 
 

 **Conclusion**
At a relatively inexpensive price for a 7-megapixel camera, the Lumix DMC-LZ7 would be a fun camera for those who like to play with settings but who may not be serious image takers. With its 7.2 megapixels, enlargements for weddings, portraits, or vacation shots should be no problem for this camera. 
 

**
Spec Sheet

**  
Meet the tester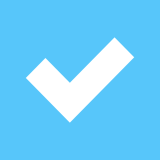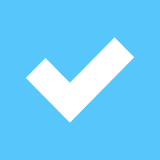 Tom Warhol
Editor
Checking our work.
We use standardized and scientific testing methods to scrutinize every product and provide you with objectively accurate results. If you've found different results in your own research, email us and we'll compare notes. If it looks substantial, we'll gladly re-test a product to try and reproduce these results. After all, peer reviews are a critical part of any scientific process.
Shoot us an email