The FZ70 would be perfect for whale-watching, birding, or other activity that requires a huge distance between you and your subject. However, that zoom comes at a cost that may sour many on Panasonic's new point-and-shoot. There are a few other options to consider at this price point offering better performance, so be sure to weigh your options before settling on this particular camera.
Design & Handling
On the light side, but very grippy
The design of the FZ70 is solid, and quite a bit lighter than it looks. The grip is deep and well-textured, and the camera won't cause you arm fatigue when shooting for an extended period of time. This should satisfy most novice photographers out there; however, the buttons and materials make you feel somewhat like you're holding a plastic toy—not a $400 camera.
The guts of the camera are fairly pedestrian
Controlling the FZ70 is easy for the most part. It's a simple task to switch between shooting modes with the top-mounted mode dial, and toggling common functions like macro mode or changing the informational display is handled with just a quick press of a well-labeled button. Should you want a little more control, you can jump into advanced settings via the rear control cluster.
Though pedestrian, the guts of the camera aren't hindered too much when it comes to capturing acceptably decent photos. While the 60x optical zoom range is mighty impressive, it's held back by an f/2.8-8 multi-stage aperture and a 1/2.3" CMOS sensor. They will get the job done for share-worthy snaps, but for large prints or in low light image quality will take a dip. It'll be tough to get pictures with a good depth of field, and those willing to sacrifice a bit on the zoom range may want to look at the Panasonic FZ200, which has "just" a 24x zoom but has a constant f/2.8 aperture.
If you don't like the included flash, a hot shoe on the top of the camera enables the use of other accessories like a third-party flash. Additionally, the microphone on the top is quite interesting, if a bit perplexing. Because you're never going to use a flash in video, Panasonic placed it atop the pop-up flash assembly. With several casing openings and some foam inserted between the diaphragm element and the outside, wind noise will be far less of a nuisance.
Features
Well-supported, solid controls
Saying that the DMC-FZ70 is nothing out of the ordinary when it comes to advanced features isn't necessarily a bad thing. Sometimes speed matters more than anything else. If your camera requires you to run through a litany of settings on startup, you might miss your shot—and that's an experience the DMC-FZ70 will not subject you to.
The main draw to this camera is that absolutely insane 20-1200mm equivalent zoom lens.
All that considered, the main draw to this camera isn't the build, features, or picture quality: it's that absolutely insane 60x zoom lens. I mean, just look at that monster—it's got a crazy-long focal length, and it's amazing what you can shoot with such a ridiculous zoom. Though the use of polymer lenses sometimes means lower image quality, it's an act of mercy when you consider just how much heavier using glass would be.
Even though it's big, the lens moves quickly—The lens motor on the DMC-FZ70 keeps pace with the one found inside the Canon SX50 HS. You'll never be a step behind, even if you change focal lengths often.
It's also apparent that Panasonic paid a bit of attention to video. Though it's very common on cameras nowadays, the ability to shoot in full 1080p at 30 frames a second in both AVCHD and MP4 formats is a big plus. The combination of several capture options and that huge zoom also makes it a great option for capturing sports. If you want to tweak your videos a bit, there's a dedicated menu to adjust video shooting modes, though this can't be done on the fly.
Performance
In every silver lining, a touch of grey
If you're looking for extremely accurate colors, this camera can hang tough with some of the better DSLRs out there. That's certainly impressive, but it's one shining result in a sea of mediocrity. In practice, the FZ70 leaves a lot to be desired in many areas, and many of its shortcomings can be directly attributed to that monster zoom.
You'll notice a bit of fringing and a higher noise level than you'd expect.
Cramming a 60x zoom lens into a camera with a 1/2.3" sensor is not only a problem of packaging, but it also introduces all sorts of image quality problems. For starters, sharpness takes a huge hit in comparison to other cameras with more sensible optics. Additionally, there's noticeable fringing and a higher noise level than you'd expect on a camera this price.
If it's any consolation, the optical stabilization on the FZ70 is actually quite good, and worthy of special mention. Though the feature does lead to some framing issues at longer focal lengths, if you are able to hold your camera absolutely rock-steady you can expect the Panasonic superzoom to mitigate the ill effects of shaky human hands. There's no reason your morning coffee should ruin your shots, so snap away!
On the other hand, video performance is closer to what we'd term "fair." While the options for changing file formats and sizes are annoying to get to if you're not in manual mode, you'll be able to shoot reasonably sharp cinematics and control zoom during your capture. There's a little bit of trailing here and there, but ultimately nothing worse than you'd expect from a point-and-shoot: the DMC-FZ70 passes the "good enough" test.
Conclusion
Impressive color accuracy, but a flop when it comes to detail.
If it seems like I'm a little tough on this camera, it's because it could have been so much more. Though the "bigger is better" mentality would lead you to believe that the lens on this camera was something to behold, it actually isn't. Despite that enormous focal length, quality suffers greatly, and it's very noticeable.
That's not to say that this type of extended zoom camera doesn't have its upside: If you know someone who plays sports, or has a lot of recitals, this is exactly the type of camera you want when you're stuck in the nosebleeds. Sure, you won't get snaps like you would with a DSLR courtside, but you'll at least be able to get reasonably acceptable shots from ridiculously far away.
If you're looking for an enormous zoom with the performance to match, consider the Canon SX50—though it has "only" a 50x zoom, it has the same maximum focal length, and much better image quality. It can't get as wide a shot as the FZ70 can, but that's not really the reason you buy a superzoom, right? That 60x zoom on the Panasonic Lumix DMC-FZ70 is the largest we've ever reviewed, but it's a double-edged sword.
By the Numbers
This is not the camera you buy for extreme image quality or sharpness—it's the camera you buy if you need an absolutely gargantuan zoom. Knowing that, be prepared to make some sacrifices, as that lens tends to reduce sharpness quite a bit. It'll be perfectly fine for most users, but enthusiasts and pros will want to look elsewhere.
Color Accuracy and White Balance
If you're looking for fantastic color accuracy, the DMC-FZ70 is your device. A measured chroma error of ∆C00 of 2.32 means the DMC-FZ70 can take shots as accurately as some of the better midrange DSLRs on the market, and that's awesome for a superzoom camera.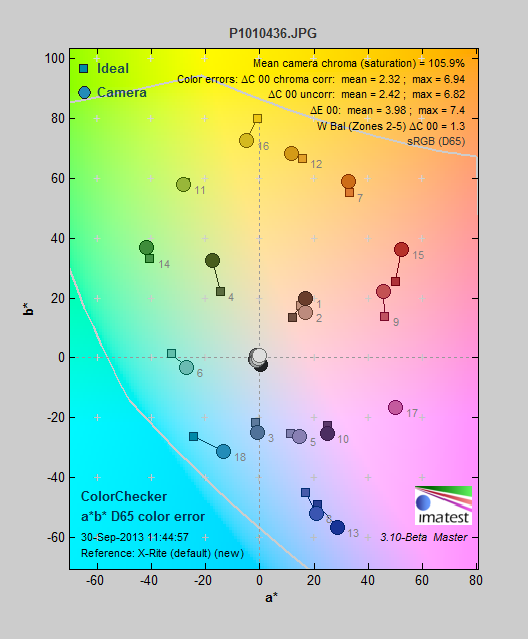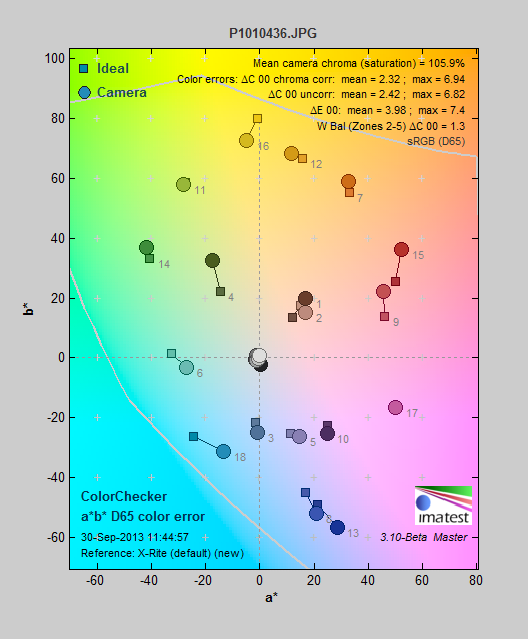 Given that the most accurate color mode is the one you find enabled right when you open the box, it's a nice bonus that pretty much every color is where it should be. Blues are oversaturated a bit, but otherwise most colors are only slightly shifted. On the whole, the camera's saturation is kept relatively in check, though the trained eye may notice a 105.9% saturation. It's not terrible, and definitely something we don't penalize.
White balance is another story, however. Though it's passable, you may find that the custom white balance option may not be as accurate as you hope. We had troubles in the lab getting this to work well, and the results varied wildly—from shades of off-white to an orange sheen depending on the settings.
Noise
Low ISO won't save you here. Despite the conventional wisdom that a low ISO can save you from high noise, that's not the case here. With noise levels that start at just under 2% and keep rising the higher ISO speed you use, the camera's added noise reduction is almost a necessity for good shots.
Adding in noise reduction will yank out a lot of the very fine details.
However, there's a huge tradeoff when you do that. Adding in noise reduction will yank out a lot of the very fine details in the background, replacing gradients and fine lines with single-color patches. I'll illustrate what I mean: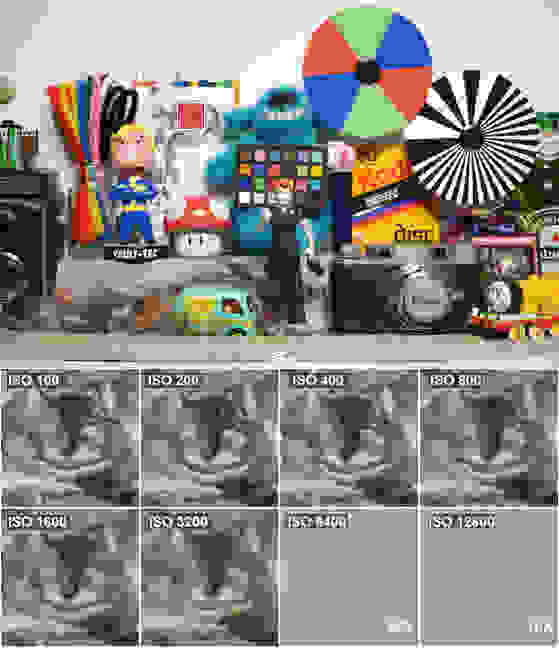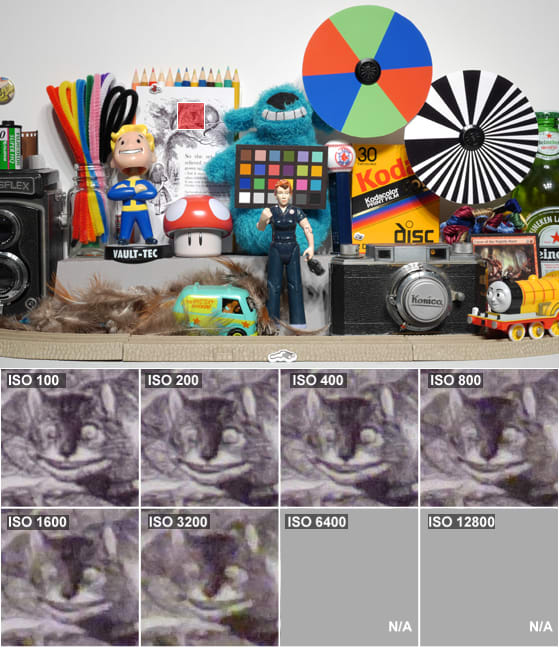 See how the Cheshire cat's face looks like it was painted? Well, it's actually penned with many tiny lines, so you can imagine what kind of detail you're losing here. Even at the lower ISO settings where other cameras typically do well, the DMC-FZ70 suffers heavy detail loss. Should you lock your ISO speed at 100, the camera will automatically prolong your shutter speed—making shots of moving objects very difficult indeed.
Sharpness
That enormous zoom comes at a cost, and it's a sacrifice in the sharpness department. Throughout the entire range of focal lengths, visible fringing and distortion will put the brakes on any hopes you had of professional-quality shots.
It's really not all that surprising given the combination of a tiny sensor and an enormous zoom. Typically, in order to get that lens onto a point-and-shoot body, several tricks of geometry are used, and that will interfere with the overall sharpness of the image.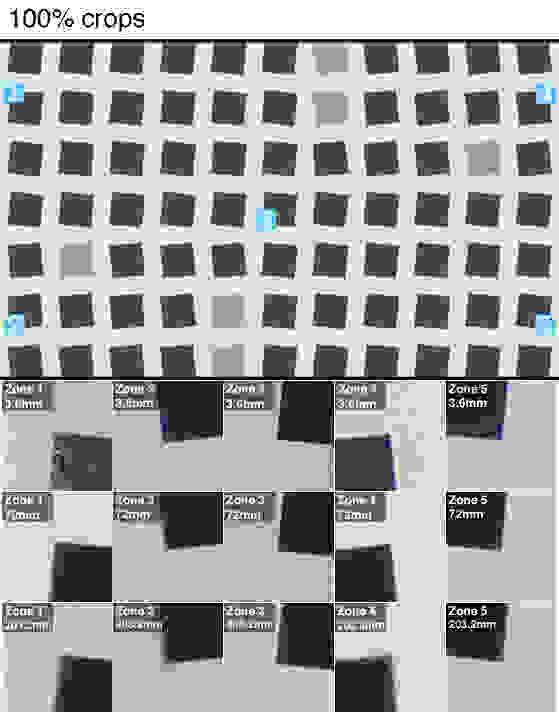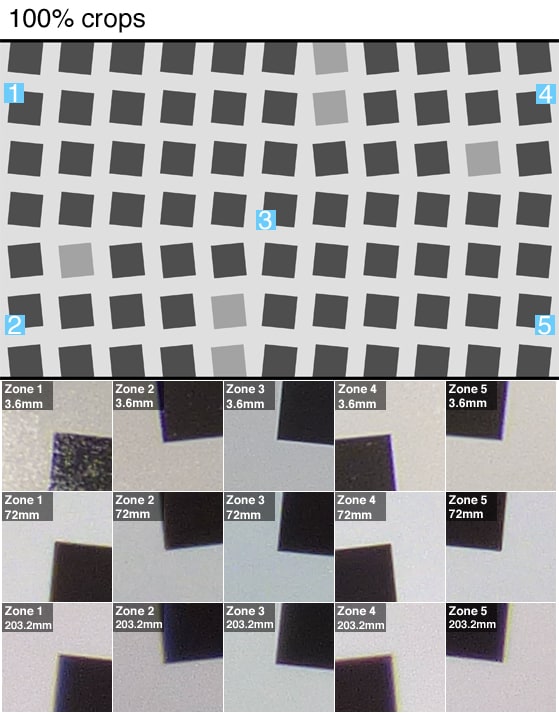 You'll probably notice this mostly in high contrast situations where there are many fine lines close together. Every so often an ill-defined edge will rear its ugly head when it should be crisp, but issues are not limited to this.
Video Performance
There are several reasons why this is a camera that belongs outside, but probably the most compelling one is the relatively poor low-light performance. Needing 9 lux to reach 50 IRE, the DMC-FZ70 is a bad bet for capturing someone blowing out candles for their birthday, or dark scenes in general.
The DMC-FZ70 is a bad bet for capturing dark scenes in general.
Despite all that, the plucky Panasonic point and shoot can keep a relatively sharp picture in-frame. In our labs, we measured 700 lp/ph in our horizontal test, and 650 lp/ph in our vertical motion test. To to properly frame this result, I need to channel my inner Dom DeLuise from History of the World: Part I—it's nice. Not thrilling, but nice.
Like it is with shooting photos, your best bet capturing great video with the DMC-FZ70 is going to be in brightly-lit environments. If you want to get the most out of your camera, consider leaving the stabilization on—it does a lot to reduce the shaking of your hands making your videos fall flat.
Meet the tester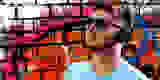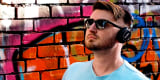 Chris Thomas
Staff Writer, Imaging
@cthomas8888
A seasoned writer and professional photographer, Chris reviews cameras, headphones, smartphones, laptops, and lenses. Educated in Political Science and Linguistics, Chris can often be found building a robot army, snowboarding, or getting ink.
Checking our work.
Our team is here for one purpose: to help you buy the best stuff and love what you own. Our writers, editors, and lab technicians obsess over the products we cover to make sure you're confident and satisfied. Have a different opinion about something we recommend? Email us and we'll compare notes.
Shoot us an email