But, it's been out for nearly two years now. If we're to believe the hype, the wave of UHD/4K video is slowly cresting and poised to break. Building upon the strengths of the esteemed GH3, Panasonic's new Lumix GH4 (MSRP $1,699.99) ticks meaningful boxes on the video side of the fence, while remaining a competitive still shooter. Oh, and it shoots 4K.
While that's one heckuva feature for a compact camera, the GH4 is going up against tougher and tougher competition from companies like Blackmagic Design and Canon bringing very capable cameras down to lower prices. As a hybrid device, the GH4 will also go toe-to-toe with some great still-oriented cameras in the same price range. Its competition from the other side of the Micro Four Thirds fence is, of course, the Olympus OM-D E-M1—our best of year camera for 2013.
Luckily, though it may seem like the GH4 is biting off more than it can chew, Panasonic took a pragmatic approach. The camera's designers have fortified the GH4's video capabilities across the board while still finding time to sharpen up its still shooting skills. Add it all up and the 4K capability is only a small piece of what makes the GH4 so appealing.
The Panasonic Lumix GH4 is an incredible camera. Its 4K video is so good that it nearly maxed out our video resolution chart. Still photos are very good, but, fail to raise the bar set by the Olympus OM-D E-M1. That said, if video and stills are of equal concern to you, this may be the best hybrid option on the market. It has HD abilities that will satisfy current production needs, 4K video that will keep you future-proof for a few years at least, and still capabilities that certainly won't disappoint.
Let's not mince words here—you're not reading this review for our still results. Juicing up the already powerful GH3, Panasonic gave video quality a thorough upgrade. In fact, the GH4 nearly maxed out our video resolution chart in bright light—something we've never seen before from an off-the-shelf system camera.
The difference in detail between the 1080p and 4K footage is astounding. Even when looking at footage recorded with the more ordinary MP4 4K/30p recording mode, there was a lot to appreciate. We did notice that motion was a tiny bit jittery, and we saw some moiré pop up on a brick building when panning the camera. When paused, frames showed a photographic-level of detail—after all, each frame is essentially a compressed 8-megapixel image. It's not fair to HD how much more 4K provides.
With this mode enabled, we ran our standard sharpness tests. Like we mentioned above, the GH4 could very well be the sharpest video system camera we've ever tested, just by the virtue of its higher resolution footage. In bright light, we measured 975 lp/ph horizontal and 1100 lp/ph vertical. The GH4 also held onto detail incredibly well in our low-light resolution test, scoring 900 lp/ph horizontal and 940 lp/ph vertical. The most interesting thing that we noticed in this low-light 4K test is that the extra resolution made noise a bit more prominent. The bars on the resolution chart were more visibly softer and exhibited lower contrast, even though there was still separation of finer lines.
Using our standard, HD-based methodology, we came away impressed by the GH4's overall low-light abilities. This puppy only required 2 lux to produce an image at 50 IRE. While not as impressive as the night vision-like capabilities of the Nikon D4s, it's still quite a feat for such a small sensor.
If you want to read even more about the GH4's video performance and features, jump on over to our dedicated article on using the GH4 to shoot video.
The sweet feel of success
The GH4 represents an evolutionary step in the development of Panasonic's GH lineup, doing little to alter what worked so well in the GH3. Not only are the changes kept to a minimum, the body's dimensions haven't bulged a bit. The GH4 likely won't thrill those in the photography hobby who thrive on newness and "revolutionary" features. But, for videographers with thousands in rigs and equipment, it's a sign that the GH4 will integrate into their setup without a worry. It's a safe route—similar to the one that Adobe has adopted with its software. This don't-rock-the-boat outlook provides a stability that will keep existing customers happy while enticing more pros to hop aboard.
In the range of Micro Four Thirds cameras from Olympus and Panasonic, the GH4 is the chunkiest design of the lot. It's about as big as some compact DSLRs on the market today—sans mirror, of course. Its ample grip provides a little lip on the inside that makes it just that much easier to grab onto. A new, bigger mode dial is topped by a lock switch similar to that of the OM-D E-M1, a feature we're very fond of. And unlike the annoying locks on the Fujifilm X-T1, you can click the lock on or off depending on what you need.
We're fans of the GH4's easily reachable controls.
Other than that, the GH4 continues to offer up some of the best build quality we've seen from a pro-grade compact system camera. It's a solid number with weather sealing and a metal chassis. We're fans of the easily reachable controls, and the inclusion of a dedicated switch for focus mode that you can quickly move with your thumb. Twin control dials are handy and well-placed, if a little stiff to operate.
Our gripes are pretty minor, all things considered. The rear control wheel wades in a swath of rubber, making right and down directional presses annoyingly difficult to execute. We're also let down by the absence of twin SD card slots, something we could overlook on the Olympus top-tier entry, but, given the gargantuan size of 4K video files, is a no-brainer in the Panasonic. Finally, the handy-dandy eye sensor beneath the GH4's EVF is awfully sensitive, making shoot-from-the-hip photography with the GH4's articulated screen frustrating. If you pull the camera just a tad too close to your body, bam, the screen goes black and there goes your shot. Olympus rectified this in the OM-D E-M10, which shuts off the eye sensor when the screen is moved away from the camera's body.
Keeping up with the Joneses
With an eye towards improving on the successes of the GH3, Panasonic made some improvements that wouldn't be noticeable to the uninitiated. The awesome camcorder-style swiveling rear LCD is still based around OLED technology, but this time with a higher 1020k-dot resolution. The only qualm we have is that off-angle, the display takes on a slight blue cast, which, if you're like us, will make you think that the camera's white balance is off until you tilt the screen.
The EVF is another excellent panel, with no noticeable tearing or stutter. Colors are punchy, and while the layout isn't as innovative as what we saw in the Fujifilm X-T1 (which provides orientation-aware readouts and picture-in-picture for focus assist), it ranks among the best viewfinders we've seen recently for sharpness (it sports a 2360k-dot resolution and is OLED to boot) and refresh rate.
Even though video steals the spotlight from stills, the GH4 continues to offer more than enough features and performance for most shutterbugs. Burst mode has been increased, and we saw some incredible continuous JPEG numbers in our tests. The GH4 also includes a super-silent electronic shutter, which now has speeds to match the mechanical shutter—a feature that's unique to Panasonic's M43 offerings. The only downside is that for action shooting, the electronic shutter can exhibit unwanted rolling shutter effect like what you might see from a smartphone camera.
While the GH4's sensor isn't a huge, groundbreaking upgrade to what the GH3 came with, it does have an improved refresh rate, and a new quad-core Venus Engine processor powers the whole shebang. Sharpness aficionados will lament that the GH4's sensor still appears to have an AA filter built-in, bucking the recent trend of going filter-free. Undoubtedly, it's the only way to go with high resolution video and the requisite moiré that will crop up from time to time.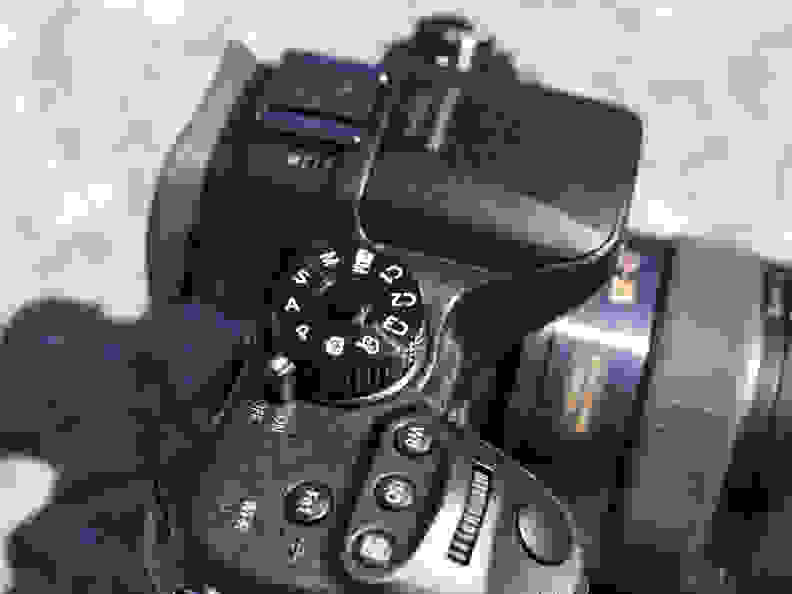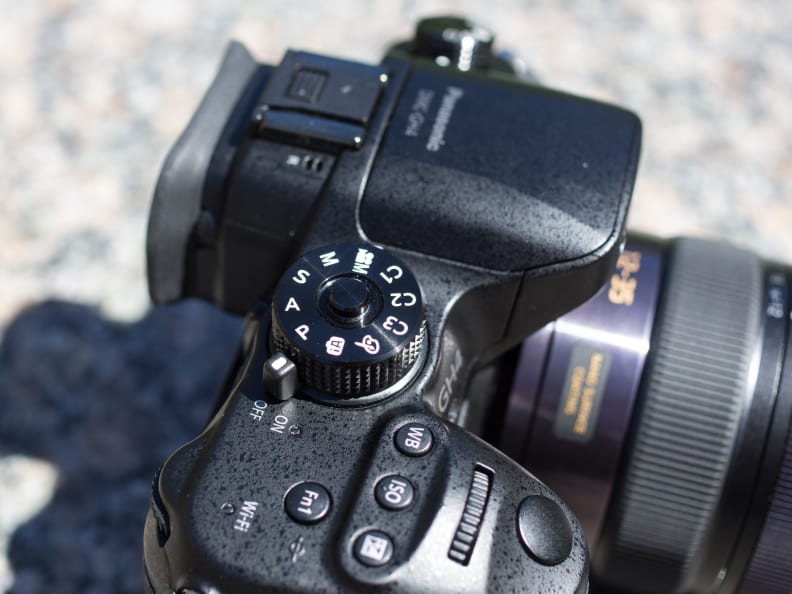 One upgrade we would have loved to see is the addition of phase detection pixels on the camera's sensor. This omission leaves the GH4 just a little bit behind Olympus's flagship, the OM-D E-M1 as far as focusing technology goes. That said, Panasonic's basically matched Olympus for autofocus on the whole, with the new software inside the GH4. Bokeh profiles (the camera knows what each lens looks like out of focus to speed up finding what you want to be in focus) and improved low light performance make the GH4 feel easily as snappy as the E-M1 in the field.
To appease the pros in the audience, Panasonic is offering a special breakout box of sorts, called the DMW-YAGH. It's not cheap at $1,997.95, but it lets you get external audio level controls, XLR inputs, a full-size HDMI, and HD-SDI on your GH4. Add this onto your GH4 and it suddenly looks a bit like a real studio camera, because it is.
We could go on and on about the GH4's WiFi, NFC, high capacity battery (500 shots by the CIPA standard test), focus peaking, and other great features, but suffice it to say that the GH4 comes pretty loaded. Whether you're a video shooter or take stills primarily, there's plenty to love here.
The GH4's 16-megapixel Micro Four Thirds sensor isn't the new kid on the block. In fact, our tests indicate that it's probably a close relative of the sensor that Panasonic put inside the GH3.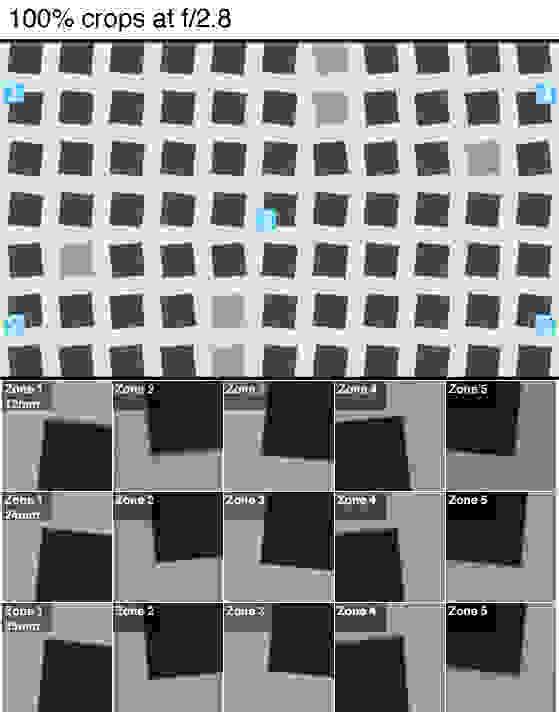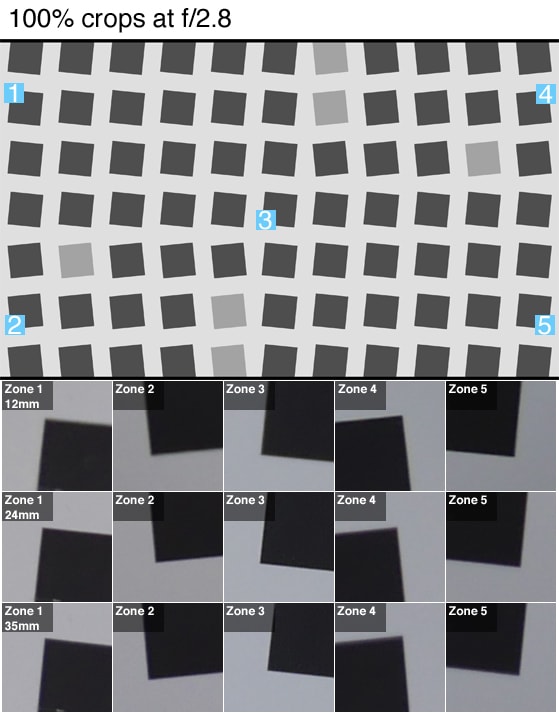 We tested the GH4 with Panasonic's Lumix 12-35mm f/2.8 constant, a nice little lens that's surprisingly compact. We used the same lens to test the GH3 when we reviewed it a few years back, so that we could better compare results. As it stands, the GH4 was equally sharp and you won't notice any appreciable difference. This lens continues to be one of the best zooms in the M43 system.
At its wide end, the 12-35mm sees some barrel distortion, while mid-way through its focal range it begins to exhibit some pincushion distortion. We saw the overall highest resolution numbers at full telephoto. Keep in mind that distortion numbers are relative since Micro Four Thirds cameras correct, even in RAW, for these issues based on lens profiles.
4K and more, all in one portable package.
Without a doubt, the GH4 exists to appeal to video shooters. While there have been some minor improvements for still photography, the biggest leaps are made on the video side of the equation. In movie terms, if the GH3 was Star Wars, then the GH4 is most definitely The Empire Strikes Back.
In movie terms, if the GH3 was _Star Wars_, then the GH4 is most definitely _The Empire Strikes Back_.
In-camera, 4K recording gets cranked down to 4:2:0 with 8-bit color in order to cram the footage onto an SD card without issue. In-camera, you can record 4K using MP4 at 60p and in MP4 (with LPCM audio) at both 30p and 24p—all at 100Mbps. HD video gets some much-appreciated lovin', too, with 200Mbps (All-I) as the top bit rate. When it's all said and done, you can eke tons of detail from the video shot with the GH4 whether you're shooting in 4K or one of those crazy high bit rate HD options. Though the downgrade in quality isn't ideal, it gives the GH4 a massive leg up on something like the Sony A7S, which requires an external recorder to pull in 4K video.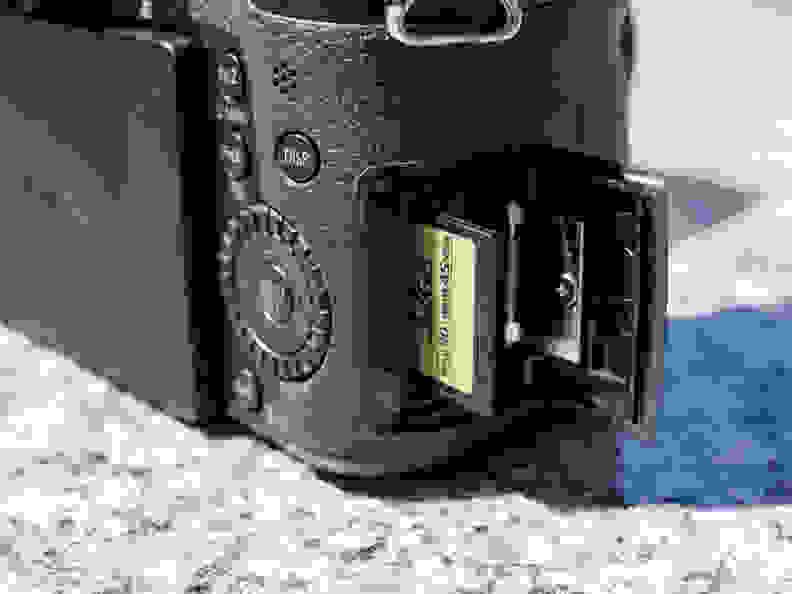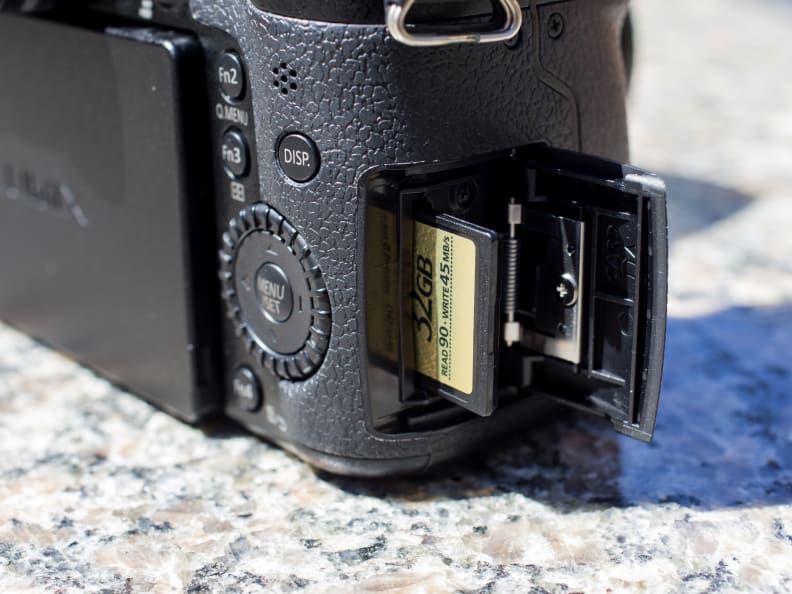 If you want to shoot 4K video with the GH4, you'll need a UHS speed class 3 SD card, otherwise your footage might suffer from stuttering and write errors, rendering it unusable for production use. We were worried that only Panasonic's cards would fit the bill to start with, but we're already seeing other UHS speed class 3 cards hitting the market, and there should be even more available by this summer.
Panasonic also added some missing but crucial features for hardcore cinema folks. The first hurdle for this segment of the market is the addition of optional sensitivity and shutter speed conversion to angle/ISO or seconds/dB. The GH4 also finally brings focus peaking into the mix, augmenting the GH3's already full-featured focus assist suite. Our only qualm is that the peaking seems to be a little less prominent than what we've seen on other cameras.
(Editor's Note: We don't have the space to go over everything the GH4's video modes have to offer here, but we're wrapping up our video analysis shortly. Stay tuned for a deep dive into what is undoubtedly the GH4's most important and interesting talent, which will be finished in the next few days.)
Our standard testing revealed that the mode called Natural, like on many other Panasonic M43 cameras, is the most accurate. In Natural mode, we measured a ∆C00 uncorrected saturation of 2.4, at a saturation of 99.00—pretty dead on.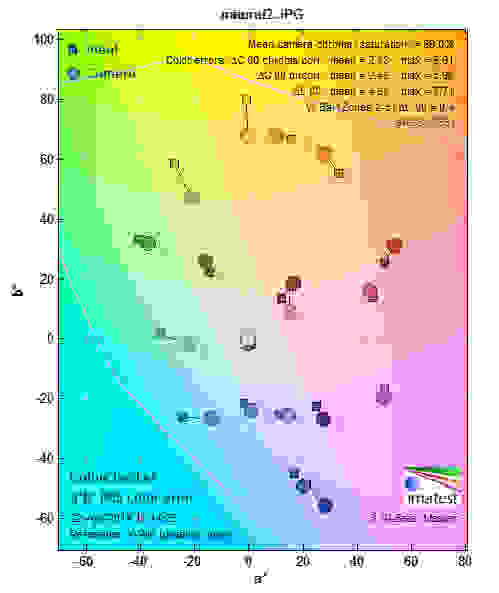 A key addition for cinema shooters is the Cinelike D shooting mode. It's a flat color profile designed for color grading as part of post processing, instead of looking great straight out of the camera. Both Cinelike D and Cinelike V are only available in the GH4's dedicated video mode on the mode dial.
As far as white balance goes, we saw average results from the GH4's auto white balance. Where the GH4 really kicked butt was in our manual white balance test, getting a typically excellent score, like many of the Panasonic cameras we've tested in the past year. Color temperature error was as low as 11 kelvins in the tough incandescent white balance scenario. This is great news for the cinematographers and DPs out there—you can rest assured that the white balance you set using the GH4's built-in system is going to be very accurate.
The best Lumix to date.
It's safe to say that, since the GH3 was no slouch, we were expecting the GH4 to deliver. But after running it through all of our performance tests, even we came away surprised. 4K video shot with the GH4 registers a crazy amount of detail, stills looks great, and it's a speedy continuous shooter to boot. The sensor is nice and sharp, produces pleasing colors, and provides lots of control over noise reduction. There's little doubt that this is the best that Panasonic has to offer, and there's no weak spots in the GH4's CV.
In our lab tests, we saw the level of performance we've seen from Micro Four Thirds as a whole system. Panasonic's cameras are almost as good as Olympus's at still photography, and the GH4 continues a legacy of finely-tuned manual white balance calibration out of the box. When shooting JPEGs, we were able to get over 11 fps continuously with exposure and focus locked in the first shot. In our time shooting with the camera, the autofocus system was lightning quick, though the lack of phase-detect AF may hinder low light action shooters.
For video buffs, the GH4's 4K capture is a marquee feature. While the 4K footage we captured in-house was only at the GH4's MP4-based 100Mbps/30p shooting mode, it didn't disappoint. We weren't thrilled with the way that motion turned out—likely due to our less-than-perfect way of playing back footage onto a 4K TV—but its sharpness when paused was unmatched. The GH4 nearly maxed out our video sharpness chart, pushing numbers as high as 1100 lp/ph in bright light.
Read more about our findings over on our Science and Testing page.
We were floored when using the GH4 to shoot a continuous burst of photos. Not only is its rate pretty quick, but a big cache lets you keep shooting...and shooting...and shooting. We clocked the GH4 at a max rate of almost 12 fps (11.94 fps, to be precise). Even when shooting in RAW, we were able to capture a whopping 40 frames with the GH4 until the rate slowed down to a little over 1 frame per second. With JPEG only, you'll net almost 80 shots. This thing is like a tiny gatling gun for continuous shooting, with speed that is easily on par with the Nikon D4. Of course, the sensor's lack of phase detection won't make it the best when you're trying to capture and track action.
The GH4 will keep the competition up at night.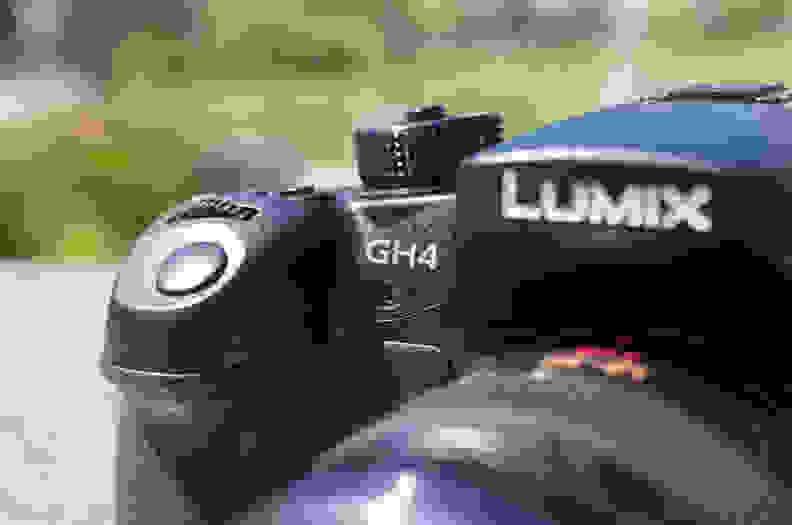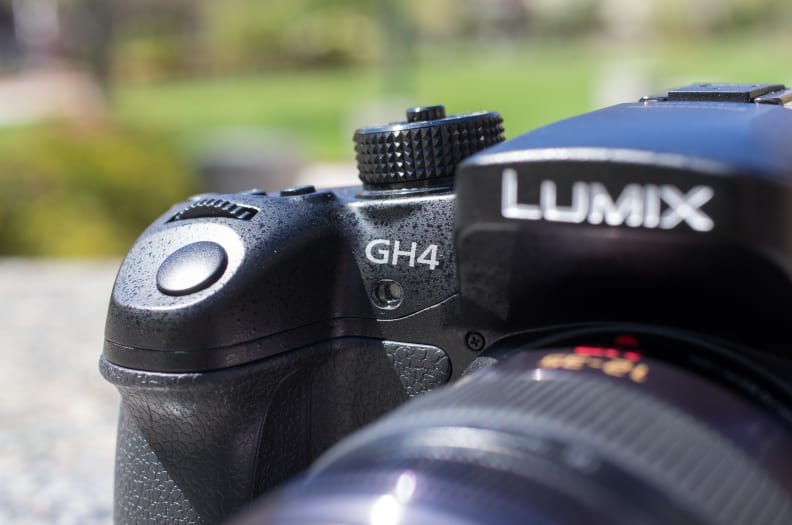 When Panasonic first showed us the GH3, they shared with us some feedback they had gotten from pro videographers who were using cameras like the GH2. They listed off a ton of features like zebra patterning, focus peaking, fast continuous shooting, 4K video capture, high bitrate HD shooting, and XLR audio input. The GH3 only had about half of those things, but Panasonic's engineers didn't seem disappointed they couldn't deliver everything in a single body. They seemed hungry to get the technology to the point where those things were possible.
Looking back, the GH3 now feels like a preamble to some greater ambition. If the GH3 was Panasonic gingerly dipping its Micro Four Thirds toes into pro video waters, the GH4 is a perfectly executed jackknife. Production houses and professional videographers alike are going to go bananas for this camera, and for good reason.
If the GH3 was Panasonic gingerly dipping its Micro Four Thirds toes into pro video waters, the GH4 is a perfectly executed jackknife.
If you're personally considering the GH4, you're probably not going in wanting it just for stills. Its appeal as a true hybrid device is undeniable, but, for it to be worth every penny of its $1,700 MSRP, you really need to care about its superlative video abilities. For people who primarily shoot stills, it's important that you understand exactly what the GH4 is and what it isn't.
Even though it sports heavily bolstered video skills, the GH4 isn't the best option if 90% of your time is spent taking still photos. Within its own system, we'd absolutely recommend the Olympus OM-D E-M1 over the GH4 if that's what your needs dictate. Body-only, you're going to spend less for a camera that remains the best Micro Four Thirds option for regular photographers. Panasonic came darn close with the GH4, but, we greatly prefer the OM-D's control scheme and additional features (like the on-chip phase detection AF) still make the E-M1 a star. It even works a bit better with adapted lenses, since Olympus puts image stabilization into its cameras' bodies instead of into lenses—every lens you attach gets comprehensive 5-axis protection from shake.
Sure, you can spend more money on any number of cinema-grade systems, but why would you when the GH4 is this good?
The value proposition is turned on its ear, however, when you start to compare the GH4 to professional video and cinema cameras. On its own, this new Lumix is a more capable, more impressive package than anything else for under $2,000. It's flexible, adaptable, and riggable to accomplish whatever you might need it to. Nothing else for the money offers such a well-thought-out feature set or a quality no-compromises interface. 4K might not be a game-changer (yet), but the fact that it's been shoehorned so successfully into this camera's packaging means that the GH4 rocks the competition when it comes to video. Sure, you can spend more money on any number of cinema-grade systems, but why would you when the GH4 is this good?
The GH4's range of ISO sensitivities is slightly enhanced from the range that Panasonic offered on the GH3. Base ISO remains 200 in still and video (there's a low 125 that's turned off by default), and Panasonic continues to offer up really excellent noise reduction control with 11 levels.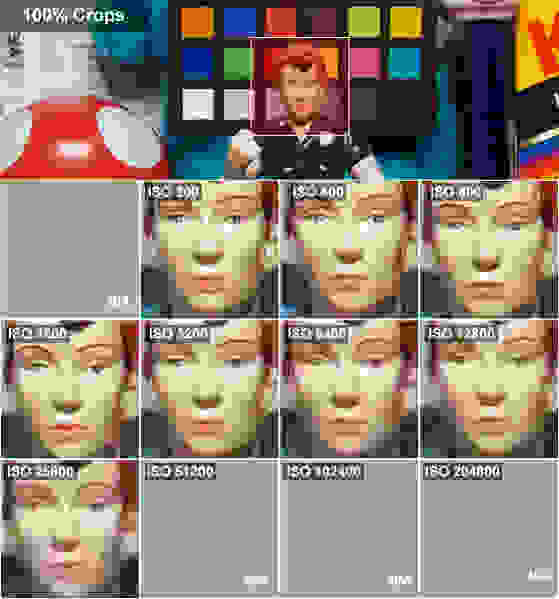 With that middle level active, JPEG noise reduction is applied aggressively, keeping the noise level quelled and under 2% until ISO 25600. Compare that to the lowest setting when 2% is reached earlier, with ISO 12800 reaching 2.3%. In reality, the GH4's higher ISOs stay about in line with other cameras with Micro Four Thirds cameras. With the default noise setting on, you can observe loss of detail starting around ISO 1600, with it reaching unacceptably ugly levels by ISO 6400. If you need low light capability, we recommend shooting in RAW and processing the files later on a computer.
Meet the tester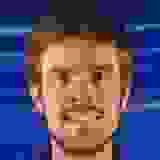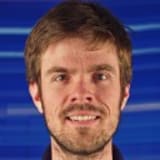 Brendan Nystedt
Contributor
@bnystedt
Brendan is originally from California. Prior to writing for Reviewed.com, he graduated from UC Santa Cruz and did IT support and wrote for a technology blog in the mythical Silicon Valley. Brendan enjoys history, Marx Brothers films, Vietnamese food, cars, and laughing loudly.
Checking our work.
Our team is here for one purpose: to help you buy the best stuff and love what you own. Our writers, editors, and lab technicians obsess over the products we cover to make sure you're confident and satisfied. Have a different opinion about something we recommend? Email us and we'll compare notes.
Shoot us an email