But that doesn't mean mirrorless manufacturers have forgotten their roots. Witness the new Panasonic Lumix GM1 (MSRP $749.99 w/ 12–32mm kit lens), the smallest M43 camera of all time, and a very close second to the oddball Pentax Q10 for the overall pint-size mirrorless prize. At just 98.5 x 54.9 x 30.4mm and 173g (or 274g fully kitted out), this is a camera you can easily toss in a jacket pocket, and its new kit lens is scaled to match.
What's more, the Lumix GM1 is priced and sized in a dead heat with the current king of fixed-lens compacts, the Sony Cyber-shot RX100 II. Given its larger sensor and ability to change lenses, the GM1 brings the very idea of a $750 point-and-shoot into question.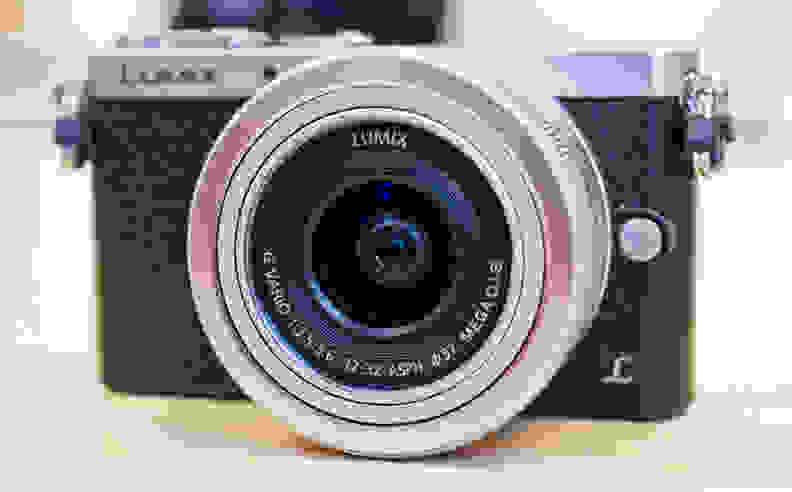 Honey, I shrunk the mirrorless!
So what's it like to use a camera this small? In a word: cramped.
The GM1 is remarkably sturdy, with construction quality that feels every bit the equal to the high-end Lumix GX7.
To be fair, this came as no surprise. We had the same experience with the Pentax Q10, along with virtually every subcompact camera we've ever used. But the GM1 has a big assist: Its high-quality capacitive touchscreen (3 inches, 1036k dots) in large part alleviates the frustration associated with the dinky scrollwheel/four-way pad. The four ancillary buttons (video recording, playback, trash/Q.Menu, and display) in the rear control cluster are annoyingly flat—a Panasonic trademark—but the rear thumb rest is surprisingly comfortable and spacious.
There's absolutely no ergonomic assistance around front, but the GM1 is so tiny and featherlight that you can still hold it pretty comfortably; we certainly never felt in danger of dropping it while shooting. If you're feeling a little less secure, you can pick up an optional machined aluminum grip (MSRP $99.99), which sends a slim bump of metal running up the front. It's not unlike the grip strip on the recent Nikon Coolpix A, and works just as well.
The camera itself is remarkably sturdy, with construction quality that feels every bit the equal to the high-end Lumix GX7. Panasonic reps told us the GM1 uses a magnesium alloy shell, but the camera's small size allows it to forego the aluminum die-cast chassis found in the flagship. It definitely felt rigid enough to us.
Aesthetically, we have no complaints. The GM1 looks like a cross between the GX7 and Fujifilm's XF1 compact: all silver metal and grippy black leatherette. Buyers in the US will have only a silver-and-black color option at launch, though we hear an all-black version is likely to follow soon after. Residents of Europe and Asia get another two options—white and orange—that add a bit of fashionista style to an otherwise routine (if still attractive) retro look.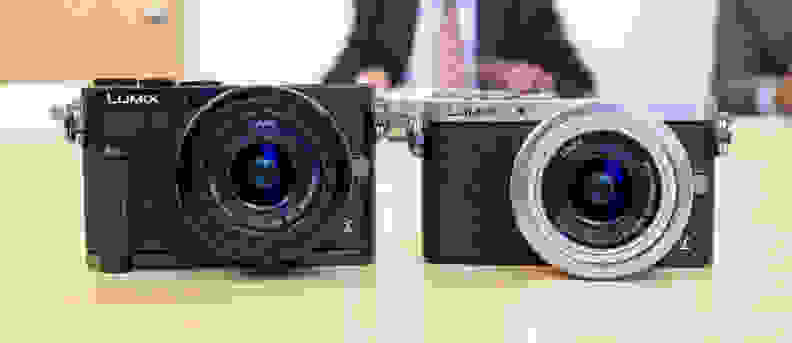 With the 12–32mm f/3.5–5.6 lens attached, the GM1 is extremely well balanced. The kit lens is roughly the same size as the Panasonic 14mm f/2.5 or 20mm f/1.7 lenses when collapsed, so this camera should work well with them, too. On the other hand, the GM1 is small and light enough that pairing it with any moderately large M43 lens (such as the Olympus 75mm f/1.8 prime or Panasonic 12–35mm f/2.8 zoom) will create a serious weight imbalance. This is definitely a camera that you'll need to hold by the lens, rather than the body, when using bigger glass.
It's also worth mentioning that the kit lens doesn't include a focus ring—a corner Panasonic had to cut in order to reduce its size. That means manual focusing has to be accomplished using the touchscreen, which actually works surprisingly well.
The touch interface includes a virtual rocker switch that controls the speed of the manual focusing action, and you can take advantage of both picture-in-picture focus magnification and focus peaking.
It's no concern for GM1 buyers, but owners of older, non-touchscreen Panasonic cameras should be aware that their cameras don't have these assists. If you've got a GF1 and want to upgrade to this shiny new kit lens, you'll only be able to use autofocus (barring future firmware updates).
A pared-down feature set to go with a pared-down form factor
Though it's nearly half the size, the Lumix GM1 inherits key features that helped make the GX7 one of the best cameras we've seen this year. Most importantly, it picks up Panasonic's newest 16-megapixel CMOS sensor, meaning it should produce virtually identical image quality to the company's flagship at a 25% discount.
On the other hand, many of the GX7's headline features fell by the wayside during the GM1's aggressive weight-loss campaign. Left behind are the tilt screen, in-body image stabilization, an array of customizable function buttons, NFC connectivity, and the tilting EVF. In fact, there's no viewfinder whatsoever, and no option to add one since the GM1 is devoid of a hot shoe.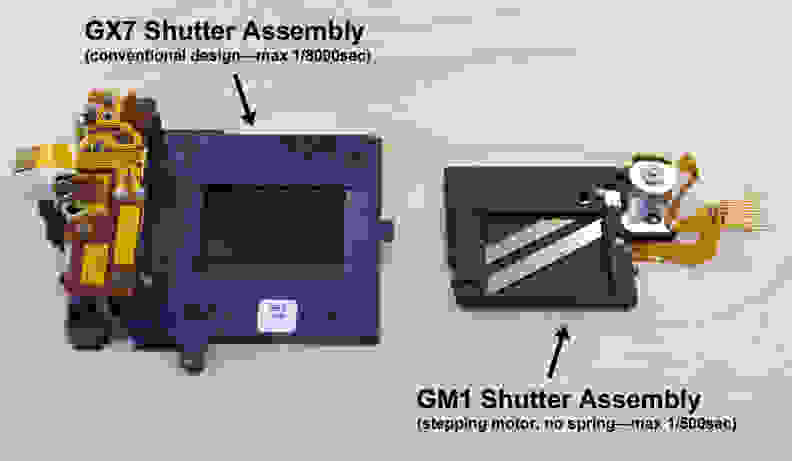 A few other hardware sacrifices had to be made to cut the GM1 down to size. Notably, the shutter mechanism has been completely redesigned with a stepping motor rather than the traditional spring-driven configuration. The new shutter mechanism is incredibly small, but has one big side effect: the GM1's top mechanical shutter speed is just 1/500sec, compared to the blindingly quick 1/8000sec possible with the GX7. That would normally be a problem for bright-light shooters, but the GM1 also offers a 1/16000sec electronic shutter. The electronic shutter is also used in the GM1's silent mode, which lets you shoot incognito in noise-restricted environments.
Generally speaking, the GM1 is a surprisingly speedy camera—more than powerful enough to blaze through menus, image review, and JPEG processing.
Generally speaking, the GM1 is a surprisingly speedy camera—more than powerful enough to blaze through menus, image review, and JPEG processing. Autofocus with the 12–32mm kit lens was quick and responsive, though a lack of phase-detect pixels on the sensor means the GM1 probably won't be the best camera for capturing fast-moving action. WiFi capability means you can use your smartphone or tablet as a remote viewfinder, among other functions. We've been critical of the Lumix Link app in the past, but it's improved with every revision and Panasonic seems genuinely interested in competing with Sony and Samsung in the smart device game.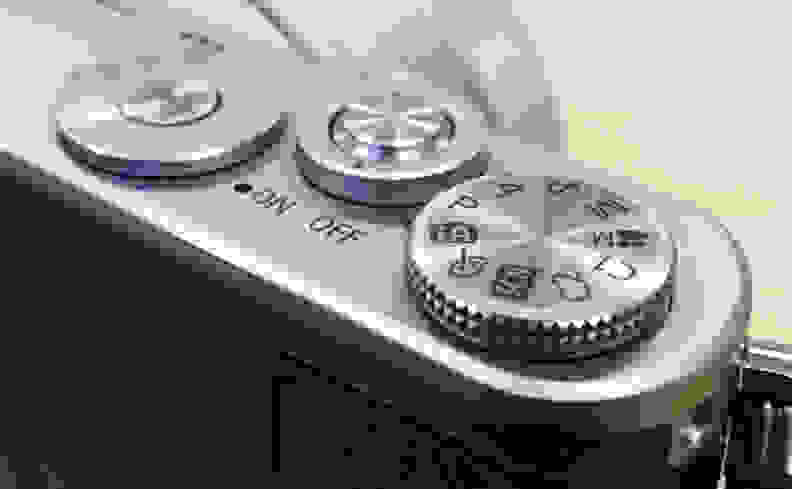 Panasonic has always put a lot of effort into video, and the GM1 appears to be no exception. This camera is only capable of recording 1080/30p or 60i—slightly short of the GX7's 1080/60p—but you get full manual control over recording parameters. As you'd expect on a camera this small, there's no mic or headphone jack, and thus there's a shortage of audio options. Still, we expect you'll be able to get some very good-looking clips out of the GM1.
There are a total of 22 Art Filters included with the GM1, and 18 of those can be used when recording movies. Among them are three monochrome modes, including the "Rough Monochrome" filter introduced with the GX7. Those who prefer to shoot RAW will probably be pleased to hear that Panasonic is bundling the GM1 with a new version of SilkyPix (4.1SE) that supposedly renders the camera's RAW shots with far less chroma (color) noise than the previous version. There's no word on whether the same processing algorithms will be shared with Adobe for use in Lightroom.
A deathblow for advanced compacts?
There's no doubt that Panasonic is gunning for the RX100 II and its advanced compact ilk with the new Lumix GM1. Here we have a camera that—on paper, at least—seems capable of doing everything Sony's point-and-shoot champ can do and more, at exactly the same price. With its larger sensor and interchangeable lens mount, the GM1 is all but guaranteed to produce superior image quality, and its advanced controls (including a useful touchscreen) should make it more attractive to shooters looking to up their game.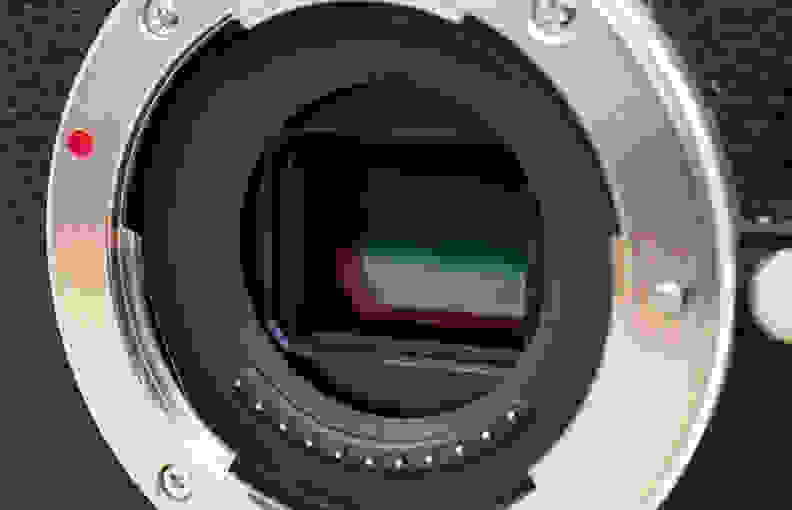 It's also, remarkably, even smaller than the RX100 II in some dimensions, though that small advantage goes away as soon as you replace the super-slim kit lens. It would be a stretch to call the GM1 pocketable in the same way Sony's compact is—even with the crazy small 12–32mm mounted. You'd certainly have trouble fitting it in your jeans, but it's an impressively small package nonetheless—perfect as a constant companion in your purse or messenger bag. We're somewhat skeptical of using an M43 camera this tiny for more serious shoots, but for casual snapshots the ergonomic design should be just as effective as any compact, if not more so.
Here we have a camera that can do everything Sony's point-and-shoot champ can do and more, at exactly the same price.
Ultimately, the GM1 is yet another sign of the squeeze ongoing in the worldwide camera industry. With large-sensor ILCs now routinely hitting and even crossing the $500 barrier, and smartphone cameras increasing in quality with each generation, well... small-sensor compacts are looking more and more like cornered rats. Where can they go? What can they do?
For the user who wants high image quality in a go-anywhere form factor, the Lumix GM1 looks to be a great option—easily a better choice than the RX100 II and a tough rival for the OG RX100. We're really excited about the new 12–32mm kit lens, too, which looks to be both the smallest and best-performing consumer zoom in the M43 standard. We should have the GM1 in our labs soon, so stay tuned for full lab results and impressions from the field.
Meet the tester Ben Keough
Contributor
@ben_keough
Ben is an experienced industry journalist who formerly served as Senior Editor of News and Features at Reviewed. He now contributes as a freelance writer and editor. Most recently hailing from the vast wilds of the American southwest, he is an avid photographer who is deeply disturbed by the lack of wide open landscapes in Boston.
Checking our work.
We use standardized and scientific testing methods to scrutinize every product and provide you with objectively accurate results. If you've found different results in your own research, email us and we'll compare notes. If it looks substantial, we'll gladly re-test a product to try and reproduce these results. After all, peer reviews are a critical part of any scientific process.
Shoot us an email