Enter the GM1's new sibling: the Panasonic Lumix GM5 (MSRP $899 with 12-32mm kit lens). How do you improve on tiny camera perfection? By adding an electronic viewfinder, of course.
Though it lacks some high-level features, the GM5 fits in perfectly with those who want all the benefits of a fully-loaded system camera, but in a lilliputian package. However, with the release of Panasonic's own advanced point and shoot—the LX100—you'll have some decisions to make. Both are small, both cost $900, and both pack a full-size punch in a fun-size package. Decisions, decisions...
Design & Handling
Diminutive dynamo
The compact system camera is a constantly evolving Wild West—the land without mirrors is uncharted territory, rife with competing systems and form factors. While there's no clear "perfect" body for everyone, Panasonic is doing its best to capture both enthusiasts and novices with the GM5's combo of size and function.
To that end, it's no surprise that Panasonic would want to build on the achievements showcased on the GM1. The GM5 brings a slightly larger (but still absurdly tiny) body that's no bigger than a deck of cards, all the while offering the ability to swap lenses with its Micro Four Thirds mount. A 16 megapixel sensor paired with the 12-32mm f/3.5-5.6 kit lens makes for a solid camera, especially when you consider that it's backed up by great shooting features like focus peaking, silent shooting, and RAW burst modes.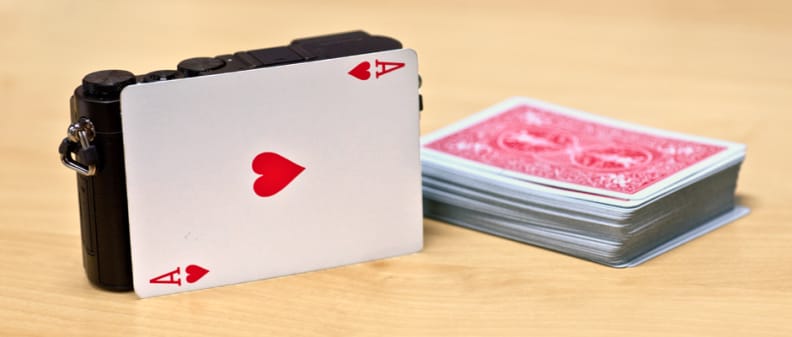 Where the GM5's predecessor used only a rear display for framing shots and navigating menus, the GM5 itself can use either a 1,166K dot electronic viewfinder, or its 921k dot LCD with capacitive touchscreen. For the the pro looking for a walkaround body, the GM5's viewfinder is the star of the show here. Though you can always swap between using the LCD and the EVF to your preference, you may find yourself sticking with the viewfinder for added stability when shooting—or when you're in brighter lighting conditions. While we found the quality of the tiny display in the viewfinder a little lacking, it's more than good enough for a camera this tiny.
Controls are more thorough here than they were on the GM1, and it's a welcome change. While there's more than enough in the way of physical buttons and shooting modes to handle the demands of most casual users, pros will lean heavily on a dedicated control wheel on the back of the camera. Considering the camera's size, it's extremely impressive how well Panasonic handled the layout of buttons and dials. Though it's a bit cramped back there, you never really feel like you're missing out.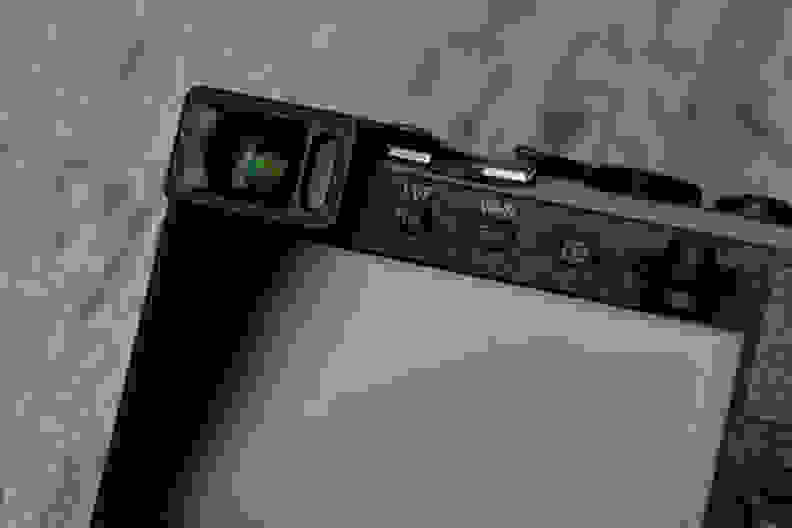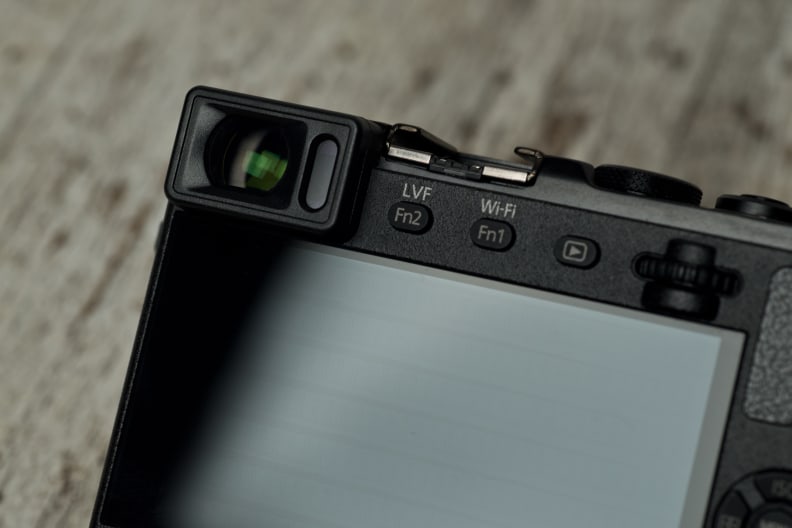 If you're like most people, and stick with the kit lens, you'll be able to shove the GM5 in a jacket pocket no sweat—and start snapping whenever the mood or moment strikes. Despite its slight size increase over the GM1, it's still only a shade more bulky than a Sony RX100 III—you should have no trouble porting this camera around without the need for an extra bag. This is still a novel concept for system cameras, and to be honest: It's a great feeling to know that the tiny camera in your pocket is good enough to give you the results you want.
Features
Have dials, will travel.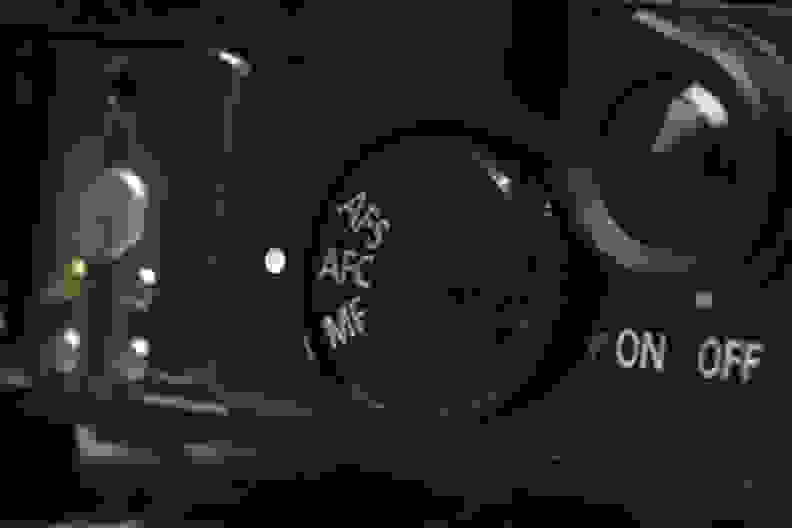 While outward appearances would suggest a more consumer-oriented camera, the GM5 will give you substantial control over your shots. From photo filters to manual controls, there's something for pros and new shooters alike.
That being said, many of the physical dials and knobs can be daunting for anyone coming from a point and shoot. Most might not know why they should swap autofocus modes with the dial on the top, nor would many feel the need to fiddle with the expanded sensitivity settings that allow you to shoot up to ISO 25,600. That's really fine, and the camera doesn't punish you for being a novice. Nor does it cramp the style of more experienced shooters.
To that end, Panasonic gave the GM5 a hot shoe on the top of the camera. Though many might bemoan the lack of an internal flash, it's not as much of a hindrance as you might think. Even if you never use it, it's nice to have the option of using external accessories like a more substantial flash, LED array, or microphone to up your game.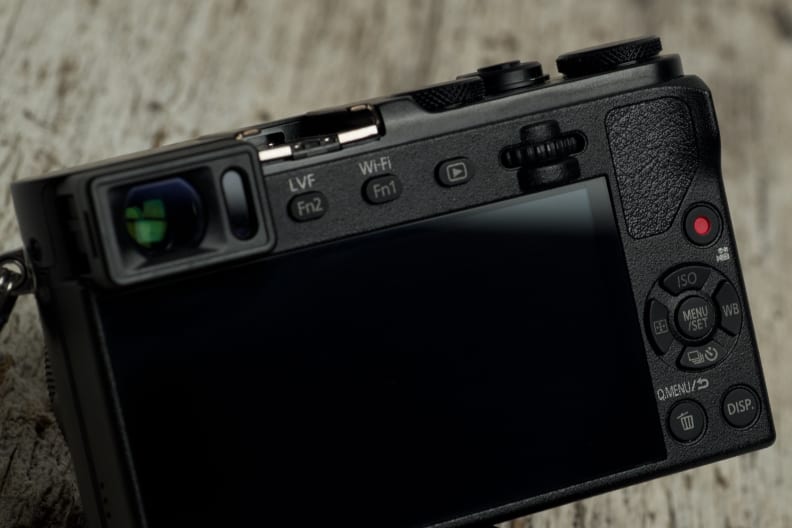 Like a high-end point-and-shoot, the GM5 has onboard WiFi to share with your mobile device—and from there to social media if you want. If VSCO or Instagram don't quite do it for you, Panasonic threw in a bunch of filter options for you to play with as well. Faux tilt-shift effects, selective color, and a slew of other unique photo editing options aren't exactly low-key filters, but they're fun anyways.
Panasonic's Image App has a little more up its sleeve than simple image sharing. You can also use the app to make your smartphone a remote with live view. This is perfect for taking group shots without futzing with a timer or other contraption. The app could use a little more love in the coding department, but it doesn't take that long to set up.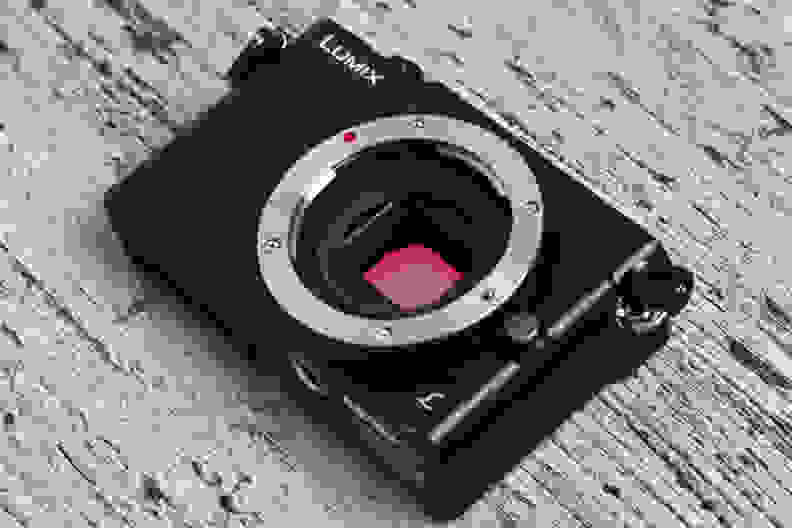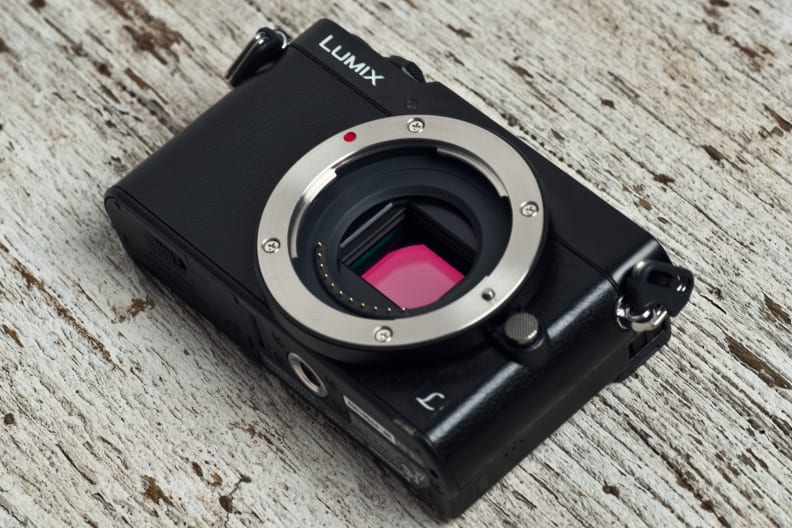 I will say, though, that this may not be the best option for videographers. While the GM5 is perfectly capable of handling full HD video, it can't shoot 4K like the LX100 can. Value shoppers won't see the issue right now, but look at it this way: 4K is the future, and even if you don't need it right now it's a feature that'll keep your camera current for the next few years. Your current TV can most likely only display 1080p content, and the GM5 handles that resolution beautifully.
Performance
Panasonic's Pocket powerhouse
Continuing the tradition of the Micro Four Thirds pocket camera, the GM5 boasts some impressive performance results. At the end of the day, this is a camera with enough power behind it to go toe-to-toe with some of the better Micro Four Thirds cameras out there. Though a full frame camera will eat the GM5's lunch, you'd be surprised at the images this little guy can churn out.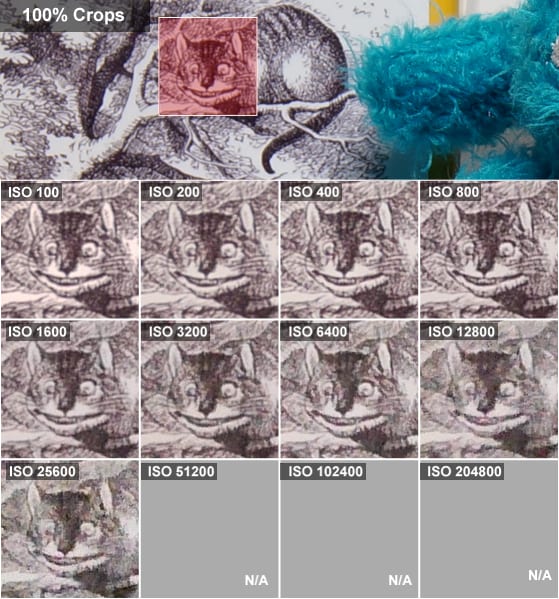 First off, the 16 megapixel sensor of the GM5 is the same hardware found in the higher-end Panasonic GX7, so we had a relative picture of what we could expect from the new camera. Like the GX7, the GM5's color is insanely accurate, and the 12-32mm kit lens is just as tack-sharp as it was on the GM1. Even the noise levels are kept in check, with the noise reduction keeping grain to a minimum while maintaining an acceptable level of detail loss.
Autofocus speeds aren't all that great, but burst shooting is fantastic. In our labs, JPEG only shooting topped 40 frames per second with the electronic shutter enabled. This is great for capturing action and other fast-paced events—though you'll probably want to grab a new lens if you want to take this puppy out to the soccer pitch or football field. Micro Four Thirds has a slew of affordable options to choose from, including many compact designs that fit well on the GM5.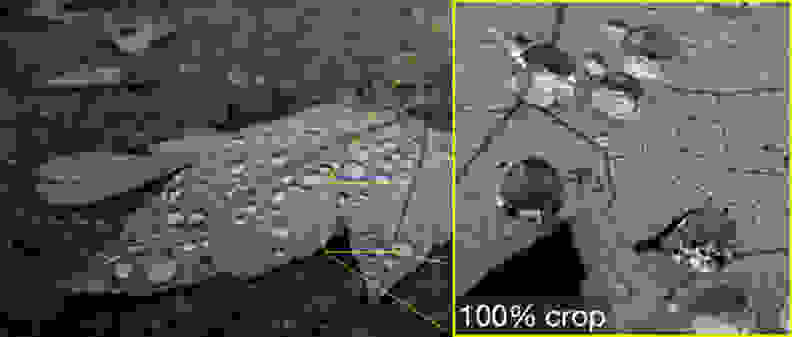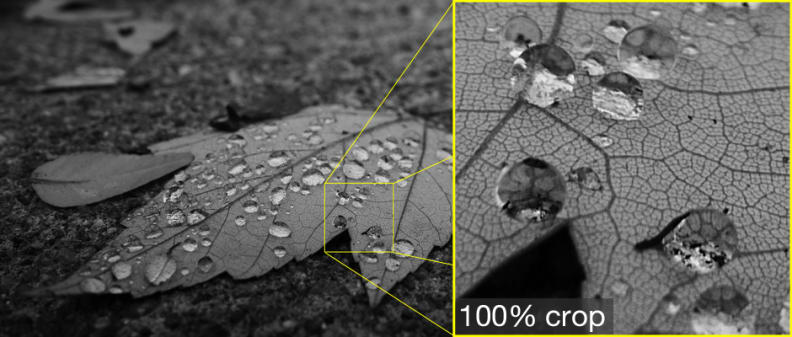 Shooting video at full HD is a treat, as the GM5 is able to function acceptably well in low light—which is a marked improvement from its predecessor. It captures respectably solid AVCHD video in bright light, and subjects in motion are well-handled. As it is with stills, the video churned out by the GM5 is acceptably sharp, despite not having the fancy new UHD shooting resolutions.
Conclusion
A compelling option in a crowded category
Panasonic is reaching deep with its latest designs, and for the most part the Lumix lineup has gotten it right. It seems like the promise of Micro Four Thirds is best fulfilled with small, powerful cameras, and the GM5 is the ultimate in a line of Panasonic cameras to fit that description.
The GM5 will make someone looking for a tiny system camera very happy, and it's far more capable than you'd expect for a camera that size
Obviously, this camera isn't a professional tool, nor is it the best camera ever made. However, this fills a rather attractive role: a camera with the same guts as a higher-end mirrorless camera in a package that can go just about anywhere. It'll be an enormous step up from point and shoots for casual users—and even satisfy the camera nerds of the family while out on vacation.
That being said, there's an interesting dilemma for those considering the GM5: Why not grab the excellent Panasonic LX100 instead? Considering the GM5's high-end point-and-shoot brother is the same price with similar guts (it sports a Micro Four Thirds sensor) and a super-nice fixed lens attached, you might find your eyes wandering a bit if you're not sold on an interchangeable lens option. The LX100 also offers 4K video, higher-quality viewfinder, and a much more extensive set of controls than the GM5. Pros looking for a compact camera body may elect to opt for the LX100 over the GM5 simply to avoid carrying lenses around with them.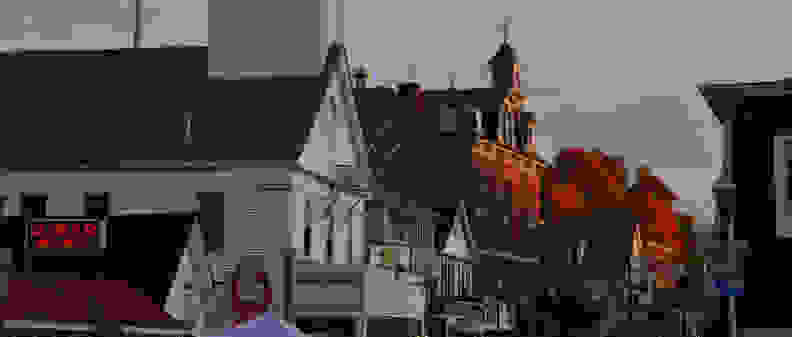 If you're looking to spend a bit less, you'll have to compromise quite a bit. Getting more pro style controls like what you'd find on the Olympus E-M10, or even picking up a more affordable option like the aging Panasonic GX7 means losing out on a super-svelte device. Though both of those options will set you back a couple C-notes less than a brand-new GM5, the value of such a small camera might be worth it to frequent travelers. If you're not willing to sacrifice size, but don't care so much about the viewfinder, your best bet is grabbing a Panasonic GM1 while they're still available.
At the end of the day, we've laid all the cards out on the table for you to make the right decision for yourself. The GM5 will make someone looking for a tiny system camera very happy, and it's far more capable than you'd expect for a camera that size. You might be able to score a deal on a GM1 while they're still around if you want a small camera (and don't care about the expanded controls). Otherwise, you're going to have to trade performance for size (or vice-versa) if you decide the GM5 isn't for you.
By the Numbers
We once categorized the GM5's predecessor, the GM1, as the Manny Pacquiáo of Micro Four Thirds. Performancewise, not much has really changed here.
The GM5 is equally as impressive, and it seems like the biggest differences here are largely design and featuresets rather than performance. Really, it's quite impressive that you can squeeze so much performance out of it—size considered, anyway.
Sharpness
Panasonic was smart not to mess with a good thing, and the 12-35mm kit lens offered with the GM5 is tack sharp. It's really tough to find any real sticking points while using this lens, but pixel peepers might be able to spot some minor corner sharpness problems as well as the smallest amounts of chromatic aberration.
Really, the only thing that might become an issue is noticeable barrel distortion when you shoot at full wide. To be honest, it's not horrible—you just get a little bit of fish-eye effect in shots where your subject is close-up. If you're shooting landscapes, this won't be an issue.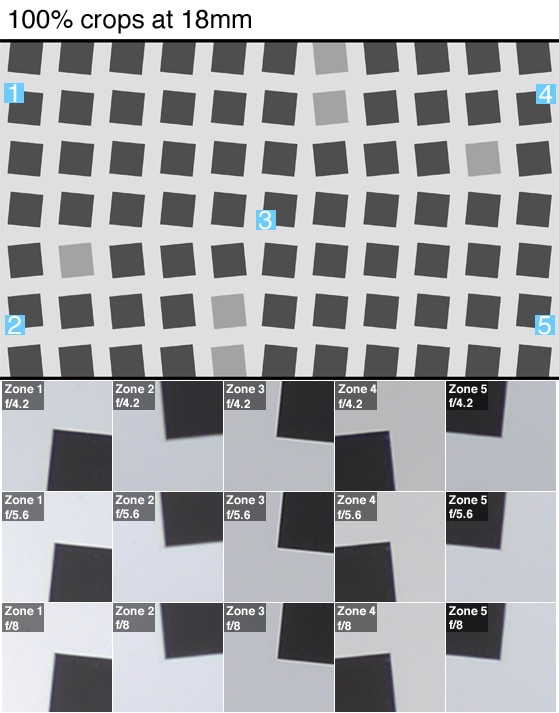 The rest of the news is pretty decent. The lens/sensor duo is capable of resolving over 2433 line-widths per height in still images, and that's fantastic for a camera; nevermind one so small. This result is only partially due to decent optics, however—the camera does have a knack for oversharpening if you let it. Again, it's an issue that isn't very noticeable unless you go hunting, but you might notice the odd halo or two in high-contrast situations.
Color & White Balance
Yowza. Though we typically look for a ∆C 00 saturation error of about 2 to call a camera's performance "great," the GM5 clocked a color error of 1.68 in its standard profile. That's crazy-good; everything is right where it should be.
I will point out that if you're looking for more pop to your photos, you may want to choose a different color profile, as the standard one only saturates colors to about 97.5% of what they should be. Close to perfect, but even mild oversaturation isn't enough to really liven up shots.
White balance on the GM5—like it was with the GM1—is fantastic. Though the auto setting struggles with incandescent light, in virtually every other lighting condition you can expect an error below 300 kelvin.
The GM5 clocked a color error of 1.68 in its standard profile. That's crazy-good; everything is right where it should be.
It's when you take a custom white balance reading that the GM5 truly shines. In our labs, the GM5 was able to peg a white balance error of under 35 kelvin in any lighting condition. That's insane. Rest assured if you take manual readings before shooting, you'll be able to get shots as accurate as humanly possible.
Noise
If you're not a fan of noise in your snaps, you'll be a fan of the GM5. Though its default noise reduction algorithm is a bit aggressive, the tiny camera does keep its junk data in check.
This is a big plus if you're prone to shooting in higher ISO settings. Because the GM5 can take snaps at ISO 25,600, you may notice junk data seeping its way in dark shots when you leave auto ISO on. Thankfully, noise doesn't show up in an amount over 2% until you hit ISO 12,800; a great result.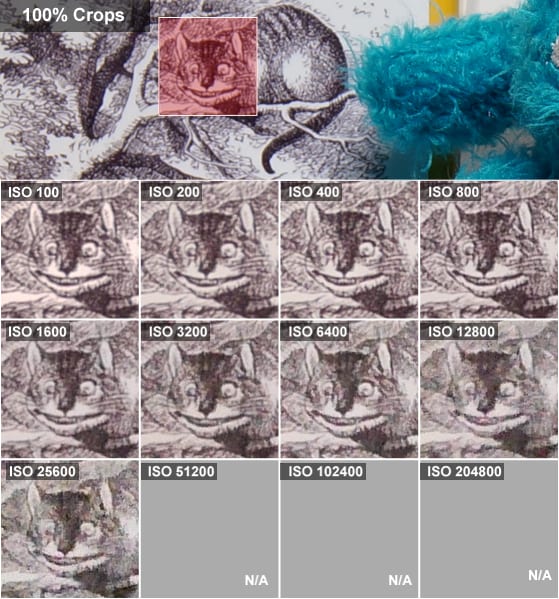 Fine detail isn't a casualty due to the noise reduction settings like it is on most cameras. If you shoot in a higher ISO and you absolutely need to pick out tiny lines in the background, you'll be surprised at how well the camera can hold onto these miniscule details.
Video
Topping out at 1080p/60p AVCHD, the GM5 offers decent video options for the casual videographer. Maxing out its settings results in clean, smooth cinematics—but 4K aficionados are out of luck.
There aren't really any trailing or artifacting issues visible, and frequency interference is kept to an impressive minimum
There aren't really any trailing or artifacting issues visible, and frequency interference is kept to an impressive minimum. Moiré isn't something you'll really have to worry about so much, but it is present with things like porch screening. No camera really does well with this, so it's hard to criticize too sharply here.
For the rest of us, the GM5 handles HD video very well. Not only does it resolve 650 LP/PH in bright light motion, but it manages to hang onto 575 LP/PH in low light (60 lux). That's startlingly good for low-light performance, and definitely will help you get through birthday parties and the like. Just be sure not to venture into environments darker than 5.5 lux—as that's the minimum level of light necessary to maintain a 50 IRE image.
Meet the tester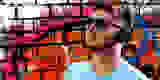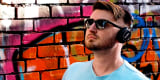 Chris Thomas
Staff Writer, Imaging
@cthomas8888
A seasoned writer and professional photographer, Chris reviews cameras, headphones, smartphones, laptops, and lenses. Educated in Political Science and Linguistics, Chris can often be found building a robot army, snowboarding, or getting ink.
Checking our work.
Our team is here for one purpose: to help you buy the best stuff and love what you own. Our writers, editors, and lab technicians obsess over the products we cover to make sure you're confident and satisfied. Have a different opinion about something we recommend? Email us and we'll compare notes.
Shoot us an email