The TS3 was released in March 2011 and is available in orange, silver, blue, and red shades at an MSRP of $399, though street prices are about $100 cheaper.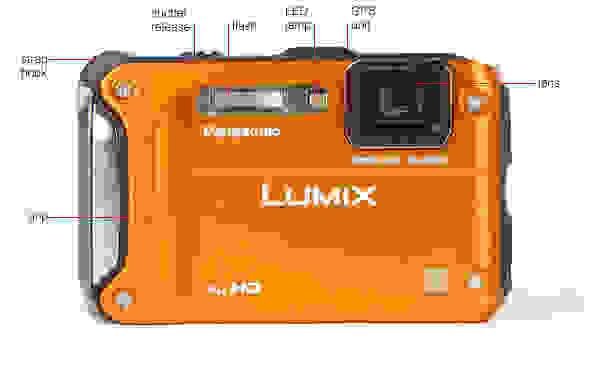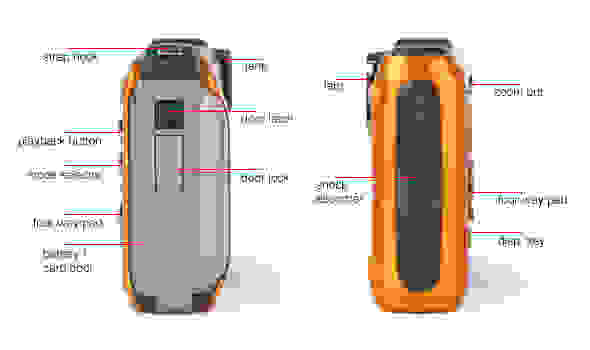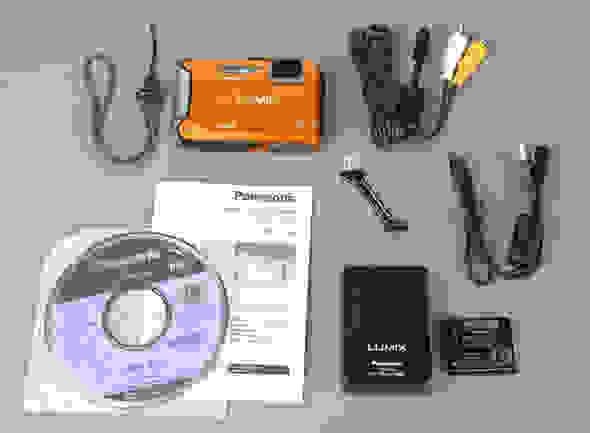 • Panasonic Lumix DMC-TS3 waterproof digital camera

• rechargeable lithium-ion battery (DMW-BCF10PP)
• battery charger (DE-A59)

• wrist strap

• micro-USB cable

• component cable

• cleaning brush

• quick-start manual

• CD-ROM with software and owner's manual
The TS3 scored just about average marks in our color accuracy tests. We measured saturation at 91.64% and the best color error result we achieved was 3.11. Both are respectable figures among point-and-shoots in general, though the TS3 has some "tougher" competition in the rugged-cam category. More on how we test color.
Middle-of-the-road scores lead to a middle-of-the-road finish In our tough-cam comparison group. The Pentax WG-1 is the clear color-accuracy champ—it's one of the most color-accurate fixed-lens cameras, period, so that's a high-standard to match. Panasonic's previous tough guy, the TS2 from 2010, was somewhat more color accurate than the new kid, but by a slimmer margin. The TS3 does outperform the Sony TX10 by a small margin, and stomps the older-generation models in our database, including the Canon D10 and Casio G1.
The TS3 offers seven different color modes. Natural scored the most accurate results in our tests, with a minimum color error of 3.11 and 91.64% saturation, so we used it for the rest of our samples and lab work. Standard mode was a close second, at 3.17 and 103.4%, respectively. Vivid mode shoots striking, super-saturated pictures, though a bit more garish than similar modes on most cameras. B&W and Sepia modes offer no surprises. Cool and Warm emphasize blues and reds, respectively.
The TS3 performed well in our noise tests, out-shooting most of the tough cameras we've tested. It showed an average of just 1.03% noise across all ISO sensitivities and lighting conditions. In the most taxing scenario—dim lighting at the top ISO sensitivity—the TS3 still only showed 1.65% noise. Those are impressive results.
It does look like the TS3 applies a liberal dose of noise reduction, even toward the bottom end of the ISO range. The result is a general softness and an occasional loss of fine detail in photos, but it only becomes obvious at ISO 1600, the top full-resolution setting. It's more of an aesthetic quality than a problem, and shots up through ISO 800 are crisp and good-looking. More on how we test noise.
Surprising nobody, the TS3 takes cleaner shots in bright light than in low light. In our 3000 lux test (the bright one), the TS3 averaged just 0.93% noise in its shots across the ISO range, rising steadily from 0.61% at ISO 100 and maxing out at 1.43% at ISO 1600.
It struggled more in our 60 lux test (the dim one), showing 0.92% at the base ISO setting. The results dropped to 0.81% at ISO 200—a giveaway that some software-based noise correction went to work—then increased to 1.62% at ISO 1600. That's still pretty good coming from a point-and-shoot.
Compared to the rest of the tough-guy cameras that we've tested, the TS3 scored very well. It handily out-classes the Pentax WG-1 and edges out its predecessor, the TS2. Check out the ISO comparisons below: The TS3's shots are brighter, cleaner, and more vibrant its competitors'. The Sony TX10, however, is the obvious winner in this comparison group, with very low noise levels.
The TS3 offers full-resolution ISO settings from 100 through 1600, which is fairly conservative by this year's point-and-shoot standards, but a wise move for a camera with a CCD sensor. The ISO range actually extends up through 6400 in the High Sensitivity scene mode, but at reduced resolution. It meters the scene and selects a sensitivity between 1600 and 6400, with no user control over the setting. It isn't an obvious menu choice, and the results are sloppy, so it should remain an afterthought.
NOTE: The images above are not used in our testing or scoring, but are included here to show real-world examples of the differences between cameras at the various ISO settings.
The TS3 did not perform particularly well in our resolution tests. It finished behind all of its tough-guy rivals in all of the relevant sub-categories, but what shocked us the most was how short in came up compared to its predecessor, the TS2. Both seem to use the same lens, which leads us to believe that the TS3's new sensor might be the root of the problem: Panasonic dropped the pixel count down to 12.1 from 14.1 megapixels, and swapped a regular CCD for the new Hi-Speed CCD. Those are significant changes, though it's a shame to see such a big step backward in the test scores—especially since the TS3's shots actually look pretty good overall. More on how we test resolution.
Distortion ()
Distortion is the least of the TS3's resolution worries, though it still finishes at the back of our test group. It showed about 1.3% barrel distortion at the wide angle, evens out to basically nothing in the middle of the focal range, then pincushions by about 1% at the telephoto end of the range. All of those scores are solid (especially in the middle of the focal range), and most users would be hard-pressed to spot any real problems.
Sharpness ()
Sharpness (or a lack thereof) is the TS3's biggest shortcoming. It's totally outclassed by all of the other comparison models, including its predecessor. Check out the crops in the chart below: None are really sharp, and some—especially at the telephoto end of the focal range—are downright fuzzy.
It appears to be a combination of factors that cause the TS3 to come up so far behind its rivals. The blurry telephoto results drag down the overall score quite a bit, though the wide-angle and mid-range crops are still just average at best. It has a lower pixel count (12.1 megapixels) than any of the comparison cameras (14 to 16 megapixels), which might also account for a few points off the score. And it applies very conservative artificial pixel sharpening to its shots. That doesn't help its empirical score in our tests, but it also subdues the halo effect that we see along, say, the Sony TX10's borders. So while we'd certainly like to see a (much) higher sharpness score, it's not a total wash. It's also possible that the manufacturing process for the lens changed between the TS2 and TS3, which could account for a huge difference in performance.
Chromatic Aberration ()
Chromatic aberration results are mediocre and worse than the rest of the test group's. Blue fringing is visible in many of our test crops, though it isn't too heinous.
Typical of the class, the TS3 shoots exclusively in JPEG format, at either Normal or Fine compression levels. It offers a handful of common aspect ratios—4:3, 16:9, 3:2, and 1:1—each at several sizes. This is as much choice as we'd typically see in a point-and-shoot, so the TS3 earns good marks here.
The TS3 is equipped with optical image stabilization, and it's an effective system: Shots showed about a 52% improvement with IS turned on. More on how we test image stabilization.
It isn't as effective as the steadying systems in the TX5 or WG-1, but it's a close match. (The TX10's stabilization is always on, so we don't have an "off" mode to compare it to. According to the way that we test point-and-shoots, we can't award the TX10 any points in this category—which is a shame, since we're confident that it would've performed quite well.)
We're living in good times when a compact camera shoots full HD video, yet its movie mode is just "solid." A few years ago, that was a luxury item. Now its expected. In that regard, the TS3 comes with the decent video mode that we now expect from this class. It shoots sharp, clear 1080i AVCHD-format HD video. Optical zoom quick, accurate autofocus are both available while rolling. Even the in-camera editing suite is pretty good. Mono-only audio and a 30-minute time limit per video knock it back a couple notches, however. It can't stand alone as a camcorder, but as an extra feature, it's hard to find fault with the TS3's movie mode.
Video color is a bit flat, but acceptable for a point-and-shoot. The Pentax WG-1 is the clear winner in this category, though the TS3 is more accurate than either the Sony TX10 or its predecessor, the Panasonic TS2. More on how we test video color.
The TS3 resolved 550 lw/ph horizontally and vertically in our test, which puts it in a tie for sharpest videos in the tough-cam class, alongside the TX10. More on how we test video sharpness.
Consider it a compliment when we say that the TS3's playback mode stays out of its own way. It's easy to navigate through photos and delete the bad ones, hopefully more than one at a time. That's how most folks use playback mode, so if you've accomplished that, you've made most people happy, and the TS3 should make most people happy in that regard. On top of that, it also offers the little things that tie a playback mode together, like plenty on-screen info, playback zoom, filtered playback options, and a slideshow mode. Of all the tough-cams in this test group, the TS3 earned the best Playback score.
In-camera editing is much more stripped-down, however. Only cropping, re-sizing, and video trimming are available. Special effects and color correction might sound superfluous, but plenty of other models go the extra mile. The Pentax WG-1, for example, has one of the most highly developed in-camera editing suites we've ever seen on a point-and-shoot. A deal-breaker for the TS3? Definitely not, but it never hurts to throw some fun features into the mix.
The TS3 has no viewfinder, optical or electronic, so all the framing and playback happens on the 2.7-inch, 230,000-pixel LCD. That's a low-end screen, so shots look a bit grainy in preview and playback. It's disheartening to see such an obvious cost-cutting measure like that on a $399 camera. But the refresh rate is decent, and the screen bright enough to see in some sun. It looks pretty good underwater, too.
It looks like nothing special, but the TS3's flash is effective from as far as 18 feet away. It's well placed too, toward the top and center of the front panel, which should keep it clear of any stray fingers.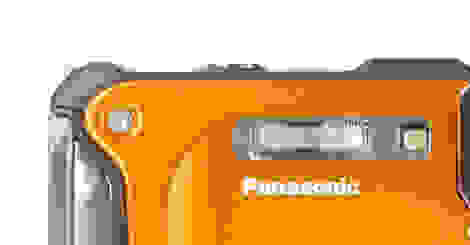 A Leica-branded DC Vario-Elmar lens sits on the top-right of the front panel. It sports a 4.9-22.8mm (28-128mm equivalent) focal range and f/3.3-5.9 maximum aperture range. It's an internal lens, so it never just out from the body, and there's no lens "cover" so to speak, aside from the fixed piece of glass on the front of the enclosure.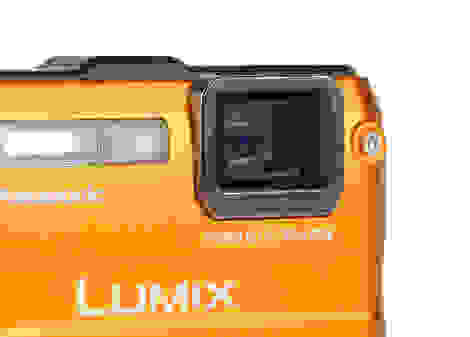 The 4.6x optical zoom range is a bit better than average for a tough-cam. The range extends to 6x with Intelligent Zoom activated (not shown in the examples below).
The TS3 runs on a DMW-BCF10PP rechargeable lithium-ion battery. It lasts for about 300 shots with GPS turned off, and about 240 with GPS turned on. It charges in a separate wall charger.
The TS3 supports SD, SDHC, and SDXC media cards, just like the vast majority of digital cameras.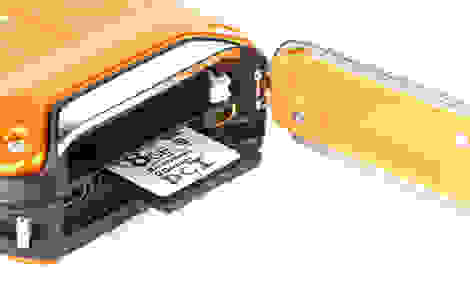 Two ports cover all the functions. One accepts micro-USB cables and component cables (both of which ship with the TS3). The other is a micro-HDMI port. The TS3 does not ship with that cord, but it's available for just a few dollars at most major electronics retailers.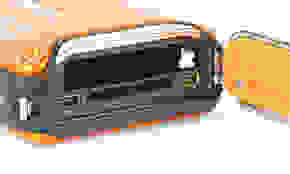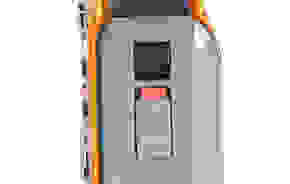 GPS
The TS3 has a built-in GPS unit for geotagging photos. Panasonic has had a few years of experience with in-camera GPS and it shows. This is one of the most mature implementations we've seen in a camera so far. It tracks latitude, longitude, and altitude, and can detect most cities, counties, and states as well as some landmarks. But Panasonic still hasn't been able to solve the big problem with in-camera GPS: It doesn't really work in cities. Even in moderately crowded urban areas, it can't find a signal. Once it locks in, it usually holds, but that first sync-up pretty much has to happen in an open, unobstructed area.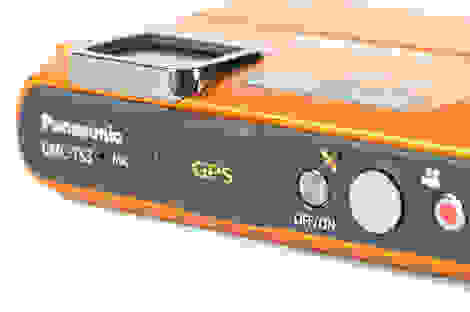 Durability
The TS3's key feature, of course, is its tank-like chassis. (Otherwise it's just a decent point-and-shoot with an inflated price tag.) It's the among the toughest of the tough-cams, able to withstand a fall from 6.6 feet, temperatures as low as 14 degrees Fahrenheit, depths of 40 feet below water, and lens-crippling grains of dust and sand. Most users probably don't need quite that much protection—the slightly less-rugged Sony TX10 would probably suffice—but there's no kill like overkill, so the TS3 gets extra points for being extra macho.
A word to the wise: These rugged cameras still have weaknesses. The main one with the Panasonic TS2 was that water tended to leak into the lens enclosure. It drained out, as it was designed to do, but the lens fogged up while the water was inside. We're not sure what issues the TS3 will encounter, if any, but make sure to follow Panasonic's instructions for care.
The TS3 has five shooting modes, including an auto mode (Intelligent Auto), scene modes, video mode, 3D capture mode, and a program auto-exposure mode (called Normal Picture in the menu), which we used for almost all of our testing.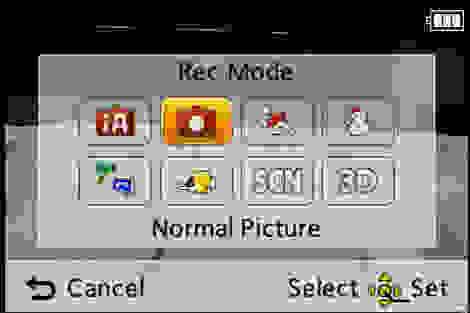 Scene Modes
By our count, the TS3 offers 21 scene modes (we count some settings as effects rather than scene modes). Some of the modes are throwaways, but at least a few of them are genuinely useful. Most of the common options are available, including Portrait, Scenery, Panorama Assist, and Pet. There are two Baby modes—users can assign a name and age to each (one per kid, we suppose), and it'll tag the shots for easier sorting. Since the TS3 is marketed as a rough-and-tumble, adventure-ready model, modes like Sports, Snow, Beach & Snorkeling, and Underwater get obvious call-outs in navigation system. The most helpful settings are those that expand the TS3's base-level abilities. High Sensitivity boosts the ISO range, Starry Sky expands the available shutter speed to 1 minute, and Handheld Night Shot combines a few images to reduce blurriness.
Like any point-and-shoot worthy of shelf space at Target or Wal-mart, the TS3 offers a small handful of picture effects, though they're pretty weak compared to what some of its rivals offer. Pin Hole is the most interesting, washing out colors and blurring corners and edges for a retro look. Film Grain is really just another black-and-white mode. High Dynamic is supposed to resemble high dynamic range (HDR) photography, which stacks multiple exposures to create a rich, almost surreal image. This bargain-bin version just super-saturates colors and keeps the shutter open for too long. Transform is an even bigger waste of time. It cuts the resolution and stretches or squishes the shot horizontally. It's like a carnival fun-house mirror, without the fun part.
The TS3 is geared for mostly automatic operation, which is what we expect from a camera like this. In program mode, it allows user control over settings like white balance, ISO sensitivity, and exposure compensation, but it does not have aperture or shutter priority modes.
While the TS3 has no full-resolution continuous drive mode to speak of, it can churn out a respectable 2.4 frames per second over 7 frames. That isn't nearly as fast as what cameras with CMOS sensors (like the Sony TX10) can achieve, but it is considerably faster than most CCD-based camers, like the Pentax WG-1.
Shot to Shot ()
Panasonic advertises a 3.7fps burst rate, though the fastest that we could achieve was closer to 2.4 shots per second. Though it's short of the promised rate, it's still quite good for a point-and-shoot.
The TS3's bulky profile lends itself to better handling than most undersized point-and-shoots. Panasonic also added a modest grip to the front panel—a notable improvement over last year's TS2—and a small nub to the top-right corner, both of which add a little leverage for easier handling.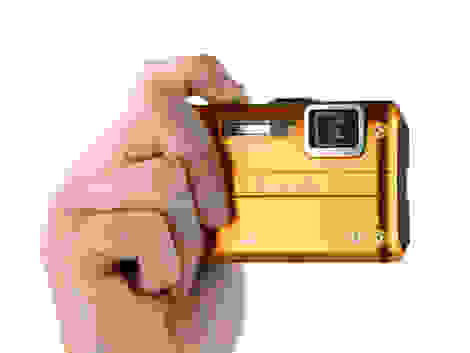 Even so, the TS3 is still svelte enough to fit into a jacket pocket. It's a bit more than an inch thick, and it feels substantial in-hand, but it's designed just like a point-and-shoot with a little something extra to hold on to.
Aside from a slightly soft response, we can't find much reason to complain about the TS3's button layout. The keys are laid out well, and give an obvious tactile feedback. The rubber sealing behind the buttons makes them feel a bit mushy, particularly the shutter release, but that's a small sacrifice to make for such a substantial waterproof rating.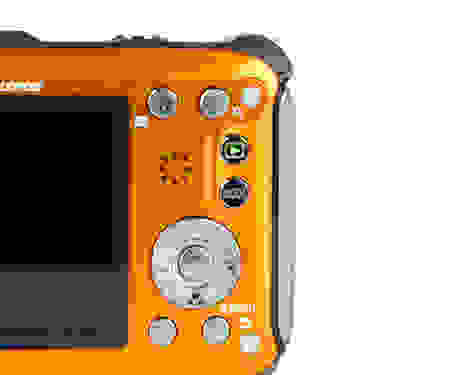 The TS3 has stand-alone keys for zooming in and zooming out, rather than an all-in-one zoom tilter. That's another understandable by-product of the waterproofing.
The menu system is easy to navigate and the organization makes sense—totally fine, in other words. The one-touch Q. Menu brings up the most common settings without leaving preview mode, while the more robust Rec. menu isn't buried too deep in the interface. It's also helpful that Panasonic kept the still photo, video, GPS, setup, and playback menus all separate, rather than combining them into a pages-long labyrinth of options you'll never use. The graphics could use some sprucing up, but that's a minor quibble.
The quick start manual is only somewhat helpful. Anyone who has every used a digital camera won't get much out of it, though it does contain some important care directions. The TS3's software disc contains a much more detailed user manual in PDF format.
The Sony TX10 is awfully sleek and slim for a rugged shooter. It's body can't stand quite as much abuse as the Panasonic TS3, but it's very sturdy for such a style-conscious ultracompact. It takes clearer and sharper pictures than the TS3, too. Both tough-cams show almost equal color accuracy, but the TX10 outperforms its blockier rival in terms of noise and especially resolution. Thanks to its backlit CMOS sensor, the TX10 is also much faster, clocking in at 10 frames per second in burst mode.
The downside is that the TX10 is almost too slick. The small, thin body makes handling difficult, and its touchscreen interface is more trouble than it's worth. Not to mention, a camera's LCD is usually the most fragile part of the body—tough cameras are going to get roughed up, so it's risky to tie the control scheme to the component that's most likely to break.
Based on points, the TX10 comes out ahead of the TS3 by a notable margin (though the gap would be even wider if we had been able to judge the TX10's stabilization system). But these cameras are different enough that they could appeal to different groups of users. The TX10 looks fun, and the TS3 looks serious. The TX10 takes better pictures, and the TS3 takes more abuse. Take your pick. For what it's worth, we'll take the TX10.
The Pentax WG-1 performed like a champ in our lab tests, earning the best score of any rugged cam we've reviewed so far. It comes up behind the TS3 in a few hot-button categories—noise performance, video mode, and burst speed—but otherwise, the WG-1 is the better option.
It can withstand the same shocks, temperatures, and dust particles as the TS3, almost as much water (33 feet rather than 40 feet), and boasts an extra crushproof rating of 220 pounds (even at a shade under 200 pounds, we don't feel confident enough to step on the TS3 and find out the hard way that, no, it's really not crushproof). Not only does the WG-1 out-tough the TS3, it also takes sharper, more color-accurate photos. It's also worth noting that Pentax also sells a WG-1 with built-in GPS, so geotagging enthusiasts need not worry.
The TS3 earned a higher score in our tests than the older TS2. That makes it a better camera, at least by our definition. But in this case, it's not better because of its image quality. The TS2 took much sharper and more color-accurate shots than its successor, and they were only barely noisier.
Even so, the TS3 wins our assessment because it has a slew of new features, most of which are welcome additions to the design. It adds a bunch of extra shooting modes, increases the burst rate, shoots higher-resolution video, adds some durability and packs in GPS. Its photos are still generally good (just fuzzy), and overall, it feels more refined than its predecessor—as it should.
Panasonic has had a few years of experience in the tough-cam market. The TS1 was tough for the sake of being tough, almost like a test run for Panasonic to prove to themselves that they could put a decent adventure camera together. The TS2 actually took good photos, one of the first tough-cams to pull off that feat.
The third-generation TS3 shows a level of refinement that its predecessors did not. The user experience is more fully developed, The body has been subtly redesigned for better handling, yet it's still as tough as they come and small enough to carry in a pocket. Thanks to a fast new sensor, it can crank out a few shots per second and record full HD video—two hot-button specs that look impressive on the display sheet and actually help in real shooting situations. It even offers extra shooting modes and picture effects.
It's just a shame that this hard camera takes such soft shots. Colors are accurate and noise is well controlled, but fine details are nowhere near as sharp as they are coming out of the Pentax WG-1, Sony TX10, or even its own predecessor, the TS2. The TS3 still takes great shots for sharing online, or even for making small or medium prints. But the TX10 and WG-1 can take shots ready for large prints, too, and looking at the big picture, the TS3 doesn't offer any other significant advantages over either of those cameras. It'll still make a solid addition to any hiker's day pack, but in most circumstances, we'd choose the Pentax WG-1 or Sony TX10 instead.
Meet the tester
Liam F McCabe
Managing Editor, News & Features
@liamfmccabe
Liam manages features and news coverage for Reviewed.com. Formerly the editor of the DigitalAdvisor network, he's covered cameras, TVs, personal electronics, and (recently) appliances. He's a native Bostonian and has played in metal bands you've never heard of.
Checking our work.
Our team is here for one purpose: to help you buy the best stuff and love what you own. Our writers, editors, and lab technicians obsess over the products we cover to make sure you're confident and satisfied. Have a different opinion about something we recommend? Email us and we'll compare notes.
Shoot us an email