But despite what seems like a drastic overhaul, the Pentax K-S1 (MSRP $599.95) is actually quite boring, doing little to actually separate itself from the field.. The entry-level APS-C camera crowd is super-competitive, and a new look might not be enough to woo you. Mirrorless options abound, and many of the advantages of a DSLR—no matter how light—are lost in this category.
Is giving an entry-level DSLR a fresh coat of paint enough to capture new buyers? It's tough to say. It'll certainly get their attention, but without the things that made previous Pentax DSLRs such hidden gems, we're not sure it'll keep them.
Design & Handling
Fresh paint, new control scheme... lights?
I've got to admit, the K-S1 isn't like any Pentax I've seen before. Equal parts K-50, K-1, and USS NC-1701, the Pentax K-S1 brings a fresh new look to the entry-level DSLR. But on a deeper level, it operates like any other DSLR.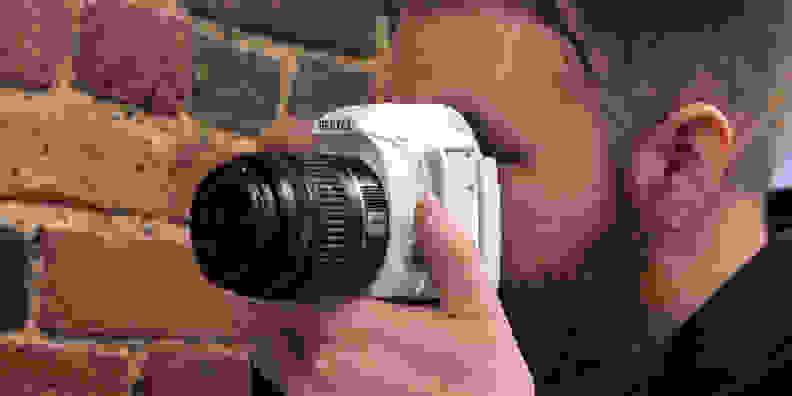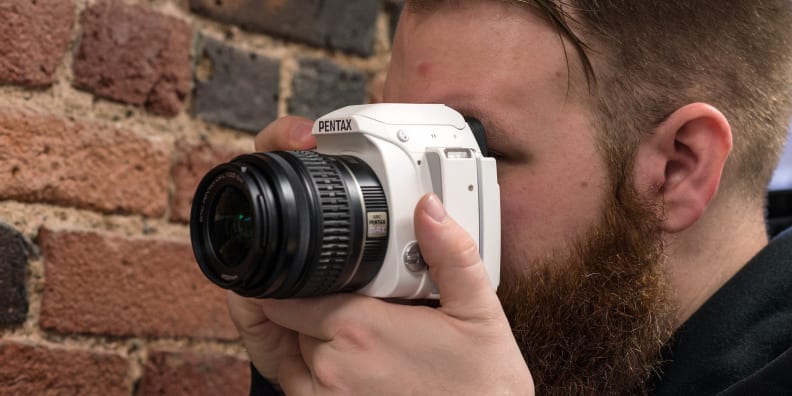 First off, it seems like Pentax did everything humanly possible to emulate the goals of the Canon Rebel SL1, cutting down the size and weight to improve portability. DSLRs are typically bulky and cumbersome, and often a non-starter for someone looking for a portable camera. The explosion of mirrorless camera models have filled this niche nicely, and systems like Micro Four Thirds have capitalized on this. Pentax has done a good job cutting off weight, but the shaved-down grip doesn't really give you much to latch onto. If you've got sweaty hands, the lack of rough-textured rubber is definitely not confidence-inspiring.
The reason why the K-S1 is still larger than mirrorless competitors is the viewfinder. An optical viewfinder with 100% coverage and .95x magnification on a camera this small is increasingly rare, but this is one of the better ones. It's more solid than the aforementioned Canon SL1's glass, offering more frame coverage and a better diopter adjustment. It's a bit dim, but that can be improved with better lenses.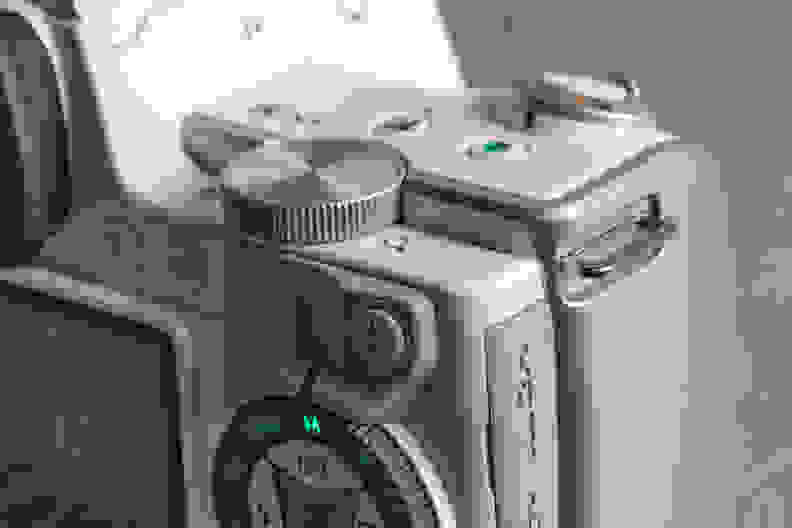 As we noted in our first impressions review, many of the changes on the K-S1 aren't all that radical—even if it looks that way. For example, the addition of lights all over the body all serve some function, though they're generally minor. Really, the biggest departures from conventional Pentax design found on the body are the lack of weather sealing, and the rear-mounted mode dial. Instead of chilling out on the top of the camera like it does on most every other DSLR, the mode dial encircles the rear control pad, neatly binning all of your most common controls in one small area.
It's quite strange that the K-S1 eschews what makes a Pentax a Pentax in search of a new audience. Features like weather sealing and the comfortable grips are really the meat and potatoes of any other Pentax DSLR, and neither are found on this camera. While Ricoh addressed this slightly with the release of the K-S2, the K-S1 is an uncomfortable departure from the traditional Pentax design. It's all sparkle and no soul for Pentaxians.
The lights on the back don't serve much function, but when you move to the shutter release/power switch lights serve as helpful indicators. For example, when you turn the camera on, a green glow emanates from the ring surrounding the button while taking stills, with a red one when you're in movie mode. There are more of these on the front: on the grip there's a set of five LEDs that serve as a visual guide for timer countdowns. Say what you want about them, they're useful—and fun—for family portraits.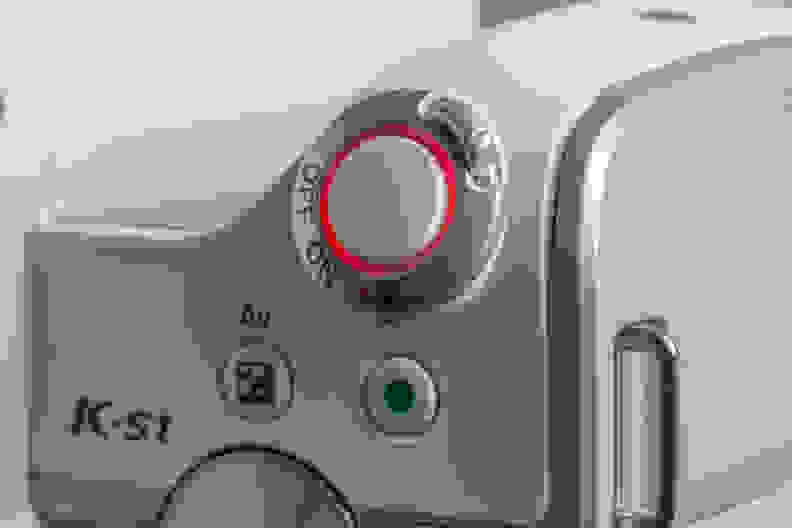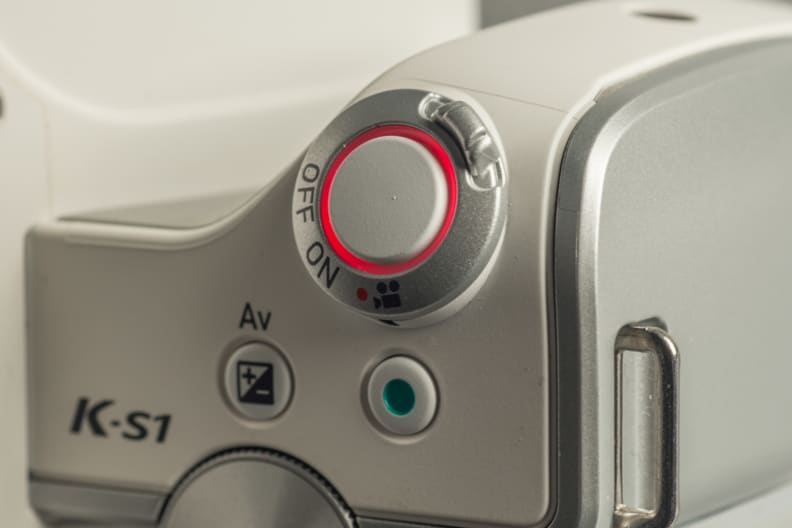 As for the rest of the K-S1's controls, they're just about the same as they are on any other Pentax DSLR, with the exception of one less control wheel. Instead, the camera uses only one control wheel with a toggle to switch back and forth between controlling the shutter speed and aperture.
Features
Surprisingly boring
As adventurous as the K-S1 seems on the outside, under the hood is a relatively standard 20.1-megapixel sensor courtesy of Sony, alongside Pentax's brand-new Prime MII processor. Pentax has gone the extra mile, removing the AA filter and adding sensor-shift moiré correction and stabilization. As a result, photos are a bit sharper, but have reduced pattern interference.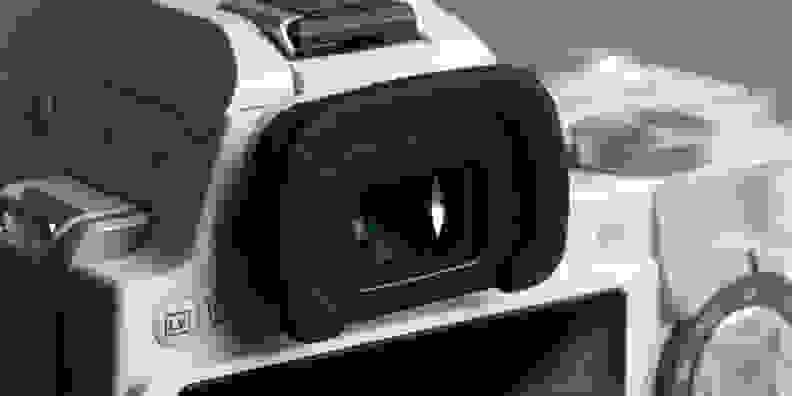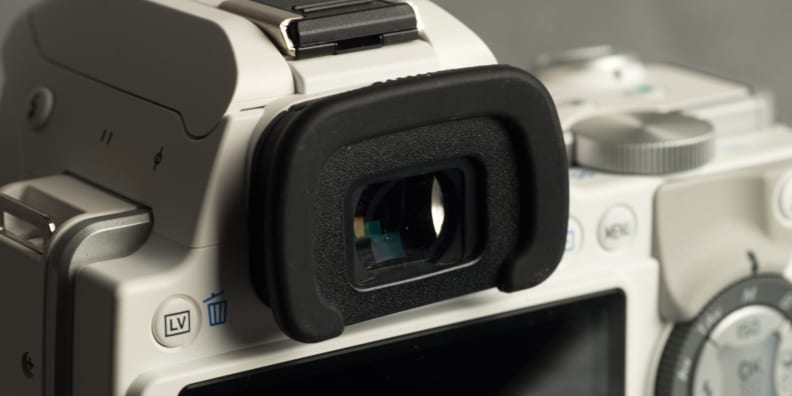 Eleven autofocus points (9 cross type) will lock onto your subject with surprisingly good speed for such an inexpensive camera, tracking motion even in low light. The one hangup: expect the system to loudly hunt for a little bit as it selects the best point to lock onto. I say "loudly," because the screw-drive autofocus motor that Pentax relies on is quite noisy, making it a poor fit for any situation that requires silence—like video.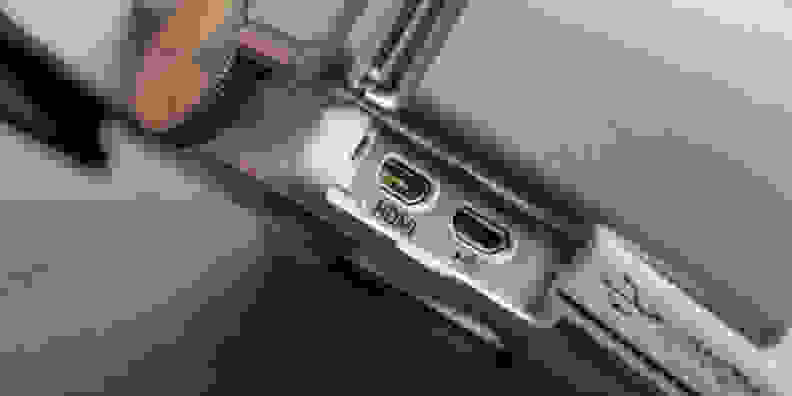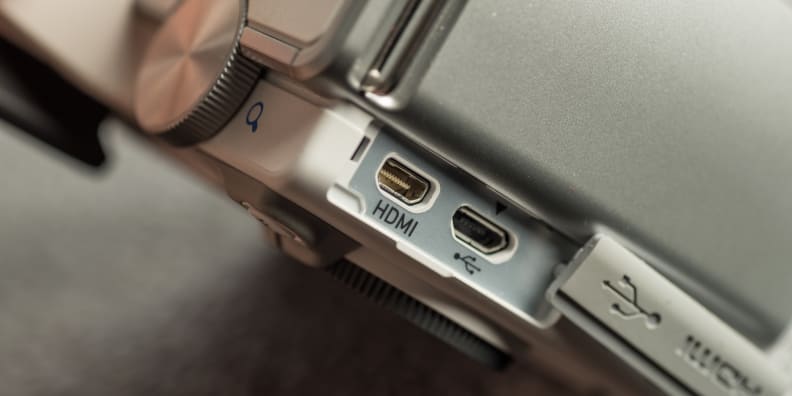 Speaking of, the K-S1 supports relatively decent video modes, allowing you to shoot 1080p/30p clips in h.264 video compression. It may seem a little dated, but the clips you shoot with the K-S1 will be an appropriate resolution for your existing HDTV when you use the microHDMI port on the side of the camera.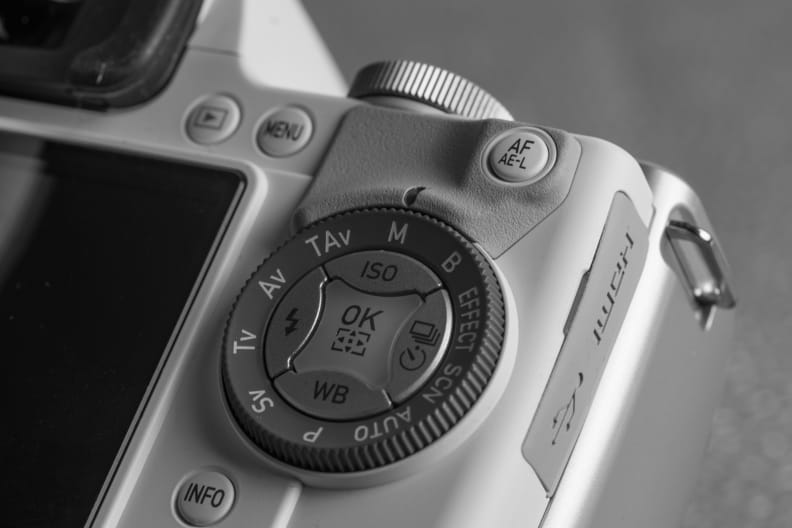 For as exciting as the exterior of the camera looks, the K-S1 is surprisingly boring. Honestly, there's not much here that will be an earth-shattering change for anyone used to shooting with a more traditional model—it's just lighter and smaller, with a couple quirks. To take that point further, you'd expect any modern camera meant to appeal to the younger crowd to have at least some sort of attempt at WiFi to share images with a mobile device—but that's absent. If you want to put your photos on Facebook, you'll either need to use an EyeFi SD card, or do it from a computer.
If you want to improve performance, we recommend buying the body-only version of this camera if you're going to be buying new lenses. As the kit option that comes with the K-S1 is the exact same clunky 18-55mm that's been shipped with every Pentax DSLR since 2004, you may find it sticks out like a sore thumb when paired with the K-S1. You'll only save about $50 doing that, but you can put it towards getting a more compact lens like a 40mm DA Pancake or even an older K-mount lens.
The Pentax K-S1 also uses the same D-LI109 removable power cell that the K-50, K-500, and K-30. While this may seem like a company resting on laurels, it's not a bad thing: the cells are light, and you can squeeze about 410 shots out of a charge. Thankfully, these batteries (and third-party knockoffs) are relatively cheap, so keeping a healthy supply won't sink your bank account.
Performance
A couple corners cut too close
On the whole, there's very little to complain about with images from the Pentax K-S1. Though the K-S1 isn't a top-flight DSLR, it's surprisingly good at managing its faults. There's no one aspect of the camera body itself that really stands out as a weakness outside of video performance.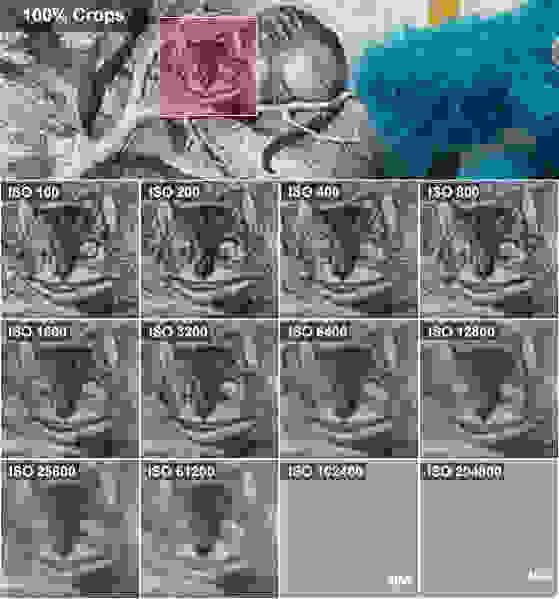 Color performance is acceptably good, though not perfect. You're going to want to enable the "Natural" profile if you want perfect coloration, but the other modes offer some fun aesthetic qualities to them. For example, "Bright" pushes yellows and blues for a more vibrant image, and the faux "Bleach bypass" and "Cross process" modes give a filmic look to your snaps. White balance is mediocre, so you may want to shoot in RAW if perfect color balance is in your crosshairs.
Sharpness is disappointing, though much of that is due to the poor kit lens— not the sensor. That 20-megapixel APS-C chip under the hood has all the tools to do well, and in fact it fares just fine with higher-quality glass.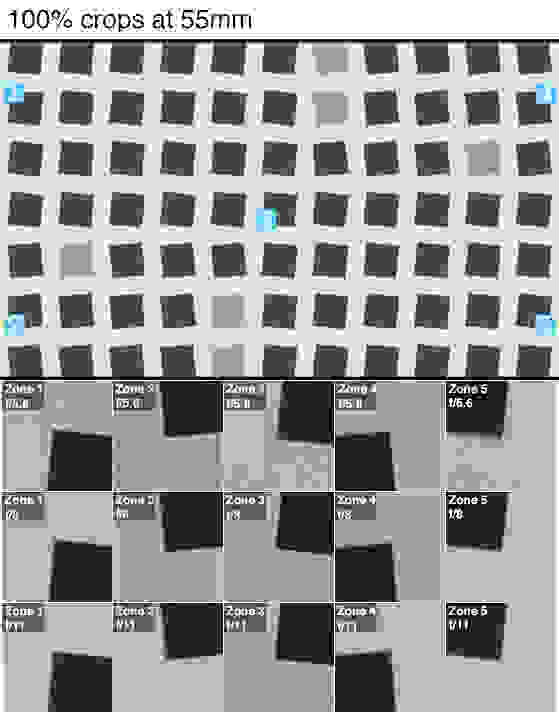 If you're content with shooting in JPEG-only, the K-S1 can give action shooters a solid 5 frames per second in bright light. Though the buffer chokes when shooting RAW images after 4 shots, JPEG-only shooting can net you 13 shots before the buffer starts to slow down. This isn't good by any stretch, but it's to be expected at the entry level.
Circling back to video performance, the K-S1 just isn't the camera you want if you're looking to shoot more than stills. While it can shoot video, the resulting clips are generally blurry, noisy, and suffer from artifacting issues. We see this over and over again with many of Pentax's DSLRs-level cameras, and it seems like video just isn't that high a priority for Pentax (Ricoh). While the K-S1 can theoretically handle 1080p/30p clips, you're not going to want to use them on an HDTV or anything, despite the miniHDMI port on the side of the camera body.
Owing in part to the Sony sensor, dynamic range is surprisingly good for an entry-level camera. Topping 8 stops of high-quality dynamic range at ISO 100, the K-S1 handily beats Canon's crop of entry-level APS-C DSLRs.
Conclusion
Another design gamble that comes ever so close
In short, the K-S1 is an interesting departure from traditional DSLR design, but at the end of the day it's just a slightly reworked entry level DSLR. The camera definitely looks like it's a polished effort, but it's unfortunately overpriced and under-specced for the competitive waters it's wading into.
Like we said before, it's an entry-level DSLR with a fresh coat of paint.
The K-S1 performs well enough—perfectly fine, even—but that alone isn't enough to set it apart from the rest of the entry-level APS-C crowd. Especially now that companies like Samsung and Sony offer better-performing mirrorless options for about the same money. Really, social shutterbugs will need a feature like WiFi to push their snaps to twitter, Facebook et al quickly—and the K-S1 doesn't have it. That makes similarly-priced mirrorless cameras like the Sony A6000, Samsung NX300, or even the Micro Four Thirds Olympus OM-D E-M10 a much better bang for your buck. You could even pick up the older (but weather-sealed) Pentax K-50 online for less money.
The re-imagined control scheme is interesting, but it's a bit of a miss if you bounce between modes often. While it's an impressively small DSLR, it offers few home-run features to justify it over a similar, smaller mirrorless camera. If its main selling point is its portability, there are so many other good options out there that the only advantages to buying the K-S1 would be the viewfinder and your choice of an appealing color scheme.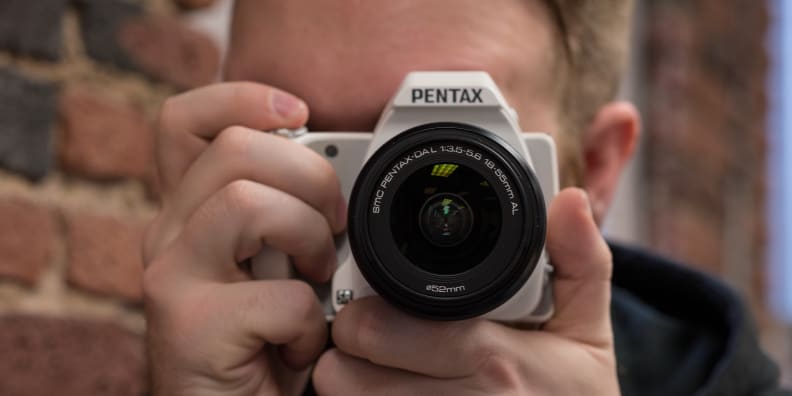 That said, the K-S1 isn't a total lost cause. It's a good choice for a young photographer. Not only because it looks cool, but Pentax is a great system to learn on. Just be aware that until the price comes down there are better options for the same money, and the weatherproof, more sensibly-kitted Pentax Pentax K-S2 costs only a little more.
Beyond that, the K-S1 is another interesting pivot for Pentax. The desire to change up traditional DSLR design is a good one, but Pentax shouldn't abandon what makes its other DSLRs great if it's only going to make changes at the surface level. The K-S1 certainly appears innovative, but looks can be deceiving.
By the Numbers
On the whole, this is a very unobjectionable camera. Considering its price point, you could do a lot worse—but you can also do a lot better for the dough.
Trouble spots include video quality (a running theme with Pentax), and dynamic range—though the latter shouldn't really be read into, as no camera this inexpensive does well. If you're looking for a stills shooter, this is a decent enough option overall.
Color and White Balance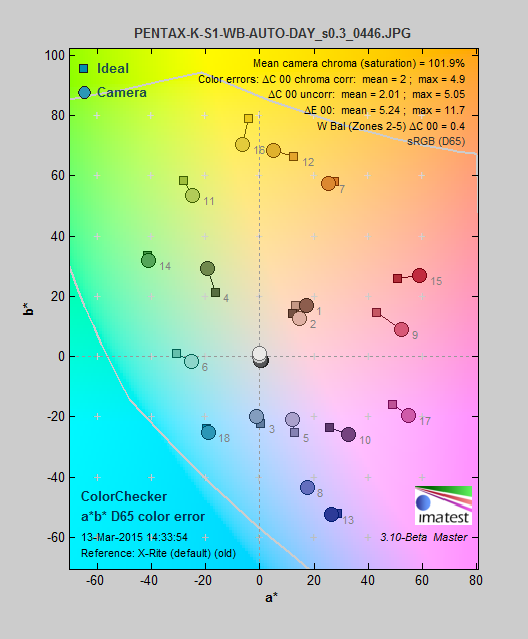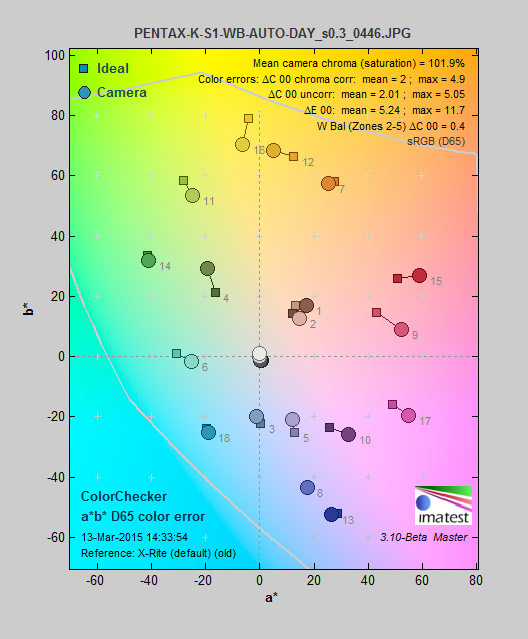 Color is just about as accurate as you could hope, with a ∆C 00 saturation error of about 2, and an overall saturation of 101.9% in the "natural" color mode. This number bounces around quite a bit, especially if you leave it on the default "bright" setting (which is less accurate).
White balance is another story altogether, however. If you're prone to bouncing from environ to environ, you're going to want to keep a close eye on your white balance settings. If you leave it in auto, you'll see a variance of up to 1453 kelvin in incandescent light, though compact fluorescent lighting will only see errors of about 600 kelvin. Daylight is functionally perfect, so this camera will keep its color error in check outside.
Noise
Noise performance is average at worst, as it can maintain detail in higher ISO snaps with relative ease. Honestly, it's one of the better APS-C cameras when it comes to detail retention, so kudos, Pentax!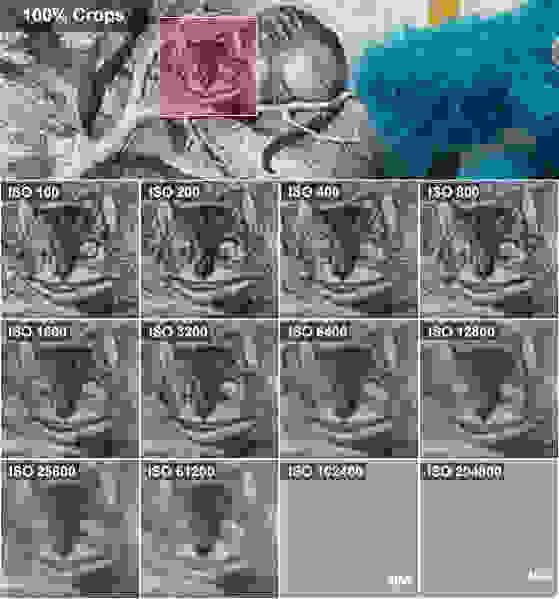 I will say, though, that if you elect to ditch the noise reduction, you'll see noise crack 2% at ISO 6400. Just be aware that you'll see a decline in sharpness if you use any of the noise reduction settings, ranging from acceptable with the NR Low setting, to the near-unusable at NR High.
With all that in mind, you might want to keep your NR set to low, while capping ISO speeds at 3200. While it won't be very good for darker environments, it'll set you up for success in the long run if you want a good mix of sharp, noise-free shots.
Sharpness
Pentax's 18-55mm kit lens is a known quantity, and didn't really surprise us much in the lab. It's a bit soft with the aperture wide open, and even then it's not all that wide.
We found that on the whole, the kit lens plus the K-S1 were able to resolve 1511 lw/ph on average. This is accaptable for most, but we found that the sharpness shot up if you stopped down to at least f/5.6-f/8. It still didn't crack 2000 lw/ph at any point, but that's a perfectly fine result.
To cap things off, there aren't any major issues with things like coma, chromatic aberration, or distortion—though you'll probably find yourself turning the "lens correction" setting in the menu off. We got wonky results with it, and to be honest it was hit-or-miss.
Video
Yeesh. Pentax has never been known to have outstanding video quality, and the K-S1 continues that trend. While some of the measures are great, the subjective analysis of its video is awful.
The K-S1 maintains about 600 line pairs per picture height (horizontally and vertically) in bright light, while that number falls to 550 in dim lighting (60 lux). This sounds good, and by all rights it's fine, but the camera has a few things working against it.
Slow, noisy autofocus that hunts a lot will certainly annoy you. Additionally, artifacting, frequency interference, and inaccurate autofocus means that your movies won't look all that great. It's something we've come to expect, but it's disappointing nonetheless.
To its credit, the K-S1 only needs 7 lux to produce an image at 50IRE. But be warned: the video will be incredibly noisy, and the shutter speed a little slow for capturing 30fps cinematics.
Dynamic Range
Entry-level DSLRs generally aren't the professional's go-to when it comes to dynamic range, and it shows on the Pentax K-S1. In our tests, the plucky little DSLR was only able to maintain 8.01 stops of dynamic range at base ISO (100), while that number fell to 0 stops of high-quality DR at merely ISO 6400.
That's not terrible, and definitely par for the course when it comes to an entry-level DSLR. Just be prepared for shots taken at higher ISO settings to look a little washed out (in combination with other issues). RAW shooters will notice higher ISO shots can't be pushed all that far, but if you get in the general ballpark on exposure, you should be fine.
Meet the tester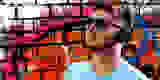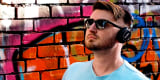 Chris Thomas
Staff Writer, Imaging
@cthomas8888
A seasoned writer and professional photographer, Chris reviews cameras, headphones, smartphones, laptops, and lenses. Educated in Political Science and Linguistics, Chris can often be found building a robot army, snowboarding, or getting ink.
Checking our work.
Our team is here for one purpose: to help you buy the best stuff and love what you own. Our writers, editors, and lab technicians obsess over the products we cover to make sure you're confident and satisfied. Have a different opinion about something we recommend? Email us and we'll compare notes.
Shoot us an email