(https://www.reviewed.com/cameras/features/2013-waterproof-camera-roundup) The WG-3 (MSRP $349.95 with GPS, $299.95 without) is the latest waterproof tough camera from Pentax, capable of handling much more abuse than your average digital camera. The WG-3 is waterproof to 46 feet, shockproof to 6.5 feet, as well as cold- and crushproof. With a rugged design, bright f/2 lens, 4x optical zoom, and backlit 16-megapixel CMOS image sensor, the WG-3 at least looked like a strong play to rule the waterproof market on 2013. After testing the camera in our labs and in real world settings, we found the WG-3 was more of a paper tiger. Washed out images, poor low light image quality, and generally slow operation hold the the camera back. Some interesting features and superb macro capability gave us hope, but the the latest waterproof Pentax model is ultimately less than the sum of its parts.


Design & Handling
And now for something completely different...
Chock full of exposed screws, faux-rivets, and enough plastic ridges to drive Jony Ive off a cliff.
The WG-3 is otherwise quite similar to most other waterproof tough cameras. It's got more heft than the average point-and-shoot, and buttons that are nearly entrenched in the body itself. All the ports, the battery, and the memory card are hidden behind a locking door on the bottom of the camera. This door has two different mechanisms keeping it shut, with a rubber seal that—as long as it's free of debris—will keep moisture out while you're shooting underwater.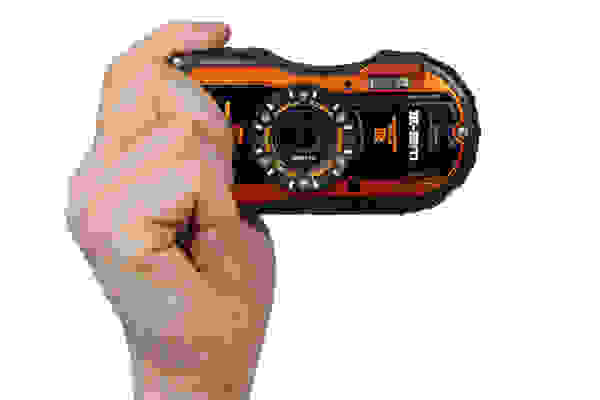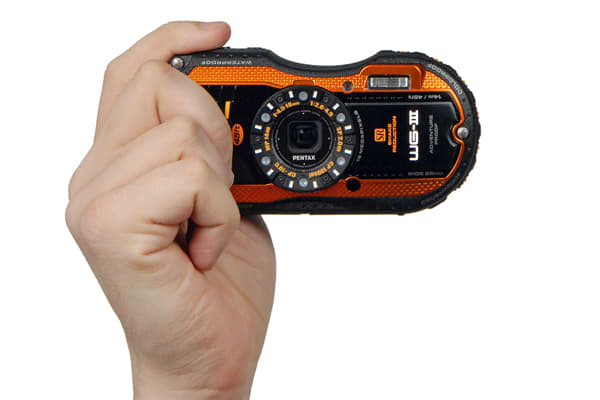 On the back of the camera you'll find the 3-inch, 461k-dot TFT-LCD. The screen is nice and sharp, with adjustable brightness in the menu. Except for the power and shutter buttons, all of the camera's controls are also located on the back. Most of the buttons are plastic, sitting flush with the body. While they must have some sort of seal under them keeping water out, each button at least provides a healthy haptic "click" response when pressed. The shutter button is also like this, with a defined half-press that makes it very easy to distinguish between whether you're taking a picture or just locking in focus.
While the look of the WG-3 is quite radical—as in different from the norm, not Patrick Swayze in Point Break—we can't say we approve of all the changes from the WG-2. The functionality is basically the same, but the large, rubber ridges on the WG-2 provided far sturdier handling. Yes, they were a nightmare to get in and out of your pocket, but when a camera can take so much punishment and ships with its own carabiner, it's probably not destined for your favorite pair of skinny jeans.
Features
Both versions of the WG-3 have a robust feature set, but springing for the GPS version seems the wiser move.
The WG-3 comes in two flavors: GPS and non-GPS. The difference in MSRP is $50, as the GPS version includes a built-in compass as well as a low-power LCD on the front of the camera that can be illuminated and show information like air/water pressure, altitude, and depth. We tested the non-GPS version for the purposes of this review, though the extra features will certainly be appealing considering the relatively small price difference.
Both versions of the WG-3 have the same durability specs: shockproof to 6.5 feet, waterproof to 45.9 feet, coldproof down to 14˚ Fahrenheit, and crushproof to 220LBF. Durability aside, the WG-3 also comes with several features that go beyond simply everyday snapshots. While there are plenty of software tricks built in, the hardware also looks quite good, though only on paper. While the sensor is not overly large at 1/2.3-inch, the lens opens all the way to f/2. The lens can also focus down to 1cm, with shots lit by the ring of LED macro lights around the lens. These brighten up objects well when you're that close, but the illumination is not particularly even and the focusing mechanism takes several seconds to lock on to anything at that distance.
After diving into the camera'a various shooting modes there were a few other features that caught our eye. The "digital microscope" mode could be fun for any budding bug hunters out there, using the camera's 1cm close focal distance and LED macro lights to shoot closeups. There's also a nice interval shooting mode, which is useful for creating timelapses and is something that rarely pops up in compact cameras. Beyond that things are fairly typical—scene modes, in-camera HDR, 1080/30p HD video shooting, built-in flash—thought curiously it also includes compatibility with the Qi wireless charging system. We didn't get a chance to try out the wireless charging (again, GPS model only), but it should be a welcome alternative to leaving the battery compartment open while you charge via USB, as the WG-3 lacks an external charger.
Performance & Image Quality
Your shots will survive your next scuba diving adventure, but you might wish they hadn't.
While the $300+ price tag and f/2 lens on the Pentax WG-3 may imply that this is a high-end compact camera, the image quality results simply don't bear that out. The images are not terrible, but even at the base ISO they lack for contrast and look washed out. The biggest issues come down to low light noise and rather horrid chromatic aberration showing up around any areas of high contrast. Even subjects that are fairly simple, like the white patch on our X-Rite chart (which we use to test color accuracy) shows up as a splotchy white square with a lovely blue ring around it.
The real-world image quality leaves a lot to be desired.
The actual lab numbers could be worse, but the real-world image quality leaves a lot to be desired. The WG-3 manages fairly accurate colors in its Natural color mode, and noise reduction doesn't seem overly harsh through most of the ISO range. The camera exposes scenes and white balances fairly well, though it's hard to tell since most white objects in your shot have such bad color fringing.
Shooting with the Pentax WG-3 doesn't feel remarkably snappy, either. The camera is capable of a low-resolution burst mode (10 fps for up to 30 shots at five megapixels), but normal continuous shooting is a real letdown at just 1.7 fps by our measurement. Pentax still describes the WG-3's continuous shooting speed as "TBD" on their website, and we can only imagine that stands for "Too Bad to Display." The lack of speed is not for want of a buffer, however, as the camera can rattle off 33 16-megapixel shots in a row before it has to pause to catch its breath, and fit up to 15 such shots on the internal memory. Unfortunately while data is being recorded to the memory card (either after one shot or 30), the camera is practically inoperable, so you can't get ready for the next burst if something important is happening.
Conclusion
The WG-3 is a perfectly suitable entry in the waterproof market, but by no means a game changer.
We had high hopes for the Pentax WG-3 when we first laid hands on it at CES this past January. An f/2 lens, a backside-illuminated image sensor, and sensor-shift shake reduction all seemed to point toward a waterproof camera with images that could rival those of similarly priced high-end compact cameras.
Now that we've spent some time with the WG-3 and run it through our lab tests, we have to say we've come away disappointed. The WG-3 is by no means a bad camera—its image quality is fairly consistent with what we've seen from competing waterproof cameras—but the poor continuous shooting speed and rampant chromatic aberration hold it back. The f/2 lens is nice, but the depth of field on the small sensor is nothing to write home about while the high ISO settings return muddled, mushy images with low contrast and poor dynamic range.
It's not all bad news for the WG-3, though. The feature set here is quite deep, with several additions—Qi-compatible wireless charging and built-in interval shooting—setting it apart from the pack.
On the whole, the Pentax WG-3 just doesn't stand out in any notable way from any other waterproof cameras this year. It finished right in the middle of the pack in our 2013 Waterproof Showdown, and we don't think that it's the best option for any kind of photographer. The Pentax WG-3 isn't anything more than a run-of-the-mill point-and-shoot that you can put through some extracurricular abuse.


(https://www.reviewed.com/cameras/features/2013-waterproof-camera-roundup) ## The Breakdown Unfortunately, images don't lie for the Pentax WG-3. While the lab numbers for some of our tests were not all that bad, the real-world images that come out of the camera suffer from some rather terrible defects on a consistent basis. The result is often a shot that has a washed out look to it, with heavy color fringing around any area with high contrast. While we can certainly vouch for the camera's durability after some impromptu testing, the image quality here is nothing to write home about. The f/2 lens and other features may suggest a high-end compact in durable armor, but the final image quality reveals the Pentax WG-3 is anything but. ## Color Accuracy #### A strong beginning for the WG-3 is undone by later test results. The first performance test we run on every digital camera in our labs is for color accuracy. We do this to ensure that all of the rest of our tests are shot in the most accurate mode possible. For most cameras, this involves picking from a whole host of color modes. For the WG-3, it involves just narrowing the choice down from three options—one of which doesn't even capture color. The WG-3 in truth has just two color modes, Bright and Natural. As we found out quickly, the Natural mode was easily the best, with a corrected ∆C00 of just 2.6 and nearly perfect saturation. This is a strong result for a point and shoot, though even from our first test shot we knew there was trouble on the horizon.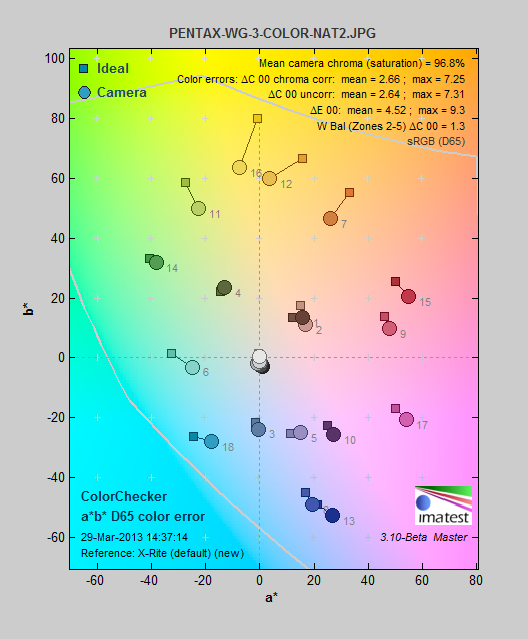 Noise Reduction
Noise reduction is not overly harsh, but the resulting images still look muddled and washed out.
Without even looking at the lab numbers, it's pretty easy to see from our studio samples that the Pentax WG-3 has a noise problem. Right from the camera's base ISO, the noise numbers are quite high—0.91% at ISO 125 and over 1.2% at ISO 200. While noise reduction keeps grain under 2% through ISO 1600, the resulting images just continue to get worse and worse.
We tried to improve the image quality somewhat by using the Pentax "IQ Enhancer" option in the camera, but that only seemed to relax the noise reduction settings. With IQ Enhancer turned on the noise levels actually went up throughout the ISO range, with little visible benefit elsewhere in the image. In fact, we couldn't detect any benefit to shooting with the IQ Enhancer on, at least as far as our test images go.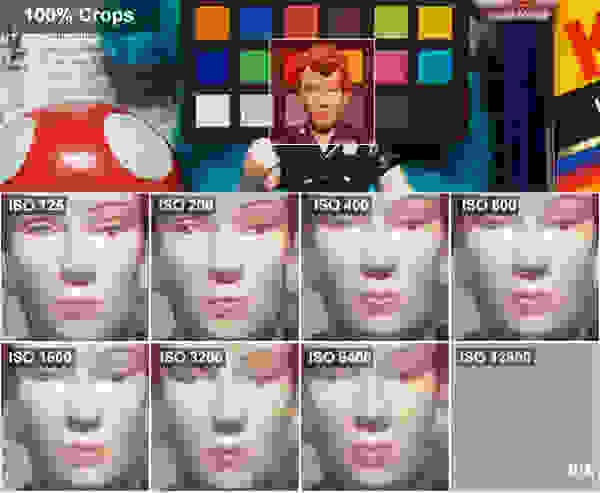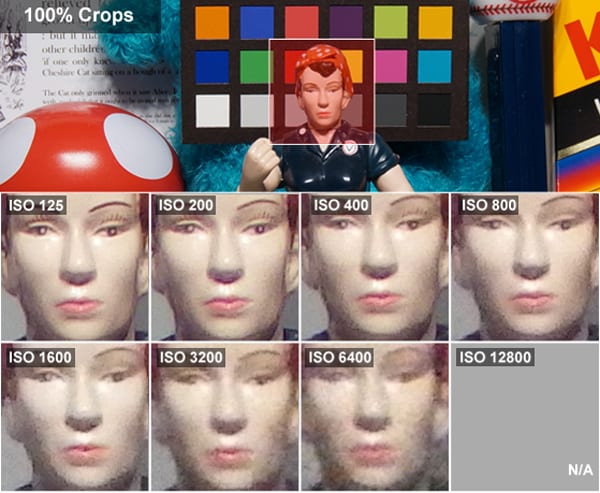 As you can see in these 100% crops from our studio sample, there's some serious image quality issues right from the beginning. Rosie the Riveter looks washed out as low as ISO 125, and the problem only gets worse from there on. While the shots will look perfectly fine at web resolution, we can't see ourselves hanging these shots on the wall anytime soon.
Resolution
An f/2 lens is nice, but the overwhelming chromatic aberration is a major downside to the WG-3's new lens.
The Pentax WG-3's resolution results suffer from an unfortunate bit of Jeckyl and Hyde syndrome. There are certainly some very good aspects that shouldn't be overlooked—sharpness numbers look good, a bright f/2 lens allows you to keep ISO down, and the macro capabilities are great—but significant problems persisted both in the lab and out in the real world.
The biggest issue is chromatic aberration around high-contrast edges. Most noticeable as color fringing around high-contrast edges, these aberrations popped up in our test images, as well as our full resolution studio samples. It won't show up in all of your real world samples, but it's a consistent, troublesome trend considering the lens should have been the WG-3's saving grace.
Meet the tester TJ Donegan
Executive Editor
@TJDonegan
TJ is the Executive Editor of Reviewed.com. He is a Massachusetts native and has covered electronics, cameras, TVs, smartphones, parenting, and more for Reviewed. He is from the self-styled "Cranberry Capitol of the World," which is, in fact, a real thing.
Checking our work.
Our team is here for one purpose: to help you buy the best stuff and love what you own. Our writers, editors, and lab technicians obsess over the products we cover to make sure you're confident and satisfied. Have a different opinion about something we recommend? Email us and we'll compare notes.
Shoot us an email