Update: We originally reported the MSRP of the EX2F to be $549.99 at launch. Samsung has since reduced the price of the camera, with the EX2F now debuting at $499.99. It is still expected to be available in mid-August.
The Samsung EX2F is a replacement for last year's EX1 or, as it was commonly known in North America, the Samsung TL500. While its design is certainly in the same vein as the TL500, the EX2F is more streamlined, more refined, with smoother lines, controls that are better positioned, and a more accommodating grip.
In addition to the camera's massive f/1.4 lens, the control scheme is designed specifically to aid enthusiast shooters or those who simply want more control. The camera offers dual control dials, with two dials on the top of the camera for changing shooting modes and release mode, respectively. The shutter button is also slightly redesigned over the TL500, in roughly the same place but with a lower profile, though it's still comfortable to use, with a clear definition between a half-press and taking a shot.
The grip is also slightly tweaked, with a little more room for fingers to keep hold of the body than with the TL500. That extra grip helps when shooting at odd angles, which is also facilitated by the camera's rear AMOLED screen, which flips out from the body. The screen is bright and sharp, and sits on a hinge that also allows it to face straight down for overhead shots or straight ahead towards your subject for self-portraits.
The EX2F is also designed to better integrate into the wider NX system of cameras. While the EX2F isn't an interchangeable lens model, it does have a lens ring that can be twisted off, allowing you to mount accessories like teleconverters onto the front of the camera. The hot shoe on top also allows for the use of more NX accessories, including flashes and Samsung's hot-shoe mounted mic, which includes a headphone jack for audio monitoring.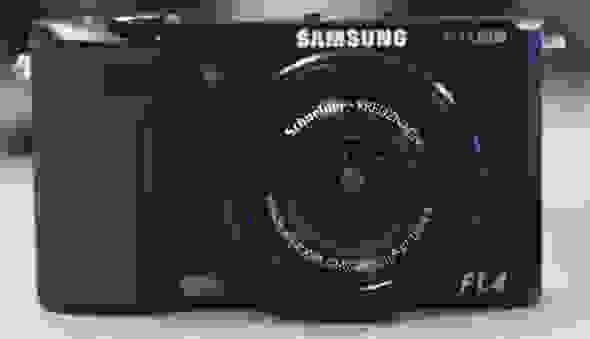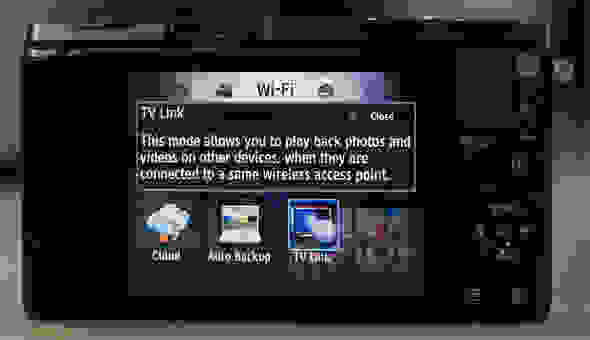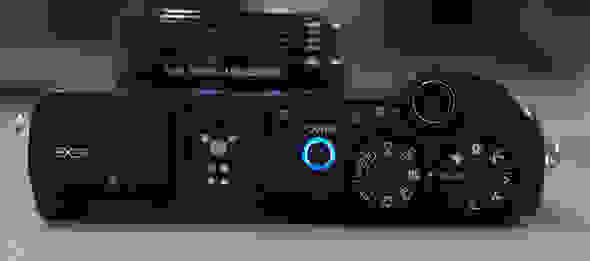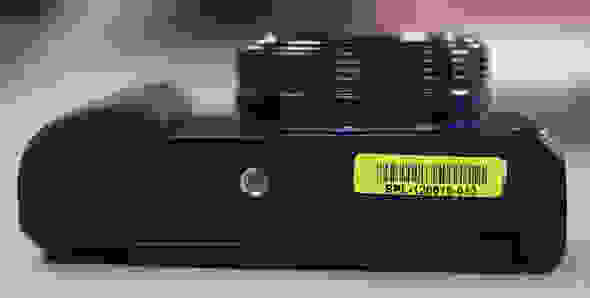 The menu system on the Samsung EX2F is standard fare, with a list of options organized into three tabs that are aligned vertically on the left-hand side of the screen. The menu options are clearly laid out and legible, owing to the AMOLED screen's clarity. If you hover over an option for a second, typically a tooltip window will pop up to explain what the feature does. This can be turned off in the menu if you find it annoying after awhile.
The Samsung EX2F is designed much like the company's NX series of interchangeable lens cameras, including the use of Samsung's function control panel. The control panel is brought up by pressing the rear "function" button and gives an immediate GUI view of all the camera's shooting settings. You use the rear control dial to select between functions such as autofocus mode, shutter speed, aperture, exposure compensation, exposure mode, and others, while the control dial on the front grip can actually alter these settings on the fly.
For less serious users who just want to point and shoot, the camera's smart auto mode and scene modes allow you to shoot in many tough lighting scenarios. These are fairly typical of every compact camera, but if you're interested in the large aperture and high-end construction and don't care about manual control, the EX2F at least offers you the option.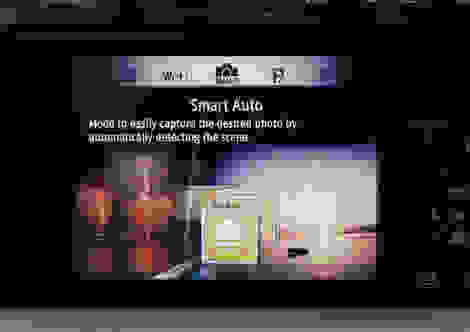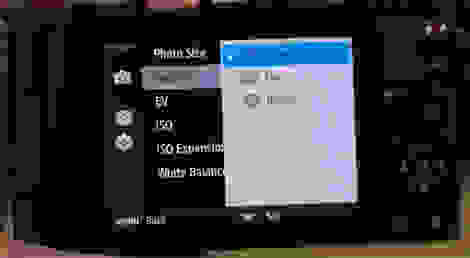 The Samsung EX2F handles well, with the body slightly shrunk down from the TL500 that it is replacing. The most noticeable change when handling the two in succession is the different grip on the EX2F. The grip is not much more rounded, filling out a big to let your fingers really wrap around the body for enhanced control.
The two control dials—one on the rear that also acts as a four-way directional pad and the front one on the grip—allow for control of two different settings at once on the fly. They are both quite loose and easy to turn to make rapid changes to settings. They don't require much force to move, though they offer just enough resistance so that an accidental bump or two won't necessarily adjust your settings when you don't intend to.
The Samsung EX2F includes a physical mode dial on the top plate of the camera. This dial includes the usual four PASM modes for manual control, Samsung's smart auto mode, as well as a scene mode, WiFi mode (for connecting, not shooting), as well as a dedicated video record mode.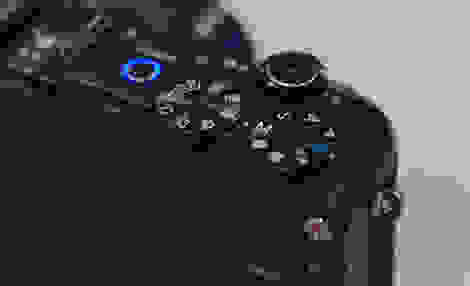 The two main auto modes on the Samsung EX2F are its program auto and smart auto, both located right on the main mode dial. The program auto will automatically determine exposure and ISO by default, but will allow you to set some other settings. the smart auto mode will actually determine what settings are appropriate given the scene, choosing a specific scene mode preset if the camera deems that the lighting demands a particular type of picture.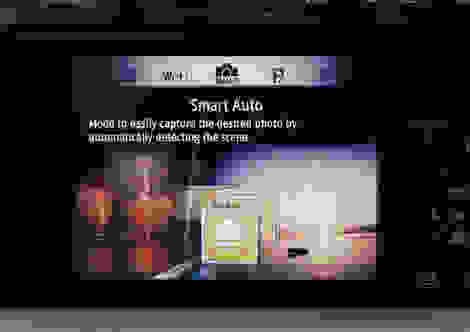 The EX2F includes full HD, with 1080/30p capture. The camera has both a dedicate video mode as well as a record button right on the back of the camera. The camera has four resolution options, with 1080/30p, 720/60p, standard definition, and a "sharing" resolution available.
The EX2F includes a dedicated release mode dial, with self-timer, burst, and single shot modes. The dial includes eight options, including several continuous shot modes, a bracket mode, and the self-timer with either a two- or ten-second delay. The camera is capable of up to 10fps shooting, but only for 10 shots. The model we tested was merely a pre-production engineering sample, so we weren't able to really test this in any meaningful way, but the camera felt snappy and responsive.
The Samsung EX2F includes a basic playback mode, which is accessed by pressing the dedicated button on the back of the camera. This mode allows you to see photos up close by zooming in on specific details, see a photo's shooting information, or zoom out to see an index of multiple images. The camera also includes many filters and creative modes, allowing you to do fun things like put objects or wigs on people in portraits, with some of these modes also available in live shooting.
The EX2F makes use of a 12.1-megapixel backside-illuminated CMOS sensor that is a bit larger than you see in most point and shoots as 1/1.7''. It offers a maximum resolution of 12.1-megapixels (obviously), with options for 10-, 9-, 8-, 5-, 3-, 2-, and 1-megapixel shots if you need something a little smaller for easier sharing and transfer. The camera can record in both JPEG and RAW, though we didn't get a chance to see any real quality or size differences on the pre-production model.
WiFi
The Samsung EX2F includes a dedicated WiFi mode that looks identical to the one found on many compact cameras from Samsung, such as the WB850F. This mode allows you to do some neat things, like interface directly with a smartphone running Android, upload your images through a WiFi network, or engage in auto PC backup. You can also use an Android app to make your phone a remote viewfinder for your camera, even triggering shots if you like.
The Samsung EX2F utilizes a contrast detection autofocus system, which is typical for all point and shoot cameras. You can select spot focusing, center focusing, or selection of an area, if you wish. The camera also includes a face detection mode, which will lock on to faces in the scene and prioritize focus and exposure on them. Focus for the EX2F was very sharp; even though the camera we used wasn't a full production model yet and it has a large f/1.4 lens, it had no problem focusing onto the tip of a pen and other small objects that are easy to miss.
The Samsung EX2F includes manual and automatic exposure, with exposure compensation of +/- 2 stops also available. You can set exposure in the aperture, shutter, and full manual modes, or otherwise rely on the camera to automatically figure out the correct exposure settings. Metering can be done with priority on a specific spot, on the center of the frame, or across multiple areas in the frame.
The Samsung EX2F includes a larger than normal image sensor, as well as the ability to make that sensor more sensitive to light than much of its competition. The camera has a native ISO maximum of ISO 3200, but that can be expanded in the menu to a maximum setting of ISO 12800. The ISO speed is selectable in whole stops, or you can set ISO to automatic and let the camera decide.
White balance is pretty standard on the Samsung EX2F, with presets for various lighting conditions, an automatic white balance mode, and a custom white balance mode. We found setting a custom white balance was quick and easy in the menu, as it has been on past advanced Samsung cameras. It's hard to tell how good the white balance was is in a well-lit conference room, however, so we'll have to hold judgement until we get a production sample into our labs.
The Samsung EX2F includes two forms of optical image stabilization, along with the ability to turn it off entirely. Optical stabilization can be activated in the menu or in the rear function menu control panel. Again, we didn't find it difficult at all to keep the camera steady and sharp with the f/1.4 lens, as it allowed for quick shutter speeds, so we'll have to wait until we get the camera before knowing just how good the system is.
The Samsung EX2F is a camera designed for enthusiast photographers, but it also includes many of the fun modes that Samsung cameras have over the past few years. The camera still includes the usual set of "magic frames," as well as the ability to control the color tone of your shots. If you just need basic image adjustments, the camera also comes packed with the ability to adjust contrast, sharpness, and saturation via slides through the camera's main menu.
The image sensor in the EX2F is 1/1.7'' and backside-illuminated. Its size puts it alongside cameras such as the Canon S100 and Canon G12, with its backside-illuminated construction allowing a great area for light to hit individual pixels. The sensor is also has just 12 megapixels worth of photosites, meaning the individual pixels are quite large and able to collect light. The camera has just a fixed 3.3x optical zoom lens, but it comes with a removable lens mount that lets you screw on additional accessories over the lens, such as a teleconverter.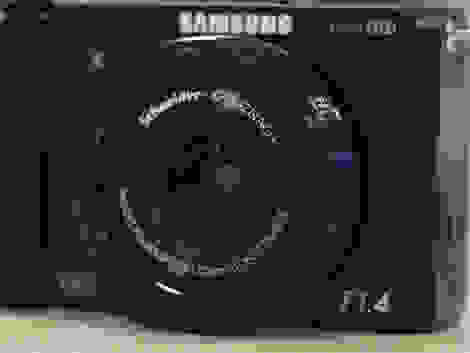 The rear screen on the EX2F is quite good, a 3-inch AMOLED display that swivels out from the body. It renders crisp text, though it's not a terribly dense display, so the pixels are often visible. The screen sits on a nice, apparently durable hinge that will let the monitor flip out from the body and face forward toward your subject, upward for low shooting, and straight down for overhead shooting. You can also flip the monitor directly in and fold it back inward, protecting the screen from damage when in storage.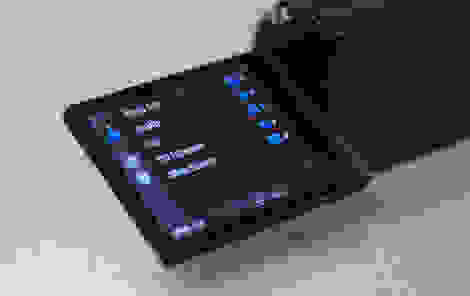 The EX2F includes a basic pop-up flash that isn't terribly powerful, but it's there when you need it. We weren't able to get specifics on the power of the flash as of this writing, but it sits on a mechanical slider that can pop up whenever necessary. It's not powered, so it can pop up accidentally in the wrong situation, however.
The Samsung EX2F continues the company's steady march toward standardization, with micro-HDMI and micro-USB ports behind a small plastic door on the right side of the body. While mini-HDMI might be a little simpler to get a hold of, micro-HDMI should have a longer usefulness with the proliferation of smartphones. One area that's nice to see on the EX2F that isn't micro is the SD card slot, as Samsung has included a standard SD/SDHC/SDXC port for the larger, more common forms of the cards.
The EX2F includes a removable, Lithium-ion rechargeable battery. It sits in a dedicated battery slot on the bottom of the camera, sliding out and locking in via the usual mechanism of a spring and a plastic holder. We weren't able to get any statistics on the lifespan of the battery just yet, but it's the SLB-10A model, which has a rating of 3.7v and 1050mAh and is compatible with several of their L-series cameras.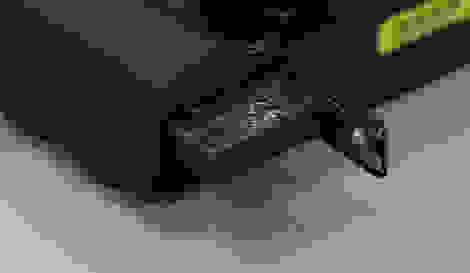 As stated earlier, the camera makes use of the normal SD/SDHC/SDXC memory cards, with a full car slot in the battery compartment. This doesn't have any stated maximum in terms of size, as that's likely just a matter for firmware and memory developers to figure out.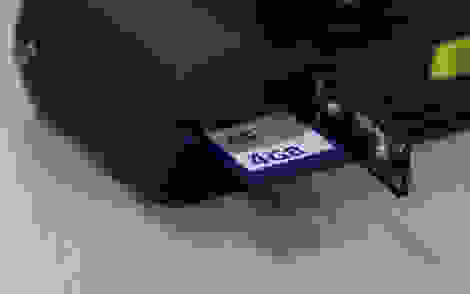 The Samsung EX2F, the follow-up to last year's Samsung TL500, features an interesting combination of technologies that should make it a great low light camera. Its large aperture maxes out at f/1.4, which is about a full stop than most of its competition gets at f/2.0. Add to that the backside-illuminated CMOS sensor and a maximum ISO of 12800 and you have a camera that's gunning for low light.
We weren't able to get too much time with the EX2F in limited light scenarios (we were also using a pre-production sample, so any performance tests would be moot anyway), but we found it's already a promising little shooter. We found the focus—crucial with the narrow depth of field that f/1.4 provides—to be right on point, literally, as it was able to lock into the tip of a pen with ease. The other features we were quite used to seeing, as the EX2F feels like a fixed lens version of Samsung's user-friendly NX interchangeable lens camera models.
That f/1.4 aperture produced a nice, soft out of focus background, and bokeh was rendered quite well. It obviously wasn't quite up to the standards of an f/1.4 lens on a DSLR, but it's a great asset to have in limited light situations. We'll have to get the camera in for a full performance breakdown before we reach any conclusions about its true abilities, however.
The physical design of the camera was also quite good, as it offered a far more pleasing grip than last year's model. In terms of size it was roughly identical to the TL500/EX1F, but it used the space more intelligently. The hot shoe is now compatible with more accessories, dovetailing nicely into their line of NX accessories, while the dual control dials are tuned expertly to allow for fast, sweeping control without the accidental settings changes that sometimes come from loose dials.
Overall while the $499.99 asking price is certainly nothing to gloss over, we're excited to see what the Samsung EX2F has got in our labs when it begins shipping near the end of August this year. It's a camera that has every advantage Samsung could grant it in terms of low light capability. If it can put those technologies to good use, it could easily supplant cameras like the Olympus XZ-1 and Canon S100 as the premium compact of choice among enthusiast shooters.
Meet the tester TJ Donegan
Executive Editor
@TJDonegan
TJ is the Executive Editor of Reviewed.com. He is a Massachusetts native and has covered electronics, cameras, TVs, smartphones, parenting, and more for Reviewed. He is from the self-styled "Cranberry Capitol of the World," which is, in fact, a real thing.
See all of TJ Donegan's reviews
Checking our work.
We use standardized and scientific testing methods to scrutinize every product and provide you with objectively accurate results. If you've found different results in your own research, email us and we'll compare notes. If it looks substantial, we'll gladly re-test a product to try and reproduce these results. After all, peer reviews are a critical part of any scientific process.
Shoot us an email