Aside from that, the MV800 is really a run-of-the-mill point-and-shoot in a fancy package. Image quality is average at best, performance is sluggish, and the 5x zoom ratio is pretty standard. Despite the cool design and user interface, it's tough to justify the MV800's $279 price tag.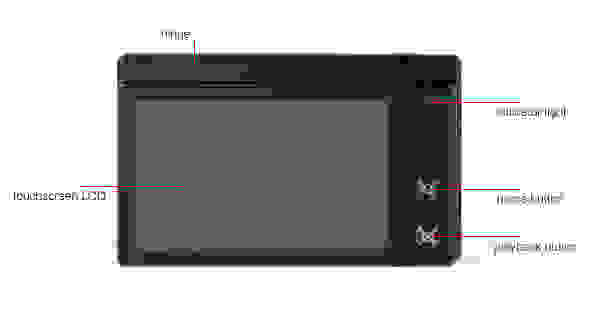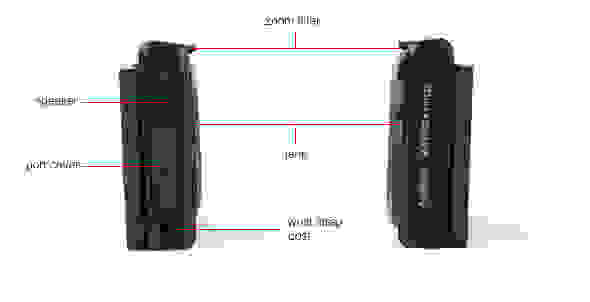 • Samsung MV800 digital camera

• wrist strap

• proprietary USB cable

• BP70A rechargeable lithium-ion battery

• AC adapter

• quick-start guide
The Samsung MV800 takes vibrant pictures, but they're not particularly color-accurate. A good point-and-shoot should score a 3.0 or lower in our color error test, with saturation somewhere between 90% and 110%. The MV800 returned a plainly mediocre (or even borderline poor) 3.51 color error, and the 110.4% saturation result is a hair outside of our acceptable range. More on how we test color.
Those underwhelming scores place the MV800 at the back of our comparison group. Samsung's own PL120 leads the pack (it's also the cheapest model among them), while the Canon ELPH 500 HS and Casio Tryx occupy the middle ground.
To be fair, the MV800's color profile is fine for landscapes and other still-life scenes. Plenty of casual photographers seem to prefer a slightly oversaturated quality in their shots, since it makes the sky bluer, the grass greener, and flowers more vibrant. But it does wreak havoc on skin tones, which is problematic in a camera marketed for its self-portraiture abilities.
Saturation is actually adjustable, which could even out the intensity, and there are some additional shooting modes especially for portraits. But those both require tweaking, and we only count results from default color modes, so they don't factor into our rating here. In any case, neither of those options will actually improve the inaccurate shades.
Like all of the Samsung point-and-shoots we've seen, the MV800 only has one color mode. Sharpness, contrast, and saturation are all adjustable in the MV800's Program mode, but there are no other color presets, and no way to adjust the overall accuracy. Any serious changes will have to be made with PC-based photo software.
It's worth noting that the MV800's color scores are in the same ballpark as many point-and-shoots' standard color settings; those cameras just also have several other color profiles, at least one of which is usually much more accurate than the default modes.
The MV800 earned middling scores in our noise tests. Across the ISO range and in both of our lighting setups, shots showed 1.35% noise on average. Base-level shots are clean enough, with ISO 80 and ISO 100 showing identical results. The signal-to-noise ratio hits an uncomfortable level around ISO 400, which is pretty early, but the shots are still decent, if a bit grainy. When the heavy noise reduction kicks in at ISO 800, details turn very soft, even though there's less actually noise than at ISO 400. ISO 1600 and 3200 are just a mess due to high noise levels and harsh noise reduction.
(We excluded ISO 100 from our average noise measurement, since it's an unnecessary, redundant setting that would lend too much weight to bottom end of the MV800's range, and result in a better score than the camera really deserves. For reference, most cameras shoot either ISO 80 or ISO 100, not both.) More on how we test noise.
On average, the MV800 performed equally in our 3000 lux (bright light) and 60 lux (low-light) tests, showing 1.35% and 1.34% noise, respectively. The higher ISO settings showed less noise in our 60 lux test due to extra noise reduction, while the lower ISO settings were cleaner at 3000 lux. But as the crops show, the top ISO setting always looks ugly, no matter how it's lit.
Out of the comparison group, the MV800 scored the lowest in our noise tests. However, looking at the crops, we don't think that it's really the worst performer of the group. The Canon ELPH 500 HS and Samsung PL120 both scored better, and their shots do look superior to the MV800's at higher ISO settings. But the Casio Tryx earned the best noise score in our group, yet its photos look atrocious. It uses so much destructive noise reduction that it's difficult to see what the photo was supposed to be in the first place.
Thanks to the vagaries of image processing, the signal-to-noise ratio doesn't count for everything, but we still confidently rank the MV800 as a below-average noise performer. The sensor output is rougher than its competitors' even at lower levels, and the noise reduction algorithm is too heavy-handed for our liking.
As we mentioned above, the ISO range extends from 80 to 3200, with a mystifying ISO 100 setting thrown in as well. ISOs 80 and 100 work equally well, so somebody in Samsung's department of redundancy department must have worked that into the interface. There's no perceivable difference between the two settings, so they can be used interchangeably.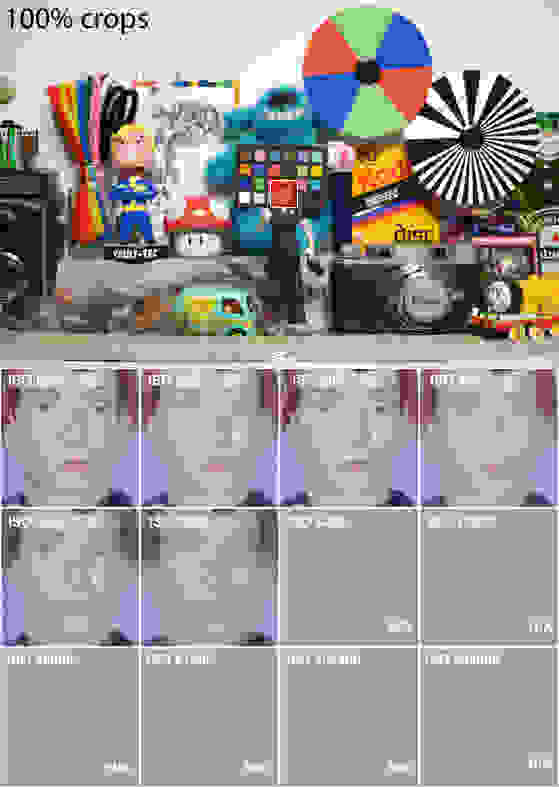 NOTE: The images above are not used in our testing or scoring, but are included here to show real-world examples of the differences between cameras at the various ISO settings.
The MV800 surprised us with its great resolution scores—the best in the comparison group overall, as well as in each individual resolution test. This high ranking does come with a few caveats, but from what we can tell, the MV800 earned its high scores mostly fair and square, without too much software-based funny business. More on how we test resolution.
Distortion ()
All cameras show some distortion (warping at the edges and corners of the frame), but below a certain threshold, it's unnoticeable. The MV800 sits below that threshold, so it earns the top distortion score that we award (we've tested several cameras that have earned the top score). It shows 0.47% barrel distortion at the wide angle, 0.08% barrel at the middle focal length, and then pincushions to 0.28% at the telephoto setting. Unless you're actively looking for crooked lines, you won't find them easily.
Sharpness ()
Our empirical data tells us that the MV800 is a sharp-shooter. The crops below back up that assessment for the most part, but do look a bit softer than what we'd expect from a camera that earned such a high sharpness score.
There are a few factors in play that might boost the score higher than what we would've guessed after checking out the sample shots. All other things being equal, cameras with more pixels earn higher sharpness scores. At 16.1 megapixels, the MV800 is about as high-res as a point-and-shoot gets, so that certainly helps the cause. (On the flip side, a higher pixel count usually hurts performance at high ISOs, which seems to be the case here).
It also applies obvious sharpening, especially at the wide angle. The 4.5mm crops below look blurry, particularly on the right side of the frame. But the MV800 adds a dark line where the sharp edge should be, which improves the contrast from a regular viewing distance, and fools image-testing software into thinking that the edge is actually well defined. To be fair, most cameras do this to a certain degree, and the MV800 is far from the most egregious example we've seen.
All that said, the MV800 does actually seem to have a decent lens on it. There's no way the sharpness score could've been this impressive if the optics were total junk. We'd love to see better clarity at the wide angle, but overall, this is a pretty good showing for the class.

Chromatic Aberration ()
Thanks once again to the lens, the MV800 didn't show too much chromatic aberration. There's some purple fringing in the crops at the edges of the frame, particularly at the wide-angle setting, but it's well controlled for the most part. In real-world situations, it might show up in high-contrast areas of a shot, particularly at the edges of buildings, but it isn't a big concern.
The MV800 shoots several sizes in the standard 4:3 aspect ratio, though it also offers a 12-megapixel 16:9 (widescreen) option and a 14-megapixel 3:2 option. As expected, it does not shoot RAW photos, but it does offer three levels of JPEG compression: Normal, Fine, and Superfine. We conducted all of our tests at the maximum 16-megapixel Superfine setting, though the camera's factory settings are at 14-megapixel Fine shots by default.
Our shake-test rig is under repair, so we have not yet tested the MV800's stabilization performance. We will update the review once our lab equipment is fixed. More on how we test image stabilization.
The MV800's movie mode is fine for a still camera, but not robust enough to replace a camcorder (or at least a better digital camera or smartphone). It shoots 720p/30fps high-def video in the easily editable, YouTube-friendly h.264 format. Optical zoom works during filming. Autofocus locks at the beginning of each clip, which can be problematic while shooting action scenes. Most of the MV800's photo effects can be applied to videos as well, which is a fun extra feature.
For a camera with mediocre still-photo color accuracy, the MV800 is actually alright in terms of video color. On an absolute scale, it's nothing special, but compared to most point-and-shoots, it's quite good. It blows the video-oriented Casio Tryx out of the water, handily beats the Samsung PL120, and comes up behind the Canon ELPH 500 HS, which earned a very good accuracy score. More on how we test video color.
For a 720p high-def shooter, the MV800's sharpness is acceptable. It's no surprise that it finishes behind both 1080p shooters in our comparison group, the ELPH 500 HS and category-leading Tryx, though it is sharper than the PL120. More on how we test video sharpness.
On paper, the MV800 has a plain ol' playback mode—it can and can't do the same things as most point-and-shoots. But there's a certain X factor, thanks to the responsive capacitive touchscreen and beautiful menu design. A dedicated button (one of only two on the back of the camera) brings up playback mode.
Most navigation runs through the touchscreen—cycling through photos, marking shots, menu access, deletion, and the like. There's a particularly useful slide at the bottom of the screen that zooms through shots with a quick preview (like the cover flow feature made famous iPhones and iPods). The zoom tilter zooms in on shots and out to view multiple photos. Pressing the shutter returns to shooting mode.
Like any touchscreen, the MV800's LCD occasionally misfired or didn't trigger at all, but this is one of the smoother, more efficient implementations we've seen on a camera. It works almost as well as a phone's screen, which is a lot more than we can say about most touch-based cameras.
The in-camera editing suite covers most of the basics—crops, rotation, contrast, brightness, and red-eye correction. It has one of the best effects modes we've ever seen on a camera, but they can't be applied after a shot has already been taken.
The LCD is one of the MV800's characteristic features: It's a 3-inch widescreen unit that can flip up and face forward. This so-called MultiView model builds on the (apparent) success of Samsung's DualView series, which feature front-facing as well as rear-facing LCDs to make self-portraiture more accurate.
The MultiView screen accomplishes the same thing with a different approach, and also makes it more comfortable to frame high- and low-angle shots than a fixed LCD could. The downside is that this screen—from what we can tell—is especially low-res. It's listed as WQVGA on the spec sheet. There's no standard resolution for WQVGA, but at most, it's only about 106,000 pixels, less than half the count as most low-end digicam LCDs.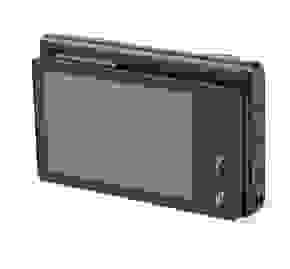 A narrow flash sits toward the top-center of the front panel, out of the way of most wandering fingers. It has a few shooting modes including a slow sync speed and red-eye reduction—nothing out of the ordinary, basically. The flash itself is pretty weak. Samsung does not list an official range, but we estimate that it's effective up to about 10 or 12 feet.
The lens is a Schneider-Kreuznach branded 4.7-23.5mm (26-130mm equivalent), f/3.3-5.9 piece. That's a little bit wider than average, though the aperture range is standard for the price. It sits flush with the body, covered by an automatic enclosure when the power is off, and extends about an inch when powered on.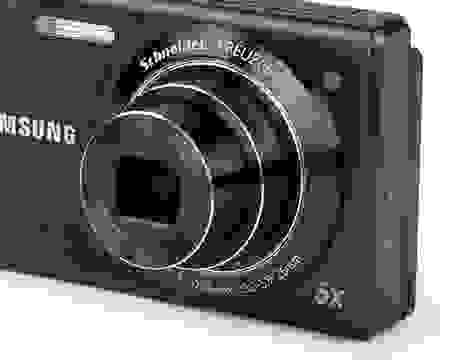 The MV800's 5x zoom range is pretty typical for the class: Long enough to be useful, too short to be noteworthy. It also has a 2x digital zoom, which extends the effective range out to 10x but with a significant loss of quality.
Like most Samsung cameras, the MV800's battery charges inside the camera, with the aid of an AC adapter and a proprietary USB cable. The battery itself is a Samsung-brand rechargeable lithium-ion, model number BP70A. Samsung has not published an official rating, but we got about 190 shots out of a charge. That's on the low end of average for the class, though touchscreen cameras tend to have shorter battery lives than non-touch models, so we aren't too surprised.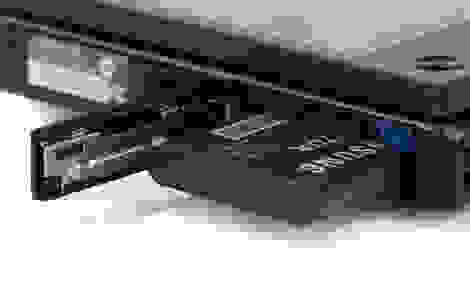 Most camera manufacturers are kind enough to stick with SD/SDHC memory cards, but Samsung cursed the MV800 with a MicroSD/MicroSDHC slot. Plenty of folks have one these cards kicking around in the backs of their smartphones, but it's still irritating that it won't accept the same SD/SDHC cards that just about every other camera does.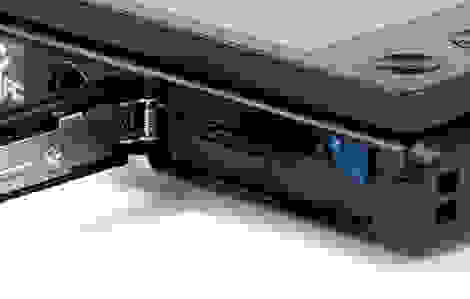 The MV800 rolls with a simple, typical connection scheme: A Micro HDMI port for playback on a monitor, and a proprietary USB hookup for charging and connecting to a PC.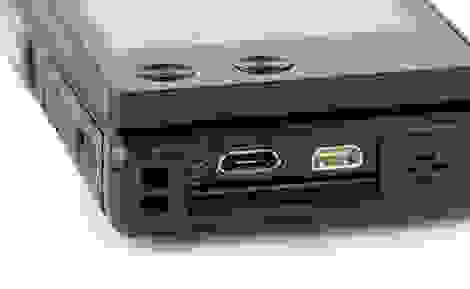 Most of the modes on the MV800 should look pretty familiar to any digital camera users, but some of them behave like apps on a smartphone. The bread-and-butter Smart Auto mode handles everything as usual, no different than any current digicam. Program mode allows adjustments to white balance, ISO sensitivity, focus, metering, and the like—par for the course. There's a sweep panorama mode and a gimmicky 3D-photo capture mode as well, both of which are nothing surprising for a decked-out point-and-shoot circa 2011.
The scene presets and effects can be found on most other cameras, too, but a chunk of them work like apps would on a smartphone—think of the crazy-popular Hipstamatic and Instagram apps on iPhones, the reasons why half the photos on your Facebook stream look like they were taken with a $10 film camera from the 1970s.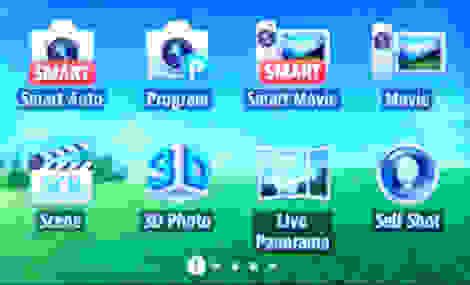 Scene Modes
The MV800 goes light on the "typical" scene modes, including just Landscape, Sunset, Dawn, Backlight, Beach & Snow, and Text settings.
Some of the oddball remainders are genuinely cool. The Night Shot setting actually opens up mode-specific aperture and shutter controls for shooting in dark conditions. Beauty Shot can smooth over blemishes—a little or a lot, whichever the user wants to choose, thanks to adjustable parameters.
On the other hand, a few modes are genuinely lame. Magic Frame, Pose Guide, and Picture in Picture are all pretty tacky, and we're struggling to think of situations where they might actually be useful, or even just take good pictures.
With a whopping 15 built-in effects, the MV800 has the most in-depth effects mode we've ever seen on a camera. Our scoring rubric doesn't even allow us to award as many points as we think this camera deserves for these fun extras.
We've seen all of these effects and filters on other cameras here and there—modes like Fish-Eye, Soft Focus, Miniature, Cartoon, and the like—but we've never seen so many in one place, and we've rarely seen such a level of control over so many of the effects. The Vignetting mode is the crown jewel. It gets its own icon in the menu, and when it opens, it acts like a mobile phone app: A few sliders pop up on the screen, adjusting the lomo, brightness, and contrast settings. Funny Face mode uses the MV800's face detection to find a subject's mug and then hilariously distort their features. It has more than a half-dozen presets, a custom mode, and adjustable intensity.
Are all these modes and fine controls necessary? Nope. Are they goofy fun to play with? Yep. Do they work well? As well as we've seen in a point-and-shoot. Effects may not factor into our final score all that much, and it's probably not a good enough reason for most folks to go out and buy this camera. But we have to give credit where it's due: The MV800 has the coolest effects mode we've seen.
As a CCD-sensor based camera, the MV800 is a slow performer. There is a continuous drive mode, but no burst mode to speak of, not even at a reduced resolution. Speed was clearly not on the minds of Samsung's engineers when they designed this camera.
Shot to Shot ()
The quickest shot-to-shot time we could achieve was a meager 0.6 frames per second. On the low end, that's less than a quarter of the speed that a CMOS-sensor based camera like the Canon ELPH 500 HS can crank out, and a fraction of what the fastest point-and-shoots can manage.
Auxiliary Shutter Release
It feels a bit silly dedicating a whole section to this one button, but we didn't know where else to include it in the review: When the LCD is flipped up, it reveals an auxiliary shutter button on the rear panel. This makes it easy to hold the camera at an arm's length and take a shot, all with one hand. Of course, as a touchscreen camera, users can still just press the LCD to select a focal point and take a shot, but that requires an extra hand.
At its core, the MV800 is a point-and-shoot. It was designed to fit in a small pocket, not fit in a photographer's hands. It's a thin rectangle with no grip, so one-handed operation can be a bit slippery, and when you need to use the touchscreen (and you will, whenever you need to make any adjustments or navigate the menus), one-handed operation is very difficult.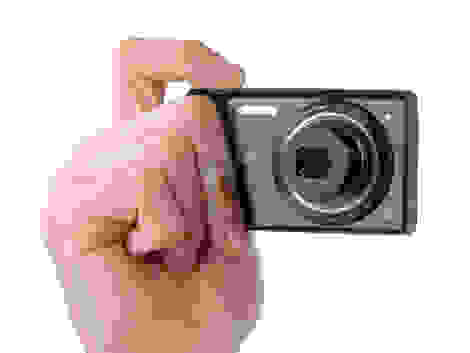 That said, the articulating screen opens up a bunch of new shooting angles. Self-portraits are a cinch—even easier than they are with Samsung's front LCD-equipped DualView series—and low-angle shots are much easier to frame than they are with a fixed-lens camera. The extra shutter button behind the LCD doesn't seem like it should make a big impact, but it's actually a helpful, convenient touch.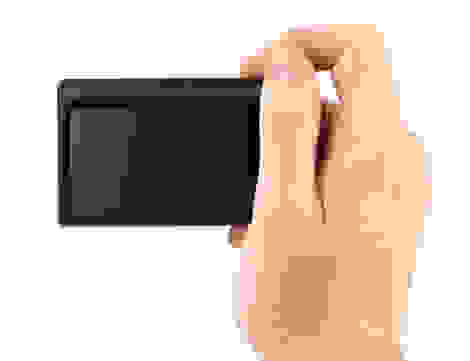 Overall, the body feels like it could be a leftover Samsung Alias 2 cell-phone chassis, re-purposed for a camera. Other writers in our office compared it to a old Motorola Sidekick text-messaging phone, or a miniaturized Nintendo DS.
There aren't many physical buttons to consider. There's a shutter release, power button, playback button, "home" button that brings up the top-level menu, and that aforementioned auxiliary shutter button behind the LCD.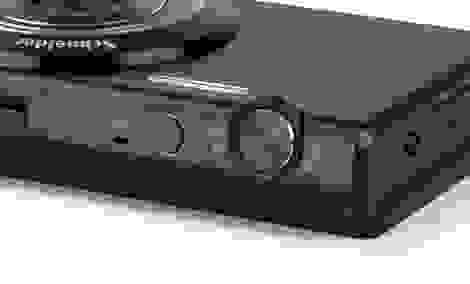 Most everything runs through the touchscreen. We've seen some disastrous touchscreens on cameras—the best ones don't force the shooter to use them for navigation—but thankfully the MV800 has a capacitive style display, like most smartphones, rather than the cheapskate resistive panels found on most cameras. The screen is nice and responsive, and we ran into far fewer false-triggering problems than we typically do. On the downside, the LCD attracts fingerprints like lint to a bellybutton.
The menu system is one of the most interesting aspects of the MV800. Samsung is known more for its mobile phones than for its digital cameras, and their mobile phone (and tablet computer) user interfaces (UIs) are generally excellent. We've gotten the impression from previous Samsung digicams that the phone division has had a hand in designing camera UIs lately as well, which has resulted in some good-looking and high-functioning menu systems.
With the MV800, the smartphone influence is more obvious than ever. Everything from the touch-based control to the "home" button to the app-like treatment of the shooting modes shouts "Samsung Galaxy." It's an interesting take, and one that could've bombed horribly; on a more serious camera, this would not work. But the MV800 is aimed squarely at casual users, the types of folks who have an iPod Touch but haven't heard of the Nikon D40. In that context, it's fine that the MV800 works more like a gadget than a camera.
Typical of a snapshooter, the MV800 ships with a thin quick-start guide in English and Spanish. It offers some basic user information, but more in-depth instructions can only be found in the full manual. Unlike most cameras, the MV800 does not ship with a CD-ROM that has the manual, but it is available for download on Samsung's website.
The Samsung PL120 is one of the company's latest DualView cameras, sporting front and rear LCDs. The MV800 MultiView ups the ante with an articulating screen, so that it doesn't need the extra front-facing LCD for self-portraits.
At their core, both cameras are average point-and-shoots with extra hardware. They earned similar image quality scores, so the choice between the two comes down to a perception of value. The MV800 costs more than twice as much as the PL120, but has a more versatile screen and a slicker user interface. The PL120...well, it's cheap and it has two screens. The MV800 earned a higher overall score than the PL120 in our tests, but by a thin margin, probably not enough to justify the beefier price tag.

/r:render
The Samsung MV800 and Canon ELPH 500 HS cost about the same, and both have touchscreens, but that's where the similarities end. They're just about polar opposites in terms of strengths and weaknesses.
The MV800's interface is that camera's greatest asset—just a charm to use—but it's the ELPH 500's biggest flaw. The resistive touchscreen is clunky and unresponsive, which is especially problematic for a camera with manual controls that plenty of users will want to access.
However, the ELPH 500 is a much better picture-taker. It has a wide-open f/2.0 lens, which helps out real-world low-light performance quite a bit. Its lab scores are great. The only category where it comes up short is distortion, which is unsurprising for a camera with a 24mm equivalent wide-angle setting.
It feels like comparing apples and oranges, but the MV800 is a sour apple so we'll go with the orange: The Canon ELPH 500 HS is our pick.

/r:render
The Casio Tryx is the only other small camera on the market that has an adjustable LCD, and it costs about as much as the MV800, so it's probably the most appropriate comparison point.
Both cameras suffer from flawed image quality, but the Casio Tryx is particularly terrible. The sensor output is incredibly noisy, but even worse, its processor applies a harsh, destructive noise reduction algorithm. Details are smeared away, and at high ISO settings, the results barely resemble the original scene. It earned a decent overall image quality score in our tests, thanks to the (technically) low noise levels, but just one look at its sample shots should convince anyone that the real-life picture quality is awful.
The MV800 offers a better overall user experience too. The Tryx's rotating screen makes it easy to shoot from tons of odd angles, but the MV800 is no slouch in that regard, and, unlike the Tryx, it actually has a zoom lens, which opens up framing possibilities that the Tryx can't. The Samsung also has an excellent user interface, where the Tryx is just OK.
Both models try to do something different with camera design, and both achieved that goal. Due to below-average image quality, neither is really worth the cost, but we'll confidently pick the MV800 over the Tryx.

/r:render
As a tool for photography, the MV800 has almost no specs or features that stick out to us, the camera nerds that work for this website. Image quality is average at best—actually, it's pretty crummy in anything but bright lighting. Shot-to-shot times are sluggish, the zoom is an unremarkable 5x, and it offers little manual control. For a $279 camera, those vital stats are weak.
But Samsung markets the MV800 as a picture-taking gadget for very casual photographers, and the gadget-y aspects of the design are actually pretty cool. The flip-up screen is genuinely useful—more comfortable for self-portraits than the front-facing LCDs on Samsung's DualView cameras, and handy for framing low-angle shots, too. The touchscreen is actually responsive, and the interface is as elegant as a smartphone's. And as frivolous as it might seem, the quantity and versatility of the effects is as awesome as we've seen on a point-and-shoot.
That brings up a relevant question for our time: Does anyone need a $280 camera that acts like a $200 smartphone? The MV800's image quality is only slightly better than a good smartphone's. Smartphones can download apps that mimic all of the effects and shooting modes on the MV800. Several phones have front and rear cameras, so they don't even need a hinged LCD to take a self portrait. Oh yeah, smartphones can also do everything else: make calls, access email, browse the web, run games, post photos and videos directly online, check box scores, weather, bus schedules, stock prices...the list goes on. The MV800 is a crippled, overpriced Samsung Galaxy phone that only does one thing, take pictures, and it doesn't even do that very well.
We're guessing that the niche for a product like the MV800 is very, very small—we can't find a good reason to recommend it to anyone. Sure, it has no monthly costs, but if money is an issue, you shouldn't be spending $280 on a mediocre point-and-shoot anyway. The MV800 does have a cool user interface, but that alone is no reason to choose a camera. There are tons of better cameras for an equal or better price. Spend your money on one of them.
Meet the tester
Liam F McCabe
Managing Editor, News & Features
@liamfmccabe
Liam manages features and news coverage for Reviewed.com. Formerly the editor of the DigitalAdvisor network, he's covered cameras, TVs, personal electronics, and (recently) appliances. He's a native Bostonian and has played in metal bands you've never heard of.
Checking our work.
We use standardized and scientific testing methods to scrutinize every product and provide you with objectively accurate results. If you've found different results in your own research, email us and we'll compare notes. If it looks substantial, we'll gladly re-test a product to try and reproduce these results. After all, peer reviews are a critical part of any scientific process.
Shoot us an email