Last year's Samsung NX300 has been a rousing success, providing excellent performance at a very attractive $550 price point—enough to take home one of our best of year awards. With Olympus, Sony, Panasonic, and Fujifilm all seemingly battling it out for the love of enthusiast mirrorless camera shoppers, Samsung has done well targeting the middle of the market, offering high-end performance at attractive price points.
Samsung is apparently doubling down on that success, and launching a new lens system in the process, with the NX Mini (MSRP $449.99). Combining the slim profile of the company's advanced point-and-shoot cameras with a shrunken lens mount and a 1-inch image sensor, the NX Mini is poised to go head-to-head with Nikon's 1 system for entry-level shoppers. But while Nikon is pushing for smartphone shooters to abandon their phone for something better, Samsung's NX Mini wants nothing more than to be your smartphone's sidekick, tagging along everywhere that you go.
For anyone but the skinny jeans crowd, the NX Mini is a truly pocketable interchangeable lens camera.
The NX Mini isn't difficult to visualize: it's a slim point-and-shoot with a tilting screen and detachable lenses. Without a lens attached the NX Mini shrinks to a very palatable 22.5mm, or about the thickness of a pack of cards. The 9mm kit lens adds another 12.5mm, according to Samsung, but it's overall not an uncomfortable size. It would easily fit into the pocket of a jacket, purse, or bag, and you can live with its size if you have to stick it in the pocket of a pair of jeans.
Aesthetically, the camera fits with Samsung's recently-announced Galaxy Camera 2. Its wide, thin body is made primarily of magnesium alloy, with an aluminum top plate and lens. The non-aluminum parts of the camera are wrapped in a slick leatherette. The camera comes in five colors: the standard white and black options, a dark brown, and pastel green and pink versions. It's a visually appealing design that the fashion-forward among us certainly wouldn't be ashamed to carry around.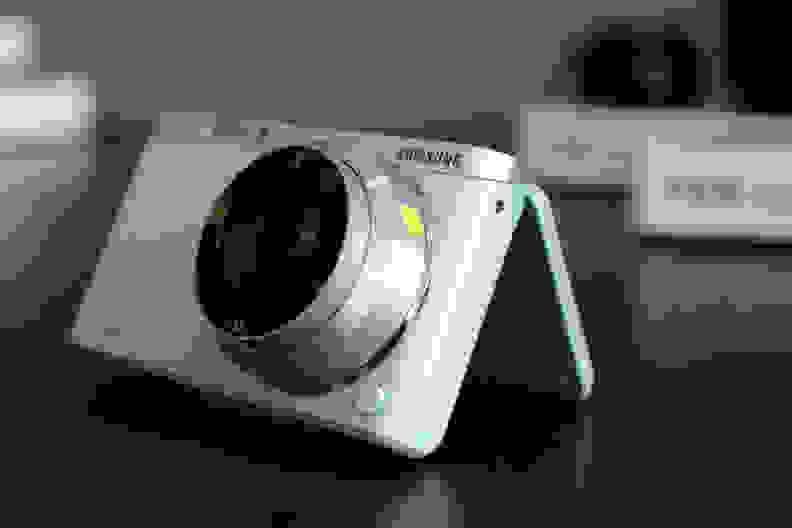 Control-wise, this is clearly designed as an entry-level camera with plenty of room to grow. There's no control dial, for starters, and the controls are primarily plastic. The rear 3-inch touchscreen flips up and forward to face your subject, with touch control enabled for useful things like touch-to-focus. The buttons on the back give you access to the basic controls, and all the buttons have just the right amount of resistance and haptic feedback. It's an easy camera for anyone to use, and the camera does most things automatically.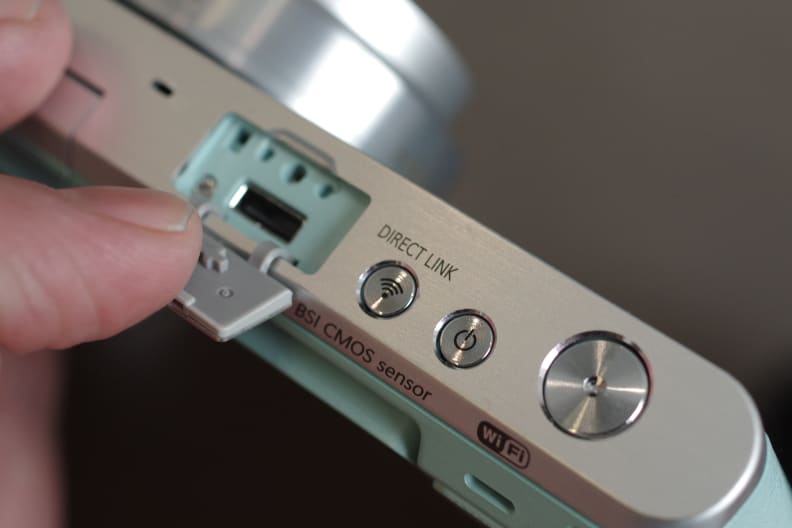 As simple as the camera is to shoot with, the NX Mini does give the more adventurous among us the option to move on from fully automatic modes. The camera shoots RAW, offers some manual control, and comes packaged with the full version of Adobe's Lightroom 5. It's a camera that you'd feel confident handing to your grandmother to take a quick photo with, but pixel peepers will certainly get plenty out of it as well.
Cutting weight without cutting corners
The main draw of the NX Mini is its combination of size, performance, and price. It is positioned to go right up against Nikon's 1 system, as well as premium compact cameras like the Panasonic LF1, Sony RX100 II, and the Nikon P7700. Its 1-inch sensor matches the Nikon 1 J3, with a control scheme and standard wireless connectivity that seems more direct and approachable. And while it remains to be seen how well its sensor stacks up agains the likes of Sony's excellent RX100 II, the ability to swap lenses is a major advantage.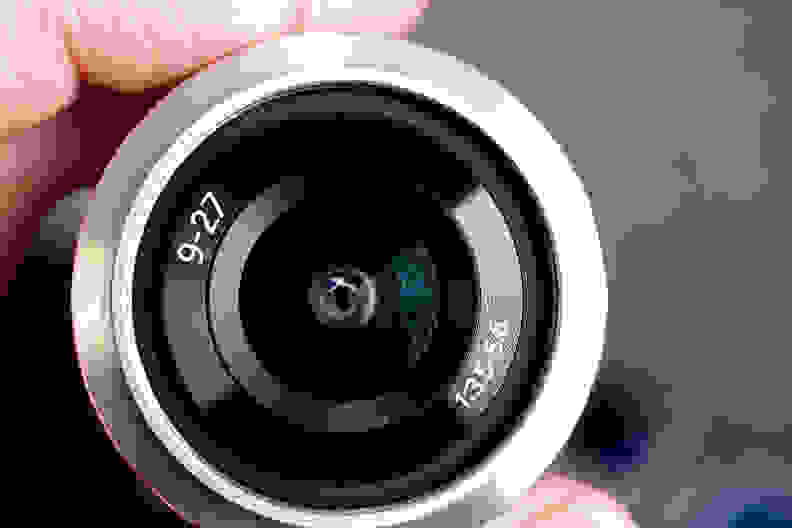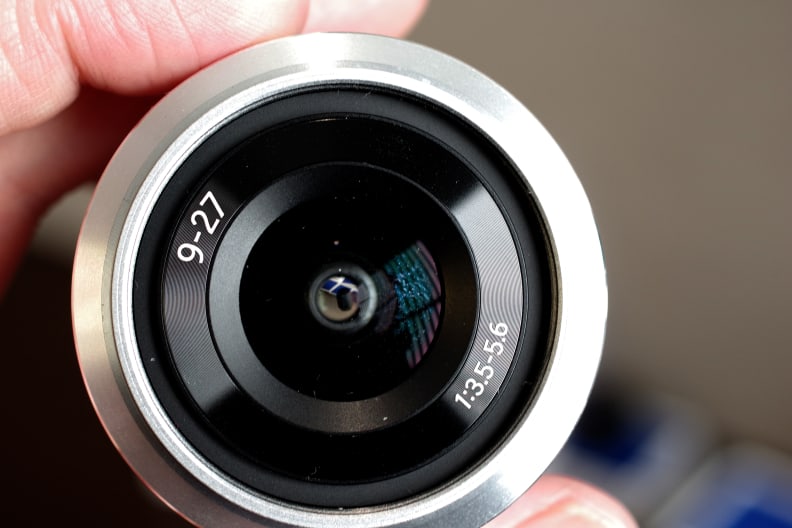 At launch you can pick up the NX Mini with either the 9mm f/3.5 lens or the 9-27mm f/3.5-5.6 zoom lens. Samsung's reps also mentioned that it's likely there will be a bundle SKU that features the camera plus both lenses in the future, and a 17mm f/1.8 lens has also been announced for the system, though price is TBD and it won't ship until May at the earliest. Existing NX users or lovers of putting overly large lenses on tiny bodies can also pick up an adapter to use all regular NX lenses on the Mini for $149.99. The Mini also comes with the same massive battery as Samsung's S4 Zoom, good for over 600 shots on a charge, though the small form factor means you'll be stuck using MicroSD cards instead of the full-sized versions.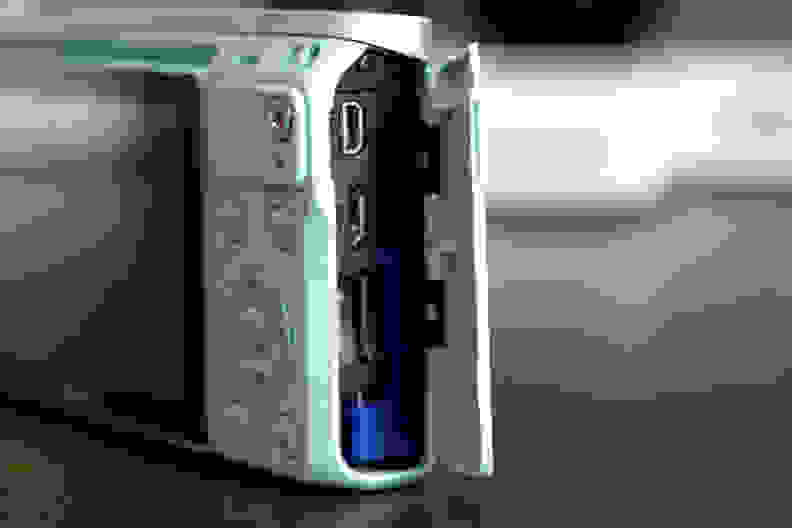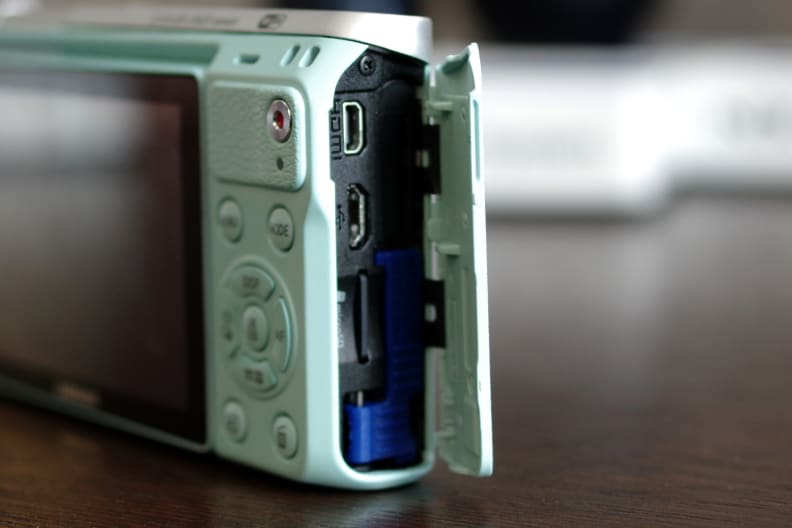 As mentioned above, the NX Mini is not just a small camera promising big performance, it's a camera launching at a very attractive price. The Mini's MSRP will be just $449.99 with the 9mm lens at launch, which is around $100 less than Nikon's similar J3, and several hundred below the popular fixed-lens Sony RX100 II.
Getting to that price doesn't seem to have required too much cost-cutting on Samsung's part, as the NX Mini doesn't have any glaring performance weaknesses, at least on paper. It has a 20.5-megapixel sensor, built-in WiFi, the aforementioned flip-up touch LCD, and is capable of a healthy six frames per second continuous shooting. That's a far cry from the 60fps (with AF locked) that the Nikon 1 system cameras are capable of, but it remains to be seen how good the NX Mini's snaps look by comparison.
Samsung's NX Mini is a low-cost upgrade for smartphone shooters
The NX Mini is a bold bet by Samsung that the market is hungry for an interchangeable lens camera that can fit in one pocket while complementing the smartphone you've already got in the other. It's a risky proposition, given that Nikon's 1 system hasn't caught on all that well outside of Asia and with smartphone cameras improving with each successive generation. Compounding the issue is that most social media services—the places where photography is booming—display your shots at such a small resolution that deficiencies from bad cameras are hidden from view.
But apps like Instagram and VSCO Cam are exploding in popularity for a reason. The currency of the internet is pictures, and people are taking more of them than ever. Even if retro filters are in style for the moment, ultimately people are looking for faster, better cameras that combine the power of a DSLR with the portability of a point-and—shoot. The promise of the NX Mini is exactly that, but like other mirrorless system debuts, it raises more questions than it answers.
Will the images be an improvement over existing cameras like the Sony RX100 II or Nikon J3? Will users really want to carry around a second camera at all, or just wait until smartphone cameras make another generational leap? Do entry-level users, who rarely buy a second lens if they buy an interchangeable lens camera at all, even want to swap lenses? Is $449.99 cheap enough when APS-C mirrorless cameras can be found as low as $300?
We're betting Samsung has gobs of market research that suggests that the NX Mini can answer these questions successfully. But the failure of mirrorless cameras to find widespread success in the market is a troubling trend. Perhaps we've just been in need of a company with the marketing muscle and the willingness to commit itself to selling mirrorless to the masses. Samsung is undoubtedly in such a position, but will they do that with the NX Mini? That may be the biggest (Mini) question of all.
Meet the tester TJ Donegan
Executive Editor
@TJDonegan
TJ is the Executive Editor of Reviewed.com. He is a Massachusetts native and has covered electronics, cameras, TVs, smartphones, parenting, and more for Reviewed. He is from the self-styled "Cranberry Capitol of the World," which is, in fact, a real thing.
Checking our work.
Our team is here for one purpose: to help you buy the best stuff and love what you own. Our writers, editors, and lab technicians obsess over the products we cover to make sure you're confident and satisfied. Have a different opinion about something we recommend? Email us and we'll compare notes.
Shoot us an email