One of the biggest stories this week at Photokina has been the Lumix CM1, an Android 4.4 smartphone that squeezes a 28mm f/2.8 Leica lens and a 1-inch sensor into a slim, stylish body. But Panasonic isn't the only company trying to bridge the smartphone/camera gap. Samsung has its Galaxy Cameras, and then there's Sony and its line of QX "lens style cameras."
This month, Sony announced the Alpha ILCE-QX1 (MSRP $399.99), a new take on the QX concept with an APS-C sensor and Sony E mount. Yep, that means it can use all your NEX and A7-series lenses, and (in theory, anyway) produce shots just as brilliant as those you'd get from the latest APS-C DSLRs and mirrorless cameras.
The question is... why? Why would you choose one of these odd little lens modules when you can buy any number of Sony's own WiFi/NFC-enabled cameras, or just use the (probably perfectly acceptable for sharing purposes) camera that's already built into your phone?
Despite an avalanche of gushing PR materials, Sony hasn't really provided a compelling answer. So we went hands-on in a quest to find our own.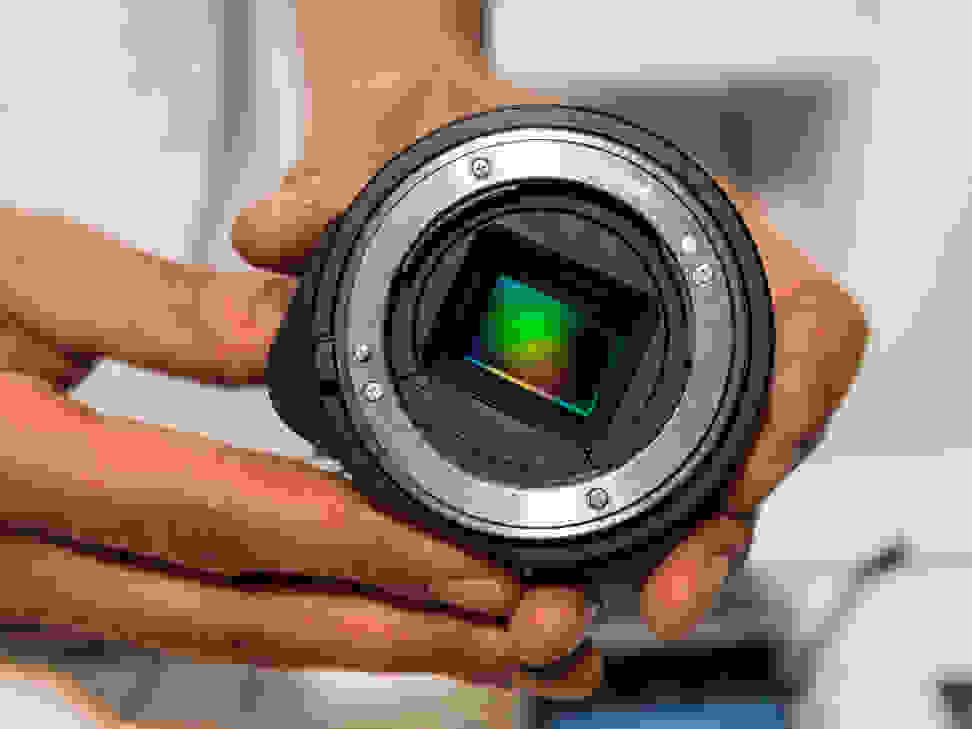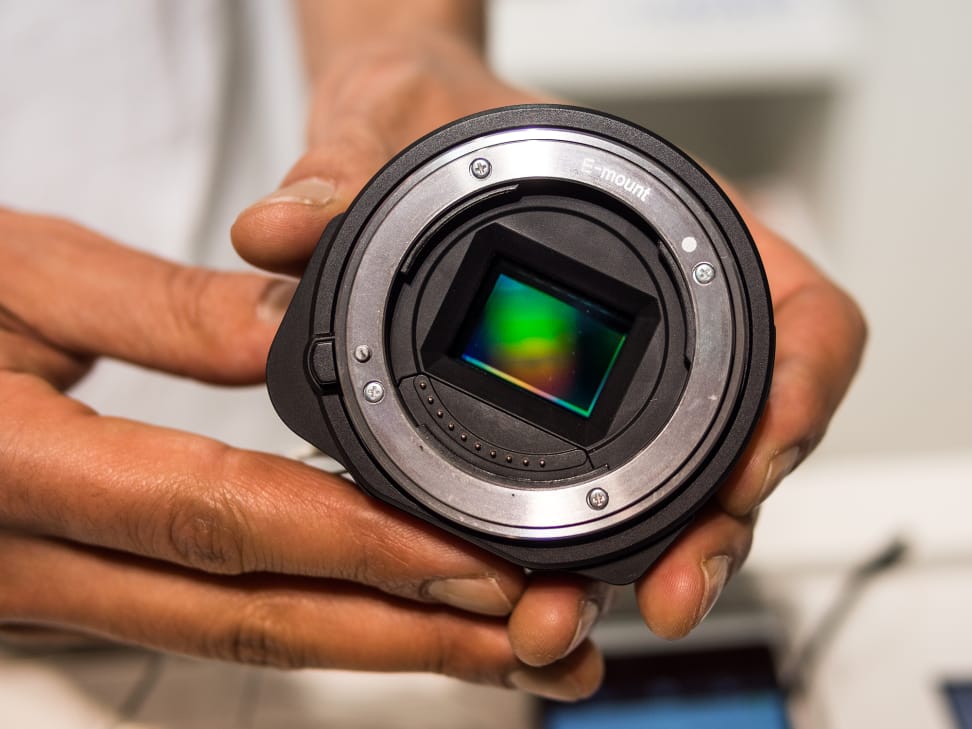 Design & Usability
Clever design, but to what end?
Imagine the QX100. Now imagine it with no lens, but a larger sensor. Congratulations, you've got yourself a QX1.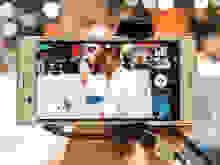 Okay, sure, there's a pop-up flash and the battery is a heck of a lot bigger, but otherwise there's not much of a physical difference between the QX1 and previous QXes. You've still got a shutter button, a power button, a detachable bayonet mount, a tiny monochrome status LCD, and a tripod socket. There's still a microSDHC slot and a micro USB port for charging and file transfer.
Syncing the camera to your phone or tablet is pretty easy. You just need to download the free Sony PlayMemories Mobile app (iOS and Android—Windows Phone users need not apply), fire it up, and pair either via NFC (for Android and, potentially, iPhone 6) or WiFi Direct. Pairing takes just a couple seconds.
After that, you can use the phone screen as your viewfinder—provided you can get a fluid connection, anyway. On the busy Photokina show floor, the Xperia Z3 tablets connected to the display model QX1s had serious trouble maintaining an uninterrupted video stream, which made it difficult to frame shots. (Of course, Photokina is a jungle of overlapping WiFi signals, so perhaps that's no surprise.)
Once you're in live view, you can tap the on-screen shutter button to shoot, or, if you've selected the Tap-to-Shoot option, tap anywhere on the screen to focus and capture. It's simple as can be, but there are still a couple pitfalls.
For one thing, you also need to tap some very tiny on-screen areas to bring up vital shooting settings like aperture, exposure compensation, and ISO. Miss by a few pixels and you'll snap an unwanted shot, then wait for it to transfer, then hit the back button to escape back to live view. Very frustrating.
Assuming you manage to access those settings, making adjustments with the tiny, thin-lined controls proves just as challenging.
Live view shooting is as simple as can be, but there are still a couple pitfalls.
File transfer is pretty quick, but it does lock you out of shooting until it's done. Image playback is fine, though you get a (user-configurable) compressed preview JPEG rather than the full-res shot. On larger tablets, that can lead to some pixelation.
Features
An awkward fit
Like previous QXes, the QX1 includes a bayonet-mounted clamp that can latch onto your phone. It can be stretched wide enough to fit pretty much any phone on the market (including phablets like the Galaxy Note series), but most tablets will be a bridge too far.
Depending on the phone you use, the clamp may need to be positioned off-center to avoid pressing edge-mounted volume and power buttons, but it generally works just fine and feels plenty secure.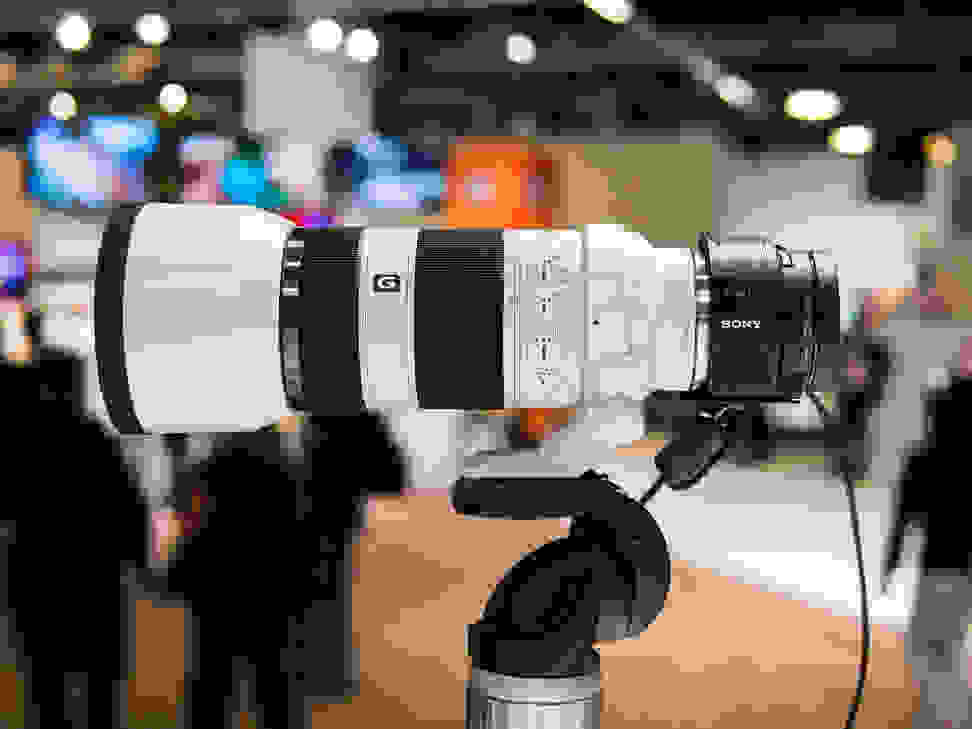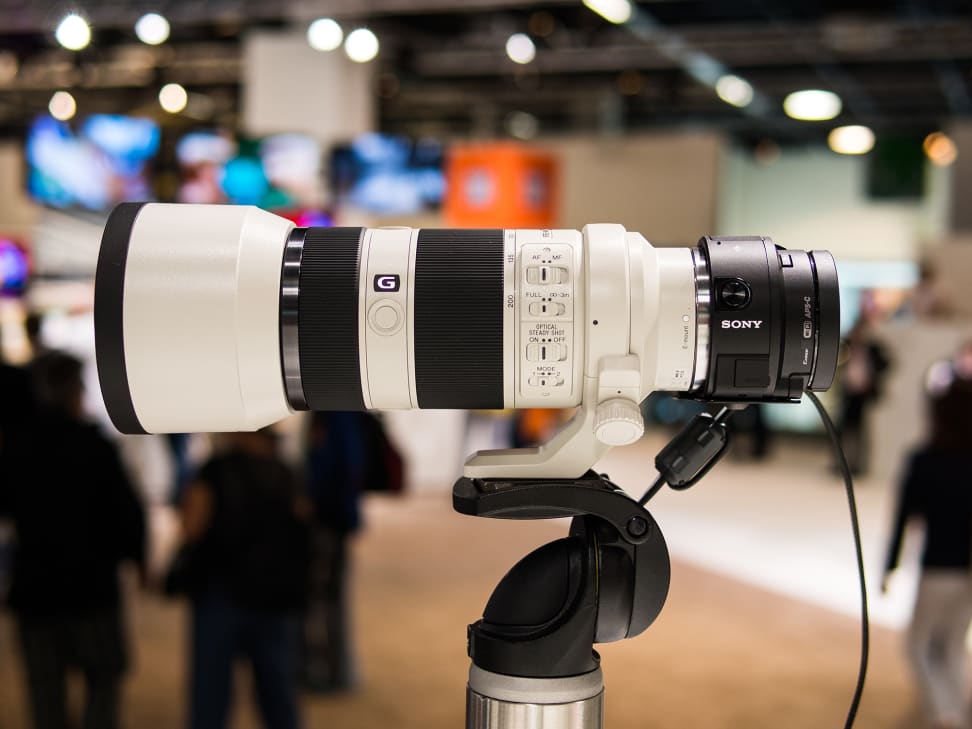 The QX1 only weighs about half a pound, but of course that's before you strap on a lens. Even without one, it's enough to throw off the balance of your phone, which means you'll be shooting with the camera cradled in your palm. When you add a bigger telephoto prime or zoom, the balance gets even more awkward.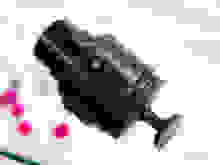 This time around, Sony is offering two add-on grips that seem to admit what everyone has been thinking: There's no way you're going to just slap this thing on your phone and comfortably snap away.
First up is a hand grip (pictured on the QX30) that the Sony booth rep helpfully informed me is "great for selfies." It's basically a little doorknob you can snap onto the back of your QX, with the stem section fitting between your fingers. Sony is also offering a "Free Angle Shooting Kit," which is a hinged mount that lets you tilt the QX cameras away from your phone for off-angle shots.
Of course, no one's saying you have to shoot the QX1 attached to a camera. When testing the Cyber-shot QX10 last year, we found we could reliably operate it from as much as 50 feet away, which opens up all kinds of interesting (and potentially creepy) shooting possibilities. We've heard tell of pro photographers cramming them into bridal bouquets or fixing them atop light poles to capture otherwise impossible shots.
We've heard tell of pros cramming QXes into bridal bouquets or fixing them atop light poles to capture otherwise impossible shots.
But how many shooters really need remote monitoring capability from an APS-C ILC? And why wouldn't they just buy a camera like the Sony A5000 (currently $450 with the 16–50mm PZ lens), which can accept all the same lenses, has WiFi built in (including remote control), and is more comfortable to shoot with when you actually want to hold it?
The 20.1-megapixel sensor is probably a close relative of the one used in the A3000 and A5000. While we couldn't draw any definitive conclusions about its output on the show floor (especially with the poor playback resolution), you can expect great things with the right lenses. The sensor is backed up by Sony's Bionz X processor, which allows it to shoot at up to 10fps at full resolution.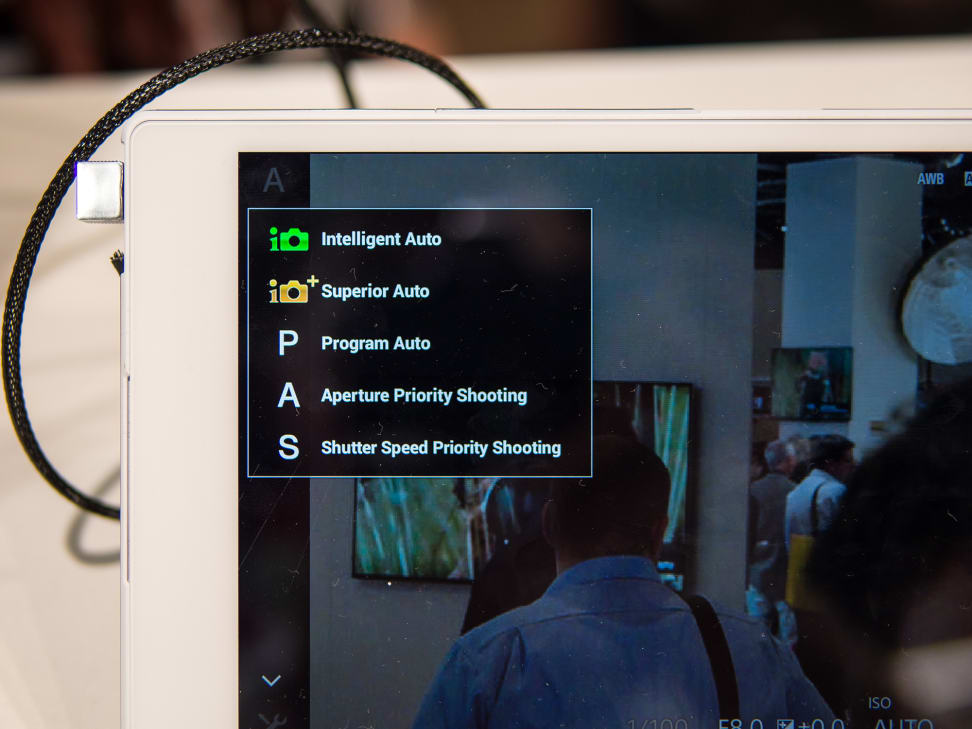 Autofocus is limited to contrast-detect, which means you probably won't want to use the QX1 for sports shooting. (Though we're not sure how you could, regardless.) Sony claims 25 AF points, but with touch AF enabled the choices are essentially infinite.
Unlike earlier QX models, you can shoot the QX1 in aperture and shutter priority modes for greater creative flexibility. It's what you'd expect from any APS-C camera, though as we mentioned above, the implementation could use some work and there's still no manual mode.
Conclusion
This was a bad idea in 2013, and it's not any better now.
While playing with the QX1 at Sony's Photokina booth, I happened to overhear an amusing exchange as a representative from another company walked up to the closest booth attendant and started asking rapid-fire questions:
"Weren't these things a flop?"
"Why would I use it?"
"Is this a full-frame?"
While the first couple questions were met with amused non-responses, the last drew an intriguing reply: "No, this is APS-C type, but we'll probably have a full-frame version soon."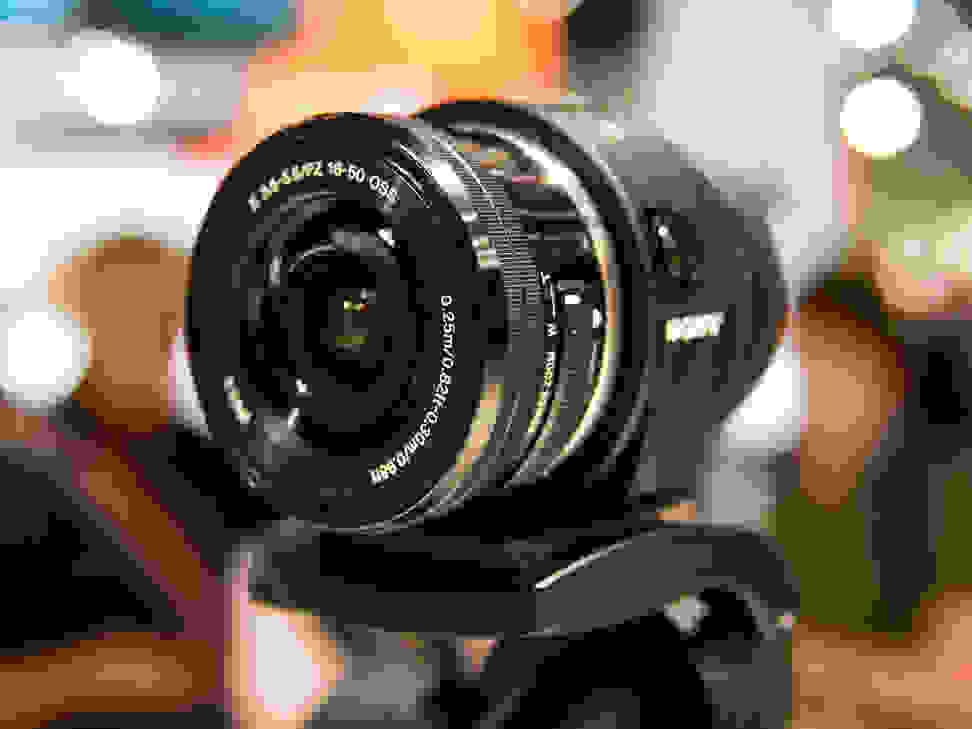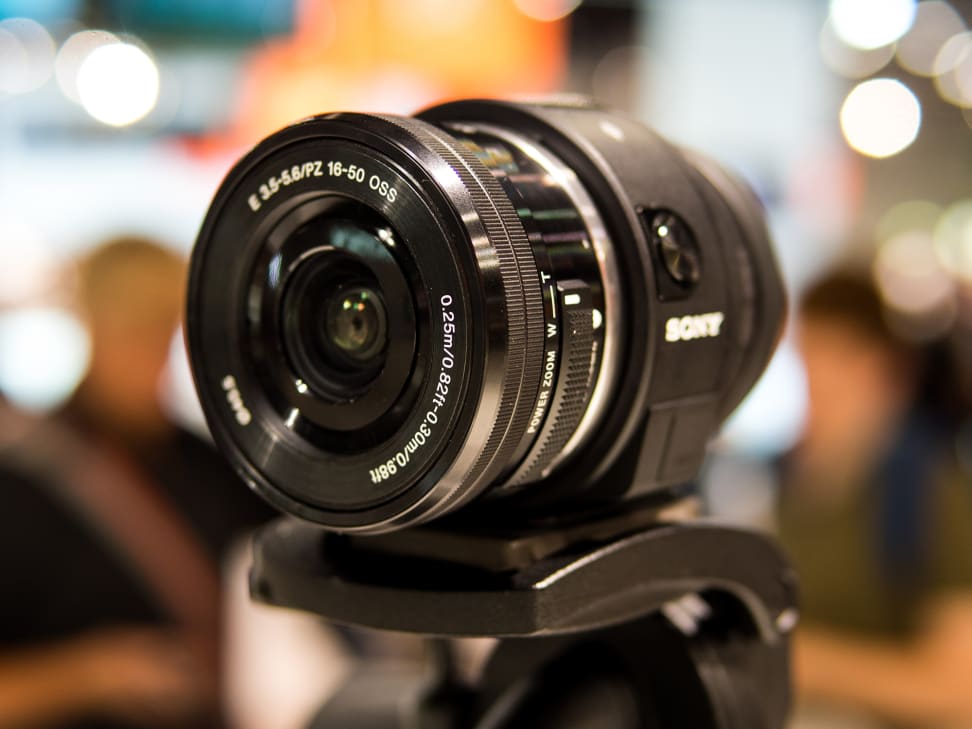 Of course, it's likely this was unsubstantiated, wild speculation, but he was probably right to assume it all the same.
Like Samsung, Sony has a habit of flinging ideas at the wall to see what sticks, and the QX idea seems to be hanging on for the time being. A QX with an interchangeable lens mount? It's just another dart to fling.
The QX1 is an improvement on last year's models, but it does nothing to address the fundamental weaknesses of Sony's concept.
From an image quality standpoint, the QX1 is undoubtedly an improvement on last year's QX10 and QX100, but it does nothing to address the fundamental weaknesses of Sony's concept. Aside from a few incredibly specialized use cases, we simply can't fathom why anyone would consider a QX1 over a conventional WiFi-enabled camera.
Our editors review and recommend products to help you buy the stuff you need. If you make a purchase by clicking one of our links, we may earn a small share of the revenue. Our picks and opinions are independent from any business incentives.