The changes may not be cosmetic, but they work to better differentiate the NEX-5N from the NEX-C3 and the recently announced NEX-7 cameras. The end result is a camera that—with the addition of a phase detection autofocus lens adapter and an OLED viewfinder—feels more like a fleshed out compact system camera than a proof of concept experiment. The 5N comes kitted with an 18-55mm lens. Read on to find our first impressions of shooting with the camera.
The NEX-5N is available in black, silver, and white body styles, it has a thin body with a large grip protruding on the right side. The metal lens mount also sticks out a few millimeters from the front of the body. The large grip will lose the camera points on paper when you compare depth to some other small models, but with an APS-C sized sensor and DSLR-sized lenses, the extra grip adds a necessary level of control that aids shooting. The grip is substantial enough that even with the optional phase detection autofocus lens adapter and a large Alpha lens, the NEX-5N does not feel difficult to control.
The rear of the NEX-5N offers a tilting 3-inch touchscreen, with a rear control wheel, menu button, and two context-sensitive buttons that take up different functions depending on the mode and menu that the user is currently in. The top of the camera is home to the camera's shutter release, as well as the dedicated video record button, playback button, and power switch. Operating the NEX-5N requires paying more attention to the on-screen cues than with some other cameras, but the user interface is generally intuitive once you've adjusted to it.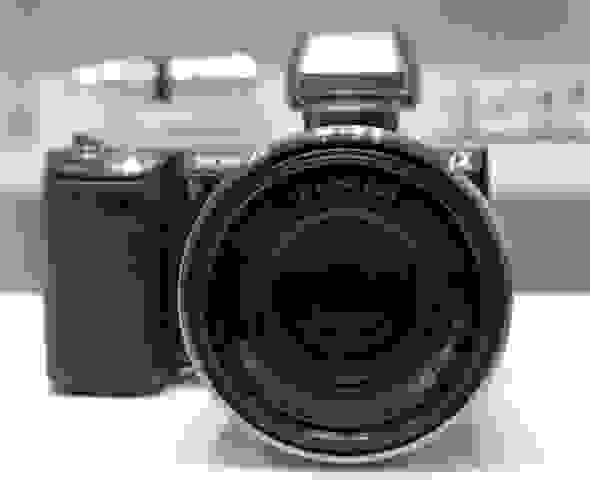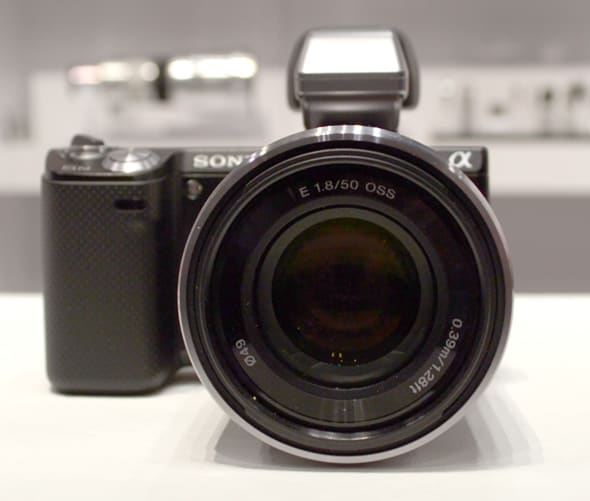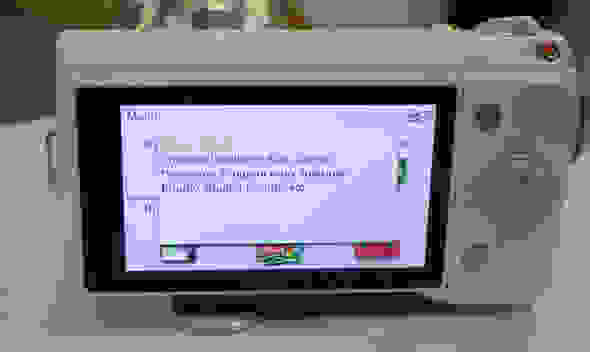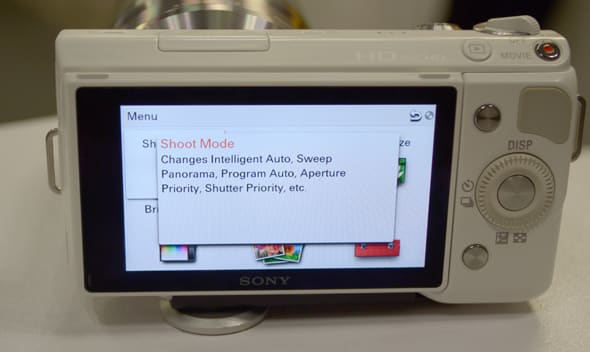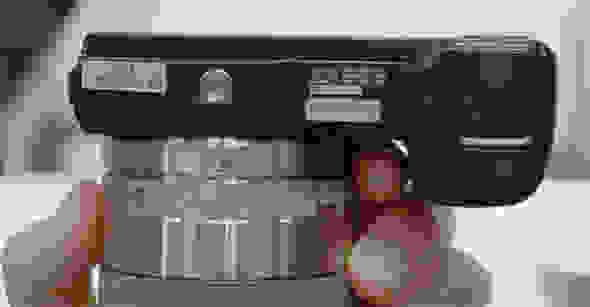 The Sony NEX-5N comes with a 3-inch tiltable LCD, with a resolution of 920,600 dots. The screen is bright, with crisp text that is easy to read in almost any lighting condition. We weren't able to see it in bright light because we only saw it on the show floor, but the NEX-3 and NEX-5 had issues with bright sunlight typical of other LCDs, so we wouldn't be surprised if it was the same story with the NEX-5N. The big upgrade over other NEX models is the NEX-5N's touchscreen interface. There haven't been many changes to the user interface to accommodate this addition (most of the NEX-5's on-screen displays looked touch-oriented already, in truth), just that most of the on-screen graphics can now be adjusted with a simple swipe of the finger if desired instead of the rear control wheel.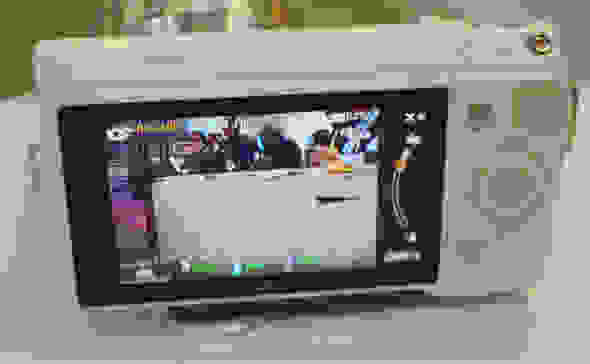 The NEX-5N does not come with a viewfinder as a standard accessory, but an optional OLED electronic viewfinder is available for purchase separately. The viewfinder fits into the camera's top accessory port and has a dial that locks it into place. It's bright, and accurate, essentially replicating the rear LCD in the eyepiece. The viewfinder has a very slight delay when shooting, with a bit of blurring when panning horizontally that the rear LCD doesn't have. Shooting with the EVF feels natural, however, and it is especially beneficial when shooting with any of the Alpha lenses attached, as the added weight can make framing away from your body more difficult.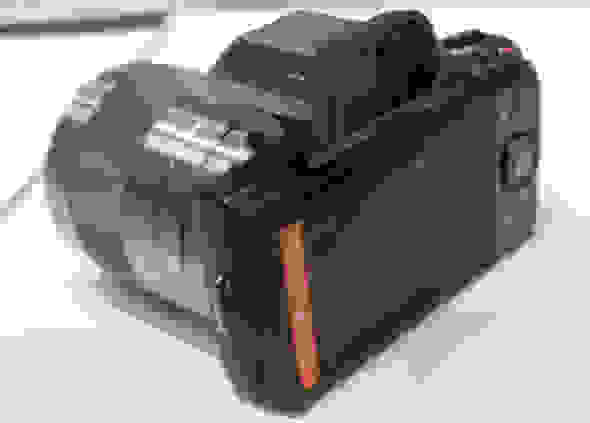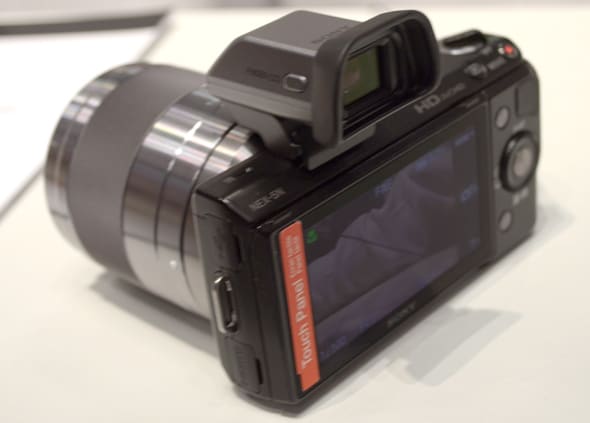 The NEX-5N does not include a built-in flash, instead opting for an external flash attachment (the HVL-F7S) that is supplied with the camera. The F7S has a guide number of 7m at ISO 100, with a field of view coverage up to 16mm. In the camera, users can set a flash exposure compensation of +/-2 stops in 1/3-stop increments. The flash can be set to autoflash, fill-flash, rear sync, slow sync, and red-eye reduction modes in the camera's menu.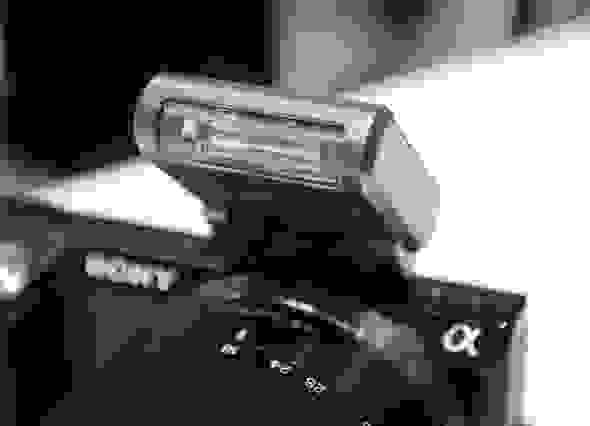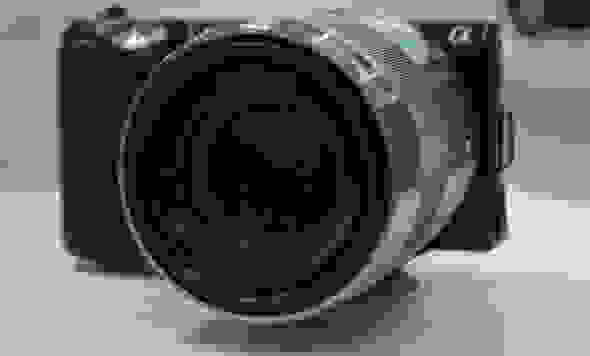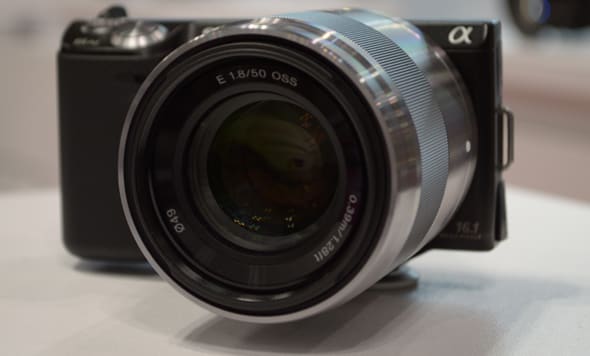 The 5N offers a standard array of jacks and ports, with USB/AV and HDMI output. The NEX-5N also has the NEX accessory port, which is compatible with the external flashguns as well as the OLED viewfinder, which Sony sells seperately. The ports on the camera are all kept behind small plastic flaps that snap into place when covering the port.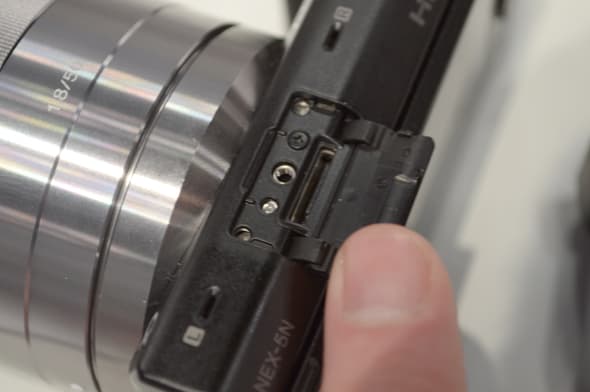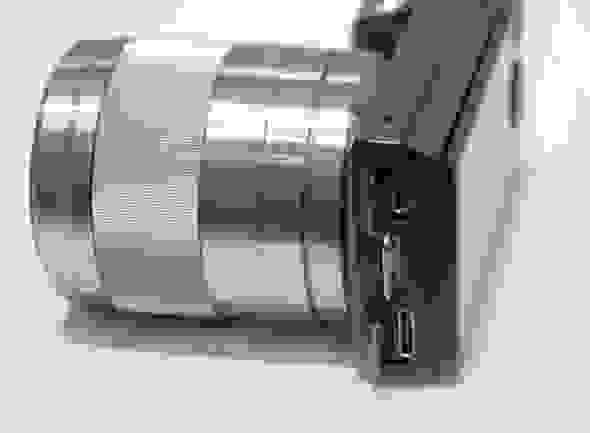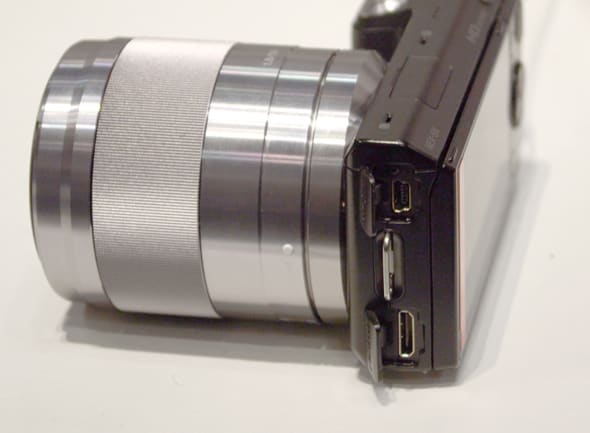 The NEX-5N makes use of the rechargeable lithium-ion NP-FW50 battery, just as the NEX-C3, NEX-5, and NEX-3 did before it. This is also the same battery that is used in the new NEX-7 as well as the SLT-A33 and SLT-A55 cameras. The NEX-5N is rated to 430 still images by CIPA standards with this battery.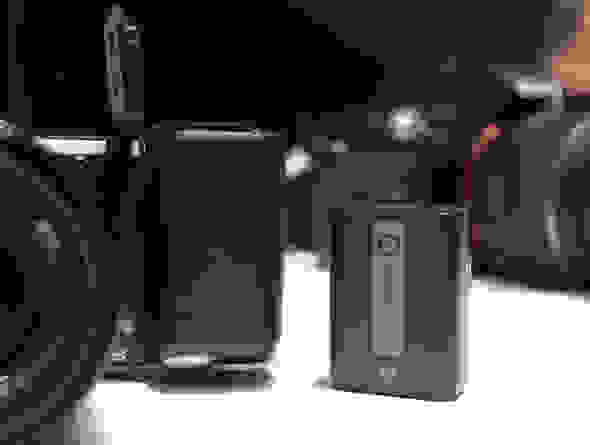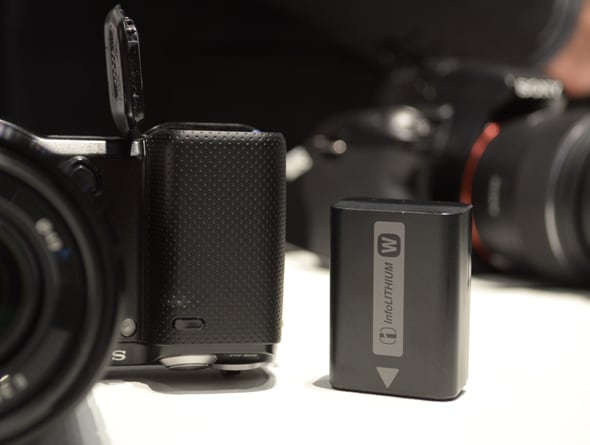 Users can record their images and video to SD/SDHC/SDXC memory cards, or make use of Sony's proprietary Memory Stick PRO Duo™/Pro-HG Duo™/PRO-HG HX Duo™ memory cards, if you have a stack of them laying around and need to give them a use. We haven't noticed a difference in the past using SD-based memory against Sony's proprietary memory, though SD/SDHC/SDXC memory cards tend to be cheaper than their proprietary counterparts.
The Sony NEX-5N is designed for both DSLR owners looking for a second camera as well as those stepping up from a point-and-shoot. looking for a higher quality interchangeable lens camera than maybe what the absolute entry-level cameras offer. It has a full measure of manual controls, as well as a built-in collection of shooting tips for getting the most out of the NEX-5N in various shooting situations. These tips don't lower the initial learning curve much, but for those looking for a more in-depth understanding of the camera's operation, they offer an extra value.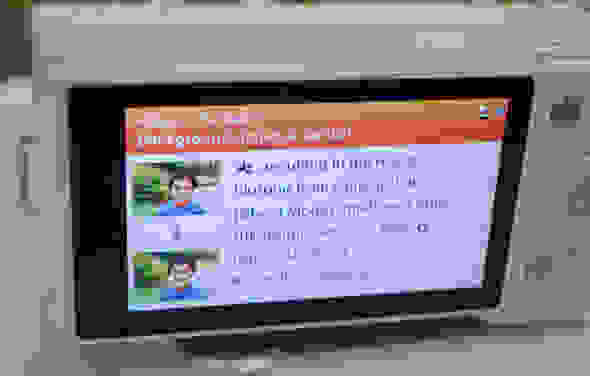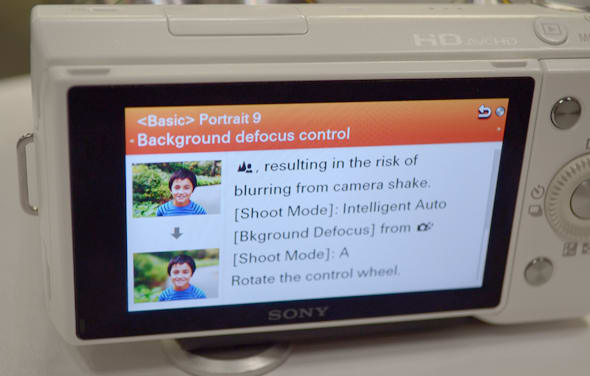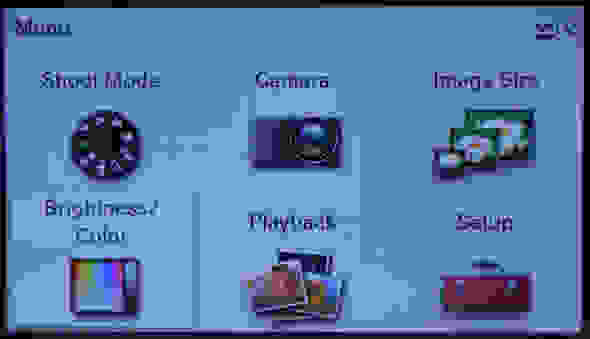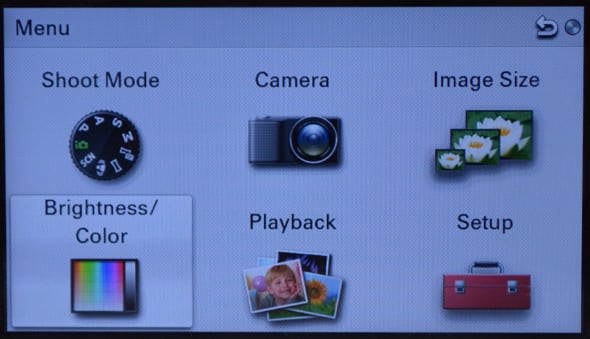 Size numbers are always difficult to discern when investigating mirrorless cameras, as they have obvious protrusions that a single depth measurement doesn't cover. The NEX-5N is no different, as it has a rail-thin body and a larger grip that extends from the right side of the body. That large grip is more substantial than what is offered on competing mirrorless compact system cameras such as the Panasonic GF3, Olympus E-PL3, and Nikon V1. This helps because the lenses for Sony's NEX system are larger than those used with the competition and, especially if you plan to use an adapter to utilize an Alpha-mount lens, the extra control is beneficial.
The result is a camera that may not slip into your pocket, but one that handles confidently in a number of situations with just about any size lens attached to it. The camera never feels as though it may slip out of one's grip or that it is too unbalanced to shoot with a single hand. The NEX-5N may not be the skinniest competitor, but there are really no compact system cameras that you would justifiably call "pocketable" with a lens attached.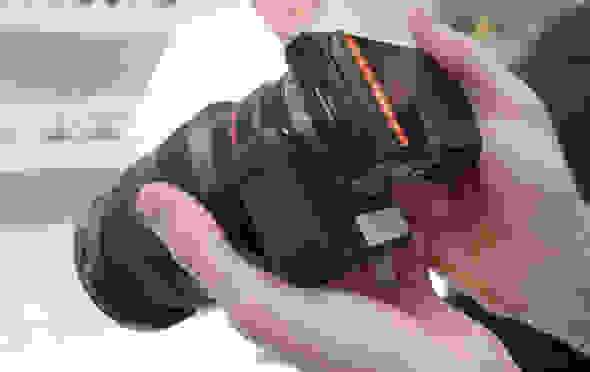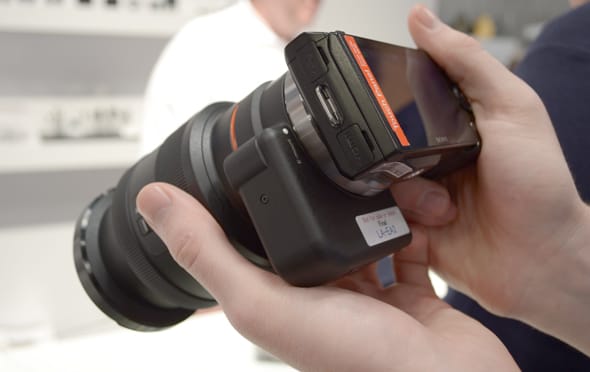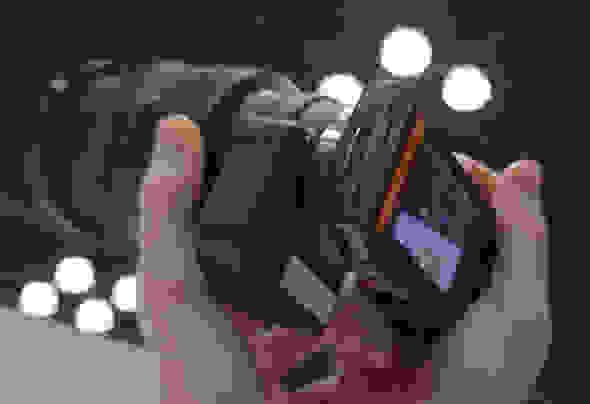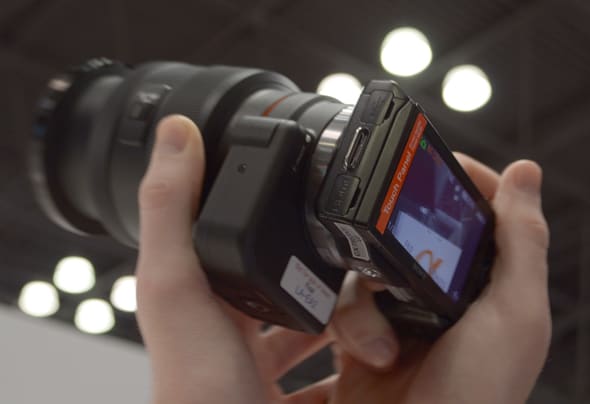 The Sony NEX-5N offers both an intelligent auto mode as well as a program auto mode, with the ability to meter in multi-segment, center-weighted, and spot modes. The auto modes are accessed through the camera's menu system rather than a physical mode dial.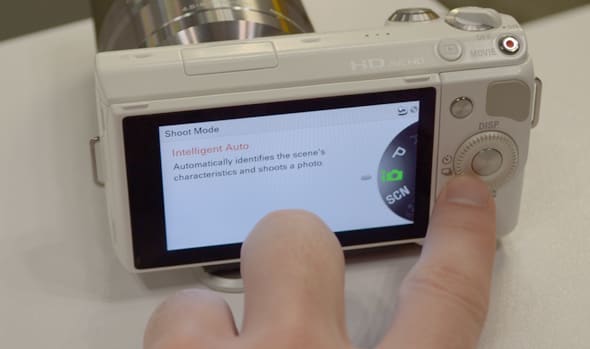 One of the other big upgrades from the NEX-5N over the NEX-5 is the addition of 1080/60p shooting, with 1080/60i options also available. This also presents an upgrade over the NEX-C3, which is only capable of shooting 720/30p, further differentiating the two models. The NEX offers a dedicated video record button on the top of the camera to begin recording. At 1080/60p, the NEX-5N records at a maximum bitrate of 28Mbps in AVCHD, with a built-in stereo microphone and a stereo 3.5mm microphone input.
The playback on the NEX-5N is similar to on other NEX-series cameras, with some
There are eleven different picture effects that can be used when shooting with the NEX-5N, with a few variations on a couple of these. These effects include: posterization, pop color, retro photo, partial color, high contrast monochrome, toy camera, soft high-key, soft focus, HDR painting, rich-tone monochrome, and miniature. These custom image presets allow for a little extra creativity, in-camera.
The NEX-5N also offers a speed bump over last year's NEX-5 and the NEX-C3, with continuous shooting up to 3fps, but with the ability to reach 10fps in speed priority mode. We'll have to get the camera in our labs to test its actual speed and capacity, but we found the NEX-5N responsive, as we've come to expect from the NEX-series cameras. The camera also offers self-timer options in the form of a ten- or two-second delay with single, three or five frame bursts afterward.
The NEX-5N offers manual controls for both shutter and aperture in priority modes, as well as the camera's full manual mode. Manual control is operated using the rear control wheel,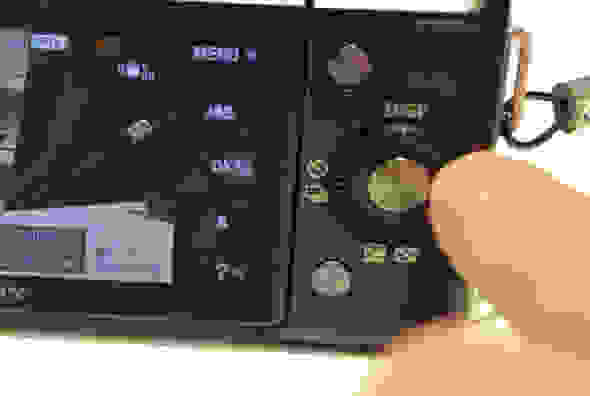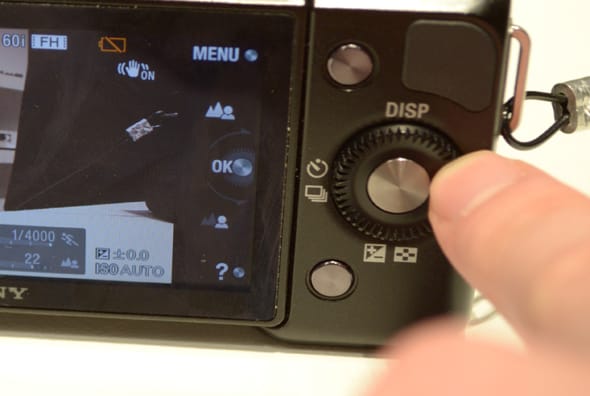 When using the Sony NEX-5N, users can focus at any of 25 points using the camera's built-in contrast autofocus detection. The 5N offers single-shot AF, continuous AF, direct manual focus (with touch control), and manual focus with peaking and digital zoom assist. The 5N can focus using any of the 25 AF points, or it can make use of the camera's center-weighted AF and flexible spot AF, which are somewhat less precise than spot focusing.
Sony also has their LA-EA2 AF adapter for attaching Sony Alpha-mount lenses to NEX cameras that will use a translucent mirror to reflect some incoming light to a phase detection autofocus system, with a motor for driving the Alpha lens to the correct focal point. When using the adapter we noticed focus was very fast, and the whole rig felt secure due to the NEX-5N's large grip. If you own decent Alpha lenses and are buying an NEX camera, this is an adapter worth checking out.
The NEX-5N offers an ISO range of 100-25600, depending on what mode the user is currently in. Automatic ISO has a range that is limited from 100-3200. If users wishes to employ any of the higher ISO speeds, they must manually select that speed in the ISO sensitivity menu.
The NEX-5N offers white balance presets for a variety of different lighting conditions, as well as a custom white balance mode and an option to set the kelvin temperature manually. The presets that are included in the camera are: auto, daylight, shade, cloudy, incandescent, fluorescent, flash, and color filter.
The NEX-5N is capable of exposing from EV 0-20 at ISO 100 with the equivalent of an f/2.8 lens, according to Sony. The NEX-5N utilizes a 1200-zone metering system with options to meter in center-weighted, multi-segment, and spot modes. The 5N allows users to compensate for the automatic exposure for +/- 3 stops, in 1/3-stop increments.
The NEX-5N offers shutter speeds that range from 1/4000 of a second to 30 seconds, with a bulb mode also offered. These are available in the shutter speed priority and full manual modes. It's adjusted using the rear control wheel, but this control may need to be activated depending on which mode you are in.
The NEX-5N, as a compact system camera, offers an aperture range that is lens-dependent. The 18-55mm kit lens offers a maximum aperture range of f/3.5-5.6, with a minimum aperture range of f/22-34. The aperture on NEX cameras is controlled electronically via the camera body with the rear control wheel.
The Sony NEX-5N doesn't offer any in-body image stabilization, relying instead on the NEX lenses to provide that. The 18-55mm kit lens does provide image stabilization, though we'll have to get it into our labs before we can make a judgement on how effective the system it.
In normal still shooting modes, the 5N allows users to shoot images with a resolution up to 16 megapixels at a 3:2 ratio, or up to 14 megapixels in its 16:9 format. There are also options for shooting still images at 8.4, 7.1, 4, and 3.4 megapixels. When making use of the sweep panorama mode, the NEX-5N will produce images as large as 23 megapixels, at a 12416x1856 resolution.
The Sony NEX-5N provides a number of in-camera creative picture effects for altering the look and feel of your images. The first set are the camera's picture effects settings, which come in 11 types: posterization, pop color, retro photo, partial color, high contrast monochrome, toy camera, soft high-key, soft focus, HDR painting, rich-tone monochrome, and miniature. There are also several "creative styles" that can be applied to images, which are reminiscent of the typical color modes found in most cameras, including: standard, vivid, portrait, sunset, black and white, saturation, and sharpness. These modes are all adjustable
Regardless of how you feel about the practicality of the NEX system, and the idea of designing a compact system camera that, with lens in tow, doesn't fit in your pocket, the NEX-5N is a significant advancement towards fleshing out what this system is going to look like going forward.
The NEX-5N does not drastically alter the NEX system's main blueprint: APS-C image sensor, large grip, thin body, interactive and fun menu design. What it does do is illuminate what the differences are going to be for the NEX system at their entry-level, mid-range, and high-end price points in the near future. The NEX-5N also represents a big upgrade over last year's NEX-5, bringing 1080/60p video, up to 10fps shooting, and touchscreen operation along with the NEX-5's magnesium alloy body design.
All in all, how you feel about the NEX-5N will largely be determined by how you feel about Sony NEX system as a whole. The large sensor means that NEX cameras are never, in practical terms, going to just slip into your pocket. Even with a smaller prime lens, the NEX cameras are always going to look a bit wonky. That's a trade off that NEX customers are going to have to make. In return, they'll get into a fairly affordable system with a large image sensor, some innovative extras like the optional OLED viewfinder (currently a 5N exclusive), the LA-EA2 Alpha lens adapter, and a rapidly improving lens family.
We'll have to get the NEX-5N into your labs to get a full picture of how the camera performs as a whole, but from shooting with it and some of accessories available, we can say that the 5N generally replicates the experience of shooting with a DSLR, but with a simplified operation and menu system that is enjoyable to root around in.
The Sony NEX-5N isn't aimed directly at "enthusiast" photographers (that's likely NEX-7 territory), but the camera will appeal to both those looking for more creativity and control as well as those who simply want to pick up and shoot.
Meet the tester TJ Donegan
Executive Editor
@TJDonegan
TJ is the Executive Editor of Reviewed.com. He is a Massachusetts native and has covered electronics, cameras, TVs, smartphones, parenting, and more for Reviewed. He is from the self-styled "Cranberry Capitol of the World," which is, in fact, a real thing.
See all of TJ Donegan's reviews
Checking our work.
We use standardized and scientific testing methods to scrutinize every product and provide you with objectively accurate results. If you've found different results in your own research, email us and we'll compare notes. If it looks substantial, we'll gladly re-test a product to try and reproduce these results. After all, peer reviews are a critical part of any scientific process.
Shoot us an email