Introduction
While the 5R isn't equipped with some of the features found on more expensive NEX cameras, like an electronic viewfinder or dual command dials, the most important feature has been carried over: superb image quality.
Video Review
Design & Handing
Slightly awkward handling and poor grip are somewhat balanced out by a useful tilt screen.
Anyone who has used or even seen an NEX camera will immediately recognize the 5R as part of the group. The giant lens mount overlaps a thin body, and this iteration—for better or worse—features a touch screen, for use with features like touch shutter or tracking focus. Behind the almost comically large E-mount (which uses up every bit of the body's height) is a Sony-made APS-C image sensor (or "APS HD," if you prefer Sony's branding). This is a new design that offers 16.1 effective megapixels and features 99 phase detection autofocus points on the sensor—a capability that is largely unheard of in cameras of this class.
The omission of a viewfinder will probably be regarded as one of the camera's major flaws, but for many, the tilting rear touchscreen LCD will be a fully capable replacement in most circumstances. Initially we were very concerned about the panel's usability in bright sunlight, but a little menu-diving revealed a "Sunny Weather" setting for the LCD, which sets illumination to maximum and cranks up the contrast. The onscreen display is very responsive, so there's not much lag associated with framing action shots. Touch operation can be turned off completely if it's not your thing, but we found it to be pretty useful for accurate focusing on the spur of the moment.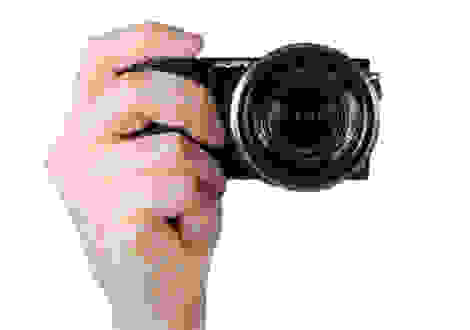 Handling-wise, NEX cameras have always been strange beasts, and the NEX-5R doesn't buck this trend.
Handling-wise, NEX cameras have always been strange beasts; their thin bodies are paired with chunky hand grips in a way that isn't exactly uncomfortable, but isn't anywhere near as nice as the worst DSLR. The NEX-5R doesn't buck this trend. On the front of the body you'll find the hand grip is covered with a dimpled, rubberized surface, but the material isn't actually very grippy. Still, we did appreciate the small protruding lip underneath the shutter release, which gives the middle finger some extra leverage.
Other issues interfere with the 5R's ergonomics, too. Not only does the neck strap get in the way during everyday use, but the rotating dial / directional pad is so high up toward the thumb rest that you'll find yourself accidentally striking it fairly often. The Function key, which opens up a handy quick menu, is frustratingly far away—up on top of the body, beside the shutter release. We also found ourselves regularly tapping the touchscreen LCD by accident, before finally switching this feature off entirely.
Performance
Huge dynamic range from the sensor and excellent sharpness from the kit lens result in gorgeous image quality.
While color accuracy is just mediocre, we were impressed by strong noise, resolution, and especially dynamic range performance.
Good news: it's all good news in this section. Sony's new sensor design not only outperforms the preceding NEX-5N by a decent margin, but actually gives the flagship NEX-7 a solid run for its money. While color accuracy is just mediocre, we were impressed by strong noise, resolution, and especially dynamic range performance. These are the kind of results you just can't get from a mirrorless body unless you're buying a NEX (or possibly a Pentax K-01).
The 18-55mm OSS kit lens is surprisingly sharp, given the poor performance we usually see from lenses of its type, and it's built like a tank, too. (Of course, it's also comically large on the tiny 5R body, but that's a gripe for another section.) It's sharpest at middle focal lengths and middle apertures, but falls off only slightly at full wide angle or full telephoto.
The sensor is similarly impressive. Color accuracy is probably its worst trait, as it turns in an uncorrected color error of 2.74 in our standardized X-Rite Color Checker test. That's not a bad score at all, but it's about 0.5 off of what the best consumer cameras typically manage. Noise control is admirable, though there's no way to actually turn noise reduction full off when shooting JPEGs. Your options are Low and Auto, the latter of which applies a lot more smoothing above ISO 1600. Results generally look pretty pleasing, but if you have a noise reduction phobia, we strongly suggest shooting RAW.
Sony's APS-C sensors have always been known for their superb dynamic range, and the 5R's new unit continues that proud tradition. The really impressive thing is that it manages to hang onto this DR all the way up through ISO 1600, before declining steadily at higher sensitivities. This means that you should be able to capture rich, lifelike landscapes and sunrise/sunset shots without clipping highlights or losing shadows. Remember to shoot RAW if you want the best dynamic range possible!
Features
Remember all those features you liked on the 5N? Get ready to pay extra for them on the 5R's app store.
It's a good thing the core performance of the NEX-5R impressed us, because new features like Wi-Fi and installable apps certainly didn't. At this early stage, the borderline-exploitative "PlayMemories" apps seem to be repackaged for-pay versions of previously-free features. Wi-Fi, meanwhile, is mainly used as a way to facilitate the use of this ridiculous "feature."
The borderline-exploitative "PlayMemories" apps seem to be repackaged for-pay versions of previously-free features.
The PlayMemories branding is a callback to the company's video and photo sharing application on Playstation 3. In its current form, the feature cannibalizes existing in-camera features, and relocates them into a separate, slower section of the interface. In theory this will let the 5R grow and improve as appealing new apps are released. In reality, at least for now, the only advantage is Sony's alone, it gets to charge $4.99 for features like Multi-shot Noise Reduction, which used to be in-camera for free.
If you've seen the new TV spot for the NEX-5R, the one with Taylor Swift, then you know that Sony's tagline for this product is "DSLR quality. Wi-Fi convenience." This camera certainly produces shots of DSLR quality, but make no mistake: Wi-Fi is not convenient. Not for a camera anyway. Of course, there's nothing wrong with Taylor Swift (she seems like a very nice young lady), but could somebody please Tell Me Why the industry keeps pursuing this sideshow tech? Wi-Fi offers few advantages over simply transferring your files with a memory card, unless you absolutely need to get your photos onto Facebook within the next five minutes. If that's the case, may we suggest a reorganization of your priorities.
Conclusion
Sony is marketing the 5R as an entry-level camera, but the image quality doesn't lie—this thing is a beast.
It's almost like Sony doesn't want to sell NEX-7s anymore. Apart from a few key missing features—the built-in viewfinder, Tri-Navi control setup, and higher-res sensor—the NEX-5R not only surpasses its predecessor, but competes directly with the top of the NEX lineup.
It's almost like Sony doesn't want to sell NEX-7s anymore.
What really makes the 5R stand out is also what's most important: performance. By most metrics, the 5R either surpasses the NEX-7—and, by extension, the majority of similarly priced system cameras—or comes very close. Color accuracy was a slight disappointment, but noise, sharpness, and white balance have all been upgraded over NEX-7 and 5N. The 5R even offers better dynamic range than the 7, which is camera known for its DR performance. Sony's consistent respect for videography is also untarnished. Clips shot with the NEX-5R are smooth and sharp, and the new sensor is nearly twice as sensitive in low light as the 5N's.
Our complaints about the NEX-5R largely revolve around usability and features. This series has never had intuitive menus, and the 5R's interface certainly doesn't show any improvement. In fact, the menu system is arguably more confusing than past models thanks to the presence of installable "PlayMemories" apps, which relocate features like picture effects and remote control options into a separate menu. This is a feature that seems intended to make Sony extra money, not to help photographers.
Still, at only $750 with a great kit lens, the NEX-5R is a rather remarkable value. While the most heavily publicized features (picture effects, self-portrait LCD, Wi-Fi uploading to Facebook) might paint this camera as an entry-level model, the hardware and performance lean more toward the high end. On top of the mount's ready acceptance of legacy lenses, Sony has announced plans to expand the E-mount lens family this year (cross your fingers), making the 5R is an easy recommendation as a first system camera, a toy for enthusiasts to dabble with, or even an inexpensive backup for pros.
Science Introduction
The NEX-5R's new 16-megapixel sensor is a revelation when it comes to dynamic range performance, producing impressive numbers even as you continue to ratchet up the sensitivity levels. Color, sharpness, and noise levels are all impressive, and video comes out smooth as silk. Really, there's very little to complain about in terms of sheer performance—the NEX-5R is undoubtedly one of the best image quality bargains on the market today.
Sharpness
You can expect very good sharpness from the 18-55mm kit lens, and the potential for a lot more from better glass.
For a kit lens, sharpness performance of the 18-55mm OSS was quite strong. Under the best conditions (medium focal length, medium aperture) overall resolution averaged above 1800 line widths per picture height at MTF50. We began to notice dips to around 1600 or 1500 lw/ph when we shot at full wide angle (18mm) or zoomed in to 55mm, and also when we shot with the aperture wide open. These are very minor differences in sharpness, though, and it's remarkable that the kit lens's resolution remains so steady throughout the zoom range. Reducing the aperture to f/22 or so is the only thing that really impacts sharpness, and even then the results are plenty usable.
Noise Reduction
With JPEGs, you can turn noise reduction down, but you can't turn it off.
You've got two options for how the NEX-5R handles noise in JPEGs: either leave noise reduction on the default Auto setting, or step it down to Low and force the camera to use less destructive smoothing at the expensive of more severe noise. According to our lab tests, these two settings are only subtly different.
Low NR always resulted in less noise, but the differences were often miniscule up to ISO 1600.
In our testing, the Auto setting always resulted in less noise, no matter the ISO level, but the differences were often miniscule. For example, at ISO 100, Low NR resulted in 0.53% noise, while Auto resulted in 0.52%. The two didn't actually start to differentiate themselves until ISO 1600, when Low NR allowed 1.03% noise and Auto is allowed 0.87%. From this point on, shots captured with Auto NR had significantly less grain, but don't look quite as natural.
Auto NR eventually crossed the 1% noise threshold much later, at ISO 6400, before culminating in 1.89% noise at maximum sensitivity (ISO 25,600). Meanwhile, Low NR let noise levels rise a full percentage point higher at the same sensitivity.
All these figures, by the way, are pretty much consistent with the rest of the market in this price range. You can expect almost identical performance from the Pentax K-01 and K-30, as well as the NEX-7 for that matter. We were hoping a new sensor would've meant improved noise performance over the NEX-7, but it seems like that hasn't happened.
Dynamic Range
The NEX-5R's dynamic range surpasses even the flagship NEX-7's.
The NEX-5R has phenomenal dynamic range. Our lab tests recorded up to 8.26 stops of usable data, which is an extremely good result. What's more, the camera held onto more than 7 stops until all the way up to ISO 800, and after that only dropped down to around 6 stops at ISO 1600, then 5.3 at ISO 3200, before fading drastically from there.
Aside from phase detection autofocus, dynamic range seems to be the key improvement of the NEX-5R's newly designed sensor.
Now, when we say "usable" data, we're talking about zones in which the signal-to-noise ratio is at or above 10:1. In other words, we mean the shadowed areas from which details can easily be rescued. Therefore, the figures you see here will be different from similar tests elsewhere, which often use a 1:1 signal-to-noise ratio.
At any rate, according to our test the NEX-5R actually surpasses the NEX-7, a camera with famously wide dynamic range, and one that was already ahead of most of the competition in this and other performance metrics. Aside from phase detection autofocus, dynamic range seems to be the key improvement of the NEX-5R's newly designed sensor.
Video Quality
Extremely smooth, suitably sharp video is what we've come to expect from Sony's system cameras.
Like many Sony cameras, the NEX-5R captures gorgeous video. We awarded maximum points for overall smoothness, and could not detect any object trailing in our test footage at all. A little bit of compression artifacting, along with an even smaller amount of frequency interference could be noticeable, though only by the most discerning of viewers.
Under full studio illumination, and while using the kit lens, the 5R's sensor was able to resolve 600 lp/ph horizontally and 650 vertically for video content. Sony is usually fairly dominant in this test, however the 5R does lag behind older models like the NEX-5N and the NEX-7. Video sharpness dropped ever so slightly when we dropped ambient illumination down to 60 lux. Here the sensor picks up 575 lp/ph horizontally and 625 vertically.
The NEX-5R required only 12 lux of ambient illumination to achieve 50 IRE during playback on a waveform monitor (a standard test for broadcast-ready image brightness). That's a decent result, but we've seen a lot better from some other recent system cameras. Bear in mind, though, that this test is heavily affected by the amount of light striking the sensor (and thus the lens's maximum aperture), along with the camera's high-ISO capabilities during video recording. The NEX series is known for low light performance, so we have to imagine this number would've been better if the kit lens could open wider than f/3.5.
Meet the tester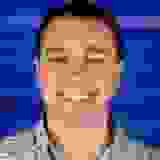 Christopher Snow
Managing Editor
@BlameSnow
Chris was born and raised less than ten miles from our editorial office, and even graduated from nearby Merrimack College. He came to Reviewed after covering the telecom industry, and has been moonlighting as a Boston area dining critic since 2008.
Checking our work.
Our team is here for one purpose: to help you buy the best stuff and love what you own. Our writers, editors, and lab technicians obsess over the products we cover to make sure you're confident and satisfied. Have a different opinion about something we recommend? Email us and we'll compare notes.
Shoot us an email