The NEX-7's got a list of built-in features that would make any DSLR sweat, all in a body that's barely larger than the midrange NEX-5N. It's a camera at the top of a lot of people's wish lists, to be sure. We went hands on with a pre-production version of the camera at Photo Plus East in New York, to see if it's got a shooting experience that goes beyond its impressive spec sheet.
While Sony has designed most of their NEX-series cameras with the goal of producing the thinnest compact mirrorless camera possible, the NEX-7 seems to have thrown that mantra out the window. With its APS-C sensor, viewfinder, and built-in flash the NEX-7 with any lens isn't designed to slip directly into your pocket, but to stay as small as possible without leaving any features on the table.
The NEX-7 has everything you could ask for in a mirrorless camera: built-in flash, OLED viewfinder, speedy shooting, quick autofocus, 24.3-megapixel APS-C image sensor, large comfortable grip, Alpha hot shoe, three control dials, and a tilting 3-inch rear LCD. Add to that the fact that even Sony seems proud at the ability to use third-party lens adapters to attach any number of lenses to the camera, and you have a camera that can hang with any premium camera on the market.
The real question is can Sony take all those pieces and produce a camera that maintains superb image quality while producing images that are that large. While we're anxious to see if the image quality is worth the price of admission, we can say that, from a design standpoint, the NEX-7 is an impressive machine for any size.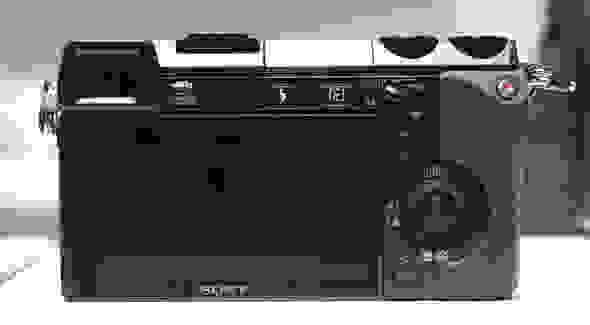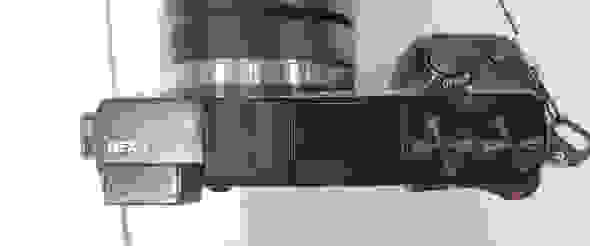 The NEX-7 has a tiltable 3-inch LCD with a resolution of 921k dots. It's not vastly superior to the one found on the NEX-5N or some of the other cameras in this part of the market. The LCD offers Sony's "tru black" technology, which makes the menu very attractive, but it doesn't vastly improve the LCD's performance in most shooting situations, at least compared to the competition.
The NEX-7 makes use of a 1/2-inch 2.35M-dot XGA OLED viewfinder built into the rear of the camera. The viewfinder does not protrude from the main body the camera, so it doesn't add much extra depth or height to the overall camera design. It's high resolution enough that you can make focus judgements using it, and it provides a full range of shooting information as it's essentially a replicated version of the rear LCD's display.
Compared to the optional OLED viewfinder on the NEX-5N, we found the NEX-7's viewfinder to be somewhat superior. Neither camera's viewfinder has much of a delay compared to the rear LCD. On issue we found is a small amount of blurring in the viewfinder while panning with the camera, though this was not a concern on the NEX-7 as it is on the NEX-5N.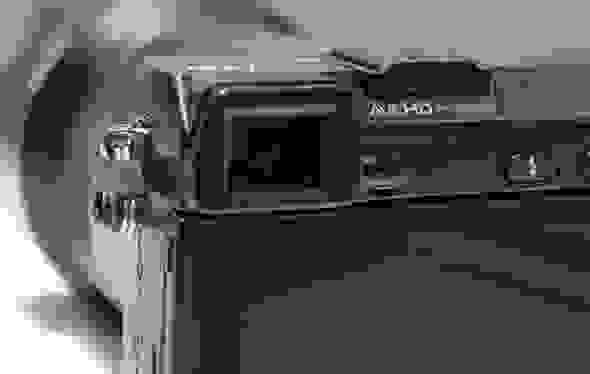 The NEX-7 is the only NEX camera that features a built-in flash. The camera also has a full Alpha hot shoe, which allows the user to use the same flashguns on the NEX-7 as they would on a full-sized Sony Alpha DSLR. The flash has an effective range of just six meters at ISO 100, with a field of view coverage of 18mm (APS-C equivalent).
The flash is rated by Sony to have a recycle time of about four seconds, which matches closely to what we found when using a pre-production version on the show floor. The flash can be implemented in a variety of modes, including: auto, fill-flash, slow sync, rear sync, hi-speed sync, and wireless with external flash. The NEX-7 takes a pre-flash through-the-lens exposure, which can be compensated +/- 3 stops,in 1/3-stop increments by the user.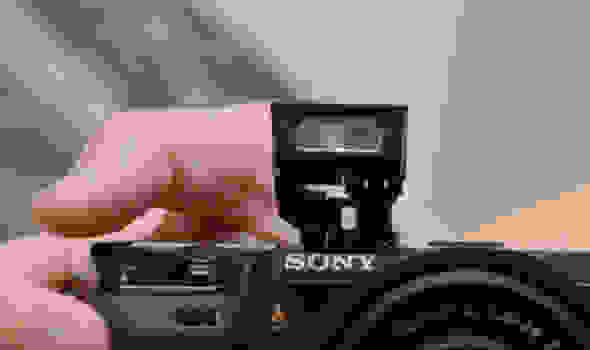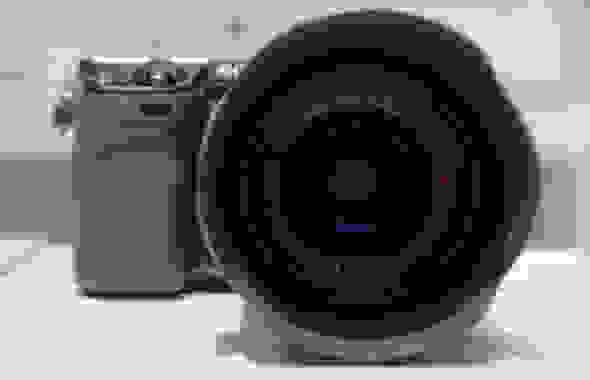 The NEX-7 offers a full Alpha hot shoe, USB/AV output, 3.5mm microphone input, and HDMI video output. The USB/HDMI/mic inputs are included behind two flip-out plastic flaps on the left side of the camera body. The camera is even compatible with Sony's Bravia sync, via HDMI, so at least there's that.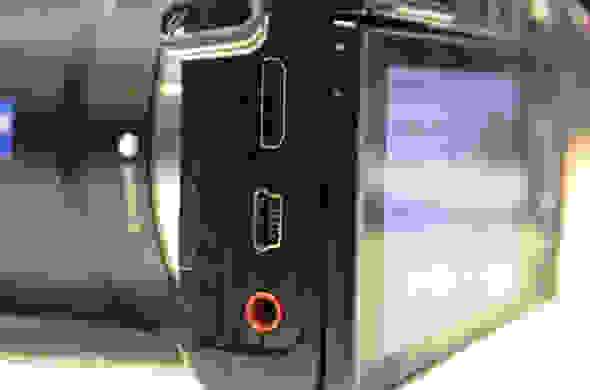 The NEX-7 uses the NP-FW50 battery, same as the Alpha 65, 77 and other NEX cameras. The NEX-7 gets approximately 430 shots out of a single charge by CIPA standards. If you're a speedy shot and don't use the built-in flash, CIPA standards probably underestimate the amount of shots you can get per charge.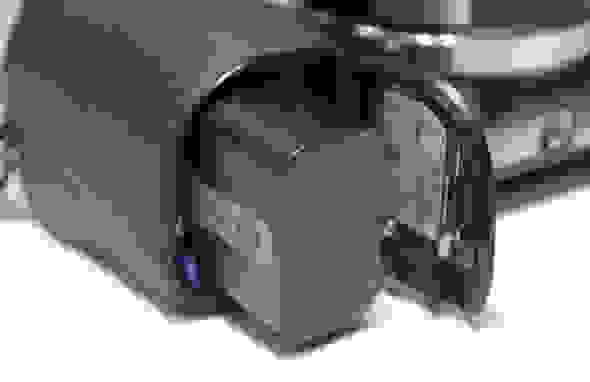 The Sony NEX-7 makes use of SD/SDHC/SDXC memory cards, though the camera keeps the company's proprietary tradition going strong with compatibility with Memory Stick PRO Duo™/Pro-HG Duo™/PRO-HG HX Duo™ memory cards.
The NEX-7 is firmly aimed at the so-called "enthusiast" camera market. It offers three physical control dials, as well as a high-resolution OLED viewfinder. It's a superb level of control for those who desire it, which may not be for everyone. Despite this, the NEX-7 uses largely the same menu design as the simpler NEX cameras, with enough upgrades in other areas that the steeper learning curve may be worth it to those who want to get more serious about photography without going to a full DSLR.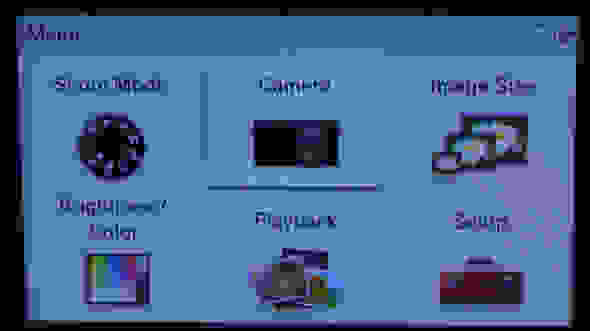 For all that it includes, the Sony NEX-7 isn't significantly larger than any of the other compact mirrorless cameras on the market in this price range. It's not as small as something like the Nikon V1, for example, though it's smaller than the fixed lens darling, the Fuji X100. With its APS-C size image sensor, however, just about any lens that will fit on the NEX-7 is going to restrict it from being a pocketable camera.
That being said, the NEX-7 is much less of a burden to carry around than a full DSLR. Besides its grip (which feels like it was pulled right off a full-sized DSLR, both in terms of size and quality), the camera is mostly a flat, straightforward design. It comes with a viewfinder that integrates right into the back of the camera, so the camera body will easily slot into somewhat flat bags without the lens.
For handling, we found the NEX-7 to be very easy to manipulate, even with the large Zeiss 24m f/1.8 lens attached. The grip is large and fits perfectly with the curvature of the hand. The dual unmarked dials, like the two blank buttons on the other NEX cameras, are context sensitive. Their functionality is always described right on the top of the rear LCD though, so the whole shooting experience feels natural, despite the high level of control. While the idea of the NEX system is to remain compact, we found shooting with the NEX-7 (and the NEX-5N) most comfortable when using a large lens that offered enough room to support the camera with our off hand.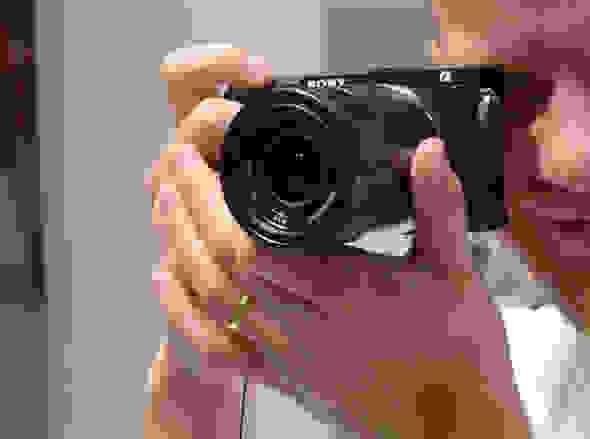 The Sony NEX-7 offers the same iAuto, program auto exposure, and aperture/shutter priority modes as found on the NEX-5N. The camera has a metering sensitivity of 0-20 EV, with exposure compensation of +/- 5 stops available, in 1/3-stop increments.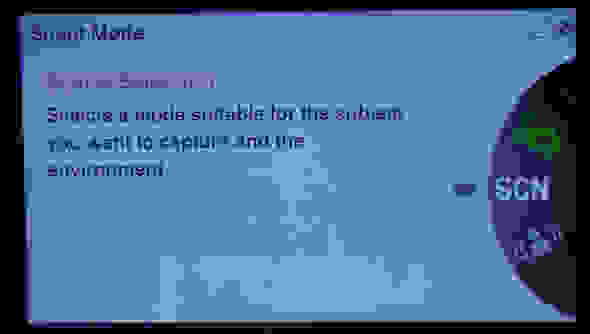 The NEX-7 has a dedicated video record button, with options for 1080 full HD video capture at frame rates of 60p/60i/30p/24p. The camera records at a maximum bitrate of 28Mbps, in AVCHD 2.0, using h.264 compression. The camera has a built-in stereo microphone, though it also comes with a 3.5mm microphone input for recording accompanying audio.
The Sony NEX-7 has a fairly typical playback mode, with options for playback zoom, thumbnail viewing, and slideshow operation. There are also options for reviewing shooting information more in-depth, with histograms also on offer. The camera also has in-camera video playback, with a built-in monaural speaker.
The NEX-7 offers a maximum of 10fps continuous shooting, without metering between shots in the camera's speed priority mode. With normal continuous shooting with metering and continuous autofocus the NEX-7 is rated to 2.5fps according to Sony, though we'll have to get a final production model in our labs to test the claim. The camera also has typical self-timer options with two and ten second delays before capturing a single or continuous burst of images.
Sweep Panorama
Like other Sony digital cameras, the NEX-7 offers a sweep panorama (and 3D panorama) mode that allows users to take a continuous series of images in a horizontal or vertical line. The camera then stitches all these images together into a panoramic image, with a maximum horizontal resolution of 12,416 pixels (in 3D panorama, the maximum is 7152 pixels).
The NEX-7 is designed to be an enthusiast shooter's dream, with its "tri-navi" control scheme allowing for dual context-sensitive physical dials within thumb's reach at any give time. These dials allow the user to make quick adjustments to different exposure settings, offering more direct physical control than found on many entry- and mid-level DSLRs.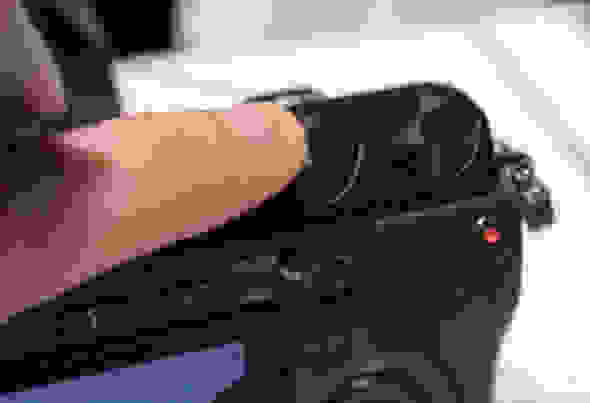 The NEX-7 makes use of a contrast autofocus system, with 25 AF points selectable by the user. The camera also allows you to achieve focus using multi-spot AF, center-weighted AF, and flexible spot AF. We found the focus to be accurate and very responsive, with pinpoint accuracy. The camera's focus system is sensitive from 0-20EV, according to Sony, when the camera is at ISO 100 with an f/2.8 or greater lens attached. The NEX-7 will also be compatible with Sony's optional Alpha-mount adapters.
The NEX-7 provides ISO settings from 100-16000, with options to manually select a sensitivity or let the camera do so automatically. We shot several high ISO samples with the NEX-7, and found the results to be slightly better than we expected. There is still a splotchy aspect to the shots due to the camera's noise reduction system, but this is typical of high ISO shots from Sony cameras in our experience. The NEX-7 we shot with was described as "pre-production" by Sony reps at the booth, so there's a possibility of some refinement. That being said, the shots as high as ISO 12800 were roughly equivalent in quality to those at the same ISO speed from the NEX-5, though at the full resolution of 24.3-megapixels.
The NEX-7 offers custom and automatic white balance, with seven other preset conditions and direct kelvin color temperature entry. The seven presets are fairly typical, including: daylight, shade, cloudy, incandescent, fluorescent, flash, and a color filter setting.
In shooting with the NEX-7, we found the automatic white balance a little sluggish to correct for changes in lighting. Many of the samples we took on the show floor with the camera came out quite a bit warmer than expected. This is a pre-production model, however, so we are reserving judgement on the camera's actual capability until we get the NEX-7 into our testing lab.
The Sony NEX-7 utilizes a 1200-zone metering system, with a sensitivity of 0-20 EV at ISO 100 with an f/2.8 lens. The camera offers options for center-weighted, multi-segment, and spot metering modes, with exposure compensation of +/- 5 stops in 1/3-stop increments. The camera also allows for exposure bracketing, with up to three continuous shots fired at different exposure compensation levels.
Whether the camera automatically decides or users manually set the shutter speed, the NEX-7 can take exposures as fast as 1/4000 of a second or as long as 30 seconds, with a bulb mode also available.
The Sony NEX-7 uses an electronically controlled vertical-travel focal plane shutter, but it also makes use of an electronic first-curtain shutter, as well. That means the shutter doesn't have to close before opening for the actual exposure, so the NEX-7 can respond to a shutter press in as little as 0.2 seconds, faster than many other mirrorless cameras. Add to that the 10fps continuous shooting speed in speed priority mode, and the NEX-7 should allow you to capture fast-moving action quite well.
With the 18-55mm f/3.5-5.6 kit lens, the Sony NEX-7 will have a maximum aperture range of f/3.5-5.6, with a minimum aperture range of f/22-34 through the optical zoom range. We found controlling the aperture to be very easy thanks to the dual control wheels on top of the camera. It does take a short adjustment period, as the dials don't have fixed functions, but after a few seconds and double-checks, we were able to adjust our exposure settings without thinking twice.
The NEX-7 does not offer any in-body image stabilization, as is common with Sony's Alpha DSLR cameras (The NEX-series cameras all rely on image stabilization in the lens). We won't know the effectiveness of the stabilization in the 18-55mm kit lens until we get it into our labs to run a full test, but we didn't notice any stabilization issues in our limited time with the camera.
The NEX-7 offers a maximum image resolution of 6000x4000 in the 3:2 ratio, with a cropped 6000x3376 (20 megapixels) the largest available in 16:9. There are also options for normal 12-, 10-, 6-, and 5.1-megapixel images, and panoramic images of 12416x1856 in Sony's sweep panorama mode. For quality, users can shoot in RAW, RAW+JPEG, or simply JPEG alone, with standard and fine compression available.
The NEX-7, like the NEX-5N, offers both picture effects and "creative styles." The creative styles more closely resemble your typical color modes, with options for standard, vivid, neutral, clear, deep, light, portrait, landscape, sunset, night scene, autumn leaves, black & white, and sepia, with contrast/sharpness/saturation adjustment available in +/- 3 steps.
Sony also offers a number of picture effects that are a little more heavy handed, with more creative results. These modes include 11 types, with 15 variations: posterization, pop color, retro photo, partial color, high contrast monochrome, toy camera, soft high-key, soft focus, HDR painting, rich-tone monochrome, and miniature.
The Sony Alpha NEX-7 is one of the most exciting mirrorless cameras to be announced this year, with its dual context sensitive control wheels, 24.3-megapixel CMOS sensor, large grip, 10fps continuous shooting, 1080/60p video capability, built-in flash and XGA OLED viewfinder. It appears like Sony made a wishlist of mirrorless camera features and set about cramming each into a body that is still relatively compact and comfortable to hold.
The main question that has been on the minds of many since the NEX-7 announcement has been: is it worth the hefty price difference compared to the mid-range NEX-5N? We won't have a definitive answer to that question until we get both cameras and run them through our full review process, but we can say that the NEX-7 does offer quite a bit for the money. Whether Sony can squeeze the best out of such a high-megapixel image sensor remains to be seen, however.
In our time with the camera, we found it just as comfortable to hold and shoot with as premium compact stalwarts like the Fuji X100 (which is actually bigger than the NEX-7, lens excluded), with a more pleasing user interface and fewer control quirks. We'll have to add the caveat that we've only been able to use what Sony is calling a pre-production model, but strapping the new high-end Zeiss 24mm f/1.8 to the NEX-7 and firing away is as fluid a shooting experience as we've had on just about any DSLR recently.
Will the NEX-7 with a lens fit in your pocket? Doubtful, unless you've got some comically large ones. (They'll have to be deep too, as the camera will debut at $1199, body-only.) That's not really the point. The NEX-7 is an enthusiast camera, through and through, that is simply fun to shoot with. Sure, it will be more compact than a traditional DSLR, but this is still a handful of camera.
Regardless, the NEX-7 sports an impressive array of features for a camera of any size, and we're excited to see if its final image quality can live up to the camera's robust spec sheet. Once we get our hands on a final production model we'll let you know if the NEX-7 is even more than the sum of its parts, or just another paper tiger.
Meet the tester TJ Donegan
Executive Editor
@TJDonegan
TJ is the Executive Editor of Reviewed.com. He is a Massachusetts native and has covered electronics, cameras, TVs, smartphones, parenting, and more for Reviewed. He is from the self-styled "Cranberry Capitol of the World," which is, in fact, a real thing.
See all of TJ Donegan's reviews
Checking our work.
We use standardized and scientific testing methods to scrutinize every product and provide you with objectively accurate results. If you've found different results in your own research, email us and we'll compare notes. If it looks substantial, we'll gladly re-test a product to try and reproduce these results. After all, peer reviews are a critical part of any scientific process.
Shoot us an email