Now Sony is looking for an encore performance with the new Cyber-Shot RX10 II (MSRP $1,298). The addition of the new sensor effectively does for the RX10 what it did for the RX100; It's faster, shoots sharper video, and it makes a great camera even better.
The RX10 II is designed to pick up where its predecessor, the original RX10, left off. The promise of the RX10 series is one camera that can do it all, with excellent image quality, video quality, and a lens that can theoretically replace a DSLR with multiple lenses.
Of course, there's a catch: the $1,300 price tag. While the original RX10 saw a massive price cut that pushed it below $1,000, the RX10 II seems to be sticking to its guns so far. That's a dicey proposition, especially with so many excellent low-cost cameras on the market these days. After putting it through its paces in the lab, it's clear that the RX10 II is superb, but is it worth the price?
Design & Handling
New labels! And not much else...
With the new RX10 II, Sony has once again adopted the same design philosophy as the new RX100 IV: If it ain't broke, don't fix it. As a result, the new RX10 II is practically identical to its predecessor save for a few updated labels.
For those of you that aren't familiar with the original RX10, it's designed to look, feel and operate like a DSLR—just without the ability to swap lenses. The star of the show is the 24-200mm (35mm equivalent) f/2.8 fixed lens, which gives you the flexibility to zoom in and out, grabbing wide-angle and telephoto shots without missing a beat. The lens dwarfs the RX10 II's body, but it feels nice and sturdy, without being so heavy that you'll get tired of lugging it around.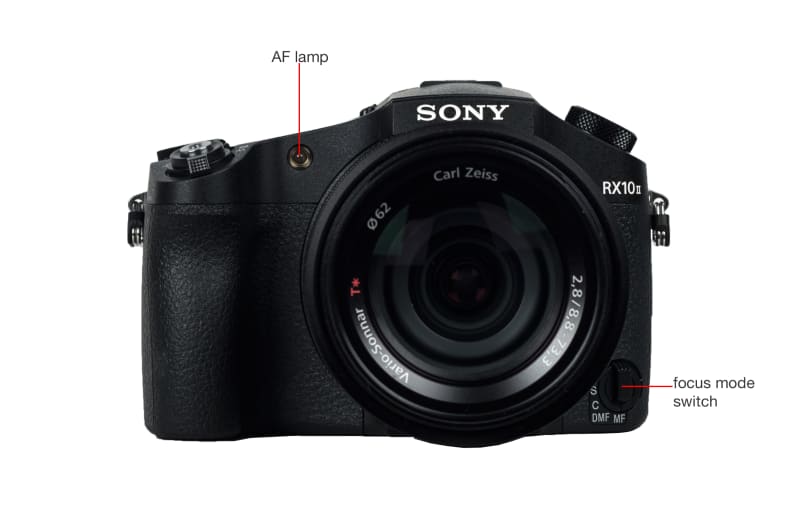 ×
Tour
The RX10 II takes full advantage of the massive lens and gives users physical control over things like focus, zoom, and aperture. The lens-based zooming and focusing are electronic by-wire, but give you fine enough control that it feels very similar to physical controls. Additionally, Sony's brought back the variable aperture ring, one of our favorite designs from the RX10. It has click stops for when you want to control aperture, but with the flick of a switch it becomes a smooth-turning focus ring.
On the top of the camera you'll find a power switch, zoom lever, shutter release, flash release, exposure compensation, function button, and secondary LCD, with a mode dial to the far left. The secondary LCD is a nice touch and not something typically seen on point-and-shoots, but it provides you with a quick breakdown of your shooting settings. It'll be almost incomprehensible to novices, but once you learn what everything means it's a real help.
Moving around to the rear of the camera, you'll see the backside is dominated by the RX10 II's tilting, 3-inch LCD display. Above it, there's a menu button and a dedicated record button. To the right you'll find the camera's main control wheel, AE-lock, function, delete, playback, and control cluster. Each end of the camera houses connections for USB, HDMI, a headphone jack, and the SD card.
The RX10's main strength is this plethora of physical controls, a design tactic that DSLRs have adopted for years. It gives you access to nearly every major feature you'd need while shooting, eliminating the need to head into the menu. While all this control comes with a bit of a learning curve, even novices used to simpler point-and-shoot cameras should be able to shoot comfortable with the RX10 II fairly quickly. With the camera set to its auto mode, the heavy lifting is done for you, making the RX10 an ideal choice for shooters of almost any skill level.
Features
You get 4K video and better burst shooting, but at a real premium.
The RX10 II is designed to be a hybrid camera that allows photographers to get excellent images and high-quality video without loading their bag with multiple bodies and lenses. As a result, the adaptable 24-200mm (35mm equivalent) f/2.8 lens is probably the most important feature on the camera. While an 8x zoom ratio doesn't seem that impressive, it's important to remember that Sony is opting for a higher-quality 1-inch sensor that is much larger than the 1/2.3-inch sensors found in most point-and-shoots.
Even compared to the original RX10 (which has roughly the same sensor and lens combo), the larger sensor should yield higher-quality images thanks to some key upgrades. In a nutshell, it's faster and lasts longer when shooting continuously. With Dynamic Random-Access Memory (DRAM) now directly attached to the sensor, the processor has a larger buffer to work with. According to Sony, this produces readout speeds that are more than 5x faster than the first RX10.
This opens up the ability to capture 4K video at 24 or 30 frames per second (fps) for up to 29 minutes per clip. To record in 4K you will need a SDXC UHS-I or II Class U3 SD card, which can be picked up for around $50—anything less than that and you'll be stuck at 1080/60p. You should pick up something that is 64GB or larger, since 4K files are notoriously huge and will eat through anything smaller rather quickly.
The RX10 II can also capture very high frame rate clips at 240, 480 or 960 fps that can be played back in slow motion. While 240fps video is recorded at near HD resolution (1,824px x 1,026px), the rest of the slow motion footage is upsampled to output a 1080p video, hindering quality. Additionally, when shooting at 1080/60p or lower you can now capture a 16.8-megapixel image without pausing your video.
You can also now use the custom picture modes for video, as well as the new S-Log2 gamma setting. Gamma describes how the camera records different levels of brightness, from shadows to highlights. Most cameras record video with a gamma that has a strong "knee" that enhances contrast. S-Log2 uses a flat gamma setting, with no enhancement applied. The footage looks very washed out and flat right out of the camera, but it retains all of its dynamic range—you just have to edit it later.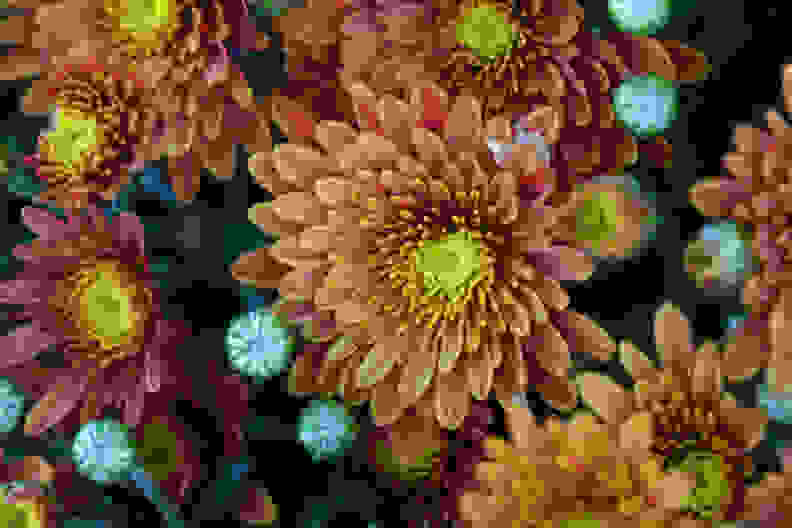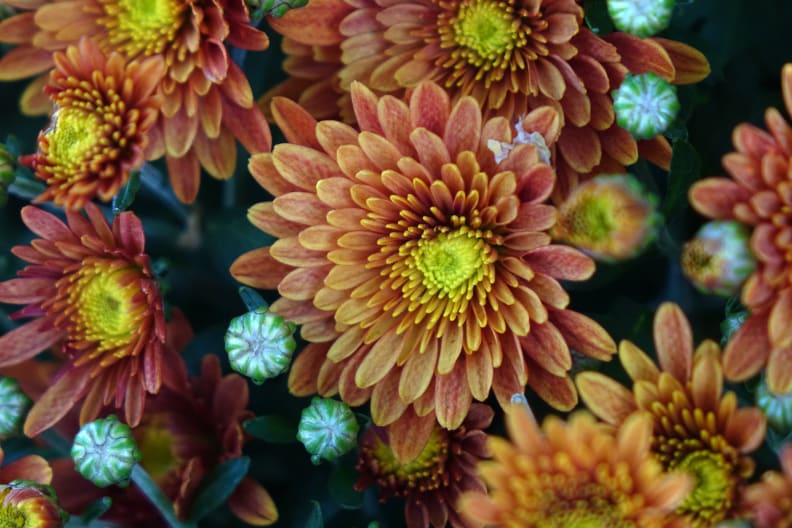 Last but not least, Sony gave the built-in EVF (electronic viewfinder) a bump in resolution. The original RX10's 1,440k-dot OLED EVF has been replaced by a 2,359k-dot OLED. However, with all the video-focused upgrades, we would've liked to have seen a full swivel or touchscreen LCD, as well. The current tilting LCD is better than a static screen, but full swivel LCDs are on most DSLRs that focus on video features. And a touchscreen, which would enable touch-to-focus, would've been a handy addition for video users as well.
Performance
Video gets a much-needed shot in the arm.
The original RX10 has reigned atop our point-and-shoot camera rankings for well over a year now, challenged only by Panasonic's similar FZ1000. Instead of waiting to be dethroned, Sony has taken the RX10 and updated the internals. This improved in the few areas where the original was lacking, namely video and burst shooting.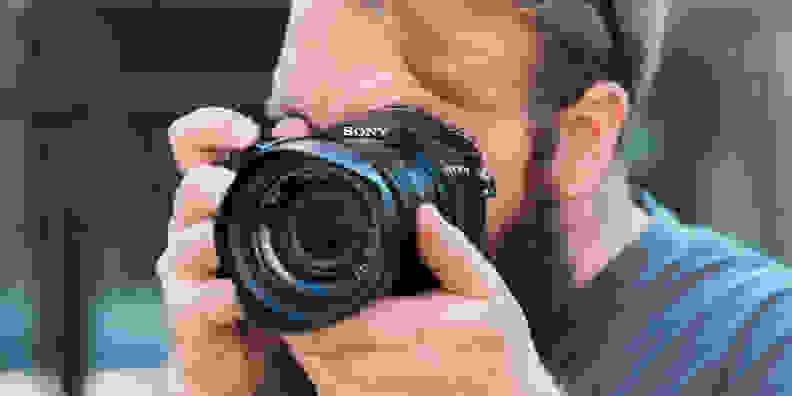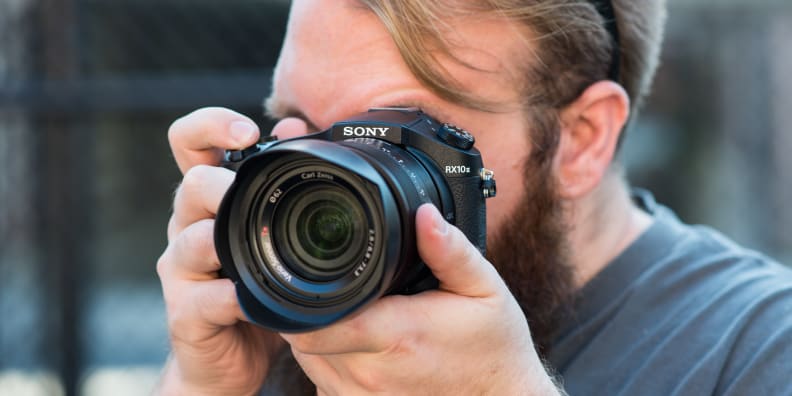 Opening up the ability to capture 4K footage is easily the biggest advantage that the RX10 II has over the original. While shooting at the highest 4K quality setting (100 Mb/s), we were able to record more than twice as much fine detail as we captured with the 1080p-only RX10 last year. And since the RX10 II is equipped with the constant f/2.8 aperture and large sensor, we didn't notice much of a drop in detail when shooting in low light conditions. This is perfect for anyone that's looking for a fixed lens camera that's equally adept at both stills and video.
Opening up the ability to capture 4K footage is easily the biggest advantage that the RX10 II has over the original.
Burst shooting was also improved thanks to the new sensor. While shooting in the Speed Priority Continuous mode, we were able to capture nearly 14 fps with a fixed focus and fixed exposure. The built-in DRAM did a lot to help the processor from getting choked up as we saw an increase in capacity for burst shooting as well. It's worth mentioning that the new sensor also enables you to shoot at a shutter speed of up to 1/32,000s, which can freeze even the fastest subjects in its tracks–provided you have enough light.
Obviously the new sensor is making the camera more capable in video and burst shooting, however, we didn't observe a change in still image quality. This isn't exactly disappointing as the RX10 is already one of the sharpest point-and-shoots that we've ever tested. There's still plenty of room for improvement, but that'll have to wait until the next generation of image sensor tech rolls out.
One area that the RX10 II departs significantly from its predecessor is noise reduction. The original RX10 had a very aggressive amount of noise reduction when capturing JPEGs. While this normally is a bad thing (as it destroys fine detail along with the noise) the RX10 did a fantastic job of retaining fine detail while removing the noise. The RX10 II isn't nearly as aggressive, so you get a little more fine detail but a lot more noise.
If you shoot in RAW then the noise reduction won't matter a bit, but given the RX10 II's target audience we would've at least preferred to keep the option to ramp up noise reduction when need be.
Conclusion
It's an incredible camera, but we're still incredulous about the price.
Sony has once again shown that it has the point-and-shoot game figured out. So much so that it continues to be its own biggest competitor. Both the RX10 and RX100 lines share the same problem: their predecessors are just too good, cost less, and are still on the market. We love the RX10 II, but at $1,300 it comes at a hefty premium compared to the RX10, which had its price slashed to below $1,000 to compete with the Panasonic FZ1000.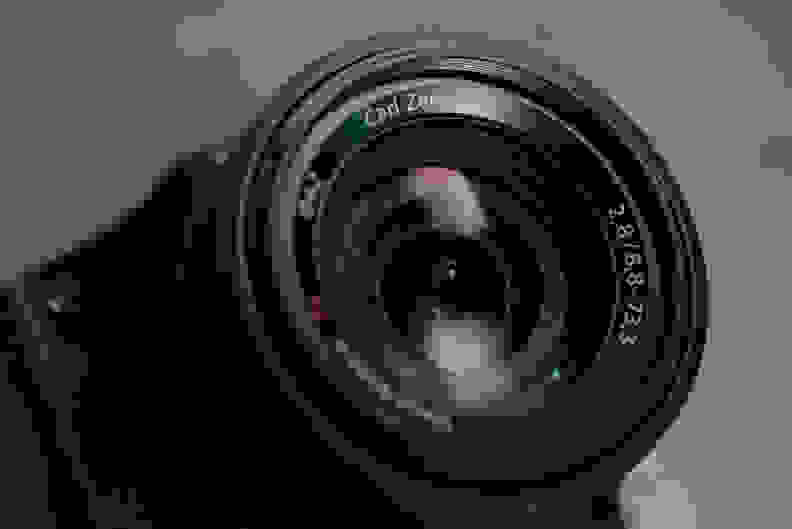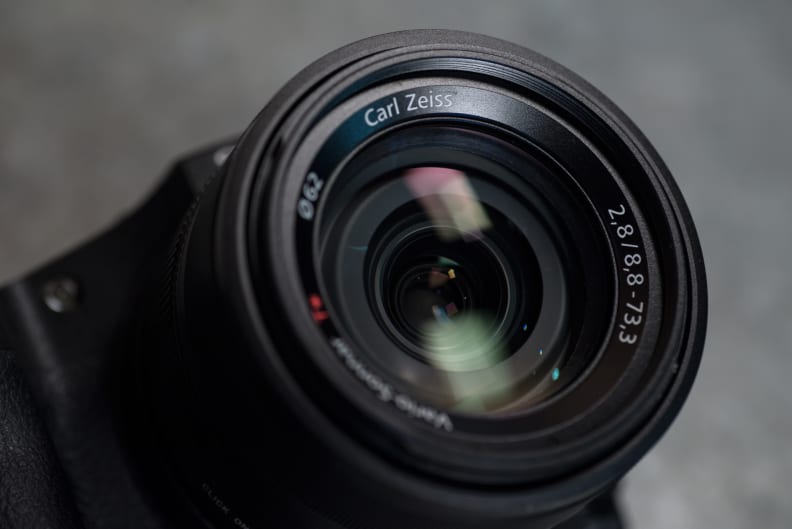 That decision made the RX10 a hot-ticket item for awhile, but now it's put Sony in a bind. Even if you don't like the FZ1000 you can still get the original RX10 for $900 and get nearly the same performance as the new RX10 II. That makes the RX10 II a $400 premium upgrade that's ideal only for shooters who must have 4K video. And frankly, if you're that serious about video it's hard not to recommend spending a little bit more to get something like the Panasonic GH4 with a decent lens.
Of course, Sony's second-biggest competition here is the Panasonic FZ1000, which also shoots 4K video and has a 1-inch sensor, but pairs it with a 16x zoom lens. The lens isn't as good as the RX10's—it closes down slightly when you zoom in—but the extra zoom is worth it if you shoot sports or wildlife.
You'll have to decide for yourself what your budget can take, but for most people we'd recommend the cheaper option while it's still around.
This leaves the RX10 II in a strange position. There's nothing quite like it, with its combination of an 8x f/2.8 lens, 4K video, and large 1-inch image sensor. But are those upgrades worth the $400+ premium you're paying right now? You'll have to decide for yourself what your budget can take, but for most people the cheaper options provide more value—at least until the new kid on the block comes down in price.
By the Numbers
Given the overwhelming success of its predecessor, we knew that the RX10 II was going to be a top-tier camera. What we didn't know is if it was going to be good enough to unseat the Mark I from its place atop our scoring system.
Even with the improved sensor that offers 4K video and higher burst speeds, the Mark II couldn't match the legendary noise performance of the original RX10. Even if it has to live under the shadow of the Mark I, the RX10 II is one of the best point-and-shoot cameras we've ever tested.
Color and White Balance
Most changes on the Mark II have to do with balancing out the somewhat extreme results of the Mark I, and color is no different. The most accurate color mode on the Mark I was the "Deep" mode that had a ∆C00 of 2.11 and a saturation of 112.4%, with 100% saturation being the ideal. The RX10 II's "Standard" mode is now the most accurate and it tones down the over-saturation, at the loss of some overall accuracy with a ∆C00 of 2.42 and a saturation of 104.1%.
White balance has seen a vast improvement in the newer model, with even the troublesome incandescent light improving over 1000 kelvins in accuracy. Auto white balance, while better, could stand to improve a bit more, especially with how well the new RX100 IV handles auto white balance.
Resolution
Just like the Mark I before it, the Mark II aced out sharpness tests, but was aided by some software sharpening. The in-camera sharpening software of the RX10 II actually proved to be even more aggressive than that over the Mark I, with oversharpening as high as 35%.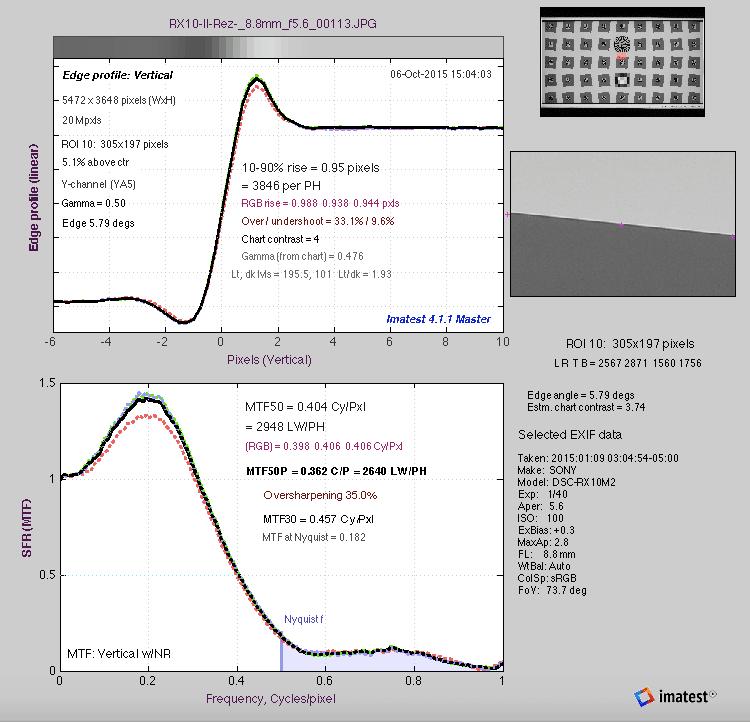 The images that we saw from the RAW files show that–even without the software stacking the deck for sharpness scores–the combination of the 8.3x zoom, f/2.8 lens and the new sensor yields impressive results. While other cameras in its class may have longer zooms, the quality you get for using a shorter zoom is well worth the trade off for most users.
Noise Reduction
With the original RX10 proving to decimate noise with aggressive noise reduction, we excepted similar results from the Mark II. However, we saw that Sony has indeed toned down the noise reduction substantially. Where the original never even crossed 1% at the highest ISO levels, the Mark II crosses that around ISO 3200.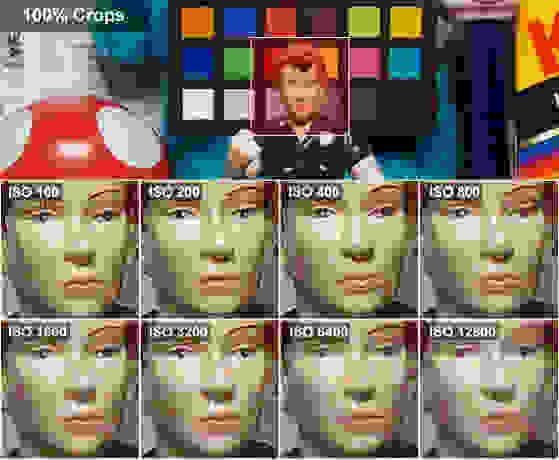 This isn't necessarily a bad thing since the Mark I might have been a little too aggressive and sacrificed too much detail for the cause of reducing noise. The Mark II preserves much more of that fine detail throughout the ISO levels even with noise reduction active, but still does a good job of keeping images clear enough of noise for good print quality.
Video
The addition of the new sensor, which opened up the ability to capture 4K and high framerate video, really turned the RX10 II into a multimedia powerhouse. We played around with a variety of resolutions and framerates while testing the RX10 II and our sample footage was smooth with very few signs of artifacting.
In bright light, we observed 1400 lp/ph horizontally and 1250 lp/ph vertically. This dropped slightly when we dimmed the lights for our low light test, giving us around 1350 lp/ph horizontally and 1200 lp/ph vertically. We were actually able to capture usable footage in conditions as low as 5 lux. While this footage isn't incredible, it could be used in an emergency situation.
Meet the tester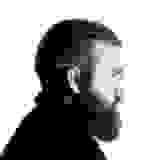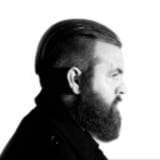 Jackson Ruckar
Photographer / Producer
@JacksonRuckar
As a photojournalist, Jackson has had stints working with bands, the military, and professional baseball teams before landing with Reviewed.com's camera team. Outside of Reviewed.com, he can be found looking for the next game to relieve his "Gamer ADD" or growing his beard.
Checking our work.
Our team is here for one purpose: to help you buy the best stuff and love what you own. Our writers, editors, and lab technicians obsess over the products we cover to make sure you're confident and satisfied. Have a different opinion about something we recommend? Email us and we'll compare notes.
Shoot us an email