Rather than mess with success, Sony has released a revision, the Cyber-shot RX100 II (MSRP $749.99), a successor/stablemate to the formidable original. For the moment, at least, the first-generation model will stay available at a lower price. But, if you like having the latest and greatest, the extra $150 buys you some intriguing new features. WiFi connectivity, an improved sensor, a tilting screen, and a hot shoe are all new in this second-generation RX100.
The Sony RX100 Mark II presents an interesting middle ground for camera shoppers seeking great image quality in a pocket-friendly body. While the original Cyber-shot RX100 with its 1-inch sensor and f/1.8 lens was widely hailed as the best point-and-shoot ever made, the follow-up does improve in some key areas.
Most notably, Sony has given the RX100 a backlit CMOS image sensor, an articulating LCD, and a hot shoe, elevating the sticker price to $749.99 in the process. The hot shoe and LCD are nice improvements in their own right, but the new sensor provides a noticeable benefit to image quality. In our lab tests we found the RX100 still relied heavily on image processing to gussy up its JPEGs, but the raw performance offered here is well beyond what most point-and-shoots can accomplish.
Clinical color accuracy has never been a primary goal for Sony's cameras over the years, and the RX100 II is no exception. Every single color mode we testd produced a saturation that was boosted by at least 13%, which produced punchy images but contributed to color error.
The most accurate color mode we found was the Standard setting, which has a ∆C00 of 2.51 when you correct for the boost in saturation. This is just a bit behind what your average DSLR can pull off. The other modes are slightly worse, largely due to their overcranked saturation.
Improved ergonomics, but not by much
If you haven't laid your eyes on an original RX100 recently, you'd be hard-pressed to tell the new one from the old. The RX100 II's most distinctive new feature is its hot shoe, which makes the camera ever-so-slightly taller than before. Overall, the subtle changes to the RX100 II's design does little to alter its footprint, making it just as portable as ever.
A closer look reveals the tell-tale "RX100 II" badging atop the new, tilting LCD. While we were disappointed to find that touch sensitivity hasn't been added this time around, the bright, high-resolution screen and its strong, slim hinge mechanism feel like they were always intended to grace the back of an RX100.
Sony hasn't changed the construction of the RX100 one single bit, which is very good news indeed. The camera feels solid due to the aluminum monocoque which comprises the front, top and part of the RX100 II's sides. The finish on the camera is satiny and slick, so we recommend using the included wrist strap.
The controls are identical to the original RX100's. We're glad the lens ring is the same as it ever was—it's milled metal and gives just the right amount of resistance as it's turned. Unfortunately, the buttons on the back of the RX100 II are also the same—flat, and sometimes hard to press. The dedicated movie record button is surrounded by a puny bit of textured plastic meant to serve as a thumb rest. It's the only compromise made in the name of handling, but it's better than nothing.
Flat buttons are the least of the RX100 II's usability woes. Even though this is a hopped-up point-and-shoot, the RX100 II is saddled with a plain-jane user interface better suited for a simpler camera. Here, options are haphazardly organized and cryptically labeled. You can pull up a quick menu with the Fn button on the back, but it's only intended to change ISO, DR/bracketing, white balance, and picture effects. All of the menu quirks add up to make the RX100 II feel like it's withholding control from more adventurous users—a feeling that a top-shelf camera like this shouldn't arouse.

The RX100 II offers three levels of noise reduction: low, standard, and high. As we've seen with many other Sony cameras, they tend to lay the noise reduction on rather thick, with a "low" setting that would qualify as "high" for most other manufacturers.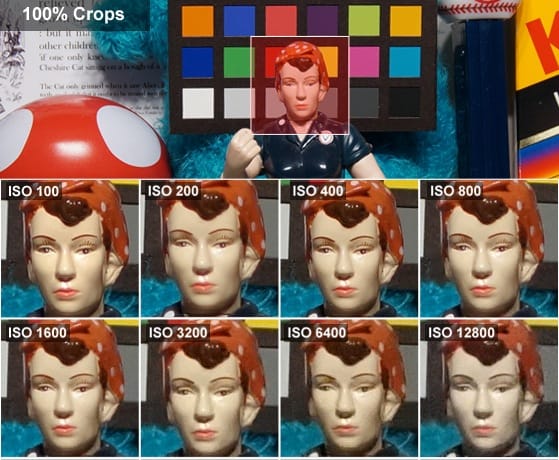 Generally speaking we deem that noise begins to negatively affect image quality starting around the 2% threshold. Even at ISO 12800, the RX100 II never produces more than 1.57% of noise, and that's at the camera's weakest noise reduction setting. While that number seems impressive on paper, it is performance purchased with the obliteration of fine detail in your image.
Since the 2% threshold isn't relevant here, you have to make a subjective call about when the RX100's over-aggressive noise reduction has wiped out too much detail. For us that subjective threshold is right around ISO 6400, which is excellent for a point-and-shoot. If you're planning on making large prints with the RX100 II's shots, however, our advice is to shoot in RAW and keep things at ISO 1600 or below.
Everything you got from the RX100, plus a couple neat extras
Because this camera is a light revamp of an existing model, Sony's only given you more features, and kept the important stuff intact. The centerpiece of this pocket photographic beast remains its lens and sensor. You get a sensational 1-inch sensor paired up with an f/1.8 Zeiss 3.6x zoom lens. The wide aperture enables you to get some shallow depth of field in your photos that many point-and-shoots miss out on because of their smaller sensors.
Using Sony's PlayMemories app on Android or iOS, you can easily shuttle photos from your RX100 II to your phone and out to your favorite social networks.
The big-ticket new feature is undoubtedly NFC and WiFi connectivity. Using Sony's PlayMemories app on Android or iOS, you can easily shuttle photos from your RX100 II to your phone and out to your favorite social networks. Of course, NFC only works with Android devices—setup with iOS-based gadgets will take a bit longer the first time you connect.
The app also enables limited remote control of the RX100 II, which might come in handy when taking group photos. There isn't as much control as you get with Sony's smartphone-attachment QX100, though, which was disappointing to find. Ostensibly, the QX100 has the same lens and sensor combo as the RX100 II, but, connected to the exact same app, the RX has less features.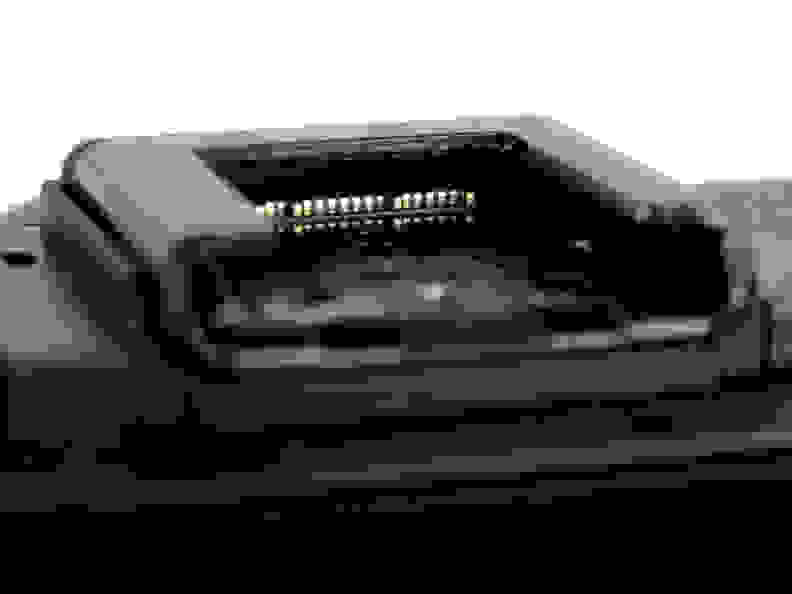 The RX100 II has, at its heart, one of the biggest sensors you can get in a point-and-shoot. Image quality is terrific, now with a little extra low-light performance. Sony has refreshed the 20-megapixel CMOS sensor, adding backside illumination technology, dubbing this type of sensor "Exmor R." The biggest change you'll see with the refreshed sensor is a new top ISO level at setting of 12800.
The newly added hot shoe might look like it happily accepts external flashes, but that's not all it can do. The RX100 II is also compatible with the Sony EVM1K, the accessory OLED electronic viewfinder developed for the company's primo RX1. Superb though it may be, the EVM1K is almost $500—pretty steep when you're hooking it up to a camera that's only $749. We appreciate the thought, but if you're willing to spend $1,300 on what is basically a point-and-shoot, you should probably think about what you want—you might be happier with a DSLR.
The Sony RX100 II's lens is one of the main attractions, providing a f/1.8-4.9 maximum aperture range to go along with the 3.5x optical zoom. In our performance tests, we saw similar results to what we got with the original RX100: average corner resolution at f/1.8, but generally very sharp center performance. The corners improve immensely when stopped down to f/2 and smaller, but the diffraction limit sets in soon after that. The slow f/4.9 max aperture that you get when shooting fully zoomed in also presents problems for resolution, as the diffraction limit keeps sharpness down.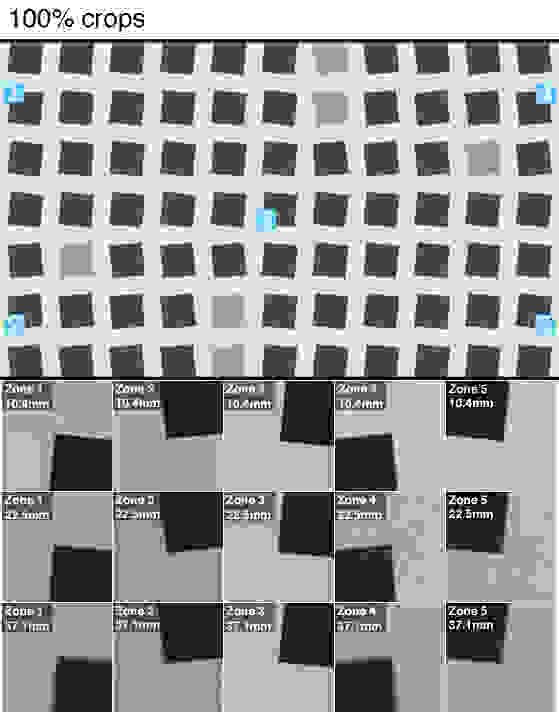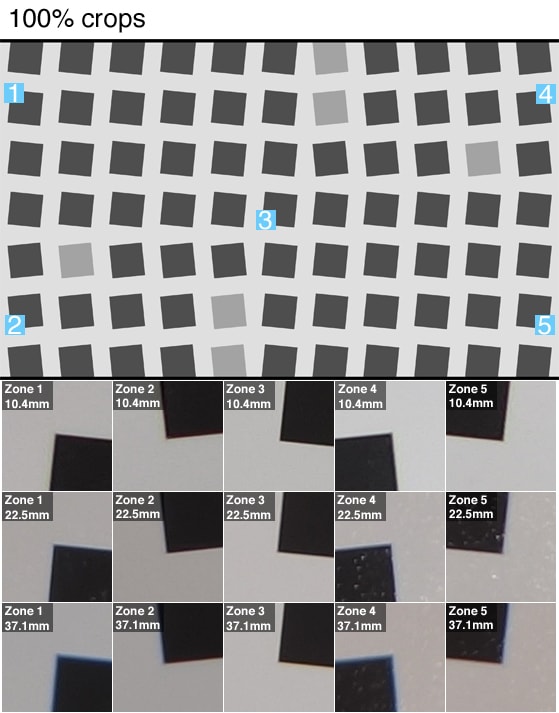 On average, you can expect the RX100 II to hit around 2100 line widths / picture height in the center at the wide angle, with that dropping to around 1700 lw/ph fully zoomed in. The corners hit just 900 lw/ph when shooting wide open, though it improves a bit in the middle of the focal range and if you stop down the aperture a bit.
Of course, Sony's not above giving themselves a little bit of a boost here, so there is a bit of software processing going on to enhance the edges. This improves the perception of sharpness, and Sony actually keeps the oversharpening in check here, with around 10% edge enhancement in an area where many competing compacts opt for 35% or more.
An extra stop of sensitivity and 24p HD video are now included.
Taken on its own, the RX100 II is the best truly compact camera around. In terms of pure imaging chops, there's nothing we found lacking when compared to competing pocket cams—this is still the best point-and-shoot available today.
Color mode options are limited compared to some other cameras in the same class. The RX100II's Standard color mode is the most accurate, tuned to provide pleasing colors. When compared to the camera's other modes (vivid, landscape, portrait, and sunset), it's clearly the mode designed to give you the least intense look, but it's still significantly less accurate than the color modes available to Micro Four Thirds and DSLR shooters. There are a handful of digital filters that can enhance the look of your shots, but they're a little limited compared to what Fujifilm has on offer with the X20—with that camera, you get both art filters and film simulation modes, and it'd be nice to see Sony add more options in the same vein.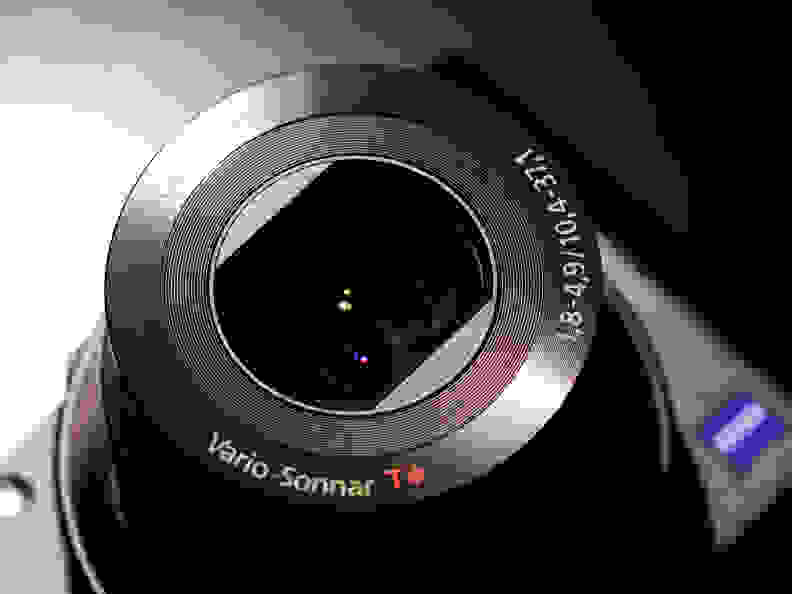 The RX100 II boasts an increased sensitivity range thanks to its BSI sensor. ISOs top out at 12800, but, realistically, the amount of noise and loss of detail at that setting limit its usability. In the camera's default NR mode, noise is kept at a reasonable level through ISO 3200 without destroying too much fine detail. After that, the JPEG noise reduction algorithm really kicks into high gear, especially at maximum sensitivity, where we measured an improbably low 1.08% noise distribution. That's the first ISO where noise crosses 1%—a surefire indicator of the aggressive noise reduction at work.
Sharpness is a strong suit for the RX100 II, easily tackling our point-and-shoot resolution tests. This camera's 3.6x zoom lens has an aperture range of f/1.8-4.9. It's not as consistently fast as Canon PowerShot G16 or the Pentax MX-1, but it's still impressive considering how much less space the RX100 II has to work with.
Video quality is fairly high, with the RX100 II shooting 1080/60p AVCHD natively. Sony has added a 24p frame rate, too. We found that the RX100 II performed as well as you'd expect, with smooth video and plenty of detail visible. Even though the sensor's new design should enhance low-light sensitivity in video, we found that the RX100 II required the same amount of light as its predecessor in order to hit our test's 50 IRE benchmark.
For more detail about how the RX100 II fared in our scientific tests, head over to the Science Page.
The RX100 II is the best point-and-shoot you can buy, but it's priced up against better cameras.
High-end point-and-shoots like the RX100 II tend to make shopping a bit tough for camera shoppers. Unless you have your heart set on the II, you'll be cross-shopping with a bunch of really great options, many of which may better fit your needs.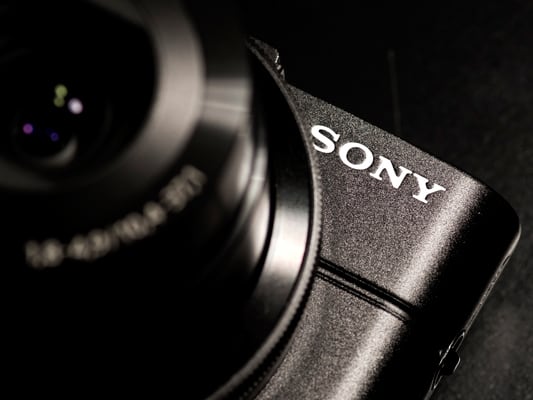 If you're hankering for a point-and-shoot camera with better handling and more accessible controls, the Canon G1 X is $600. It has a bigger sensor than the RX100 II, inside a more ergonomic body. As befits such a camera, controls are plentiful—two rear dials and a dedicated exposure compensation wheel make changing settings a breeze. But of course, it's not pocketable.
If you don't mind working with a single focal length, Ricoh's GR is only $50 more than the RX100 II and offers first-class handling and controls along with its much bigger APS-C sized sensor. The GR might be a tempting choice for shooters looking to ditch their heavy DSLR, but unwilling to compromise on a sensor smaller than what they're accustomed to.
Finally, the RX100 II has to pass muster when compared to the original RX100—a difficult comparison. Not only is the new version $150 more expensive, what you get for that dough isn't going to be a big value add for users. WiFi is well-done and the tilting screen is very useful in certain circumstances. We'll grant it that. But it's hard to recommend with the RX100 still on the market for 25% less.
Don't get us wrong—you'll be happy if you choose the RX100 II. It offers top image quality in a premium, pocketable package. The II's additions are icing on top of a cake that was already mouthwatering on its own. But, if you want to spend as little as possible on the highest quality point-and-shoot you can get your hands on, you should take a long, hard look at the original RX100.
The Sony RX100 II is one of the few compact cameras that actually lives up to its billing of "DSLR-quality" images, especially as regards dynamic range. Now, the RX100 II certainly isn't on par with a full-frame DSLR like the A99 or even the RX1, but it can certainly hold its own against entry-level DSLRs with larger APS-C image sensors.
In our lab results, we were able to coax around 9.5 stops of dynamic range out of the RX100 II at base ISO. This is a little below the 10.5 stops we usually see from midrange DSLRs and newer cameras like the Olympus OM-D E-M1, but it's right on par with entry-level APS-C cameras. What's also impressive is how well the RX100 II performs through its ISO range, with stout DR performance right through ISO 800. After that things rather predictably fall off, but the ability to confidently shoot up to ISO 1600 with a point-and-shoot is no small feat.
Compared to the original RX100, the RX100 II comes out slightly ahead for dynamic range and noise performance. This is likely due to its backlit construction, which keeps noise levels down, especially in the shadows. The effect isn't terribly dramatic, but it's a small justification if the other additional features Sony added to the RX100 II pique your interest.
While Sony cameras traditionally don't fare so well on our color accuracy test, it's not generally because they are poor at figuring out what color temperature the scene is. While the RX100 II's automatic white balance is only average, the custom white balance is excellent.
In our lab tests we found the RX100 II's automatic white balance was off by around 300 kelvins on average in daylight and fluorescent light settings. Incandescent lights proved much trickier, with the RX100 II off by over 2300 kelvins.
If you take the time to capture a custom white balance, performance is much better. In our custom white balance test under the same three lighting conditions, the RX100 II was off by no more than 75 kelvins on average, which is practically perfect. While for most shots having picture-perfect white balance isn't essential, the ability to cope with tricky mixed lighting with a quick custom measurement is a nice advantage to have.
While the RX100 II's claim to fame is not lightning quick burst speeds, it was certainly no slouch in our continuous shooting test. In our lab we found it was capable of continuous shooting of around 8 frames per second with focus locked on the first frame. It sustained that rate for around 20 frames before slowing down, though it takes some time to clear the buffer before you can shoot another burst.
Meet the tester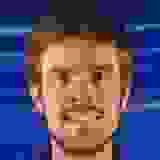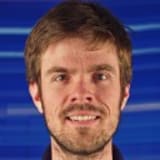 Brendan Nystedt
Contributor
@bnystedt
Brendan is originally from California. Prior to writing for Reviewed.com, he graduated from UC Santa Cruz and did IT support and wrote for a technology blog in the mythical Silicon Valley. Brendan enjoys history, Marx Brothers films, Vietnamese food, cars, and laughing loudly.
Checking our work.
Our team is here for one purpose: to help you buy the best stuff and love what you own. Our writers, editors, and lab technicians obsess over the products we cover to make sure you're confident and satisfied. Have a different opinion about something we recommend? Email us and we'll compare notes.
Shoot us an email