Now there's an offering from Sony, priced to entice. The Alpha NEX-3N (MSRP $499.99) is the newest entry-level, bargain NEX camera. Never before have camera shoppers been able to get into the E-Mount system for so little dough.
Hands-on Video
## Design & Handling #### Honey, I shrunk the NEX. Sony's been able to downsize the NEX footprint so much you'd swear Wayne Szalinski helped manufacture this camera. The metal-bodied, matte-finished 3N maintains the Sony design language while placing everything in a logical, orderly layout. Although the build quality isn't as premium as the more expensive NEX cameras, it's a compromise necessary for an entry-level model.
The small grip alone will be reason enough for some to spring for one of the more expensive NEX models
Even though the body is extremely compact, Sony's done a decent job at making sure you can hold onto the 3N securely. Around the right-hand side is a protruding piece of textured plastic with a flared bit at the end where your fingertips sit. Admittedly, the 3N lacks a larger grip, which would be way more comfortable for long-duration shooting. For this camera's target audience, that's not going to be a deal breaker. For photographers used to more ergonomic cameras, the small grip alone will be reason enough to spring for one of the more expensive NEX models.
The lack of buttons and dials means that manual control is a little fussy when compared to other compact system cameras. The 3N even ditches the traditional mode dial and focuses on making basic usage as straightforward as possible. That's not a bad thing, since Sony's menu system is well-organized and fairly easy to learn. Custom settings are included as well, applicable to the bottom soft key and the right d-pad button.
Unlike low-end system camera offerings from Olympus and Panasonic, Sony's decided to do without touchscreen technology, which is a bit of a shame. The annoyances didn't end there—the 3" non-touch LCD on the back of the 3N was really hard to see when used outdoors. If you do a little digging in the menus, there's a control panel you can use to boost screen brightness, alleviating the issue.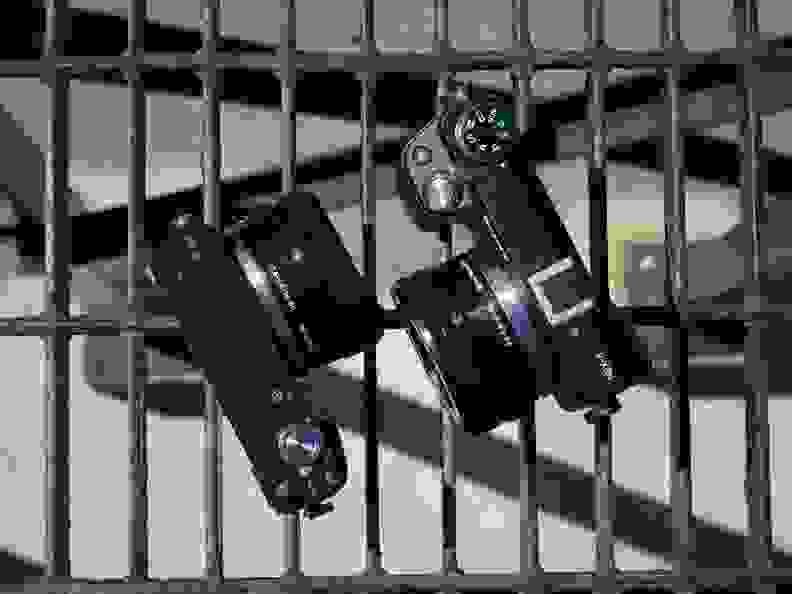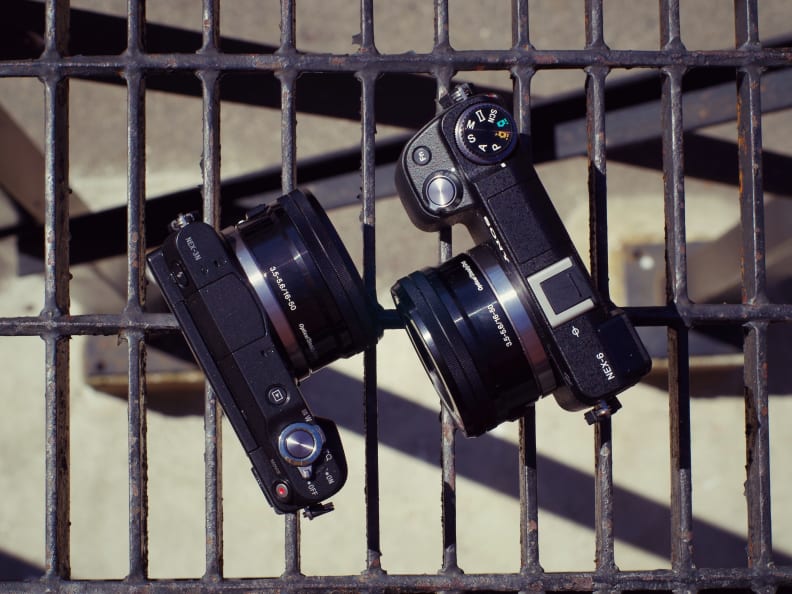 It should also be noted that the 3N doesn't have the viewfinder of the NEX-6 and NEX-7, and there isn't a way to add one later. Next to where an EVF would reside is the same pop-up flash mechanism Sony bestows upon its other NEX-series cameras.
For NEX-3N users who want to really get the full system ownership experience, there's a growing number of lenses available. After a long dry spell, the E-Mount system is more viable than it's ever been before, with lenses from Zeiss, Tamron, and Sigma in addition to the offerings from Sony. It's clear that this system is going places and investments in lenses will pay off should you decide to stick with Sony.
Features
Many of the NEX's hallmark features are present and accounted for.
Usually when a camera like this is created, it's slightly lobotomized in order to create a logical, tiered product structure. Sony's done that here, but keeps some excellent features intact nonetheless. While you won't find WiFi, GPS, or NFC like in Panasonic's DMC-G6, the 3N has an ace up its sleeve—it's the only current compact system camera in its price range with an honest-to-goodness 16.1-megapixel APS-C sensor.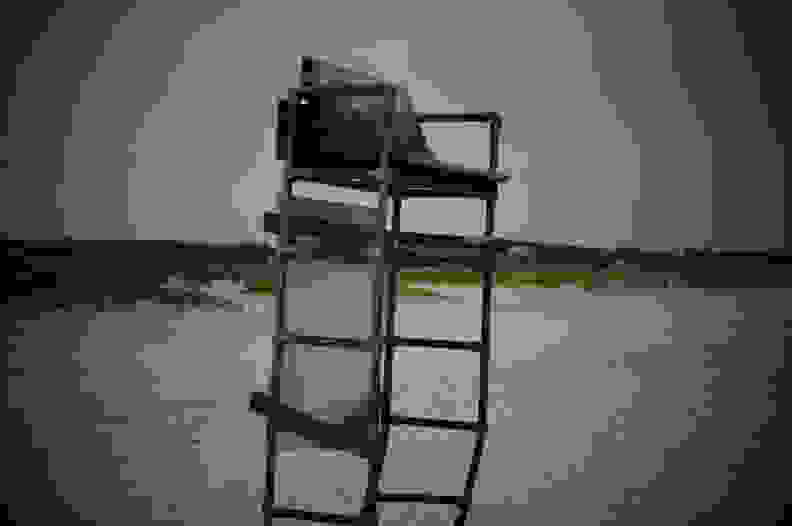 For the Instagram generation, there's a selection of 11 Picture Effects and easy-to-understand custom settings within each effect. Sony's also gone the extra mile to add easy-to-control options to these effects, naming each so that a beginner can leave jargon behind and just be as creative as possible. Vividness, Color, Brightness and Background Defocus (which is essentially a super simple aperture priority control) display a straightforward slider with a label at each end, making dialing in the desired picture powerful, yet simple.
Focus peaking is arguably the best manual focus helper available on mirrorless cameras today
Much to our delight, the NEX-3N includes focus peaking. Peaking is arguably the best manual focus helper available on mirrorless cameras today, highlighting the parts of the image that are in focus. Also of interest is the Direct Manual Focus feature, which lets you first autofocus with a half-press of the shutter, then adjust the focus with the ring on the end of the lens. It's a great way for newbies to get the satisfaction of manual focusing without leaving the warm, comforting embrace of autofocus.
In order to get the best experience, there's some features that NEX-3N owners should opt out of as soon as they get the camera out of the box. For whatever reason, there are two digital zoom enhancers that are both turned on. Turning off the Digital Zoom function isn't enough—you'll also have to nix a feature called Clear Image Zoom. Even though Sony touts the Clear Image Zoom algorithm as yielding results "nearly identical to optical zoom," you'll probably be dissatisfied with how these images turn out.
Performance
Strong stills, weak video
The NEX-3N delivered acceptable performance in the real world and also in our rigorous laboratory tests. Sony brags that their NEX cameras deliver DSLR-grade image quality and although that's a bit of an exaggeration, the 3N is still one heck of an upgrade from a smartphone or a point-and-shoot. And because of its point-and-shoot like handling characteristics, people used to simpler cameras can take advantage of the 3N without feeling intimidated.
When we used the 3N in the field, we experienced mixed results from its autofocusing system. Even though the NEX-3N locks on quickly, its 25-point multi point AF occasionally gave us a false lock, leaving us with unexpectedly blurry photos when viewed on a bigger screen. Sony left out the NEX-6's hybrid phase and contrast autofocus in favor of a more conventional contrast detect system. As mentioned previously, manual focus on this camera is a breeze with the built-in focus peaking option.
The camera really annoyed us with its power zoom kit lens. By trying to appeal to the point-and-shoot crowd, Sony's added a zoom toggle in front of the shutter button. That means that one-handed operation is very straightforward when automatic settings are in play. But, when two hands are used, it's far too easy to accidentally rotate the ring on the tip of the lens or hit the zoom slider on the side of the lens.
For those keeping score, there are three methods of zoom turned on by default—someone call the department of redundancy department! Because the NEX-3N comes with the same kit zoom as the NEX-6, we knew before using the camera that it came with an optically sharp lens. Because of the power zoom mechanism, it collapses in on itself whenever the camera's turned off (or when power saver mode kicks in). While that's good for portability, it's not ideal for photography since you're suddenly back at full wide whenever you power the camera back on.
While the NEX-3N captures high quality still images, video quality is disappointing
While the NEX-3N captures high quality still images, video quality is disappointing. Even though both 60i and 24p frame rates are available, 60i was choppy and lacking in definition. In footage shot with the 24p mode, compression artifacts and trailing reared their ugly heads. Low light video was particularly bad looking. There's also a lack of in-camera editing for those who like skipping the computer and showing off their footage directly from the camera itself. Finally, there are some manual controls available when capturing video but, there's no way to attach or hook up an external microphone.
To see the full results from all of our performance tests, please visit the science page.
Conclusion
An economical way to join the NEX generation
The NEX-3N hits the sweet spot in price and features
If you've held off buying into a particular compact system camera, there's never been a better time to finally take the plunge. With the NEX-3N, Sony's put together a winning package, hitting the sweet spot in price and features. Although this camera isn't perfect (as we found with its video features), many first-time camera buyers will probably love it anyway. It's a DSLR-sized sensor in a small body with interchangeable lenses for just under $500, something that was a pipe dream even a few years ago.
The NEX-3N is coming along at the perfect time, just as Olympus and Panasonic are stepping up their efforts to bring more mirrorless cameras into the lives of American camera buyers. It looks set to compete with the Micro Four Thirds bunch and, when compared to Nikon's 1 system, the NEX-3N is simply— to quote Community's Pierce Hawthorne—streets ahead. If you've been tempted by low-end Nikon and Canon DSLRs, the pint-sized, value-priced NEX-3N will deliver much of the image quality of those heftier, more expensive cameras in a smaller package.
By the Numbers
Part of the score you see on top of this review comes down to our scientific testing of each digital camera. We run every camera reviewed through a battery of tests, including resolution, sharpness, color, white balance (auto and custom), noise, continuous shooting speed, and video quality. The NEX-3N did better at some tests than it did at others, showing its weaker performance in video quality and noise reduction.
Color & White Balance
The NEX-3N's default Standard color profile (Sony calls them Creative Styles) is the most accurate. Standard doesn't produce perfect colors, instead opting for a deliberately tuned and slightly oversaturated look. We measured a saturation of 113.5% from this color mode. It's always nice to see that the mode most users will shoot in is fairly accurate. The NEX-3N's other color modes (Landscape, Sunset, Vivid, and Portrait) all boost color in different ways to achieve different effects.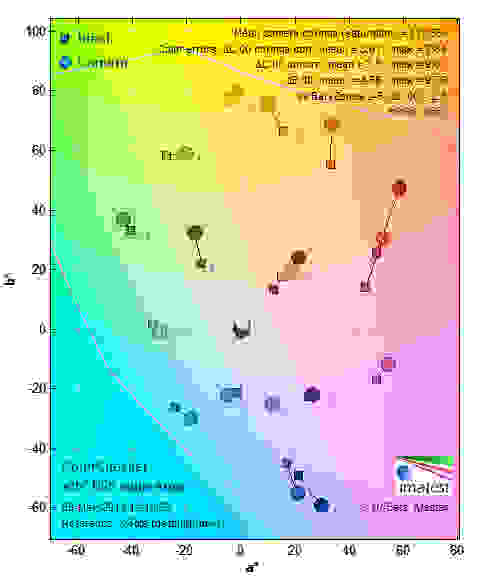 White balance on the NEX-3N is not good. We found its automatic setting to be slow to adapt to different lighting conditions and it had trouble completely adapting under incandescent lighting. There wasn't any issue when setting a custom white balance across our different white balance color temperatures.There are 9 built-in presets for white balance, meaning it's easy to find one that will make your photos look natural in many lighting conditions. The 3N also features manual color temperature input.
Resolution and Sharpness
The inclusion of the same kit lens from the NEX-6 means that the NEX-3N has better optics than its price tag would normally indicate. The 16-50mm zoom lens has image stabilization built-in and also a decent amount of zoom. It's a little soft on the wide end, but when zoomed in at 35-50mm it's nice and sharp. Sony's NEX cameras correct both chromatic aberration and distortion by default.
The in-camera JPEG engine doesn't over-sharpen too dramatically, unlike some cameras. The pictures produced are sharp as-is. If photographers want to see extra sharpness, or reduce sharpness, the option to control sharpness three stops in both directions is available within each color mode.
Noise & ISO
The NEX-3N offers ISO sensitivity levels from 200 to 16000. We found that the noise correction was applied aggressively and there's no option to turn it completely off. In fact, the two levels available, Low and Normal, were minimally different from each other, making choice between the two nearly pointless. Noise reduction kept things under 2% noise (a benchmark we use to represent printability of an image) no matter which ISO was used. Long Exposure NR can be disabled completely.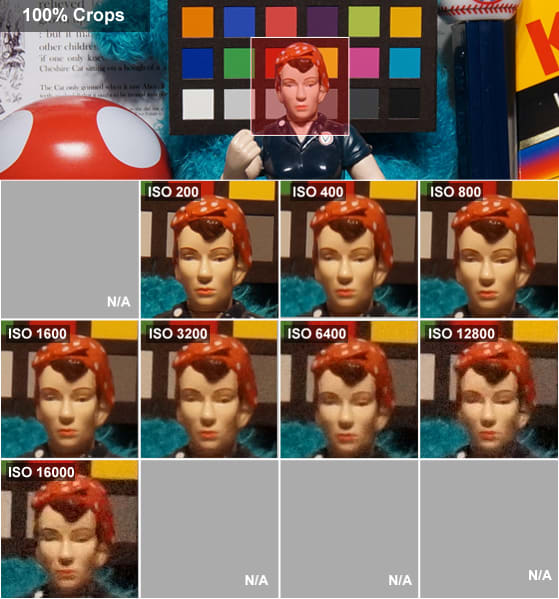 In our still life test, we saw that the 3N delivered fine detail up to ISO 6400, but after that sensitivity, noise correction kicked in too much. Comparing the crops from our still life, it's easy to see that towards the high end, things start looking like a George Seurat painting rather than a photograph.
Continuous Shooting
We were a little surprised to find better burst speed than was advertised in any of the NEX-3N's promotional materials. Although Sony repeatedly claims the NEX-3N will shoot up to 4 FPS, we found that the 3N gets closer to 7 FPS when using the Speed Priority Continuous setting. Although there's no image quality penalty at this speed, the exposure and focus are locked in the first frame, unlike with the slower 3 FPS Continuous shooting mode. When shooting just JPEG, the NEX-3N was able to shoot around 9 images before slowing down to a rate of around 1 FPS.
Video
Sony's known for their video prowess and was an early pioneer in HD video (their 3-chip HDW-F900 HD cinema camera was used to film Once Upon a Time in Mexico and Star Wars: Episode II, two early examples of high-def digital filmmaking). Unfortunately, the NEX-3N isn't endowed with excellent video quality or features. Both AVCHD 2.0 and MP4 are available, with 60i or 24p frame rate choices. Even though the AVCHD 2.0 standard allows for 60p, Sony's limited this camera to 60i. We found that sample footage shot with the 3N was disappointing, showing choppy motion, artifacting and trailing.
There's also no way to attach an external mic to this camera's body, making it a poor choice for people looking for high quality stills and video in the same body. On the bright side, the NEX-3N does allow for manual video control. The shutter speed, aperture and ISO are all programmable in the PASM modes when shooting video.
Meet the tester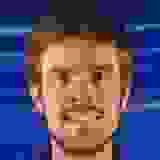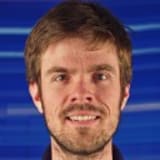 Brendan Nystedt
Contributor
@bnystedt
Brendan is originally from California. Prior to writing for Reviewed.com, he graduated from UC Santa Cruz and did IT support and wrote for a technology blog in the mythical Silicon Valley. Brendan enjoys history, Marx Brothers films, Vietnamese food, cars, and laughing loudly.
Checking our work.
Our team is here for one purpose: to help you buy the best stuff and love what you own. Our writers, editors, and lab technicians obsess over the products we cover to make sure you're confident and satisfied. Have a different opinion about something we recommend? Email us and we'll compare notes.
Shoot us an email