At the University of London Observatory, several students and a staff member from the University College London spotted an unusually bright light in the Messier 82 galaxy (otherwise known as the Cigar Galaxy) during a 10-minute workshop. The phenomena: a star that went supernova 12 million years ago that has just become visible here on Earth.
The group of students, led by Dr. Steve Fossey, fortuitously pointed their telescope towards Messier 82 for a demonstration on using the telescope's CCD camera to capture images. The galaxy was chosen apparently just because it was one of the few interesting celestial sights still visible to the group as clouds rolled in that night.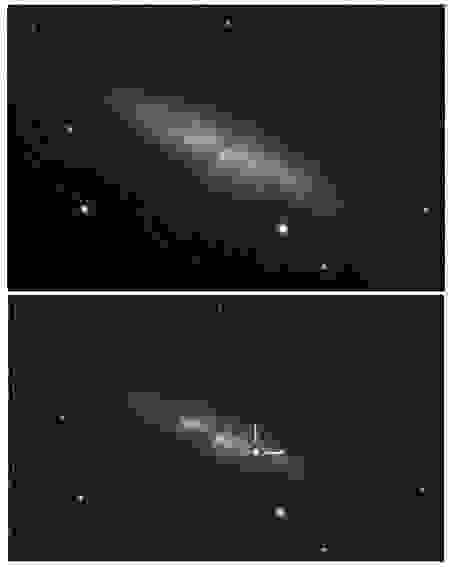 After taking several images of the galaxy, Dr. Fossey reportedly noticed the new object, which did not appear on previous shots taken of Messier 82. The team then used a second telescope and several different exposures of the phenomenon to confirm that it was not the result of broken instrumentation and hadn't yet been reported elsewhere.
Space is awesome.
According to the statement released by the UCL, the supernova is a Type Ia, caused by a white dwarf star stripping matter from a neighboring star. Once enough matter has been pulled off, the neighboring star becomes unstable and explodes. Photons from the cataclysmic event have taken 12 million years to reach us, but they're just now visible, because space is awesome.
So what was no doubt a horrible, horrible tragedy for the residents of the Messier 82 galaxy can now be viewed by us, right here at home.
Our editors review and recommend products to help you buy the stuff you need. If you make a purchase by clicking one of our links, we may earn a small share of the revenue. Our picks and opinions are independent from any business incentives.