Cameras
Affordable System Cameras for Aspiring Photographers
We've selected a few good cameras for aspiring photographers.

Credit:
These days, interchangeable lens digital cameras are more affordable and more varied than ever. There's a model perfect for every conceivable need, whether you want something small and light, something weatherproof, or an all-around great performer. In this article, we present a few of our favorite current models—the ones we think would make ideal starter cameras for aspiring enthusiast photographers.
---
Taking the NEX Step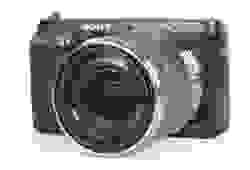 Though there are traditional DSLRs available for less, namely the Canon T3 and Nikon D3100, the low end of the market is really dominated by mirrorless cameras. These models toss out the mirror and optical viewfinder that define DSLRs, creating a smaller, lighter, and often cheaper package. Many of these are made by Olympus and Panasonic, two companies that together created the Micro Four Thirds standard. But over the last year or two, Sony stepped to the forefront with its NEX series.
Straight out of the box, the NEX models take visibly clearer, cleaner pictures than other small mirrorless cameras, while still remaining smaller and lighter than any DSLR. NEX lenses are huge compared to the actual cameras, but they're equipped with big grips to balance out the handling. They're a bit more novice-friendly than most other entry-level system cameras, too, with menus that don't look too different from what you'd find on a Sony Cyber-shot point-and-shoot.
Though it's the least expensive member of the NEX family, the NEX-F3 (MSRP: $599 w/ 18-55mm lens) doesn't give up much to its more expensive brethren, making it an easy recommendation for a truly budget-friendly system camera.
If you're willing to spend a little more, the brand new NEX-5R (MSRP: $749 w/ 18-55mm lens) has a newer sensor, producing even cleaner and clearer images. It also has a handy flip-out touchscreen and innovative autofocus system that should be quicker and more accurate when tracking moving subjects.
---
A Rebel for All Causes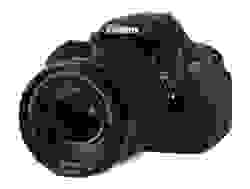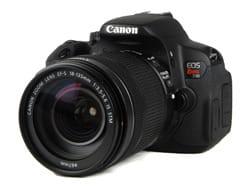 If you've asked around for entry-level DSLR suggestions in, oh, the past decade or so, someone has probably suggested the latest Canon Rebel. There's a good reason for that: the Rebel series is the gold standard for ease of use and reliably solid image quality.
The newest member of the family is the EOS Rebel T4i (MSRP: $899 w/ 18-55mm lens, $1149 w/ 18-135mm STM lens). Like its predecessors, the T4i is certainly capable of taking crisp, clear shots in all but the most challenging conditions, and its unique hybrid autofocus system ensures they're in focus pretty much every time. But where the new model really shines is in its grab-bag approach to features and operation.
Pretty much every feature available on any other entry-level DSLR is present here, along with several that you can't get anywhere else. The handy, fully articulating LCD is a familiar feature, but Canon made it a smartphone-style capacitive touchscreen, a first on a DSLR—and it's an impressive touch interface, too. Canon has long been a leader in DSLR video quality, and while the T4i's output is certainly very good, it's the full-time, silent autofocus system (when using STM lenses) that caught our attention. Really, there's nothing this camera doesn't do well. Paired with the 18-135mm STM kit lens, it's an all-in-one showcase of everything good about entry-level DSLRs.
---
It Gets Wet
Despite its impressive feature set, one thing the Rebel T4i doesn't offer is weather sealing. A lot of photographers buy expensive cameras that are capable of taking amazing shots, but as soon as a dark cloud appears on the horizon, they run and hide. It's kind of annoying that you can't use your thousand-dollar-plus kit in a little drizzle, isn't it?
But it doesn't need to be that way. For a long while, Pentax has offered full weather sealing on even its low-end DSLRs. That trend continues with the new K-30 (MSRP: $847 w/ 18-55mm WR lens), which manages to stuff many of the features of the semi-pro Pentax K-5 into a lighter, more affordable package. Feel like shooting a football game in the rain? Have no fear.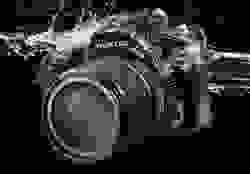 In addition to weather and dust sealing, you get a true what-you-see-is-what-you-get optical viewfinder—something absolutely invaluable for accurately framing shots. Dual control dials are a rarity in this class, but the K-30 throws those in, too, making it handle like a body costing twice as much. The camera's ergonomics are also world-class, with a substantial grip that feels molded to your hand. Oh yeah: The image quality is pretty spectacular, as well. For the money, the K-30 punches well above its weight, and certainly ranks as one of the most complete DSLRs on the market.