Cameras
CIPA: Over 20% of Cameras Today Can Swap Lenses
Smartphones are putting compacts out to pasture, but SLRs and mirrorless cameras are picking up the slack.

Credit:
The camera industry has undergone some major changes over the past two years, perhaps none bigger than the sheer proliferation of interchangeable lens cameras. Every major manufacturer now has at least one system on the market, with entry-level options that are more affordable than ever.
According to statistics released by the Camera & Imaging Products Association, more than 20% of cameras being produced today have interchangeable lenses. This is a massive difference from just a decade ago, when system cameras made up less than 2% of the overall camera market.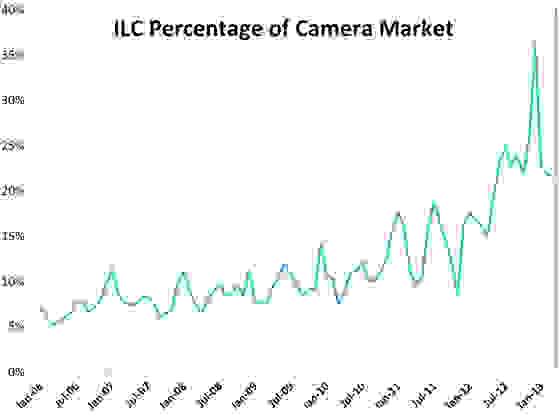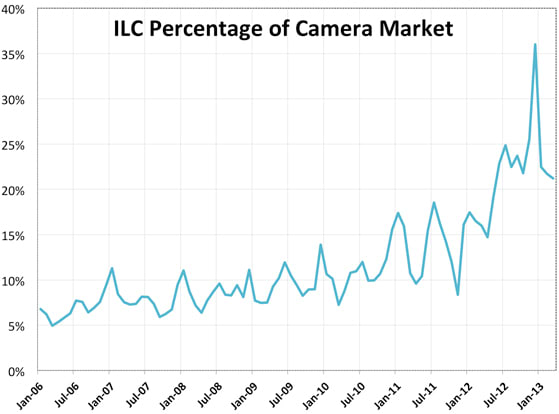 The reason for this shift isn't too difficult to figure out: The market for cheap point-and-shoots has bottomed out as smartphones with improved imaging capabilities grow more ubiquitous, forcing manufacturers to focus on quality. Furthermore, since the beginning of 2010 we've seen the debut of new compact systems from Sony, Canon, Nikon, Pentax, Samsung, and Fujifilm. That competition has driven prices down significantly, to the point that it's easy to get a high-quality system camera for under $500.
Even before the mirrorless camera boom, system cameras began to slowly take hold as people searched for something better than just another point-and-shoot. Interchangeable lens camera production has risen steadily since 2003, peaking at 35% of total production in December 2012. That percentage has held steadily above 20% for 10 straight months from June 2012 through March 2013—the last month CIPA released data.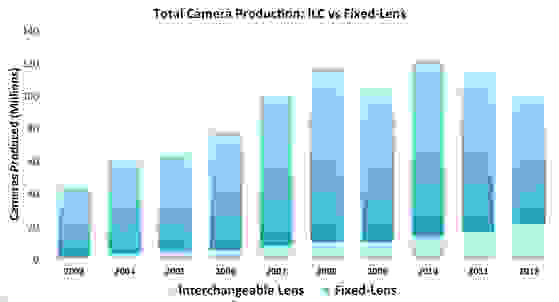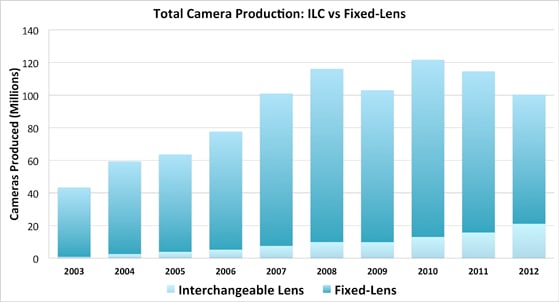 While that trend is impressive in and of itself, it also highlights just how far the cheap point-and-shoot market has fallen. In 2010 the companies contributing to CIPA's research* produced about 109 million fixed-lens cameras; in 2012 that number slipped to just 79 million. Over that same period interchangeable lens camera production grew from 12.9 million to 21 million units. It's not all new mirrorless camera growth, either, as traditional SLR production rose from 12.8 million units in 2010 to over 16 million units.
We share our lives one JPEG at a time these days.
Year over year, the dramatic growth of interchangeable lens cameras seems almost immune to the pitfalls that have stricken the fixed-lens camera market. While smartphones and social media surely are a big reason why fixed-lens cameras are failing, they've also stoked a fire for photography in many people. We share our lives one JPEG at a time these days, and no matter how good your phone's camera is, eventually you'll look for something better.
*These numbers don't take into account every single camera manufacturer, though CIPA's report is comprised of virtually every major brand, including Canon, Nikon, Olympus, Panasonic, Pentax, Sanyo, Samsung, Casio, Sigma, Seiko Epson, Sony, and Fujifilm.