Cameras
Head to Head: Olympus OM-D E-M1 Vs. Olympus OM-D E-M5
Olympus's OM-D line has two excellent models, but which one is right for you?

Credit: Reviewed.com
Olympus turned plenty of heads when it released the retro-inspired OM-D E-M5 last year. The E-M5 represented a quantum leap forward in performance for Olympus's Micro Four Thirds cameras, but it was also a genuine improvement in both build quality and design. The E-M5 recalled the glory days of 70s SLR design, but also included modern touches such as an excellent EVF, a beautiful screen, and loads of manual controls housed in a weather-sealed body with great handling.
Apparently unsatisfied with the critical acclaim the E-M5 received, Olympus went back to the drawing board to give us the OM-D E-M1. The E-M1 is everything we loved from the E-M5, but elevated to a level on par with professional cameras. The E-M5 features a larger, more detailed EVF, improved weather sealing, enhanced build quality, and a new sensor that integrates phase-detection autofocus. The new AF system provides far better compatibility with older Four Thirds glass, while Olympus has also released the excellent new 12-40mm f/2.8 PRO lens alongside the E-M1, a clear bid to woo professionals to the M43 system.
Performance Breakdown
In our lab tests, the winner here is quite clearly the E-M1. The new sensor offered improved RAW dynamic range, better high ISO performance, faster shot-to-shot speed, and slightly improved autofocus. Video still remains a work in progress for Olympus, however, so if that's your main priority you'll likely want to think about the the Panasonic GH3, Panasonic GX7, or even something like the Canon 6D.

For still images, the real difference between the two cameras is with high ISO shooting. Both top out at ISO 25600, but the E-M1 provides you with just a little more image quality to work with. With the E-M5 we don't recommend shooting above ISO 3200 unless you have to. We feel the E-M1 will let you shoot up to around ISO 6400 and still get usable image quality, depending on your resolution needs.
The E-M1 also provides the user with a few extra features that have appeared in other Olympus cameras since the E-M5's release. While focus peaking will be of note for manual focus shooters, our favorite addition is the 2x2 control scheme. On the back of the E-M1 you'll see a small switch that lets you toggle between two user-adjustable dial setups, essentially doubling the amount of customizable controls on the camera. While not quite as practical, the E-M1's built-in WiFi gives users some extra utility, with the ability share shots wirelessly and to shoot remotely with your phone or tablet.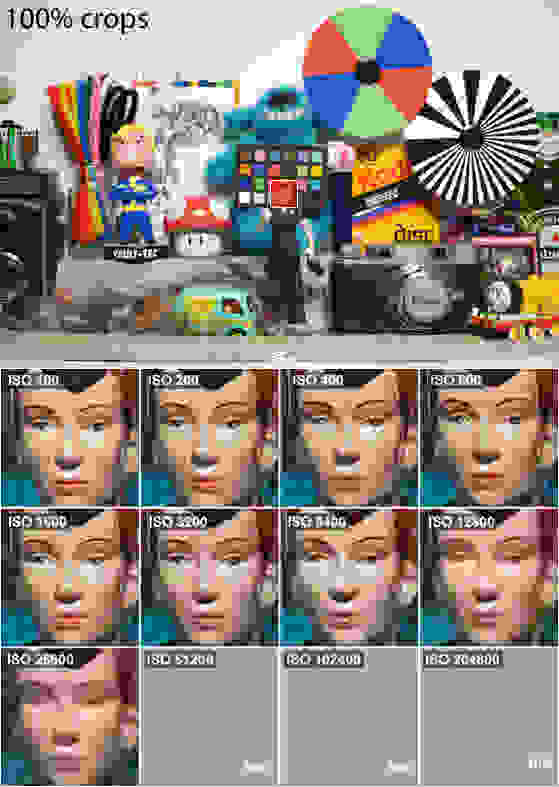 The new phase-detect system in the E-M1 will be a welcome boon to those who have older Four Thirds lenses they want to adapt to their camera. Unlike Micro Four Thirds lenses, Four Thirds lenses don't focus quickly with the contrast-detect system the E-M5 uses. Unfortunately, the E-M1 only uses PDAF in single-shot AF mode with these FT lenses attached; if you're using Micro Four Thirds lenses you only get PDAF in continuous AF mode (and it can't be used at all when shooting video). When PDAF isn't available the E-M1 defaults to contrast-detect AF, which is still lightning quick, but doesn't track moving subjects as well.
Below we've provided a breakdown of some of the unweighted key performance scores of each camera for simple comparison's sake. Our overall score takes a wider range of performance metrics into account as well, so for a full picture of each camera fared, please check out the full reviews. To read the full review of the Olympus E-M1, you can go here. For our full review of the Olympus OM-D E-M5, please head here.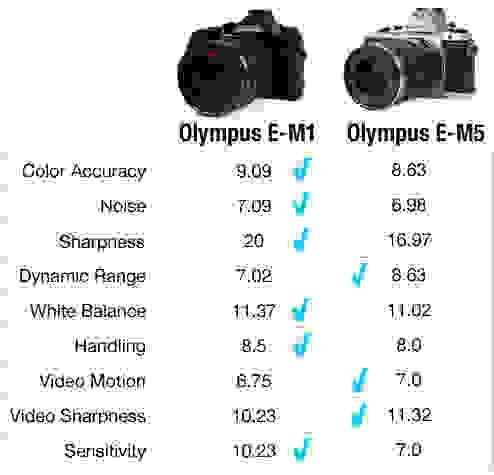 Conclusion
While it's easy to look at the E-M1 and view it as the successor to the E-M5, they're really designed to coexist in the Olympus stable. The E-M5 is a pleasure to shoot with, but across the board the E-M1 simply does everything better. The E-M1's EVF is bigger and more detailed, the 2x2 control scheme allows for a more customizable shooting experience, and the buttons and dials make the E-M5's feel chintzy by comparison.
If you can afford it, the E-M1 is the better choice.
That isn't to say the E-M5 won't continue to have a place. The E-M1 debuts at $1,399.99 body-only, whereas the E-M5 has had its price slashed to just $949.99 body-only, with a number of affordable kit options for less than $1,300. That makes the E-M5 one of the best sub-$1,000 system cameras you can buy, whereas you'll likely have to shell out close to double that if you want to get the most out of the E-M1. Still, we think that if you can afford it, the E-M1 is the better choice.
Our head-to-head articles are meant to give a brief rundown to see how two cameras stack up. For our full performance review of the Olympus OM-D E-M1, please head right here. If you want to check out the Olympus OM-D E-M5, our full review can be found right here.
Up next
Get Reviewed email alerts.
Sign up for our newsletter to get real advice from real experts.