Cameras
Olympus CP+ 2013 Booth Tour
We took a walk around the vast Olympus booth at CP+ 2013, checked out all the displays and ogled all the goodies.

Credit:
Olympus CP+ 2013 Booth Tour
Of all the booths here at CP+ 2013, there's no doubt that Olympus has set up one of the most welcoming. You won't see any hip-hop dancers or be assaulted with any thumping techno beats. They've hired fewer booth babes than anyone except Zeiss, who've stocked theirs entirely with sour-faced Germans. (Hands off zee NEX primes!) What Olympus has on display instead is an obvious and overwhelming love for the craft of photography, its history, and its future.
The Olympus booth was absolutely crawling with product reps today, each of whom tirelessly explained the proper use of each product to an unending chain of visitors. Or at least that's what I think they were doing—it's hard to be sure when you don't speak the language. Even some of the booth babes were doing double-duty, stepping away from their job of waving at the passing throng to show a befuddled visitor how to activate the OM-D's add-on grip or get the 12mm prime into manual focus mode.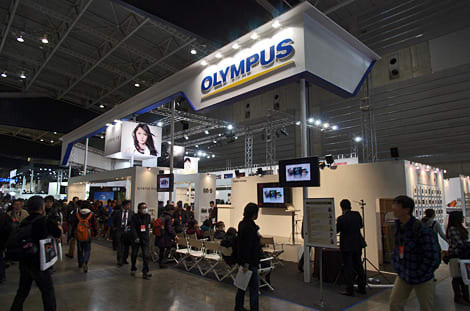 Four long tables, each stocked with members of a particular family of Olympus cameras (PEN, OM-D, Stylus, microscopes), were front and center in the booth. Each table was littered with tchotchkes for sample shots—little carved figurines, cups filled with parfait, a bonsai tree. A separate corner was designated the "Lens Cafe," playing host to all the current primes in the Olympus Micro Four Thirds lineup.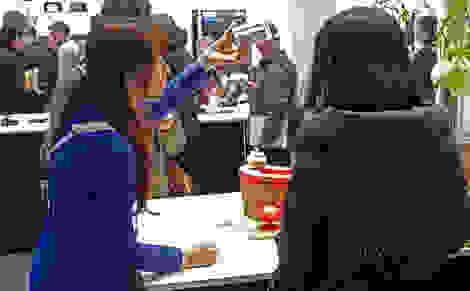 Here I got my hands on the new 17mm f/1.8. I'm happy to report that it's just as lovely as you'd expect, given its similarity to the 12mm f/2. Even better, I got to spend a solid five minutes with the already legendary 75mm f/1.8. (Though I don't think the elderly Japanese gent waiting behind me appreciated it.) One day, that lens will be mine.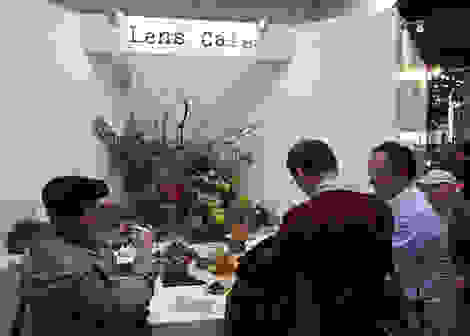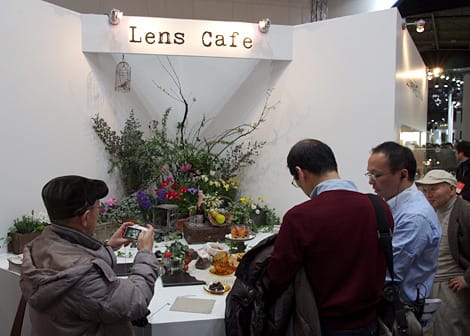 Around the corner from the Lens Cafe was a cabinet housing all of the company's digital products, stretching back to the earliest Four Thirds bodies and lenses. It's a really impressive collection, and a strong reminder of how far Olympus has made it doing something unique in the modern camera biz.
Adjacent to the Cabinet 'o History were a couple of glass boxes, each containing a group of modern PEN cameras as well as their film-era inspiration—PEN F's next to E-PL5s, OM-D's next to OM-3s. It's a fundamental idea, but the execution was really quite stunning. You know these cameras are paying respect to their forebears, but until they're placed side-by-side it's hard to get your head around just how similar the aesthetics are.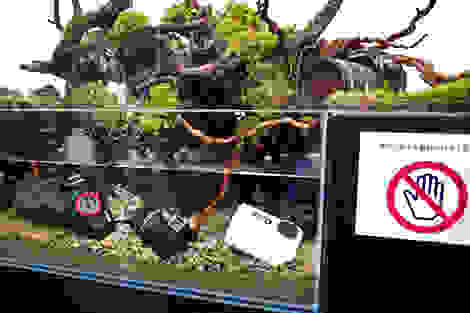 The back wall of the booth was entirely given over to scientific demonstrations of various Olympus camera technologies. Autofocus speed, dust removal, stabilization, and more were given their own showcases. These got plenty of foot traffic, though predictably not as much as the more hands-on exhibits.
At each floor-facing corner of the booth area, Olympus had set up amphitheater-style seating in front of a small stage. Experts gave lectures on, well… I'm not sure what. But the crowds certainly seemed to be paying rapt attention.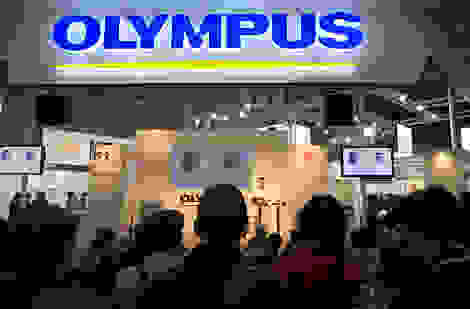 Throughout the booth, brochures were available on all of the company's products, primarily in Japanese but with a smattering of English throughout. (Just enough to make me wish I could understand more, to be honest. How much do Japanese classes cost, anyway?)
In the end, the Olympus booth stood out to me because it came across as a temple to the photographic art, and a mecca for those interested in photography—not just gadgetry. Too many of the booths at CP+ 2013 are so focused on selling you something that they forget to remind you why you want it in the first place. Olympus gets it. Their booth focuses on getting you to experience something, because they have confidence that once you do, you'll want to buy. That's refreshing.