Cameras
Photo App Review: Layover for iOS
Layover brings layer editing and blending to your iPhone and iPad for under a buck, but the execution needs work.

Layover by Peak Systems for iOS specializes in photo layers: stacking them, blending them, getting creative with them, and so on. Peak's photo-framing app [Diptic](https://www.reviewed.com/cameras/News/Photo-App-of-the-Week-Diptic-for-iOS-and-Android.htm) has become a surprise mainstay in [our iPhone's photography folder](https://www.reviewed.com/cameras/Features/12-Apps-to-Fill-Your-iPhones-Photography-Folder.htm), so let's see if Layover can repeat that success. #### What Layover Gets Right Not too many mobile apps can pull off layers—the only one that springs to mind is Photoshop Touch, which costs $9.99 compared to Layover's $0.99. We haven't reviewed that app, but it doesn't appear to support layer masking—score one for Layover. Most photo editors just offer digital effects or exposure adjustments; the good ones pile on sharpness, contrast, and color space adjustments. Layer editing puts Layover (almost) in a class of its own.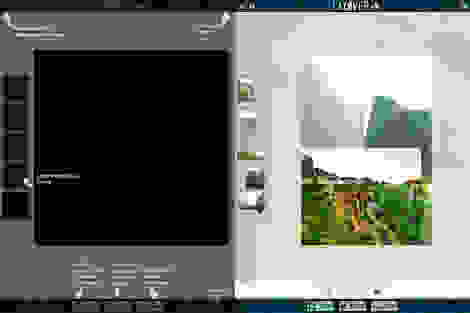 What Layover Could Do Better
That said, layer editing doesn't transfer to a touch-based interface particularly well. Handling up to four images at once seemed to put a strain on our iPad (we tested on a first-gen model, so the limited processing power might've contributed to some sluggishness). There was some input lag, and it wasn't always clear when or if our actions were processed, especially when we were experimenting with layer masking.
More than the general wonkiness (which Peak should be able to work out in future updates), the user interface just wasn't all that refined. Cropping will chop down the whole shot, not individual layers, and they can only be re-sized by pinch-zooming, dragging them around the frame, and masking the sections you want to disappear.
But masking is inherently inaccurate because you're using your fingertip. You can magnify the image ("temporary zoom") to make fine adjustments, but it lacks the level of precision found in "serious" apps. We couldn't erase the grass around the super-imposed water buffalo below without wiping away its legs, too.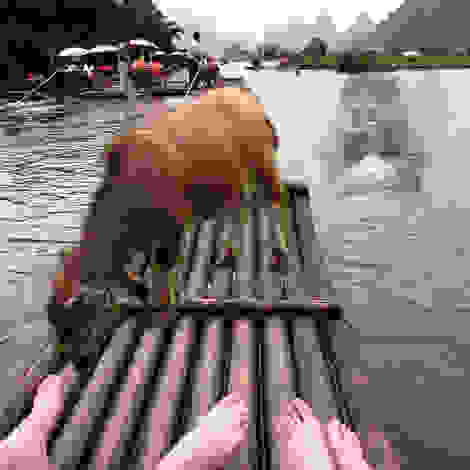 The layering system isn't dummy-proof, either: Which one is on top? Why is it that we can't see certain layers at certain times? What does the bottom square do? Why do most of the blending effects look so cheesy? Anybody with a basic knowledge of Photoshop on a desktop should be able to work it out eventually, but it has a learning curve.
A tutorial is available on the Layover blog (where they're currently promoting a contest with the worst Twitter hashtag of the year, #LayoverMyDiptic). But even if you can master the techniques, we just aren't sure that the concept lends itself particularly well to a mobile interface.
Worth a Download?
We probably wouldn't spend a dollar on Layover again. The concept is strong, but the execution needs work—it just lacks finesse, so it comes across as a novelty. But hey, it's a lot cheaper than Photoshop Touch, so if you have your heart set on layer editing on your iPad or iPhone, then have at it.