Cameras
Pro Photo Processing in a Browser? It's Here.
No software? No problem: Rip through your RAWs on the web.
Credit: Flickr User "boedker"
If you're a budding enthusiast photographer, chances are you've experienced your fair share of sticker shock. If you want to get properly set up, it's easy to drop a thousand here on a camera body, two more g's on lenses, a $120 per year subscription to Adobe's Photographer Bundle—it adds up fast.
Paying for software can feel like adding insult to injury after you've already spent thousands on your hobby, so it's natural to go looking for cheaper alternatives to what the pros use. But for a long time, there weren't any compelling (or substantially cheaper) options offering ease of use similar to an app like Adobe Lightroom.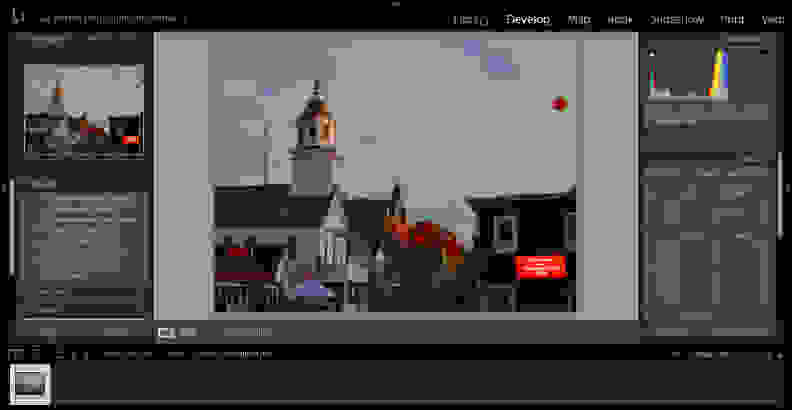 That could soon be set to change. Polarr is a browser-based JPEG and RAW photo processor that sports many of the same features and functions found in Lightroom, at zero percent of the cost. Granted, this service is only as good as your internet connection, and it's useless for organizing your photo library. Nevertheless, it's a great way to edit a few photos on the fly without making too many sacrifices.
Lightroom users will feel right at home with Polarr v2.0b—maybe a little too much at home. Most of the same controls are present, and most are in exactly the same place. The layout is virtually identical to Lightroom 5's, with your adjustment panel on the right, history and filters on the left, and a filmstrip on the bottom. They say imitation is the sincerest form of flattery, but in this case it may also be a lawsuit waiting to happen.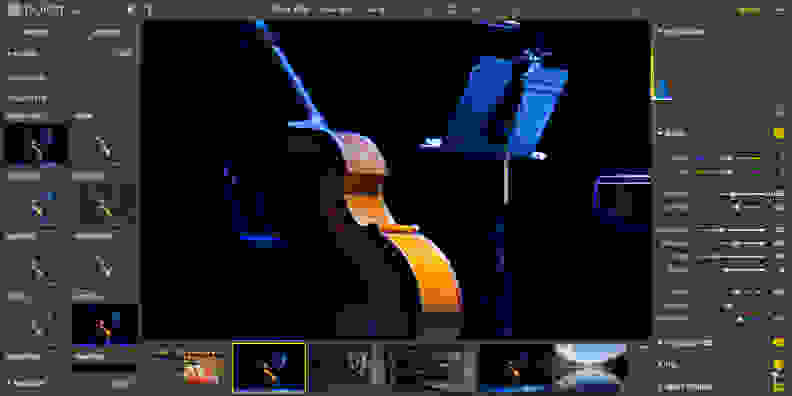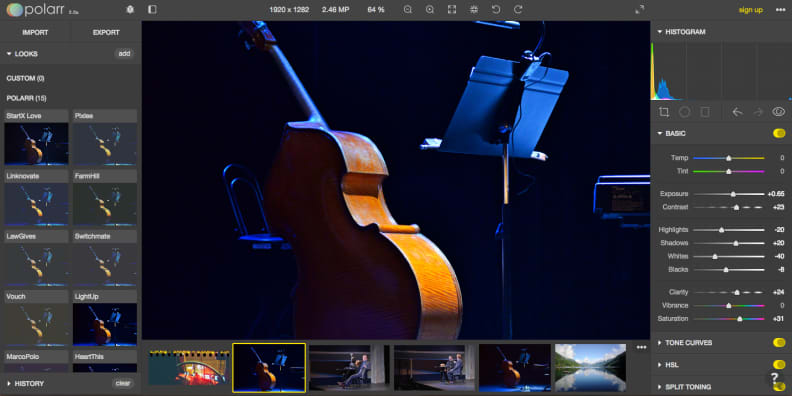 Regardless, the interface is surprisingly fast and responsive, and it feels almost like magic to get most of the same functionality you get from a massive memory hog of a program like Lightroom in a browser tab. But remember those sacrifices we mentioned? Yeah, there are still a few.
Polarr doesn't quite stack up to Lightroom if you're looking to tackle more professional or involved edits. While some advanced functionality is present—like radial and graduated filters, curves, HSL adjustments, and split toning—some other things are missing. You won't get spot healing, adjustment brushes, lens correction profiles, or exact white balance tweaks.
It feels like magic to get the same functionality as a memory hog like Lightroom in a browser tab.
Of course, Polarr v2.0 is still in beta, and it's a very impressive beta indeed. And despite the aforementioned shortcomings, there's one very neat addition: You can export your edits directly to cloud services like Flickr, Dropbox, Box, Picasa, Google Drive, and OneDrive.
If you're not ready to plunk down for expensive software, or you just want to make a few quick edits on a Chromebook or tablet, give Polarr a try. It's absolutely worth a shot.
Related Video