Cameras
Smart Homes of the Future Will Be Camera-Packed
Because the connected home isn't complete without ubiquitous cameras
Credit:
According to a Reuters report published today, Japanese appliance manufacturers are set to go all-in on smart appliance features. From Twitter capability, to voice control, to embedded cameras, tomorrow's appliances will be smarter and more connected.
We've already seen some early attempts at this sort of thing, including a Siemens fridge with built-in cameras that we checked out at this year's IFA trade show in Berlin.
If appliance makers and smart home advocates have their way, we're probably not too far away from a time when our houses will be riddled with small, unobtrusive, connected cameras. And given our society's obsession with selfies and social media, the move could be met with as much enthusiasm as cynicism. After all, go to Facebook and you'll likely find that every other post in your feed is a candid or selfie.
So join us as we voyage into the not-so-distant future—a place where cameras could capture your every shave, family dinner, or trip to the fridge. These are seven (admittedly slightly silly) examples of everyday items that—in our opinion—could absolutely benefit from the addition of a camera... along with an internet connection and access to social media apps.
1. the Bathroom Mirror Cam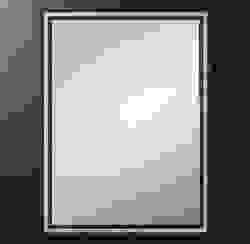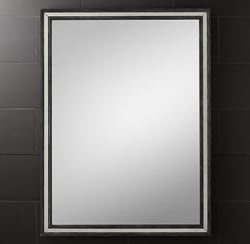 Whether you get out of the shower and immediately work on your hair, or you wait for it to dry a bit first and then start stylin', the bathroom mirror captures you at your absolute best.
The ideal mirror-cam will be voice-activated and have a small LCD screen towards the bottom so you can check your selfie before sending it to Instagram. And it would improve upon traditional mirror selfies—you know, the ones that show a person holding his or her phone. Sorry, Snow White, but those kind of pics just aren't the fairest of them all.
How It Should Work
• Pose for your picture
• Say "Take picture"
• If the photo looks sufficient on the LCD screen, say "Confirm."
2. the Fridge Cam
Selfies and food pics go together like burgers and fries. That's why a refrigerator with a camera would be ideal to bring these two staples of social imaging together.
While Siemens does make a fridge with two cameras in it, those cameras only take pictures of the items inside, so that you can see what you have in stock before needlessly buying groceries. This sounds great, but it doesn't help with social media. How else are you supposed show your friends that you're on the paleo diet?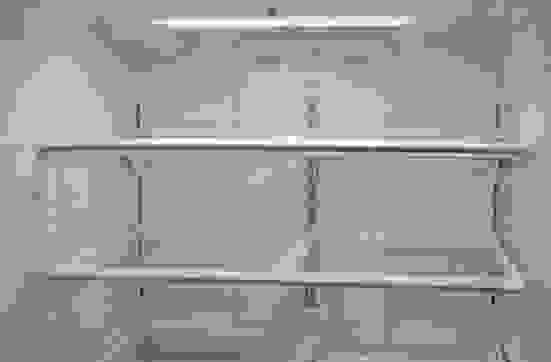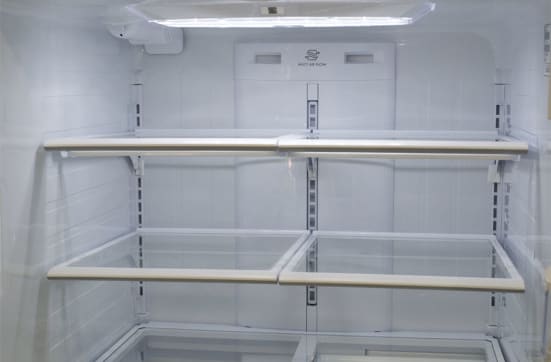 How It Should Work
• Open your fridge and grab whatever food item you're looking for.
• Smile at the camera with your food. The camera takes a picture when a smile is detected.
• Close the fridge, where you'll find a touchscreen display. If you're satisfied with your selfie, send it to the masses.
3. the Range Hood Cam
What's better than a picture of your meal? A video of you making your meal.
Imagine this: You're standing in front of the stove, dressed in a killer apron and even a chef's hat. You're cooking a stir-fry—not the most impressive dish, but it's entertaining to watch it being made. Why not show all your friends on Twitter your pro chef skills? You could with a webcam built into your range hood.
How It Should Work
• The webcam is built into the bottom of the range hood. It is angled straight downwards to catch all the cooking action.
• The range-cam is voice activated. By saying "record," it will start capturing a six-second video of your cooking prowess.
• The video is sent to your phone via an app, for use with Vine.
4. the Desk Lamp Cam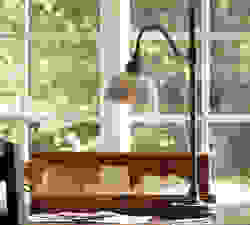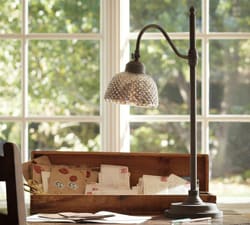 You could be working from home or playing games on your PC—it doesn't matter. When you're sitting at your computer desk, you look engaged—a person on a mission! Why not share this industrious look with the rest of the world?
Sure, monitors with webcams do exist, and most laptops come with one these days, but straight-on shots are so boring. If your desk lamp had a camera, it would capture your work ethic and dedication in one perfectly-angled image.
How It Should Work
• The lamp-cam is integrated with a smartphone app.
• When the app is turned on, it randomly takes images of you at your desk for a set amount of time.
• You can check your phone to see all the great "action" shots that your lamp-cam took.
• Upload your finest pictures to Facebook
5. the Dining Room Table Cam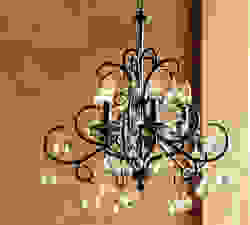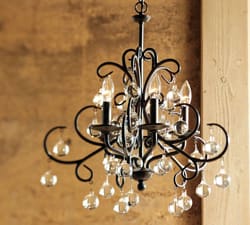 Selfies are great, but getting a shot of your entire family together? That's priceless.
With cameras in a chandelier—hung above your dining room table, of course—you can get pictures of your entire family eating dinner and generally having a good time. Mom is going to feel so loved when she checks her Facebook page and sees her smiling face serving you more mashed potatoes.
(Note than you could pretty much do this right now by planting a Ricoh Theta in your bowl of mashed potatoes, or hanging it from the ceiling fan.)
How It Should Work
• A camera is located in the middle of the chandelier
• When turned on (via a smartphone app), pictures are taken in five-minute intervals.
• These aerial shots are sent to your smartphone, awaiting Facebook image tags.
6. the Alarm Clock Cam
We look our best after a relaxing shower. That's a no-brainer, because we look our absolute worst after we wake up. But we need to have a sense of humor about our morning ugliness. If we can't laugh at ourselves, who can we laugh at?
With an alarm clock-cam, you could capture the hilarity of your bedhead and groggy "good" looks, for the good of the internets. It'd be a great gag gift, too.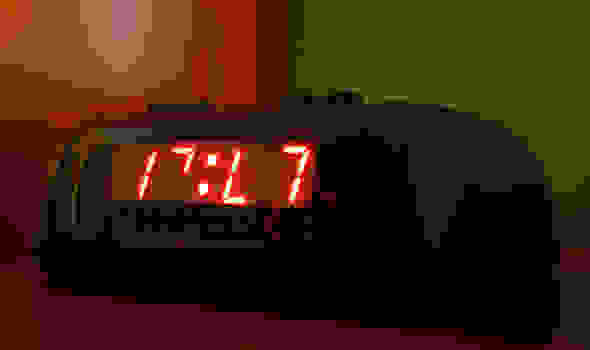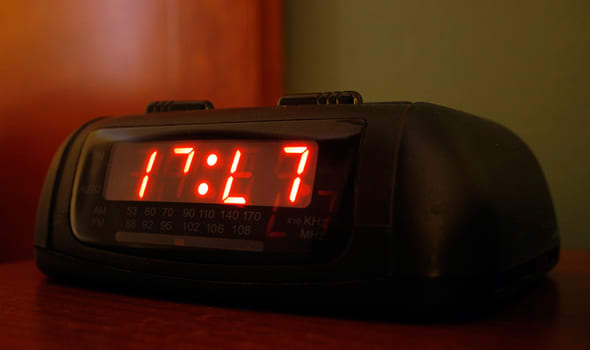 How It Should Work
• A camera is located at the top of the alarm clock.
• Also, a flash is placed next to the camera.
• When you press the button to either shut your alarm off or snooze it, the flash goes off and captures an uproarious picture of your morning self.
• Images are automatically sent out to your friends on Snapchat. That means people only have a maximum of 10 seconds to laugh at you.
7. the Cat Scratching Post Cam
Fact: Cats are better than dogs.
Fact: Cats hate to stand still, so they're hard to photograph and video.
In order to capture a cat in its natural habitat, a cat scratching post cam is required. Since most cats—my cats, at least—are camera shy, a hidden lens in a cat scratcher would be the perfect way to document the playful and carefree nature of the world's best pet.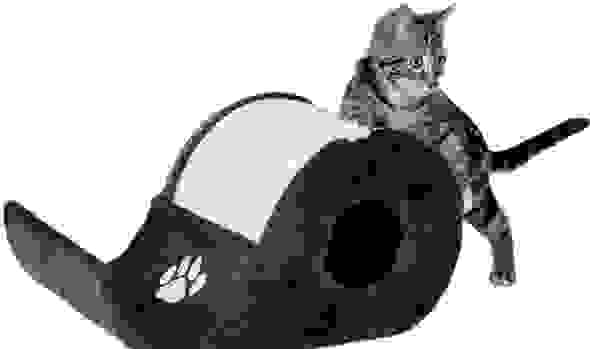 How It Should Work

• A camera is located at the top of a scratching post. It is protected by a clear plastic cover, so your cat's razor-sharp claws won't harm it.
• When scratching is detected, 15 seconds of video are captured.
• All videos are sent to your smartphone, and await uploading to Instagram.
[Hero image: Flickr user "andrewrennie"]