Cameras
Touring Samsung's Camera Display at IFA Berlin 2013
Cameras get a place of pride on Samsung's massive show floor.
Credit:
Along with Sony, Panasonic, and fellow South Korean chaebol LG, Samsung has one of the biggest show floors at IFA Berlin. (Technically, it has two: one for electronics, and one for appliances.) Roughly a sixth of the company's hall-filling electronics exhibition is given over to compact cameras and NX mirrorless models.
It's a huge, neatly laid out swath of gleaming white countertops, white floors, and white walls—the atmosphere of the bustling "booth" is something like an Apple Genius Bar crossed with a flea market.
In the northwest corner of Hall 20—which Samsung occupies in toto—the Galaxy NX display takes up two full tables. Dozens of little figurines are set up at the center of each table, providing tiny targets for curious shooters. The near-featureless Galaxy NX, recently priced at a whopping $1,699 with a kit lens, looks surprisingly cheap sitting there on the counter, but it's quick and responsive in actual use. That's no surprise, since it's based on the excellent NX300.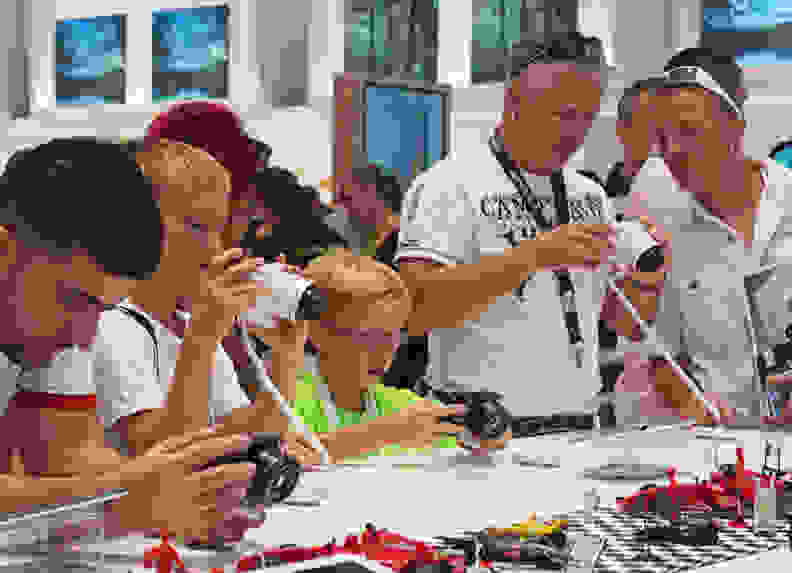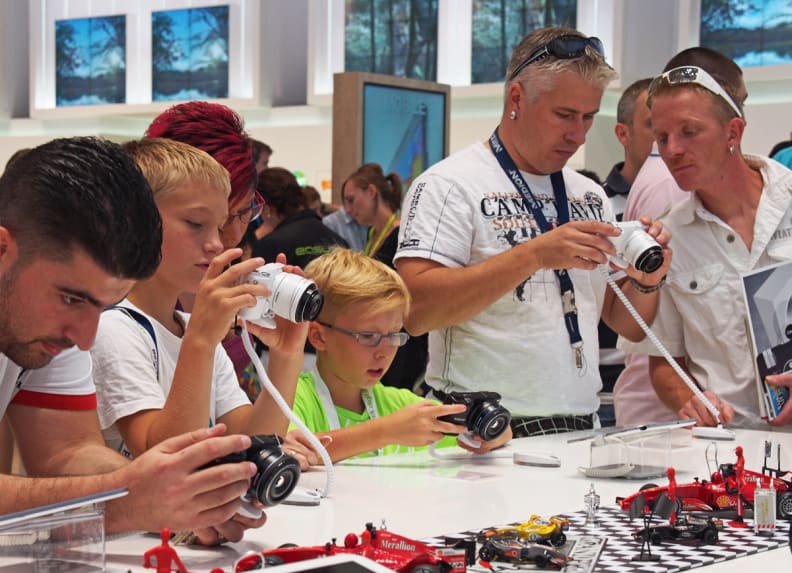 Other DSLR-style NX cameras like the NX20 seem surprisingly popular in Germany, given their relative invisibility in the US market. We've seen quite a few journalists and members of the general public carrying them around the Messe Berlin convention halls. They aren't the biggest draw at Samsung's booth, but still have their fair share of interested onlookers.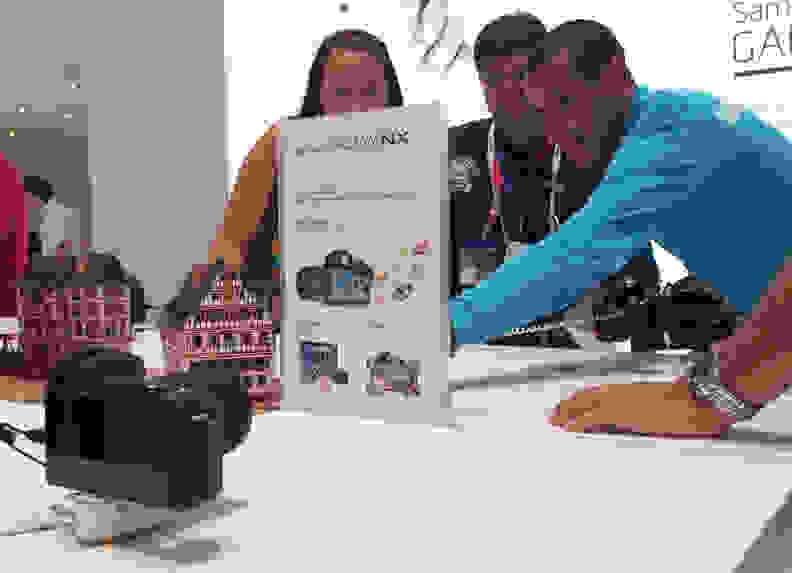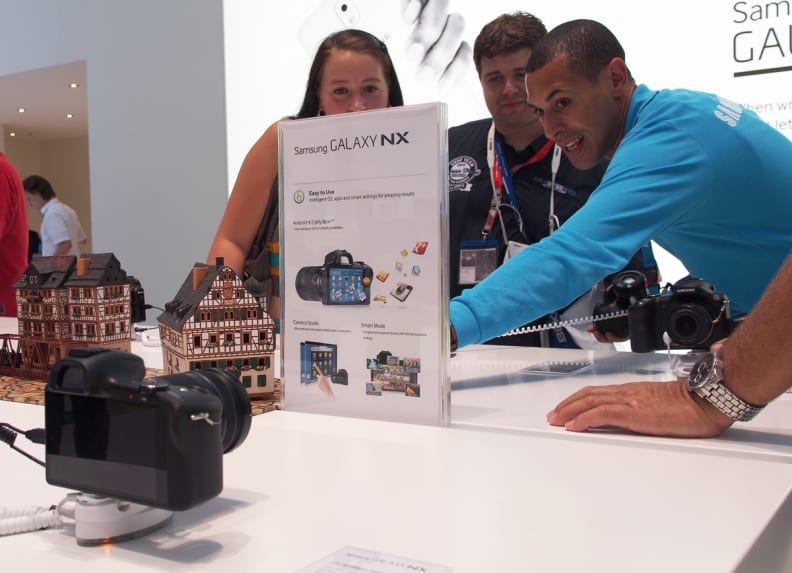 The NX300 and NX2000 are also present and accounted for. Several of each are paired with different NX-mount lenses, and most of the NX300 copies are of the brown leatherette variety—a stylish choice, in our opinion. The NX2000 seems to be making a big impression, probably thanks to its combination of a reasonably low price point and a massive touchscreen. We've got one in our labs and plan to have a review up soon.
Along the wall to the left is a display showcasing the company's NX-mount glass, from the 30mm f/2 prime to the cute little 10mm fisheye and 85mm f/1.4 portrait lens. We've observed robust growth from Samsung's lens division in the last couple years, and seeing all the glass in one place really reminds us how far the company has come since it broke off its DSLR partnership with Pentax.
Further into the hall you'll find a table dedicated to the Galaxy S4 Zoom. You may recall last year's Galaxy Camera—a run-of-the-mill compact that one-upped the usual point-and-shoot experience with Android 4.0 and a great touchscreen. You may also recall that it didn't let you make phone calls. The Galaxy S4 Zoom fixes that little shortcoming and upgrades you to Android 4.2. This table is getting a lot of attention from show-goers; people seem genuinely fascinated with the strange phone/camera mashup.
Samsung's electronics display this year is a cavalcade of wonders for tech geeks, and photo enthusiasts have plenty of reason to pay a visit.
A few of the company's more affordable, non-Android compacts are also on display, including the WB250F SMART Camera, which we saw and played with at CES this January. But in general, the bog-standard point-and-shoots aren't getting much love from the IFA attendees. It's something we've seen in pretty much all of the camera makers' booths, and yet another sign of the shrinking low-end market.
Samsung's electronics display this year is a cavalcade of wonders for tech geeks. While most of the attention is going to the new Galaxy Note 3 phablet and Galaxy Gear smartwatch, photo enthusiasts have plenty of reason to pay a visit as well.