Reviewed
Samsung Unveils Galaxy Gear Smart Watch at Berlin Roundhouse
To a mostly warm reception, Samsung unveiled their Gear smart watch at IFA 2013 in Berlin.
Credit:
For its first dive into the burgeoning smart watch market, Samsung held its latest Unpacked 2013 flagship event in not one, but two major cities at the same time.
The main portion of the event was held in Berlin, where the IFA trade show is ramping up. A few hundred journalists and industry affiliates piled into the Tempodrom, a high-ceiling roundhouse auditorium near central Berlin. Black-jacketed bouncers checked credentials, chamber music played, and a really big screen stretched about 180 degrees around the center of the room.
The big reveal came in the form of the new Samsung Galaxy Gear smart watch and Galaxy Note 3 big-screen smartphone. The Galaxy Gear was billed as a companion device to the Note 3, allowing users to access their notifications and calls across multiple screens. Go with whatever is the better design at the moment—a small watch, or an enormous phablet.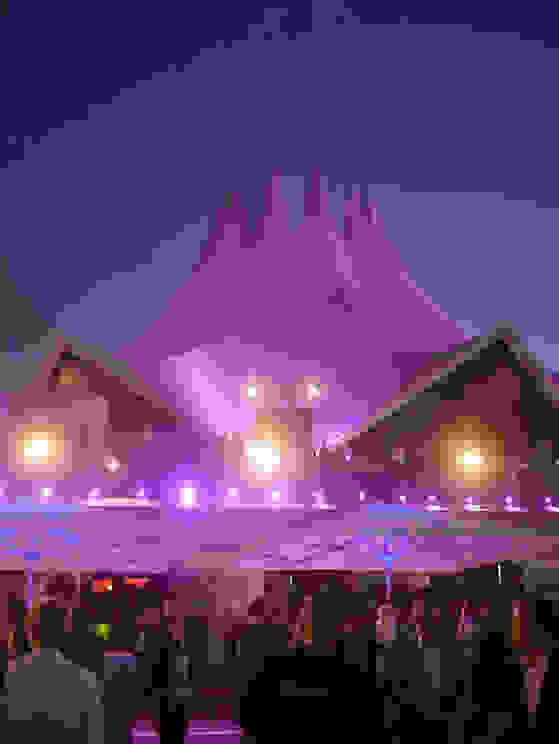 It was somewhat appropriate, then, that the enormous display at the Tempodrom bounced back and forth from events in Berlin to a simulcast event in New York City, where dance-pop duo IconaPop played a short set in Times Square in the lead-up to the announcement.
The event was otherwise laid back and specs-focused (and totally centered in Berlin), aside from some grand talk from Samsung research team leader Pranav Mistry about how the Galaxy Gear contains the "technologies of the next decade." The presentation finished with the premiere of an upcoming TV spot for the Galaxy Gear and Note 3 pairing, complete with dancing marionettes.
Guests were invited to try out the new products in the courtyard of the Tempodrom, where the Galaxy Gear received a generally warm reception based on chatter around the demo tables. Questions remain about the place of a smart watch in any arsenal of gadgetry, and thousands more gadget enthusiasts will get their first impressions with it when IFA opens to the public on Friday.