It's been an incredible year for digital cameras, with the introduction of breakthrough technologies, a major boost in performance gained per dollar spent, and new opportunities for creative expression for serious photographers and point-and-shooters alike. As the year draws to a close, we've combed the cameras we've reviewed this year to select the standout performers and, with our annual Select Awards, single them out for special commendation.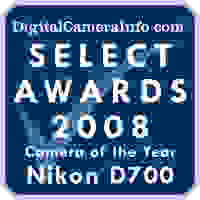 Nikon D700 – Review, Specs, $2700
From our first evening shots with the Nikon D700 we were smitten: even a long exposure with faint porch-light illumination came out beautifully lit, accurately colored and amazingly free of image noise. The full-frame 12.1-megapixel sensor that enables these extraordinary low-light results (and makes true wide-angle digital photography practical) was introduced in the $5000 professional D3 body in 2007, but this year's D700 delivers the same sensor, lightning-fast auto focus and superb image quality in a body that's 20% lighter and costs 40% less. Read our full review of the D700 here.
**

**
Runner Up: Casio Exilim EX-F1 – Review, Specs, $999
Part cool photo tool, part weird science experiment, Casio's Exilim EX-F1 lets civilians take both stills and video that were once only possible in a laboratory. The slow-motion video capabilities got lots of attention when the camera first arrived: shooting Mentos hitting Diet Pepsi at an astonishing 1200 frames per second is every YouTuber's dream come true. But our enthusiasm is rooted in the ability to shoot up to 60 frames per second at full 6-megapixel resolution. Whether you're trying to capture the winning kick at your child's soccer game or the perfect angle as a group of  ducks swim slowly by, a simple press of the shutter gives you an array of images, with the perfect shot among them. Read our full review of the Casio Exilim EX-F1 here.
**

**


Panasonic Lumix G1 – Review, Specs, $800
A new digital camera format is quite a rarity, so when Olympus and Panasonic jointly announced the Micro Four Thirds standard in September, we were itching to find out if it actually improved the process of taking pictures. The promise: smaller interchangeable-lens cameras that eliminate the traditional SLR mirror mechanism and rely on Live View for both framing shots and auto focus. The proof: Panasonic's Lumix G1, the first Micro Four Thirds camera to hit the market. And while it's only marginally smaller than several existing digital SLRs, Panasonic's breakthrough is delivering a camera that makes Live View practical for day-to-day shooting, off the tripod and out in the fast-moving world. Unlike previous Live View implementations in SLR bodies, the G1 focuses nearly instantaneously, delivering point-and-shoot photo simplicity plus the flexibility of interchangeable lenses and a host of advanced imaging controls. Read our full review of the Panasonic Lumix G1 here.
Runner Up: Casio Exilim EX-F1 – Review, Specs, $999
With its amazing 60-frame-per-second still performance and slow motion video that can throttle down the action so radically that a single minute of recorded real-world action takes 40 minutes to play back, Casio opened our eyes to entirely new photographic possibilities with the EX-F1. Combining the goofy fun of chronicling exploding water balloons with the practical benefits of fast burst-mode still photo capture, this Casio lets you capture the fabled 'one that got away' with fine photo quality and easy-to-use controls.Read our full review of the Casio Exilim EX-F1 here.
**
****Samsung TL34HD** –Review, Specs, $250
This is one sleek and handsome camera, a sophisticated slice of grown-up design that's built like a sport car, feels wonderful in your hands and, at just 0.8 inches thick, slips easily into a top shirt pocket or a tight pair of jeans. Unlike other touch-screen cameras we reviewed this year, the TL34HD interface works very well: the screen responds quickly and accurately, and there are still buttons available where buttons are the more logical controls. It was in the lab, though, that the 14,7-megapixel Samsung TL34HD won us over, with solid scores across the board and standout image noise, dynamic range and low-light results. The full-auto mode handled a variety of shooting conditions well, and built-in optical stabilization effectively countered the dreaded shaky-hands blur. Read our full review of the Samsung TL34HD here.
**
Runner Up: Casio Exilim EX-F1** – Review, Specs, $999
The EX-F1 is admittedly large for a point-and-shoot camera, at 5.03' x 3.13' x 5.1' (127.7 x 79.6 x 130.1 mm) and a substantial 23.67 oz. (671 g), but the extraordinary photographic opportunities it presents make it well worth carrying over your shoulder rather than in your pocket, in our opinion.  You can shoot fast, at up to 60 full-resolution photos per second, shoot s-l-o-w, with amazing slow-motion video, and shoot from very far away, with the built-in 12x optical zoom lens. Read our full review of the Casio Exilim EX-F1 here.
Nikon D700 – Review, Specs, $2700
For the prosumer looking for the wide-angle-friendly benefits of a full-frame image sensor, the Nikon 700 delivers superb performance at a price that's high but justified, especially when you realize that it's a near feature-for-feature match to the $5000 Nikon D3 professional model. The camera's most noteworthy feature is the incredibly low image noise found even at high ISO settings. This capability is, of course, invaluable in low-light situations, but also lets you crank up the ISO and boost the shutter speed when trying to capture fast action, without paying a penalty in diminished image quality. Nikon's 920,000-dot LCD is an ongoing pleasure, the auto focus system is unsurpassed, and while this is undeniably a big camera, it's beautifully balanced for fast handling. Read our full review of the Nikon D700 here.
**
Runner Up: Nikon D90 **– Review, Specs, $975
Nikon made history this year by announcing the first SLR to shoot video. Frankly, we found this capability distinctly better than nothing, but no camcorder substitute. Everything else about the D90 though, earned our wholehearted applause, from strong image quality test results across the board to that beautiful Nikon LCD we've admired on pricier models, to extensive in-camera image editing capabilities that are both useful and fun to use. Read our full review of the Nikon D90 here.
**
**
Canon EOS Rebel XSi – Review, Specs, $570
There was a near-avalanche of new SLRs in the sub-$1000 sweet spot of the market this year, many of them strong contenders based on both price and performance, but when friends and family inevitably ask for recommendations, we find ourselves pointing them to the Canon EOS Rebel XSi. This 12.2-megapixel powerhouse produced fine color reproduction and image sharpness results in our lab tests, and the big 3-inch LCD (with Live View) and easy-to-use controls proved a treat while out shooting. Newbies will be well served by the spot-on full auto mode, and when it's time to delve deeper into precise photographic control, an intelligently designed menu system makes exploration inviting. What's more, you'll find the XSi selling at respectable discounters for under $700 complete with an 18-55mm image-stabilized lens, which is a terrific value. Read our full review of the Canon EOS Rebel XSi here.
**
Runner Up: Nikon D60** – Review, Specs, $470
Nikon enthusiasts had their own mid-range champion this year in the very compact D60, a svelte 26-ounce package with a handsome 2.5-inch screen. We've already praised Nikon for its extraordinary low-noise images in the top tier of its product line and, while the D60 certainly can't match those performance levels, it does carry on the family heritage, delivering exceptionally clean, clear images for its class. We were also impressed with the speed and handling of the Nikon D60: the sheer responsiveness of the camera makes shooting more exciting. Read our full review of the Nikon D60 here.
**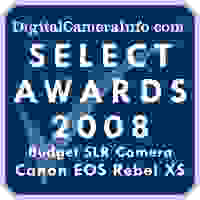 Canon EOS Rebel XS** – Review, Specs, $400
In a year when frugality has become a worldwide obsession, the Canon EOS Rebel XS delivers a potent combination of features and performance at a bargain price: while it was originally announced at $700, we've seen discounters selling the 10.1-megapixel XS below $500, complete with 18-55mm image-stabilized lens. For that non-princely sum you get a very capable camera indeed. The inevitable compromises from its big brother Rebel XSi are relatively minor: a 2.5 inch versus 3-inch LCD, slightly lower resolution and a somewhat less sophisticated auto focus system. The fundamentals remain the same, though, with strong image quality, an easy-to-use combination of button and menu controls and advanced features including Live View shooting and the option to shoot uncompressed RAW-format files for maximum editing freedom on our computer. Read our full review of the Canon Rebel XS here.
Runner Up: Sony Alpha DSLR-A200  – Review, Specs, $500 with lens
The Sony A200 isn't a flashy piece of gear, but there's something appealing in that. And while many cameras we test have their high points in some areas and distressing lows elsewhere, the A200 delivered respectable scores in every challenge, from color accuracy and image sharpness to low light photography, white balance and speedy performance. This is a nicely constructed camera that feels like quality gear in your hand. And unlike Canon and Nikon, Sony builds image stabilization right into the camera body (rather than requiring image-stabilized lenses), so you get the benefit of vibration reduction even with inexpensive add-on lenses. Read our full review of the Sony Alpha DSLR-A200 here.