January 24, 2005– Adesso Inc. announced a new line of four digital cameras from its satellite company, UMAX. The compact cameras are designed for beginner and intermediate users who are looking for affordable digital cameras. The PowerCam Z530, PowerCam Z432, AstraPix 680, and the AstraPix 620 range from 2-5 megapixels and offer a blend of specified controls and automatic options.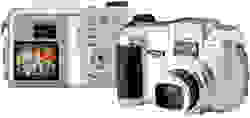 With 5 megapixels and manual options, the UMAX PowerCam Z530 is bulkier than the other models released by Adesso. The Z530 has a large right-hand grip and resembles the shape of an SLR. The Adesso press release alluded to this model as their representation in the professional and prosumer marketplace; however, some professional shooters may object to the limited 3x optical and 2x digital zoom. Similarly, the point-and-shoot crowd may feel a bit short-changed with the camera's 1.6-inch LCD screen.
Some of the camera's strongest features should be appeasing to both prosumer and point-and-shoot users. A wide sensitivity range of ISO 100-800, macro mode that focuses as close as 1cm from the front of the lens, and selectable apertures and shutter speeds controls should provide a blend of user control and automatic flexibility. This model comes with a 64 MB CompactFlash card and is available for $399.99.
The UMAX PowerCam Z432 has 5 megapixels, but is more compact than the Z530. There is no right-hand grip, so the digital camera maintains a rectangular, flat shape. The only protrusion is the 3x optical zoom lens that also has a 4x digital zoom option. The Z432 has the exact same manual controls as the Z530, but comes with a slightly smaller 1.6-inch LCD screen. The only other difference is the memory card format. The Z530 uses a CompactFlash card, while this model uses a Secure Digital card. The PowerCam Z432 retails for $249.99.
The UMAX AstraPix 680 is a slim digital camera with 3.1 megapixels on its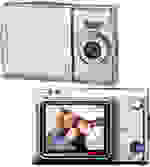 interpolated CMOS sensor. The camera also has a large 2-inch LCD screen and 4x optical zoom power. The 680 doesn't have many manual options, but wows novices with a host of features, including simultaneous audio and video recording capabilities, as well as a consumer friendly retail price of $159.99.
For $149.99, the multi-faceted UMAX AstraPix 620 functions as a digital camera, video recorder, and webcam. This is the most compact UMAX model to date. It has a sliding lens cover over its fixed focal lens. The 620 does have a 4x digital zoom, but with only 2 megapixels on its interpolated CMOS sensor, don't expect sharp pictures. Across the front of the lens cover are the words, "3.2 Megapixel Digital Camera." The camera claims to have more megapixels because its sensor is interpolated, stretching the 2 megapixels into 3.2. This model is mostly automatic with its three scene modes, but also offers a few white balance options. The AstraPix 620 includes a 1.5-inch LCD screen and 16 MB of internal memory, with a slot for SD or MMC cards.