*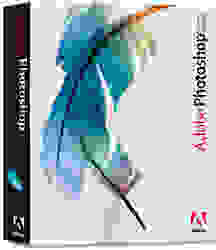 April 4, 2005 *– Adobe released the anticipated Photoshop CS2 today with upgrades such as the Adobe Bridge file browser and new tools like Image Warping and Vanishing Point. Licensed users of previous versions of Photoshop can update their software for $149; new users will have to pay the estimated street price of $599 when CS2 comes out in May for North American customers and June for international customers. Adobe Photoshop CS2 will also be available as part of the new Adobe Creative Suite 2, also announced today.
Photoshop CS2 adds several new tools to its menus. The Spot Healing Brush can eliminate blemishes and correct lens distortion. The Smart Objects tool scales vector images without losing image quality. The Vanishing Point option lets users clone and paste while maintaining a unified perspective. The Image Warping tool was made mainly for product packaging professionals who need to stretch, twist, and wrap images onto different shapes of surfaces. Users can warp their images to preset shapes or custom control points. These tools are simple to find with the new task-based menus and presets that can be customized.
"Photoshop CS2 pushes the envelope with powerful features and simplified workflows that provide photographers and creative professionals the freedom to deliver stunning images," said Bryan Lamkin, senior vice president of Digital Imaging and Digital Video Products at Adobe. Lamkin expects 4 million digital SLRs to ship this year, driving the need for a better "digital darkroom".
The software also includes advanced noise reduction and a one-click red-eye fix; such features can be found in most digital imaging software. Users can even share and print photos online now – even larger format photographs – with Adobe Photoshop Services, which works in conjunction with the Kodak EasyShare Gallery. While Photoshop CS2 satisfies the basic needs, it also includes features to attract the professionals. According to the Adobe press release, CS2 now allows "non-destructive editing and the creation and editing of 32-Bit High Dynamic Range (HDR) images, ideal for 3D rendering and advanced compositing."
Adobe's popular file browser has been upgraded to Adobe Bridge, which offers multi-level viewing, rating and labeling of thumbnails, and access to Adobe Stock Photos, a database of 230,000 royalty-free images. Five major providers of stock images - Photodisc by Getty Images, Comstock Images by Jupitermedia, Digital Vision, imageshop by zefaimages, and amana – will allow what Adobe calls "one-stop shopping."
"Adobe's unique approach brings royalty-free image libraries into the heart of the creative process, with tight integration in the products creative professionals rely on, including Adobe Creative Suite 2 and Photoshop CS2," said Shantanu Narayen, president and CEO at Adobe. "With the ability to search and purchase royalty-free images, across top stock photography libraries and from within Adobe applications, designers now have a streamlined workflow that saves time and gives access to a world of stunning imagery."
Adobe Photoshop CS2 is also available in the newly announced Adobe Creative Suite 2, which includes a bundle of the most recent software, including the following: InDesign, Illustrator, GoLive, Acrobat, and Version Cue. The full Creative Suite will sell for $1,229 USD and is made for professionals who constantly delve into several software applications for a single project.
"You shouldn't have to interrupt the creative process, by switching or leaving applications," said Joshua Duhl, research director at IDC marketing research firm. "Our recent surveys show that moving from one application to another is a significant time sink in a professional's day. By eliminating the need to switch applications, Adobe will help to increase the user's overall productivity."