Cameras
AKVIS Announces Sketch 3.0 to Turn Photos to Drawings
AKVIS releases Sketch 3.0 to change photos to pencil and watercolor drawings.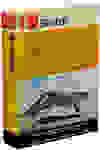 February 15, 2007 – AKVIS LLC. announced this week an update to their image add-on software, Sketch 3.0, a plug-in application that allows users to change their photos into pencil or watercolor drawings. The latest version of Sketch includes a new presets save function and Vista compatibility. Akvis Sketch 3.0 is priced at $72 for the home version.
"Now you do not need to handle a pencil to feel like an artist. All you need to create your original work of art is good taste and AKVIS Sketch," states the company website.
Users can transform their photos into color or black and white renderings that look like graphite, color pencil, charcoal, or watercolor mediums. The plug-in is compatible with Adobe Photoshop, Photoshop Elements, and Corel Paint Shop Pro, among other programs.
"In contrast to the similar standard filters (like the built-in filters in Photoshop or PSP) that offer an approximate sketch, AKVIS Sketch provides a convincing result; it comes very close to hand-drawn works of a human artist," according to the company site.
Users can alter their photos with a default setting or make additional manipulations with sliding controls. The program also allows users to batch process multiple images with support for Action in Photoshop or Script.
The new version supports Windows Vista, adds a new Mac program installation method, and corrects a bug after layer changes. Sketch 3.0 includes a Save/Edit Presets function that saves frequently used settings.
The upgrade is free for current Sketch users. AKVIS also offers a free 10-day trial version of Sketch 3.0 at http://akvis.com/en/sketch/download-pencil-drawing.php.