Cameras
Aven Launches First Microscope Camera
Aven Launches First Microscope Camera, iLoupe, Canon SD600
November 16, 2006 - Optical inspection device manufacturer Aven, Inc. recently launched the "world's first digital portable field microscope/camera," according to a Nov. 14 Aven press release.  The Aven iLoupe digital microscope attaches to a Canon SD600 camera and can magnify up to 150x.
Intended for a variety of industries, including archaeology and forensics, the iLoupe acts as a removable microscopic device to be attached to a portable field camera, such as the included 6- megapixel Canon SD600.
The iLoupe can capture images of objects as small as 6mm to 10 microns, according to Aven specifications and is available in three lenses, a 60x, 100x, and 150x objective lens.
The iLoupe package bundles are a tad more expensive than the Canon SD600, which retails at $349.  The iLoupe Starter pack includes the Canon SD600 with the adapter ring, LED lighting module, and a 60x objective lens and retails for $1465, according to an Aven representative.  Consumers can also upgrade to the iLoupe ProPack for $2500 which includes the camera with the adapter ring, LED lighting module, and all three lenses.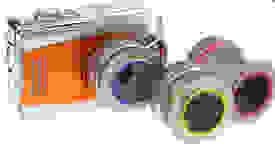 The Aven iLoupe is available at http://www.aventools.com.